4 Reasons Why you should Invest in Digital Assets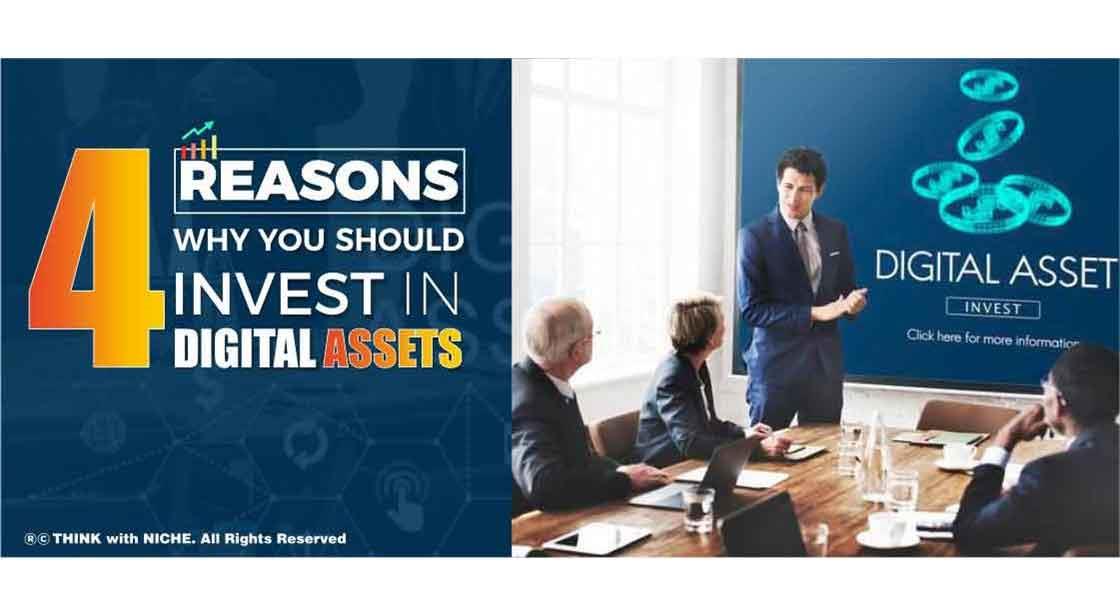 The amount of digital content that needs to be managed is continually increasing as the business world moves toward true paperless working. Because of the increase in volume, employees will require immediate and simple access to the assets they require to complete their daily tasks. #ThinkWithNiche
Continue Reading..
Files created electronically and stored as data on a hard disc or computer system are referred to as digital assets. Items created by hand, on the other hand, can be scanned and uploaded to a computer to become digital assets. For example, a painting or handwritten notes can be scanned and uploaded to a computer to become digital assets. If you've been bitten by the digital asset investing bug, you've probably noticed that there are a lot of possibilities out there. There are numerous possibilities available, ranging from eCommerce and subscription businesses to lead generation and software-as-a-service (SaaS) firms. Although focusing on your prospects can be difficult, with the right instruction, you can accomplish it correctly. Here are a few compelling arguments for devoting all of your time and effort to purchasing and maintaining digital assets. Take into account the following:
Highly Impressive Returns
Although there are numerous advantages to investing in websites, the greatest reason I prefer digital assets to any other option is the high financial returns. Every month, digital assets can help you earn two-digit returns on your investment. For example, my initial investment was roughly $15,000, and I now make about $500 to $650 each month from it. Oh, and it works out to a 35 % to 40% annual return on my capital.
A Good Passive Stream of Income
Wouldn't it be nice to have a steady stream of money deposited into your bank and/or savings accounts? Consider that for a moment. Investing in digital assets and online enterprises can help you earn passive income and move closer to financial freedom. Certain websites, such as content websites found on the internet, do not require much effort on your part. Put a lot of material on your website and get paid when a visitor clicks on an ad or when the advertisers pay you. Other websites need more effort than their competitors, but the return on investment might last for years. In general, managing a web property necessitates a significant amount of labor.
As a result, you have complete control over the quantity of passive money you generate. The more time and money you invest in your business, the more money you'll make.
Lower Overheads
When you invest in internet business, you may expect cheap overhead costs. This is especially true when fixed costs such as rent, salary, and other expenses are non-existent. Not only can you avoid the initial expenditures of opening a store and the legal fees associated with leasing, but you can also save the costs of stocking, distribution, and inventory management. Consider it this way: Reduced costs associated with launching and running a firm often translate to higher revenue margins and, as a result, higher profit margins. However, internet firms have a whole different focus, with SEO, SEM, content marketing, and social media marketing all being very important. Although these channels may necessitate a large time commitment on your behalf, the resources required to complete the task are fewer than those required by offline firms with physical assets.
Enhanced Flexibility
A 9 to 5 work or an offline business just binds you to a specific area. Even if your job is interesting, the added flexibility of being able to work from anywhere should not be overlooked. You can work from practically anywhere in the globe if you have an internet business. Laptops, tablets, cellphones, VOIP systems, and a variety of online conferencing software solutions enable such organizations to operate regardless of location. Maintaining and/or growing a well-maintained digital asset may not necessitate the establishment of specialized business infrastructure. Furthermore, when you invest your money in the correct asset, your time commitment becomes less important.
Conclusion
The future is digital assets. In the coming years, there will be major growth in the variety of investable asset kinds. Businesses in the financial sector, as well as those in other industries, should familiarise themselves with the new prospects presented by this next stage of digitization. There are some projects and prototypes available now, but in a few years, thousands of digital assets will be available to everybody.
You May Like