At www.thinkwithniche.com, you get small business ideas, startup and business blogs, trending world business news, and success tips that ensure sustainable growth and development of your business under one roof.
Think With Niche #ThinkWithNiche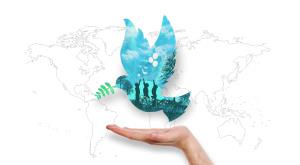 An International Peace Day is an opportunity to announce peace in the world and within our country. Only individual efforts can bring about peace. Peace can only be achieved through collective efforts. Peace is what we all want. Peace is the key ingredient to a happy and fulfilled life. Individual and collective peace are two sides of the same coin. Peace should be the goal of all humankind. International peace day aims to persuade people to respect the dignity and value of peace. International peace day allows people to discover the wisdom contained in the idea of peace.
Citizens are encouraged to work together and use their creativity to ensure the security and peace of their communities. Peace is essential, and it is a part of our existence. This day helps us to appreciate the importance of better society and resilience. This day teaches us how we can make the world a better place by working together. Peace is the common goal of all people. Peace defines human existence. The concept of peace can be influenced directly or indirectly by equality, freedom, justice, uprightness, and sustainability.
#InternationalPeaceDay
#EliminateWarAndViolenceFromWorld
#Nonviolence
#MahatmaGandhisPhilosophy
Over the past few years, the creator economy has seen a dramatic increase in popularity. More than 50 million people consider themselves to be content creators. Many people have made a career out of a hobby they started in their bedroom. Influencer marketing is a powerful tool in today's digital age. Its projected value is $16.4 billion by 2022. 68% of marketers plan to increase their influencer marketing budget over the next 12 months, with 33% spending at most $50K. With the advancement of technology, a new breed has emerged. There are no real influencers. These fictional characters (Virtual Influencers) are used by some of the most prominent names in fashion and tech, including Nike, Balmain, and Samsung. They will be featured in Vogue, photographed with Bella Hadid, and attend fashion shows with Prada. Luxury fashion brands were the first to embrace virtual influencers as a trend. Balmain's fashion army in 2018 included virtual models Margot, Shudu, and Zhi. Fenty Beauty collaborated with Shudu Gram, who now has 231k followers on Instagram.