Diy: Top 5 Hair Dyes without Side Effects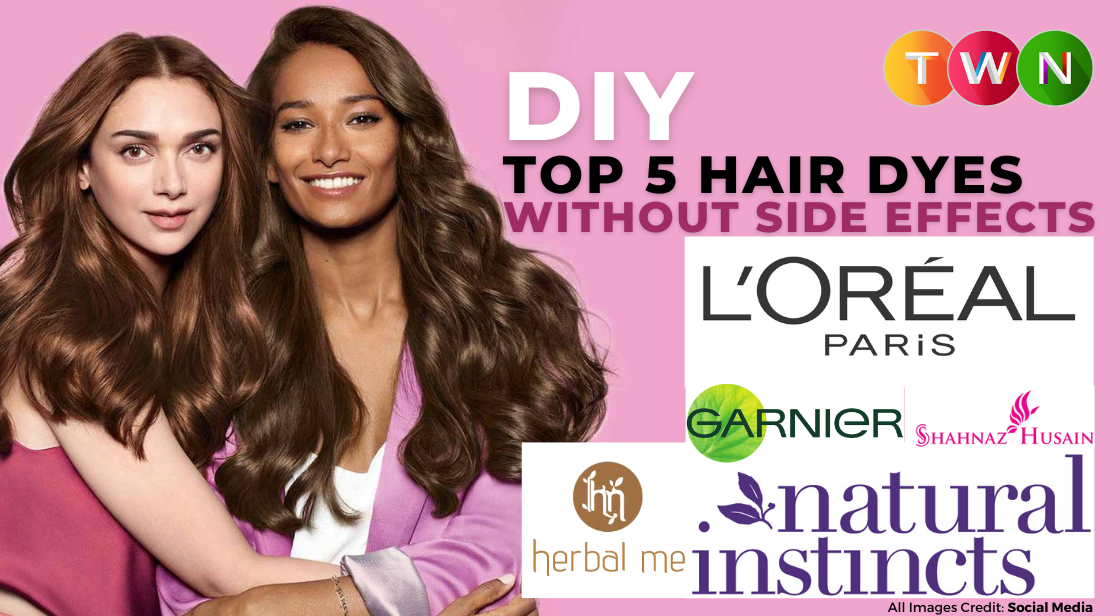 First off, natural dyes and pigments provide brilliant hues. Then, in addition to being biodegradable, they are also non-toxic and allergy-free. This indicates that they are more safer to use around people and the environment.
The natural color of plants, fruits, and flowers is simple to remove. Numerous natural colors also possess antibacterial qualities, making them safer in particular for children. There were several ingredients in the initial hair dyes and hair colors that were sold that were later determined to be naturally carcinogenic or cancer-causing.
Even if these were eventually replaced with non-toxic formulae, it has not been shown beyond a reasonable doubt that hair dyes or hair colors do not include chemicals that cause cancer. Here in this blog, we are giving you information about the Top 5 Hair Dyes without Side Effects.
Continue Reading..
It's thought that only a woman with long, opulent hair that exudes sensuality can convey youth and elegance. Women today believe in spending a lot on organic hair care products including serums, hair oils, and hair dyes in addition to purchasing a variety of shampoos and conditioners for this reason. When it comes to organic hair dyes, choosing the one with the least amount of hazardous ingredients is a matter of personal preference.
Because anything containing chemicals will undoubtedly cause damage to other parts of your body as well as your hair (scientifically proven). Here is our selection of the best hair dyes that are safe.
1. Garnier Natural Color
One of the most well-known brands out there is Garnier Colour Naturals, which is owned by the well-known L'Oreal on a global scale. With a vast range of colour bases to pick from, Garnier, which ranks as the top hair colour on our list of the top two hair dyes, may truly leave a woman spoilt for choice. Garnier Colour Naturals features a variety of colour selections, which are widely accessible at any of the nearby retailers, ranging from reds to burgundies to browns and blacks. The brand ensures ammonia-free, long-lasting hair colour while also taking care to keep your hair lustrous and silky after application. There won't be a single grey hair in sight, and your hair will get softer.
2. L'Oreal Paris Casting Creme Gloss
L'Oreal Paris Casting Creme Gloss is second to Garnier Colour Naturals in terms of deserving a solid mention among the top 2 hair dyes. Given that the business was one of the first to introduce a line of ammonia-free hair colours, this ammonia-free hair dye is one of the best-selling options available. The product line is well-recognised for hiding all of your grey hair while yet leaving you with glossy, healthy hair as a result. The process takes 20 to 25 minutes, and the colour lasts for up to 28 washes. L'Oreal Paris Casting Creme Gloss is a fantastic blonde hair dye that is packed with natural tea goodness and aloe vera goodness.
3. Clairol Natural Instincts Crema Keratina
Go for Clairol Natural Instincts Crema Keratina if you want to spend money on at-home hair colour for black hair. Clairol Natural Instincts Crema Keratina, which is intended to leave your hair feeling healthier and well-nourished, also leaves a rich colour that can be processed rapidly. The finest part of this solution is that it includes a coconut oil-based moisturising conditioner in addition to being 100% free of ammonia. Something that helps maintain your hair silky and lustrous while preventing dryness and frizz. Non-drip Clairol Natural Instincts Crema Keratina is a solution that works wonders on grey hair while also enhancing the colour of darker hair strands.
4. Herbal Me Light Brown Henna Hair Color
The Herbal Me Light Brown Henna Hair Color, one of the best herbal hair dyes available, is created using only natural, organic, and organically grown components. It not only gives the hair long-lasting colour and sheen, but it also feeds, revitalises, conditions, and stops hair fall and thinning! Additionally, it comes in 11 gorgeous colours, such as nut brown, light blonde, and burgundy. Why not adore it?
5. The natural hair colour of Shahnaz Husain Colourveda
It gives the hair a Blackish Brown colour while being perfectly natural. This herbal hair dye was created specifically to tint hair organically. It is an Ayurvedic hair dye made from conventional plant elements that give hair a natural colour. This herbal hair dye is a distinctive natural hair colourant that contains no chemicals at all.
This Ayurvedic hair colour, which contains herbal elements like henna, indigo, and catechu, shields the hair from harm and keeps it strong and healthy. It is the perfect natural hair colour and successfully hides grey hair.
6. Clairol Natural Instincts
This low-cost purchase is ultra-gentle and ammonia-free, and it's manufactured with 80 percent naturally derived components like coconut and aloe vera, to name a few. Because it's a demi-permanent color (it should last up to 28 washes), it's perfect for blending in minor quantities of gray or boosting your original hue and gloss rather than a major color change. Still, there are over 35 hues to pick from, including a wide range of blonde, brown, black, and red tones.
7. Rainbow Henna Hair Color Research
If you want to go completely natural, henna-based color is the only way to go. This recipe contains nothing but henna, which comes in nine different colors. Bear in mind that application takes some practice (you add boiling water to the powder to get an oatmeal-like consistency before painting into your hair), and the color only lasts four to six weeks. Yet, satisfied customers rave not just about the natural recipe but also about how natural the end effect is.
Side Effects of chemical hair dye
Troubles with the eyes
Extreme attention must be exercised when colouring hair because contact between these chemicals and delicate body parts could be harmful. For instance, the colour of the hair may irritate and hurt the eyes, causing pink eye, conjunctivitis, and other eye-related conditions. When it comes to indigo and henna hair colours, this issue is not present.
Fertility problems
Lead acetate, a component of permanent hair dyes, may have a deleterious effect on both men's and women's fertility, according to studies. Pregnant women shouldn't dye their hair since it could harm the developing baby.
Asthma
Patients with asthma should refrain from applying any of the following compounds on their hair: paraphenylenediamine, PPD, persulfates (present in bleaching treatments), and ammonia. Continuous exposure to these compounds can result in wheezing, throat pain, lung inflammation, coughing, and, in severe situations, even asthma attacks. When it comes to indigo and henna hair colours, this issue is not an issue.
Excessive styling causes hair damage
It is well known that peroxide and ammonia, which are present in many hair dyes and hues, can harm hair if used excessively. While ammonia serves as a breakthrough agent on your hair, peroxide bleaches your hair by erasing its original paint. The hair cuticles must be relaxed in order for the hair colour to penetrate the hair cortex, the thickest and melanin-containing portion of the hair shaft.
You May Like