Indian CEOs in Global Techs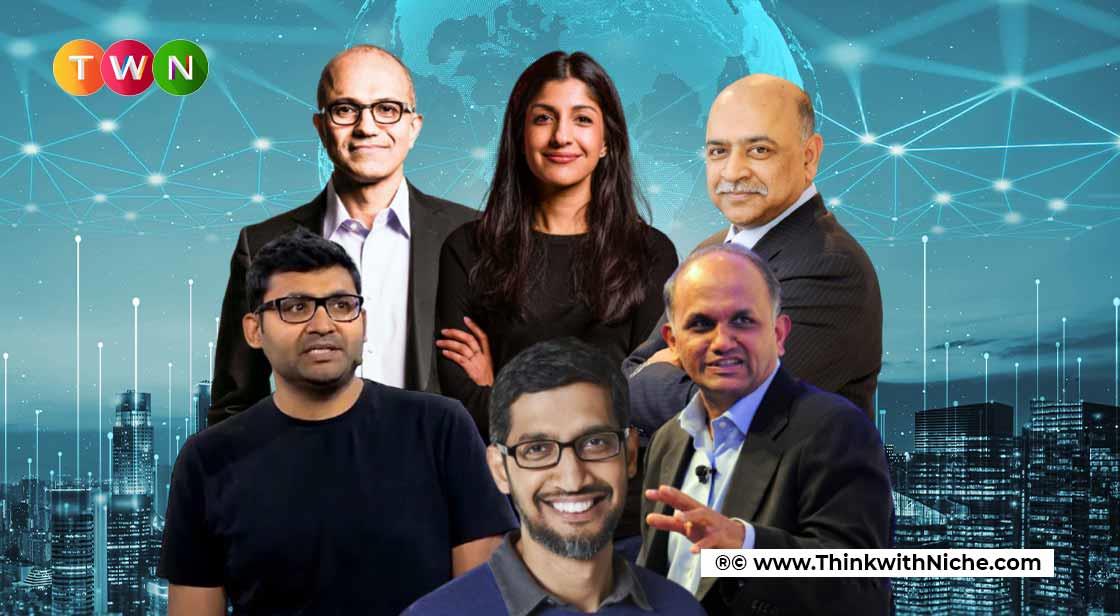 Indians have played a key part in the worldwide success of technological powerhouses for decades. Few countries can claim to produce the heads of the world's most powerful corporations, who play a critical role in their expansion. There is a slew of Indian-origin CEOs at the helm of the global tech industry. #ThinkwithNiche
Continue Reading..
6 Indian CEOs In Global Techs
Indians are no longer left behind! They are now free to explore and lead the globe. We Indians are everywhere, from the highest seats in international financial institutions to multibillion-dollar IT enterprises. When it comes to Indian leaders throughout the world, the first name that comes to mind is Kamala Harris, the United States' Vice President, who is of Indian origin.
In this blog, I'm going to discuss Indian-born global tech CEOs. From Google, Microsoft to Twitter, and many other companies, Indians are demonstrating their abilities all over the world. They've all risen to the top thanks to their dedication, hard work, and interpersonal qualities. Read about 6 Indians who are now CEOs of global IT giants in this article.
1. Twitter
In November 2021, Twitter co-founder Jack Dorsey stepped down as CEO in favor of Parag Agrawal, stating that he had decided to depart because he believes the firm is ready to move on from its founders. Until Dorsey's surprising resignation, Agrawal was the chief technical officer of a social network. Dorsey stated in his resignation notice that the board went through a thorough process of reviewing all candidates before unanimously appointing Parag. He has been at the helm of every major decision that has aided in the turnaround of this company.
Agrawal, who was born in Maharashtra, graduated from IIT Mumbai with a bachelor's degree in engineering in computer science. In addition, he holds a Ph.D. in Psychology from Stanford University. He had research internships at Microsoft, AT&T, and Yahoo before joining Twitter in 2011. Despite starting as an advertising engineer, he steadily rose through the ranks to become the company's CTO in 2018. He was a driving factor behind Twitter's artificial intelligence and machine learning technology development.
2. Microsoft
Hyderabad-born Satyanarayana Nadella, also known as Satya Nadella, succeeded Steve Ballmer as CEO of Microsoft in 2014. The departure of Bill Gates, the company's creator, took years. He quit his full-time role at the corporation in 2008 after stepping down as CEO in 2000. Finally, in 2020, he resigned from the board of directors. Satya Nadella will now serve as both CEO and executive chairman beginning in 2021.
He graduated from the Manipal Institute of Technology in Karnataka with a bachelor's degree in electrical engineering, a master's degree in computer science from the University of Wisconsin–Milwaukee, and an MBA from the University of Chicago Booth School of Business. Before joining Microsoft, he worked at Sun Microsystems as a member of the technology team.
3. Google
Pichai Sundararajan, better known as Sundar Pichai, was born in Madurai and has been the CEO of Google since 2015. In August 2015, Google co-founders Larry Page and Sergey Brin moved on to run Alphabet, putting Sundar Pichai in control of Google, and later in 2019, Pichai also became the CEO of Alphabet.
Pichai holds a bachelor's degree in metallurgical engineering from IIT Kharagpur, a master's degree in materials science and engineering from Stanford University, and an MBA from the University of Pennsylvania's Wharton School. He began his career as a materials engineer at McKinsey & Co. immediately after. He joined Google in 2004 and has contributed to the creation and growth of popular Google products such as Chrome, Google Drive, Gmail, Google Maps, and operating systems such as Chrome OS and Android.
4. Adobe
Shantanu Narayen, a Hyderabad native, was named CEO of Adobe in 2007. He was the Chief Operating Officer for two years before that. He earned a bachelor's degree in electronics and communication engineering from Osmania University's University College of Engineering in Hyderabad. He also holds a master's degree in computer science from Bowling Green State University in Ohio and an MBA from the University of California, Berkeley's Haas School of Business.
Narayen worked for Silicon Valley start-up Measurex Automation Systems in 1986 and then went to Apple from 1989 to 1995 before joining Adobe in 1998 as senior vice-president of international product development. Pictra Inc., a firm that pioneered the notion of digital photo sharing via the internet, was co-founded by him in 1996. Shantanu Narayen joined Adobe in 1998 and rose through the ranks to become the company's president and COO in 2005 before being named CEO in 2007.
5. IBM
After 30 years with IBM, Arvind Krishna, an Andhra Pradesh native, has been the company's CEO since April 2020. In January 2021, he was also named chairman. He graduated from IIT Kanpur with a BTech in electrical engineering in 1985 and went on to get a Ph.D. in electrical engineering from the University of Illinois.
He started his career at IBM in 1990 and has held numerous key positions in the firm throughout the years, including IT systems, cloud computing, AI, quantum computing, and blockchain. Krishna has been a pioneer for IBM's construction and expansion, first as a General Manager in the Information management software and systems and technology department, then as a senior vice president of IBM Research, and finally as a senior vice president of IBM's cloud and cognitive software business.
6. Vimeo
Anjali Sud, who was born in the United States but is of Indian origin, has been the CEO of Vimeo, an online video platform, since 2017. Anjali earned a BSc in Finance and Management from the University of Pennsylvania's Wharton School and an MBA from Harvard Business School in 2011.
She had worked with the firm since 2014 when she was hired as the Global Marketing Director. Vimeo has endured significant losses over the years, making it difficult for the firm to exist, as it has lost ground to YouTube, Netflix, and others. However, one woman, Anjali Sud, was instrumental in improving the company's performance to the point where Vimeo went public. Sud was included in Fortune's list of the 40 most powerful young business executives under 40 in 2019.
You May Like