Tools & Solutions to Improve Your Supply Chain Visibility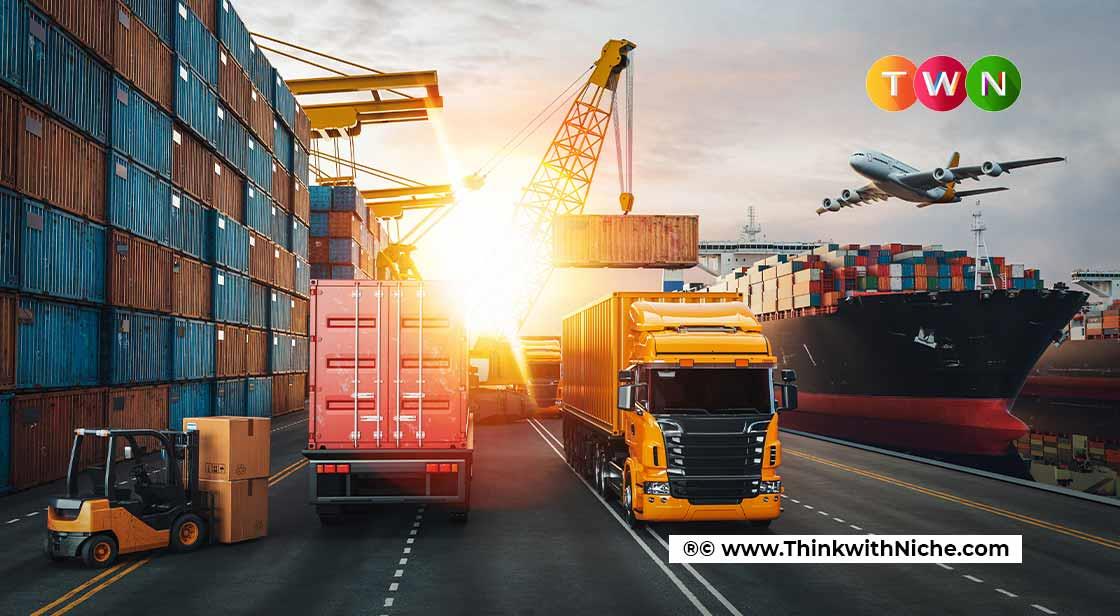 In the supply chain and logistics industry, last-mile delivery is the top driver of customer satisfaction. It has a direct impact on the profitability of a supply chain because it is the most time-consuming, expensive, and unpredictable aspect of the entire process. According to a Capgemini study, last-mile delivery is the biggest cost driver in the supply chain, accounting for 41% of total supply chain costs. It makes it vital for you to better understand Supply Chain Management and Supply Chain Visibility and the solutions you can use to improve both to ensure long-term success and growth! #TWN
Continue Reading..
Supply Chain Management and Supply Chain Visibility are two terms extensively used in the logistics field. Before getting to the core, I'll walk you through a quick comparison of these two.
The management of the flow of goods and services is referred to as supply chain management, and it encompasses all processes that transform raw materials into finished products. It entails actively streamlining a company's supply-side activities to maximize customer value and gain a competitive advantage in the marketplace.
What Is Supply Chain Visibility (SCV)?
The ability to track individual components, subassemblies, and final products as they travel from supplier to manufacturer to consumer is referred to as supply chain visibility (SCV). The scope varies depending on the product — for example, are raw materials included, and will the item be tracked with forward and backward tracing?
Supply Chain Visibility vs. Supply Chain Management
SCV software is a tool in the arsenal of supply chain management. Many features and functionalities of SCV and traditional SCM solutions overlap, such as inventory optimization, product tracking, and data centralization. However, there are a few subtle differences between the two.
Typically, traditional supply chain management systems provide logistics for goods and services, whereas SCV solutions provide critical inventory data to plan these workflows. Another significant difference is that SCM solutions include labor and order management modules, whereas SCV systems focus on tracking and tracing every product and process.
Overall, SCM systems aid in the management of the entire supply chain spectrum, while SCVs increase visibility across all supply chain operations.
Now, let's get to the principal theme: improving the supply chain visibility.
Increasing visibility in the last mile of the supply chain can help you stand out from the competition. Investigate how the Internet of Things and third-party logistics providers can assist you in obtaining the information you require.
Customers and stakeholders are demanding more visibility into the last mile of the supply chain, so logistics professionals must figure out how to get the right data at the right time. Having access to data-driven insights is essential for this, but with vast amounts of granular data to sift through, seeing the big picture can be difficult.
In the eCommerce industry, in particular, where logistics is often a key driver of a positive customer experience—and, as a result, loyalty—a lack of last-mile visibility can be a major issue.
To get a complete picture of where products are in the last mile of the supply chain, it's critical to use the right technology and collaborate with the right people.
Last-Mile Supply Chain Visibility Solutions
Using the Internet of Things for Last-Mile Visibility
Access to more accurate, relevant data is the key to improved last-mile visibility, and this starts with better-connected devices. Innovations like the Internet of Things (IoT) can play a significant role in assisting shippers in developing a well-integrated, streamlined digital ecosystem.
The Internet of Things (IoT) is a network of physical devices embedded with sensors or software that connect them. It enables disparate systems and devices to collect and share data, which can then be shared with you in real-time as your products move through the supply chain.
This can provide a complete picture of the last-mile delivery movement, from the time the product leaves the warehouse or distribution hub to the time it arrives at the customer's door.
The data obtained through IoT is also very precise. For example, rather than relying on the carrier to provide location information, you can see exactly where the product is at any time by using sensors placed on the product itself. As a result, customers benefit from more accurate, up-to-minute tracking.
A more connected network also enables faster, more informed decision-making at the last mile. For example, you can identify traffic patterns and even predict delays at specific ports or along specific routes using artificial-intelligence-enabled IoT and machine learning, which are now integrated into most IoT platforms. It allows you to adapt and change routes as needed, reducing the possibility of customer delays.
The Internet of Things can tell you exactly where and when items were opened or delivered. It can even provide information on the tainted product (whether due to temperature, light or humidity changes, etc.).
Settlement can also be triggered automatically after certain events occur. For example, once items are delivered to a partner and have passed inspection, payment can be automatically sent to all necessary parties.
Using Third-Party Logistics Providers for Last-Mile Visibility
While the Internet of Things can be a useful tool for gaining access to relevant data, collaborating with the right third-party logistics (3PL) providers can provide even more insight into the last mile of the supply chain. While most businesses recognize the value of increased visibility, the initial costs can be prohibitively expensive.
Fortunately, an increasing number of 3PLs are beginning to offer specialized, low-cost last-mile delivery services, leveraging technology to improve routing efficiency and proprietary supply-chain monitoring to provide better visibility into product location for both your company and your customers. Real-time visibility can help your company stand out among partners, stakeholders, and customers.
3PL warehouse management software can provide you with real-time data on a variety of activities such as inventory movement, fulfillment, and returns. Businesses can free up time for other pressing tasks by outsourcing this work to a third party while remaining confident in the accuracy and reliability of the data.
3PLs also have access to best-in-class facilities, vehicles, equipment, and software, enabling streamlined last-mile supply chain processes and sophisticated data collection and analysis capabilities.
Many 3PLs will provide you with customized reports that include only the information and key performance indicators that are most important to your business. These insights are frequently customizable for each member of your leadership team, allowing you to control who has access to what data, reducing unnecessary distractions, and reducing time spent searching for data relevant to their needs.
Working with a third-party logistics provider can help you save money in the long run, with 3PL shipping, routing, and scheduling capabilities significantly reducing last-mile delivery costs—all while creating a better-connected logistics ecosystem and increasing visibility.
A fourth-party logistics (4PL) provider may also be well suited to your last-mile needs, depending on your requirements. 4PLs, also known as "lead logistics providers," provide the same services as 3PLs but have broader capabilities, such as managing your relationships with third-party providers and handling all of your supply chain processes. 3PLs, on the other hand, frequently concentrate solely on logistics processes. 4PLs can help you reduce last-mile costs while better meeting customer needs by improving visibility into each step of the supply chain.
Now, I'll discuss some of the best supply chain visibility tools.
Best Supply Chain Visibility Tools
When working to improve your supply chain, it's critical to use the right software. The five best supply chain visibility solutions are listed below, so you can improve supply chain planning and optimize all of your processes.
Oracle SCM Cloud
Oracle SCM Cloud offers distribution, manufacturing, inventory management, and fleet management software. It is a comprehensive application suite that offers a variety of featured products. Procurement, supply chain planning, product life cycle management, logistics, and order management are some of the products available.
It includes adaptive intelligent applications, intelligence-driven applications, the Internet of Things (IoT), blockchain business applications, and digital assistance.
This suite is best suited to small to medium-sized businesses. Automotive, communications, healthcare, high technology, industrial manufacturing, and retail/consumer goods are among the industries it serves.
Oracle SCM Cloud Features
Supply Chain Planning Cloud: This solution includes a comprehensive set of tools for tactical firefighting as well as strategic optimization. It supports facilities such as production and distribution, contract manufacturers, drop-ship suppliers, and outside service providers by assisting in the management of real-time global supply.
Product Master Data Management: Users can manage, commercialize, and publish product master data. Using the Product Data Hub Cloud, this data can be used for omnichannel commerce and globalized manufacturing. A single multi-domain solution can syndicate data to internal/external applications and marketplaces.
Oracle Procurement Cloud: Using Oracle Procurement Cloud, users can control costs by selecting suppliers, enforcing policy, and managing supplier risk. It includes built-in spend control, which can help to simplify employee request management.
Product Lifecycle Management: Oracle SCM Cloud gives users a digital thread that runs through the entire product lifecycle and value chain. It includes features such as product development, innovation management, quality management, configurator modeling, and product master data management.
Sales and Operations Planning: It improves user collaboration and aids in the development of consensus among marketing, product development, sales, operations, and finance teams. It includes process templates for the five stages of Integrated Business Planning, which include Product, Demand, Supply, Financial, and Executive Reviews. S&OP Cloud, in conjunction with analytics, can provide users with the information they need to monitor performance, understand shortfalls, and analyze plans. It also has simulation capabilities for evaluating different what-if scenarios.
SAP S/4 HANA – SAP Integrated Business Planning
SAP Integrated Business Planning is a real-time solution powered by SAP HANA that caters to businesses of all sizes. It includes functions such as sales and operation planning, supply chain monitoring, inventory optimization, forecast and demand management, response and supply planning, and demand-driven replenishment.
SAP provides users with the S/4HANA to SAP Integrated Business Planning (IBP) integration model, which aids in the delivery of standard integration logic. It assists in determining which SAP S/4HANA transactional, master, and configuration data is gathered and prepared for transfer to IBP.
SAP IBP can also be integrated with SAP Supply Chain Control Tower to improve supply chain visibility and provide decision support and corrective action.
SAP S/4 HANA – SAP Integrated Business Planning Features
Forecasting and Demand Management: With pattern recognition-based algorithms, users can create mid-term statistical forecasts and respond to short-term demand changes. It simplifies product deployment by focusing on short-term demand and collaborating to provide forecasts. Using demand planning tools, users can generate forecasts for various scenarios or specific parts of a business. Demand sensing algorithms also allow for forecasts for short-term planning.
Inventory Optimization: It reduces inventory and improves customer service by increasing inventory and working capital efficiency and improving planning productivity by automating and standardizing planning processes. It allows for shorter and more complete inventory target-setting cycles, as well as the optimization of product and distribution costs. Users can create and run reports to determine the impact of inputs such as lead time, forecast accuracy, and inventory outputs or supply.
Sales and Operations Planning: It provides a cross-departmental strategy for managing product mix, inventory, and service levels. Process management, version and scenario creation, what-if analysis, multi-level supply planning, collaboration, ABC segmentation calculation, business network collaboration integration, and product life cycle support are among the features it provides.
Response and Supply Planning: This software includes two algorithms: optimizer and S&OP heuristic. To find a cost-optimal solution, the IBP for the supply model can be transformed into a complex mathematical representation using an optimizer. The heuristic algorithm starts by exploring relevant constraints and is typically used when users need a solution that fits a specific constraint.
Demand-Driven Replenishment: Users can use this feature to control material flow and supply chain variability. It aids in the calculation of buffer-zone levels and decoupling points. It has the potential to reduce inventory, shorten lead times, and improve customer service. It allows for inventory optimization in three modes: Make (Manufactured), Buy (Purchased), and Transfer (Stock Transfer).
Infor Nexus
Infor Nexus is a cloud-based solution that orchestrates the entire supply chain. It is intended for enterprise-level organizations in a variety of industries. It uses IoT, AI, and advanced visualization to provide predictive intelligence and real-time visibility via an end-to-end collaborative network.
This software allows you to manage your supply chain from any wireless device. End-to-end visibility and insights, a multi-enterprise business network, multi-enterprise business applications, and onboarding and integration are all available.
Infor Nexus Features
Warehouse Management: This system takes advantage of automation to increase efficiency and customer responsiveness. Users can manage activities in a unified application that combines core and advanced warehousing with embedded labor management, 3D visual analysis, and ABC cost analytics. It enables businesses to manage assets, inventory, space, labor, capital, equipment, and time through the use of warehouse, transport, and distributed order management capabilities.
Invoice Management: Users can generate packing lists, electronic invoices, and other fulfillment documents automatically based on order and shipping information. The use of a single format and data source simplifies the creation of custom and commercial invoices as well as the distribution of documentation to brokers.
Payment Management: It notifies users of discrepancies and payment approvals, as well as cash flow information and expected payment dates to suppliers. It can compare invoices, orders, packing lists, inspection certificates, goods receipts, and proof of delivery automatically.
Deductions Management: Users can manage deductions with electronic image and document attachment support. It can assist users in configuring company deduction rules and automatically deducting from future invoice payments, thereby speeding up recovery.
Supply Chain Finance: Infor Nexus provides its users with a network of finance providers, which can ensure that suppliers have the capital they need to execute orders.
RapidResponse
Kinaxis RapidResponse is a large enterprise-focused cloud-based platform. It offers solutions such as sales and capacity planning, operation planning, inventory planning, demand planning, machine learning, and supply planning to users.
This solution provides real-time visibility into the supply chain as well as online internal and external collaboration. It serves the aerospace and defense, automotive, high-tech and electronics, industrial, life science, and consumer products industries.
RapidResponse Features
Capacity Planning (Constraints): This feature allows users to create realistic supply plans using capacity planners that can account for a variety of constraints. It provides standard measures such as margin, revenue, on-time delivery, inventory value, constraint utilization, and capacity planning metrics. Its dashboard features an in-depth analysis of various metrics such as summaries of constraint utilization, overloads, underloads, and supply plan volume.
Capacity Planning (CRP): RapidResponse aggregates supply chain data into a single source, allowing users to identify over or underutilized work centers. It informs users about the resources needed to meet customer commitments by providing a real-time view of resource impacts and the ability to simulate long and short-term capacity changes.
Inventory Management: This feature ensures the proper level of inventory to avoid both shortages and excesses while maintaining strong margins. Its dashboard displays data on supply periods by part category, excess and obsolete value, demonstrated service level, on-hand vs. target inventory, and on-hand inventory by ABC classification.
Distribution Requirements Planning: Users can generate near-term plans in daily or weekly increments to get the required supply into distribution networks or to drive dependent demand. For accuracy and effectiveness, DRP can be managed concurrently with order fulfillment, master production scheduling, and supply action management. Its dashboard includes data on in-transit orders, storage/site types, under/overcapacity, total distribution cost, transit time deviation, transfer order exceptions, and other metrics.
Demand Planning: This feature enables the demand-planning team to create consensus-based plans in a collaborative process that is orchestrated using a single platform. Users can combine demand planning with supply management and strategic capacity to monitor, plan, and adjust demand plans as needed. Its dashboard offers a targeted analysis of metrics such as consensus demand plans, forecast accuracy exceptions, data errors/outliers, and forecast value additions and accuracy.
Blue Yonder
Blue Yonder is a cloud-based supply chain management platform that drives digital transformation by leveraging machine learning, artificial intelligence, the Internet of Things, and software-as-a-service. Users can use Blue Yonder and Microsoft Azure to run their businesses with a lower total cost of ownership, greater speed, agility, and innovation.
This supply chain visibility tool offers organizations solutions for planning, retail, and logistics analysis. Blue Yonder is intended for retail hardlines, retail soft lines, process manufacturing, discrete manufacturing, grocery and pharmacy, restaurants and foodservice, third-party logistics, and wholesale and distribution.
Blue Yonder Features
Integrations, APIs, and Services: It is compatible with MuleSoft's AI, machine learning, and API-led architecture. Blue Yonder's digital platform is hosted on Microsoft Azure, allowing it to combine internal and external data from digital supply chain assets. Users can enhance, consume, mine, supplement, and analyze datasets across the network to uncover previously unseen insights for better AI and machine learning-based decisions.
Forecasting: Its software-as-a-service (SaaS) solution ensures forecast accuracy by gathering information from both active and passive data points, organizing, and delivering proactive and prescriptive forecast accuracy insights. It assists users in creating a collaborative forecast that predicts consumer-driven demand across segments and entire product life cycles.
Inventory Optimization: Blue Yonder provides end-to-end and innovative inventory strategy, inventory planning, and inventory execution management. High-tech manufacturing, semiconductors, consumer durables, consumer electronics, food and beverage, apparel, fashion, life sciences, aerospace, and defense are all industries that can benefit from make-to-order or make-to-stock inventory optimization.
Space and Floor Planning: Users can make decisions using 3D store representations with this feature. It aids in the management, construction, analysis, optimization, and distribution of detailed in-store planograms. Users can design store layouts based on the demographics and preferences of local customers. Using 3D models and an intuitive user interface, it can rationalize selling space and create a layout.
Transportation Modeling: For optimizing transportation environments, the modeling engine employs algorithms with functional depth and breadth. Cost representation, shipment consolidation, modal trade-off analysis, cross-docking opportunity selection, integrated containerization and pallet positioning, item-aware constraint definitions, and load building are among its capabilities. It can also import relevant shipment information from Microsoft Access or other ODBC data sources. Its geo-coding feature enables the solution to display origin and destination locations.
Key Takeaway
Improved end-to-end supply chain visibility can mean the difference between a satisfied customer and a lost customer. Working with the right technology and partners can help ensure that you have access to the information you require when you need it.
The Internet of Things and third-party logistics providers have grown in popularity, allowing for more streamlined processes, a more connected digital ecosystem, and better insight into every step of the last mile. 3PLs, in particular, can help your company save money.
Think carefully about what technologies and partnerships will make the most sense for your last-mile goals and needs—as well as those of your customers—as you continue to read your supply chain for the future.
Disclaimer: Reprinted with permission of USPSDelivers.com, an expert resource for future-thinking shippers and marketers. Besides, I have made further value additions to make this article more targeted and relevant to the users. To read the original article on USPSDelivers.com, click here.
You May Like