Celebrating Holi, The Eco-Friendly Way!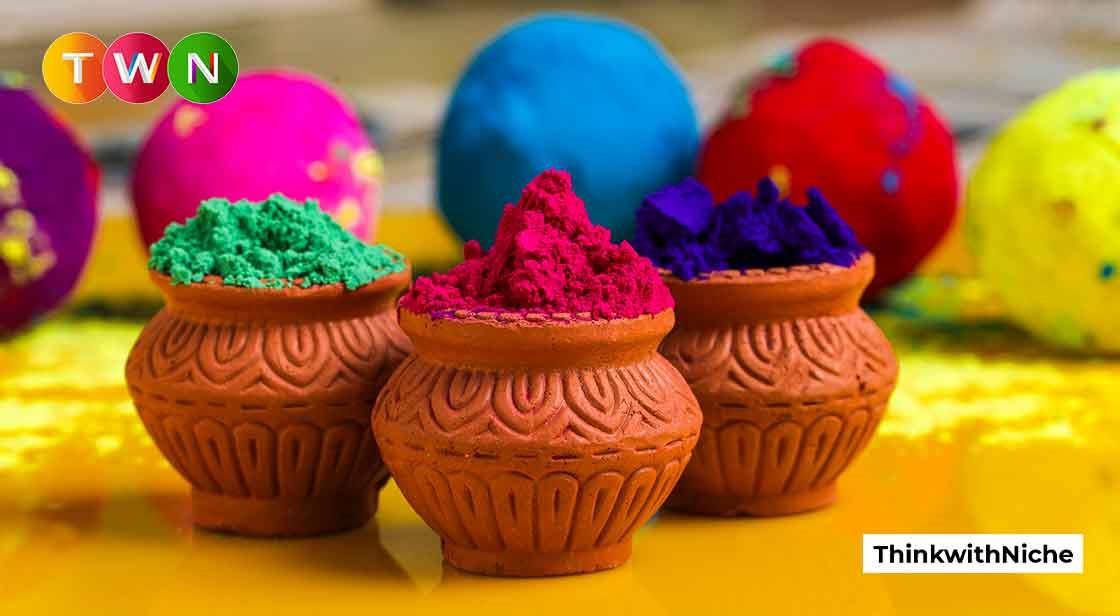 ThinkWithNiche writes about various ways to celebrate the festival of Holi in an eco-friendly and environmentally sustainable way while not missing out on the fun! This Holi, be proud of a natural Holi. #TWN
Continue Reading..
It's that time of year again when the spirit of Holi, the bright festival of colors, will pervade every nook and cranny of the country. But this year, forego the typical Holi celebrations, which include water balloons, pichkaris, and hazardous colors that have a significant environmental impact. Instead, spend the holidays in an environmentally friendly manner. Holi is India's most colorful celebration. It is a festival with a stunning array of brilliant colors and a plethora of celebrations that bring life to the fiesta day. Holi is a colorful festival that commemorates God's victory over the devil and reminds us all of the power of goodness. Holi is a beautiful festival that celebrates the entrance of spring, and the colors utilized in the festival mirror the varied colors of this season. But, instead of all of these lovely things, Holi has become like all other celebrations, heartlessly marketed and has become yet another source of environmental damage. However, it is encouraging to see that people are becoming more aware of the negative impacts of Holi pollution and are attempting to return to more natural ways of celebrating this colorful celebration. Celebrations are an important part of our life. However, when we are involved in festivities, we must remember the importance of the environment around us. We must look after it. So, this year, let us enjoy Holi in an environmentally sustainable manner. Holi will be celebrated in the same way we do now but in a more environmentally responsible manner. Here are a few environmentally friendly methods to enjoy Holi to the fullest while also caring for the environment.
Colors That Are Eco-Friendly And Help Reduce Waste
This time, don't buy Holi colors from the store since, first, they're created with dangerous chemicals, and second, they're packaged in plastic, which ends up in our overflowing landfills or oceans. The alarming fact is that plastic is non-biodegradable, and as a result, it can last for more than 500 years on the earth. What you should do is: Rather than buying hazardous colors, go green and make your Holi colors with dried flowers or leaves, turmeric, sandalwood, and henna. To make the red color, collect any red flowers, such as hibiscus flowers. Simply powder the flowers with some flour after grinding them. Your red color is now complete. Soak Tesu flowers overnight in water or boil them for orange or saffron color. Once you have a lovely yellow-orange color, mix it with flour. Mix equal parts henna powder and flour for a green color and ground beets with flour for a pink or magenta color. A quick tip: Use wheat or gram flour to make the color in quantity. The greatest way to celebrate this colorful event is to play Eco-Friendly Holi with natural colors. Make your natural colors with turmeric, sandalwood, and henna, and use your imagination to create diverse combinations. These colors are safe to use and can be readily removed. Synthetic colors contain a variety of hazardous substances. These would not harm your skin or hair in any way.
Upcycled Products Can Be Used To Decorate Your Home
Every Holi celebration entails the task of adorning your home or neighborhood. Say goodbye to the usual party décor, which is primarily composed of plastics. Instead, try upcycling, which is simply a creative technique of reducing trash. According to the definition, upcycling is the process of repurposing discarded goods or materials to create new products. Newspapers, magazines, old books, and cardboard can be used to make colorful wall or garden hangings. The first step is to decide on a design for the wall decorations, then paste or draw it on cardboard. After that, cut the cardboard into the shape of the chosen pattern, then cut a bunch of newspapers together. Start sticking the newspapers to the cardboard by rolling them up like a pen. Paint the cardboard once it has been completely covered in waste paper. The last step is to use the piece of thread to hang the DIY décor item together. Make use of old CDs by transforming them into colorful coasters. Get a stack of old CDs and start painting. You can also cover the CDs with an old piece of cloth. And that's it; the bright coasters will come in handy throughout your Holi celebration.
Celebrating Phoolon Ki Holi
Holi is a festival that celebrates the arrival of spring, and in some locations, people wear floral jewelry and traditional clothing to welcome the season. If you can organize a Holi celebration in your society or at home, instead of using toxic and chemical-laden colors, it is a nice idea to use flowers. When flowers are discarded, they are simply disposed of and repurposed. Chemical-laden colors are damaging to the skin and the environment, and they contribute to pollution. It's important to remember that if you're going to play with flowers, you'll need to make plans for correct flower disposal. People in several places of North India, such as Lucknow and Pushkar, participate in this type of festivity.
Celebrating Holi Without The Use of Water
We can have a dry Holi instead of throwing water-based colors and water-filled balloons at each other. Holi should only be played with dry colors (Gulaal) and no water. In current days of water scarcity, if one person uses one bucket of water, he is using 15 liters of water, possibly more, as we also need water for color washing. A lot of water is consumed in this manner. It's a good idea to educate children by telling them that natural resources are limited and that we must use them wisely. Even if we truly want to enjoy Holi with water, it is recommended that we do so as a group using a community pool and gulaal.
Conclusion
Holi is a festival that is all about colors we spread. Playing an eco-friendly Holi is the modern call for our environment and ourselves. Gone are the days when permanent watercolors were trending. It is time to reinvest in the betterment of our nature with natural colors.
You May Like