7 Top Social Media Platforms To Use For Paid Advertising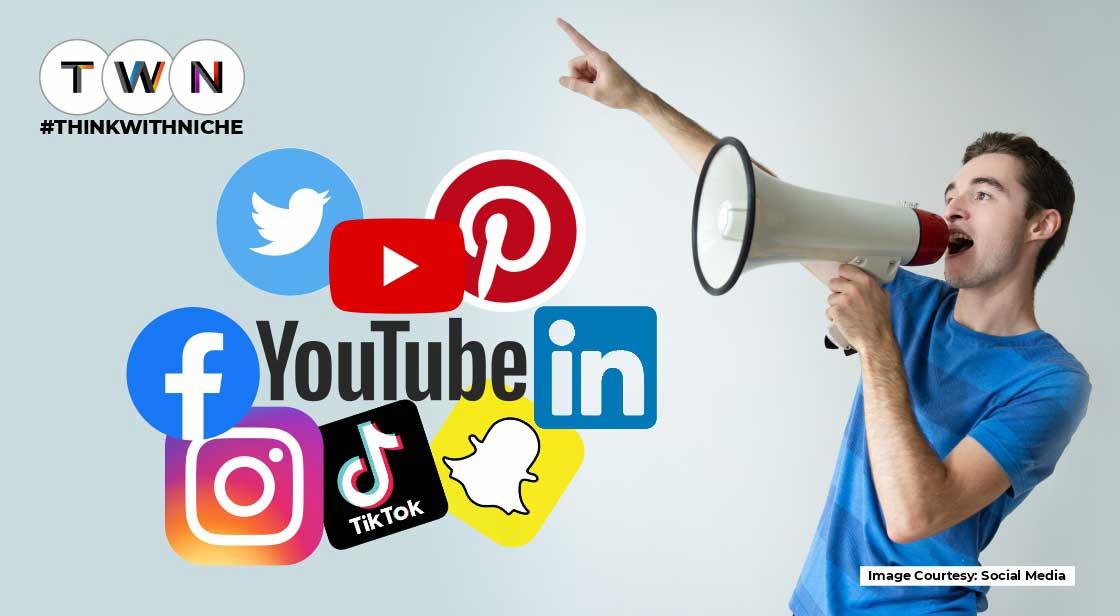 Social Media Paid Ads can be used to generate leads for service providers. Your business's most important asset is the quality of your leads. You can also go directly for sales conversion if your business is in the production of products or trade.
However, conversion rates can vary depending on what product you are selling and who your market is. If you own expensive items. You must first generate leads and then nurture them via email or phone calls to convert. Social media advertising is a great way to advertise low-priced items, depending on your demand. If you know your audience well, it will be a profitable venture for you. Let's explore the most widely used social media lead generation platforms.
Continue Reading..
Small businesses can use social media platforms to advertise for paid traffic. Paid advertising, also known as paid social media ads, is on the rise. This is because it's the first time in history that any company, no matter how small, can use Social Media to generate amazing results. Social media paid ads, and the online advertising market is booming today. A marketer who spends thousands every day to generate millions of revenue will be able to make millions.
This is a time when startups can explode on social media. Promote their products and services to reach their target audience and generate more leads. It all depends on the digital marketing strategies that you use for your business type, i.e. the services you offer or the products you make and sell.
E-commerce is more profitable when they play with low-ticket items via social media advertising. All you have to do is determine which advertising platform is right for your business. You will be able to identify your best practices and who your target audience is.
There are many strategies for lead generation in online marketing. However, social media advertising strategies are more effective.
Let's take a look at the most popular
Social Media Advertising Platforms to Generate Leads
1. Facebook Advertising: Social Media
Facebook Advertising, which has over 2.2 billion active users, is the most popular paid advertising channel on social media. You can also advertise on social media using other platforms.
Facebook has seen a huge increase in PPC advertising over the last 5 years. You can now use text and images ads, video ads, and many other options such as:
It's easier than ever to target the right people at the right times with detailed audience targeting.

Facebook ads are able to target a large portion of your targeted audience, which is a huge advantage for generating leads and sales.

You can use lead generation to collect leads information and upload it directly to Facebook.

Use a click-to-website campaign to redirect your audience to your site. This will help you achieve higher conversions.
Facebook offers several ad formats that can be used to organize your ads: single image and/or video ads, carousel advertisements, collection ads and carousel ads. Every business wants to be sure that their advertising dollars are being used efficiently. Facebook created the CBO concept. Advertisers can now set a single campaign budget that they can optimize across all ad sets by using campaign budget optimization. Distribute the budget in real time to the highest-performing ad sets Campaign budget optimization can be used for any campaign goal and is most suitable for campaigns that have multiple ad sets. This eliminates the need for budget shifting manually between ad sets.
2. Advertising on Instagram
Facebook is the most popular social media platform for advertising on Facebook when it comes to targeting and reach. Instagram is on the other side of things and is rapidly gaining popularity. It is next to Facebook and is a visual social networking platform that focuses on photos and video sharing. According to Statista 2018, Instagram is the most used social media platform. It has more than 1 billion users around the world and over 500 million Instagram users. This is what Instagram is known for in recent times. Advertising on Instagram is a great way to promote your brand with such a large audience Instagram is an amazing social media platform for advertising.
You don't need an Instagram account to advertise on Instagram. Your Facebook page can be used as the voice for your ad. If you believe your audience is on Instagram and Facebook, activate an Ad Campaign on both. Facebook Ads Platform allows us to target people by location. We can also target them by gender, age, language, target audience and connections. You can also create Instagram story ads using Edit placements and ticking the box to Stories in Instagram. Instagram supports many ad formats, including story ads and photo ads as well as video ads, carousel advertisements, collection ads, and ads for exploring. Instagram Ads can be used to power every aspect of your business and drive sales and lead generation.
3. Youtube Social Media Advertising
YouTube is second in search engine traffic after Google, with 2 Billion monthly active users around the world. Marketers use this social media advertising platform alongside text-based Google search advertisements. 50 million of these users are content creators, who upload videos to YouTube each day. YouTube Advertising is a great way to promote your business on social media.
YouTube has three categories of video ads, such as:
TrueView ads These skippable ads appear at the start of YouTube videos.

Preroll/Non-skippable video ads: As the name suggests these are non-skippable ads, they can be 15 to 20 seconds in duration and there is no way you can stop them unless the ads are run completely.

Bump ads: Bump ads are also non-skippable ads that last six seconds and appear at the end of YouTube videos.
YouTube Advertising allows you to expand your digital reach, find customers and target them with advanced targeting. YouTube Ads allows you to target videos by topic, category, and keyword. Placement Targeting also allows you to identify YouTube pages where you would like your ads to appear. YouTube ads typically cost between $0.05 to $0.10. This is a low price compared with the $50 per click for keywords on the Search Network. This means that you don't have to pay for people who skip your ad.
4. Linkedin Advertising
LinkedIn is a great place to connect with professionals and other people in your industry. This is why B2B marketers have a tendency to hover on LinkedIn Advertising Platform, where all the professionals are. Marketers can create advertising campaigns that are focused on brand awareness, lead generation, or engagement.
They can also choose a clearly defined objective like:
Brand Awareness

Visits to websites

Engagement

Video views

Lead generation

Conversions of websites
Linkedin Advertising offers different advertising formats depending on the goal. Formats such as Direct Sponsored Content and Sponsored InMail are also available. The most popular type of ads on Linkedin are Sponsored InMail and Text Ads. Linkedin Advertising offers many targeting options. B2B companies have the ability to target CEOs of investment firms and companies. You can also target three distinct audiences on Linkedin based upon their interaction, such as Account targeting or Website targeting. It would be great if all marketers wanted to speak directly to CEOs and not employees of companies. Linkedin advertising offers this opportunity to marketers who advertise on Linkedin.
However, advertising on Linkedin can be more expensive than other social media platforms like Instagram and Facebook.
5. Twitter Advertising
Twitter is another social network site that is used by journalists, PR teams, marketers, and individuals. It allows people to tweet short messages to communicate with one another and can also be used for microblogging. It is a combination of instant messaging, blogging, and texting. You will find most tweeters' microblogs to have fun and send useful content.
Tweets travel faster than any other online media and explode. Twitter is a great way to communicate with your audience in a personal and meaningful way. Twitter is home to many influential people who use Twitter to communicate and are open-minded about new products and brands. It is a powerful marketing tool that allows marketers to advertise their consulting and recruiting services as well as retail stores using Twitter. In fact, 42% of consumers find out about products and services through Twitter. Therefore, marketers use Twitter Advertising for their products and services. Your primary goal should be to attract a targeted audience and increase brand awareness. Twitter allows you to advertise via "promote mode" or "Twitter ads", such as Promoted Twitter, Promoted Accounts, and Promoted Trends. Promoted tweets can be paid advertisements that promote tweets based on location or interest to increase traffic to your website and generate leads.
6. Snapchat Social Media Advertising
For young people who enjoy sharing their stories in a playful way, Instagram, TikTok, and Snapchat are the best platforms. The young generation of today can watch, listen, post, and, more likely, send a Snapchat Snap. Snapchat also offers augmented reality (AR), which is a popular feature that this generation uses to personalize and personalize their snaps and share them every day. Snap claims that AR is used by more than 70% of its users each month. Snapchat is less popular than Instagram and Facebook in advertising but it has almost 200,000,000 daily active users who watch 10 Billion videos every day.
Snapchat Advertising allows brands to advertise online. It is all about branding in a way that young people are most likely to engage with your brand. Knowing your target audience is key to advertising success with Snapchat. Snapchat prefers ads that are natural and normal to professional content. Snapchat ads that have their audio turned on are also viewed 60% by people. This means that users listen to your message for more than half the time they view them. Snapchat may not be the right platform for every company, but marketers have an enormous opportunity to market their products and services to connect with millennials.
Snapchat Advertising is available in many ways. Marketers can advertise via:
Top Snap Only

Web View

App Install

Long-Form Video

Deep Link

Sponsored Lenses

Sponsored Geofilter

On-Demand Geo-Filter
Pinterest is another social media platform that can be used to advertise your ideas. Pinterest allows users to search for inspiration, create boards, and pin content that interests them later. Pinterest claims that more than 300,000,000 people visit Pinterest each month, and 84% of them use Pinterest to help them decide what product to buy. This gives marketers an incredible opportunity to reach more people through Pinterest's search, browsing, and discovery. Pinterest ads can be promoted as Promoted Pins/Pinterest Ads, Promoted Carosal or Promoted Video Pins, Promoted Carosal, and Promoted App Installations. Pinterest is an already-essentially huge search engine so hashtags don't really have a place on organic Pins.
Promoted pins can be used in 2 ways to benefit your business
Users who browse Pinterest can see ads

Pinterest searches can also include pins
Targeting works by combining basic targeting criteria such as location, gender, and more, with interest targeting or keyword targeting. Once your ads have been set up, you can track their progress and make any necessary adjustments to campaigns.
The Ad manager provides all information required to analyze a campaign. It includes attributes such as:
Numerous impressions

The number of savings

Clicks

Click-through rate

Effective CTR

CPC/CPM Average

Total advertising spend
Final words:
These social media platforms are among the most popular paid advertising platforms in the 21st Century. We don't know what the next social media boom will bring. However, not all social media platforms can be used for all types of businesses. TikTok and Instagram are the top social media platforms for wholesalers and retailers, which is also known as B2C businesses. Twitter and Linkedin, which are popular social media platforms for B2B companies, are the best. It is the choice of corporate executives. In certain countries, Snapchat and Pinterest are very popular.
These are just a few social media platforms that can be used for demand generation, direct traffic, and lead generation.
Related Blogs


You May Like