Future Group Success with Kishore Biyani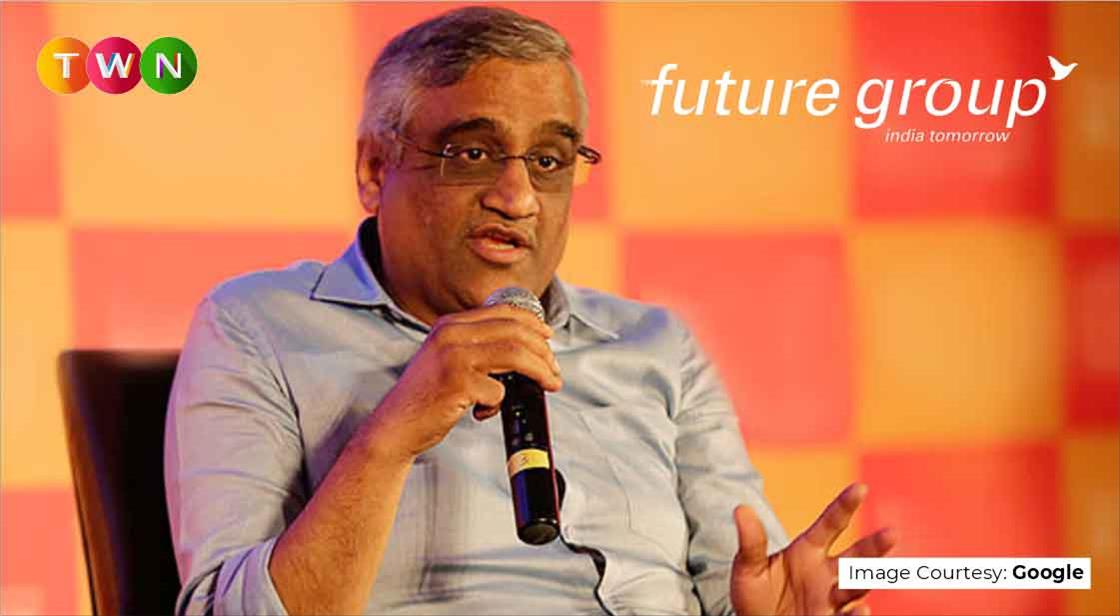 Kishore Biyani is a name you may be familiar with. Whether you answered yes or no, you surely have heard of Pantaloon and Big Bazaar.
This is the success story of Kishore Biyani, the CEO and creator of the Future Group as well as the founder of India's "Big Bazaar" retail sector. The following is a modern success story of Kishore Biyani, who founded the Pantaloon brand in Patloon and built a 17000 crore empire from a modest shop. Reading the success tales of Indian entrepreneurs such as Kishor Biyani is inspiring. We aspire to follow in his footsteps on the road to prosperity. #TWN
Continue Reading..
Kishore Biyani, the Sam Walton of India, was born on August 9, 1961, and is the founder and CEO of the Future Group.
Kishore is the man who has taken the retail business by storm and now has zillions of successes under his belt, but he has also experienced his fair share of disappointments! The Future Group already has more than 70 million square feet of retail space in 90 cities and 60 rural regions, with plans to develop another 9 million square feet in the coming years.
Along with Dipayan Baishya, he co-authored his own autobiography, "It Happened in India: the Story of Pantaloons, Big Bazaar, Central, and the Great Indian Consumer." So far, about 100,000 copies of the book have been sold, significantly more than any other business book released in India.
Kishore has a bachelor's degree in commerce from H.R. College and enjoys playing tennis, where he is sometimes seen putting a wager before the game begins. He is married to Sangita Biyani, and they have two children. He is based in Mumbai. Ashni, his older daughter, is a director of Future Ideas, the group's innovation and incubation cell (textile design graduate from Parsons, New York).
The Beginning of Kishore Biyani & Future Group
Kishore Biyani, the current pin-up boy of the Indian retail business, has worked in a variety of capacities throughout his career, including as a trader, a failed filmmaker, and a dance festival organizer, before settling down to become an innovative retailer. Kishore, unlike many others at his level, was not born with the silver spoon and has worked his way up the ladder on his own.
Kishore grew up in a family of businessmen, or should we say that business, is literally in his blood and ancestry, dating back to his grandparents; he was never very interested in academics and merely pushed himself to graduation. He believed that "college or business school may be excellent for managers, but not for entrepreneurs" and was frequently observed spending the majority of his days outside, exploring new areas and interpreting the real world.
In reality, his profession began when he was nearing the completion of his studies!
Kishore had joined his father, brothers, and two older cousins in the family's fabric-trading firm, "Bansi Silk Mills."
Kishore did come to work, but he couldn't seem to find the fervor and freedom he was looking for, and he was subdued by the company's conventional business culture, so he used to leave after 2 or 3 hours. He was strongly opposed to the way the corporation operated and believed that its attitude and approach to business were incorrect.
It was the early 1980s at the time! When he observed some of his friends wearing "stonewashed" cloth trousers, a trendy material at the time, his first entrepreneurial success knocked on his door. He discovered a local mill that created that kind of cloth right away and sold a few hundred thousand rupees worth of it to a few garment manufacturers and shops in the city, earning his first profit.
Kishore had gotten his fill of blood and was hungry for more! He began urgently searching for something new, anything different.
He even worked with a couple of his older cousins who had launched their own businesses, particularly in the areas of plastic, grooved paperboards, and packaging, but it wasn't enough to keep his enthusiasm alive.
He was seeking a business or a concept that could reach the maximum amount of people in the country. That's when he had an epiphany, and the unthinkable occurred.
He created his fabric line for men's trousers, dubbed "WBB - white, brown, and blue."
Rise, Fall & Comeback of Future Group
And it was from here that the "Future Group" rose to prominence! This is the success story of Kishore Biyani.
Rise
In a short period of time, he surpassed the market's peak demand, selling more than 30,000 to 40,000 meters of material every month.
Finally, in 1987, the impossible happened: Kishore founded "Manz Wear Private Ltd." and began selling his clothing under the brand name "Pantaloon," which he chose because it evoked the feel of an Italian fashion house while also being closer to patloon (an Urdu word for trousers).
"The first million is usually difficult to earn," as the saying goes, and the company's early phases were not as straightforward as imagined!
When Kishore launched the company, practically everyone he knew predicted that it would fail, and the worst part was that he didn't have a family corporation to fall back on. They were barred from participating in retail functions, brands refused to supply them, banks were hesitant to lend to them, and the merchants' organization cut them off from their group, among other things. Basically, it was a trying time for them – but, as Kishore puts it, "It was fun!"
Anyway, Manz Wear grew steadily and was now supplying a few garment stores; however, Kishore didn't seem pleased and wanted to broaden his horizons.
After that, he built a chain of franchise stores that sold solely Pantaloon trousers, and in 1991, Pantaloon Shoppe opened its first store outside of the state in Goa, which later expanded to include a men's apparel line.
In comparison to the chain of events that had occurred previously, the year 92 saw the greatest spike. Kishore, or should we say his company, entered the stock market this year in a calculated attempt to keep the fuel flowing, which was the primary requirement for his continuing expansion!
He not only went on a store-opening spree, but he also spent a lot of money on marketing, and by the age of 94, the Pantaloon franchise had grown into a 9 million laying golden eggs business.
Their management staff found it impossible to visit each of their locations to evaluate service quality, which weakened some of the older establishments, while on the other hand, commission-based franchisees were more concerned with instant profits than with customer service.
To remedy the problem, Kishore began looking into the possibility of converting Pantaloon into his own large-format retail stores in 1996, when he came across a 10,000 sq ft building in Kolkata.
The concept, location, and timing were all ideal because the city's largest stores at the time were no larger than 4,000 square feet. As a result, the first Pantaloons department store opened to the public in August 1997.
Kishore began work on his next big project, Big Bazaar, a hypermarket with a dash of chaos, not long after (stores that were crowded, noisy, and a bit messy on purpose).
"Part of his success is down to serendipity - being in the right business, at the right moment, in the right country," Kishore wrote in his book. Similarly, the timing was ideal; his target audience, the Indian middle class, had progressed to the point where they now had money to spend and were just seeking modern ways to do it!
Having stated that, he opened the first Big Bazaar in Kolkata in 2001, followed by two more in 22 days. Since then, he has gone on to open over 100 stores across the country, serving over 2 million people each week.
Fall
Even though things were going well and prosperity looked to be falling at his feet, the company suffered a setback.
It began with a modest setback that brought the company's operations to a standstill; this was primarily due to the fact that two of its films, "Na Tum Jaano Na Hum" (2002) and "Chura Liya Hai Tumne" (2003), were enormous flops in Bollywood.
However, the company's biggest downfall occurred when the economic slump hit it hard. The devastation was mostly caused by massive sums of debt that had amassed as a result of the imprudent expansion.
Pantaloon had to postpone the opening of up to 30 of its outlets due to the sudden change. They were also obliged to shrink several of their other locations.
They were obliged to give up over 2 million square feet of retail space, renovate half of the Big Bazaar hypermarkets he ran, sell off businesses, and restructure operations due to mounting indebtedness. Even more heartbreaking was the fact that these sales included Aditya Birla's purchase of a 50.1 percent share in their Pantaloons business!
As unpleasant as these acquisitions were, they were also part of Kishore's overall strategy, which included an increase in production and efficiency rather than expansion, as well as a shift away from 'sasta' (inexpensive in Hindi) to high-value, high-margin items. Furthermore, Kishore's ultimate goal was to become "cash-rich and do acquisitions" once more.
Comeback
And as expected, the company has progressively recovered from its low points, and Kishore, the Managing Director of India's largest publicly traded retail company Future Retail Ltd, is now back and ready to discuss growth. Soon, everyone began to recognize his plan and the job he was doing, and now, whether you like him or not, you can't ignore him.
Today, the corporation has evolved into a plethora of empires of its own, all of which eventually fall under the banner of Future Group! With its successful supermarket wings, the business is now known for having a significant presence in the Indian retail and fashion sectors.
Pantaloon Retail stores currently occupy more than 70 million square feet of retail space across the country, employ more than 35,000 people, have more than one-fourth of the population (300 million people) visit or revisit the stores every year, generate a net profit of more than INR 960.18 crores ($150 million) annually, and have also expanded into other fields.
Achievements
Mr. Kishore Biyani has received numerous accolades, including: –
The "CNBC Awaaz Consumer Awards" were given to me (2009)

Pantaloon Retail was named "International Retailer of the Year" at the event (2007)

Ernst & Young named him "Entrepreneur of the Year" (2006)

Images Retail Awards "Retail Face of the Year" (2005)

"The Year's Most Admired Retailer" (2004)

"CEO of the Year" is a title given to a company's chief executive officer (2001)
Conclusion
Kishore is one of the few persons who has built a full business, on his own, without the help of any godfathers or family members.
And plainly, not everything Mr. Kishore Biyani has attempted, like every other human being and great businessman, has worked out in his favor.
But it hasn't prevented him from constantly experimenting and trying out new ideas, which is exactly what any successful person does! Continue to Strive.
Related Blogs



You May Like