Success Story Behind Bhavish Agarwal's Ola Cabs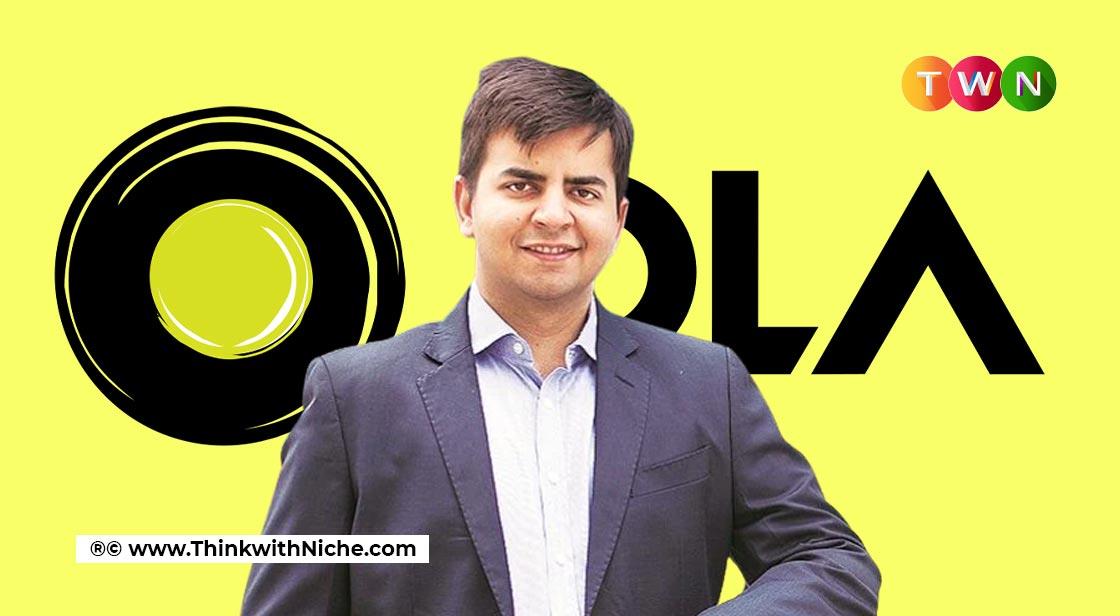 We don't need to introduce Ola. Ola, the first Indian cab aggregator business, has made using cab services simple. Ola, formerly known as OlaCabs and now owned by ANI Technologies Pvt. Ltd., was established in December 2010 by two IIT Bombay graduates.
The Ola founders think that transportation should be included right away. The two IIT Bombay students are aggressively growing the operations of their online cab aggregation business, which was founded in 2010 to address the nation's transportation woes.
Being a pioneer among Indian taxi firms, Ola successfully bridges the gap between cab drivers and commuters. Co-founder of Ola Cabs and Ola Electric and an entrepreneur from India named Bhavish Aggarwal. Aggarwal was listed among Time magazine's 2018 list of the 100 Most Influential People.
Aggarwal was included in Time magazine's 100 Most Influential People of 2018. In this blog post, we will explore the Success Story Behind Bhavish Agarwal's Ola Cabs.
Continue Reading..
While the majority of us dream of owning posh vehicles with cool drivers, meet this Indian entrepreneur who enchanted the lives of millions by curating the best online "Book A Ride" service. The mastermind behind one such 'e-commerce' venture gave people relief from traveling by chaotic rickshaws or buses.
Bhavish Agarwal is an Indian entrepreneur and a co-founder of "Ola Cabs" who hails from Punjab, Ludhiana, and was born on 28th August 1985. He then graduated from IIT Bombay in 2008 with a bachelor's degree in Computer Science and Engineering. He lives in Bangalore now. Apart from working non-stop, he enjoys cycling, playing squash, and owns a photography blog, which shows how much he admires photography. His favorite book includes "Biography of Steve Jobs".
Since Bhavish Agarwal is a savvy tech, he started his own blog as a blogger at Desitech. From 2008 till 2009. Desitech, In loyally hosts content related to tech geek things and is all about Indian start-ups, events, etc. While he was already laddering up the success shield, he kick-started his career with a bang enduring a position with a highly reparative company "Microsoft Research" as a research intern and got restored at a later stage as assistant research for 2 years from 2008 till 2010. At the same time, he got 3 papers published in internal journals by filing 2 patents. Bhavish then soon ditched his job to build an empire of online rental cab service known as "OLA CABS" in 2010 which was a re-branding of his previous venture.
During the start-up Bhavish experienced a rough phase, he once addressed customer calls and drove a customer to the airport.
Ola needs no introduction. The first Indian cab aggregator company, Ola has made availing of cab services a smooth experience. Owned by ANI Technologies Pvt. Ltd. and formerly known as OlaCabs, Ola was launched in December 2010 by two IIT Bombay graduates. Being a pioneer among cab companies in India, Ola bridges the gap between cab owners and commuters, and it has done so really well! Bhavish Aggarwal is an Indian entrepreneur and co-founder of Ola Cabs and Ola Electric. Aggarwal was included in Time magazine's 100 Most Influential People of 2018.
Story of Ola founder Bhavish Aggarwal
Bhavish Aggarwal, the founder of Ola, completed a B.Tech. in computer science from IIT Bombay in 2008. Bhavish, the owner of Ola Cabs, spent his first two years out of college in Bangalore working for Microsoft Research. During his time at Microsoft, he submitted two patent applications and published three research articles in international journals.
He founded an internet business to market short-term vacations and excursions while pursuing his entrepreneurial passion, which he later transformed into Ola Cabs. Both the co-founder and CEO of Ola are named Bhavish Aggarwal. Bhavish Aggarwal, the owner of OLA, was born on August 28, 1985, and as of 2019 data, his personal net worth was projected to be around $350 Million. Bhavish's wealth continued to rise, reaching Rs 7500 crore ($958.43 million) in September 2021.
This earned him a spot on the list of India's 40 wealthiest people, which also includes Sachin and Binny Bansal, Neha Narkhede, Nakul Aggarwal, and Ritesh Arora and is headed by Divyank Turakhia, who has a net worth of Rs 12,500.
Bhavish Aggarwal, the CEO of Ola, is reportedly planning to focus more on the company's new and future ventures while stepping away from day-to-day management of Ola's primary business. According to an internal organizational letter, Arun GR, who joined Ola in 2021 from Vedanta Resources and previously served as the Chief Financial Officer (CFO) of Ola Electric and Ola Financial Services, will be in charge of the company's day-to-day operations.
According to Bhavish, he will continue to lead Ola's team development, product creation, engineering tasks, two-wheeler and automobile projects, rapid commerce verticals, international expansion, and other initiatives.
Bhavish Aggarwal's net worth
As of 2022, Aggarwal's net worth was 11700 crore. Ola, his business, is worth $6.5 billion. One of India's youngest billionaires, he is young. He enjoys a lavish lifestyle with all the accouterments that come with excessive riches. He drives a Rolls Royce Phantom, a Bugatti Veyron, a Mercedes S600, and several more high-end automobiles.
Ankit Bhati - co-founder of ola
Co-founder and Ola Cabs' Chief Technology Officer (CTO), Ankit Bhati. In 2010, he and Bhavish Aggarwal co-founded Ola. He co-founded ANI Technologies, as well. There have been rumors that Ankit Bhati's separation from the ridesharing company last year was caused by significant disagreements between him and Bhavish Aggarwal, the company's founder. But his contribution to the business goes much beyond such suppositions
Also Read: The Success Story of American Express Owner!
Idea behind OLA
Ola Cabs was founded as a result of Bhavish Aggarwal's pain point. The driver abandoned him in the middle of his trip from Bangalore to Bandipur. The reason is that he was unwilling to change the already agreed-upon compensation for the driver. He started thinking about how he could create a helpful and enjoyable taxi service as a result of feeling helpless. Finally, he and co-founder Ankit Bhati completed their goal in December 2010.
Ola Electric
Electric scooter
On May 26, 2017, Ola unveiled India's first multimodal electric vehicle initiative. In order to promote shared mobility in Nagpur and pioneer electric vehicles for the general public, the project brought together industry professionals and the Indian government. With a $250 million investment from SoftBank in July 2019, Ola Electric Mobility Pvt. Ltd., which was established as a separate organisation, also attained unicorn status.
Achievement of Bhavesh Agarwal
You discover that Bhavesh Aggarwal has won numerous honours when you learn more about him. Some of the accolades Bhavish Aggarwal has won include:
IAMAI HATT awards' "mBillionth Award South Asia 2013 Best startup of the Year"
Bhavish Aggarwal, a member of the Forbes "30 under 30" list and the Hindustan Times "30 under 30," was recognised as CEO of the Year at the 2019 SABRE Awards South Asia.
He was named Entrepreneur of the Year by the Economic Times and winner of the Asia Business Leader Award by CNBC-TV18. Breakthrough of the Year
Ola - Business Model and Revenue Model
Ola's business strategy is straightforward. It facilitates the provision of taxi booking services. Through the app, users may order cabs. All of the cabs are not owned by Ola. Only drivers with valid licenses that have been officially authorized and validated by transportation authorities are permitted to register with Ola; these drivers may be independent contractors or hired by a company with several vehicles.
Once they register with Ola, drivers have access to a driver-specific mobile app on their smartphone, just like we do as customers. This is only done after carefully examining the validity and performing due diligence on the business and personal documents of both the driver and the operator.
The Ola application gives drivers the freedom to choose their own time to log in and accept customer ride requests. Depending on their convenience, they can decide to keep their session closed on the system. Ola charges an average commission of 15% for all reservations made through the app.
Ola - Funding, Investors, and Valuation
Over 29 rounds, Ola has raised a total of over $5 billion in funding. The secondary market and debt finance are also included. On December 8, 2021, OLA received its final round of fundraising after successfully raising $139 million from investors including Edelweiss.
Another investment round, dated February 22, 2022, followed, with a number of investors participating, including Arrow Multi-Asset Fund and Axis Growth Avenues AIF. According to the company's regulatory filings, the recent Series J funding enabled OLA raise Rs 150 crore.
This follows the mobility giant's acceptance of the assignment of 66,268 Series J1 preference shares, which are now fixed at an issue price of Rs 22635 for a single share. Axis Growth Avenues AIF was discovered to have invested Rs 112.5 crore in this tranche, while Arrow contributed Rs 37.5 crore.
You May Like