Financial Tips to Get Rid of the Debt Quicker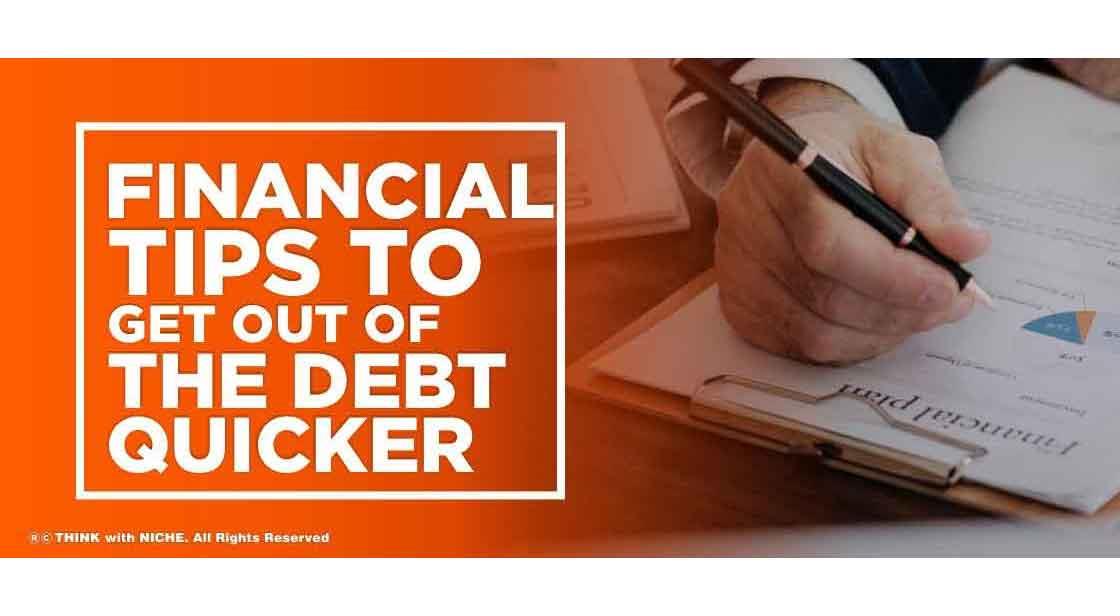 It's simple to claim everything is fine when you're in debt. Until it eventually meets you one day. Debt is a blunder. What a moron! And tackling it head-on is really the only solution to get out of it. It only stays "hidden" for so long, no matter how much you'd like to pretend it's not there. You've come to the perfect site if you're seeking ways to get rid of debt (for good). We've got some great financial tips to help you get rid of debt faster. Besides, we have also mentioned money management tips and personal finance tips for you. Let's explore! #TWN
Continue Reading..
When it comes to dealing with debt, financial strategists frequently propose two approaches. The methods "avalanche" and "snowball" are two distinct types of methods. Both techniques can help you focus your debt-reduction efforts. Paying off your debts with the maximum interest rates first is known as an avalanche method. You throw all of your money at them while simply paying the least on all of your other debts. The snowball method requires you to start with the smallest amount of debt, pay it off, and afterward go on to the next obligation. Following these methods can lead to financial debt relief, or follow the given tips below for more information.
Here are some financial tips that you must follow to get rid of debt quickly:
Make a Plan
Your base payments will be your loan/credit card payments, as well as bills for necessities (such as power, heat, and water). If these already outweigh your net income, you'll either have to drastically alter your lifestyle (sell the property, move into a smaller place, take over a second job) or declare bankruptcy. Alternatively, depending on your location, you may be able to take additional measures. First and foremost, you must devise a strategy.
Use Savings to Pay Debt
Don't be hesitant to utilize some of your savings to repay loans with high-interest rates. Using reserve funds to pay down debt is a smart choice since it avoids the accumulation of interest on large balances. Although having some extra cash in your bank account may feel comforting, the fact is that those dollars are really not working for you - especially with today's extremely low-interest rates.
Pay off Debts with Tax Refund
While it's tempting to spend your tax refund on a high-ticket product or a trip, it's a better financial move to pay off part, or all, of your debt. Consider the benefits of a single payment debt payoff method in terms of lowering your monthly payments. Instead of savoring the short-term delight of purchase, you'll reap the rewards of a lower debt burden over the coming years.
Make the Most of your Bonuses
Instead of storing the money in the bank or spending it on yourself, apply it to your loans once you get a tax return or stimulus check. You have the option of devoting the full windfall to debt or splitting it 50/50 between loan and something pleasurable, such as a forthcoming vacation or a lavish supper.
Interest Rates Should Be Reduced
You must have undoubtedly already seen the flaw in our quarterly payoff plan: interest continues to accrue as you pay down your debt. You'll pay extra interest if you extend your payback time. The interest you incur may end up increasing your payback period significantly, based on your rate of interest and the money you give off each month.
Consider going Resale Shopping
Children outgrow their clothing at the velocity of light. And, let's face it, going into debt to pay for your two-year-ever-changing old's clothing isn't worth it. Look for consignment shops in your area that sell gently used clothing in good shape.
Start a Side Hustle
It's never been easier to start your own company! Do you possess a natural talent for creating things? Sell your wares on the internet. Do you have a soft spot for animals? Become a dog walker or a pet sitter. Whatever it be, it will be a fantastic resource for turning your favorite pastime into a serious cash cow!
Money Management Tips for Improving Your Finances
Make a Budget

Track Your Spending

Save for Retirement

Save for Emergencies

Plan To Pay Off Debt

Establish Good Credit Habits

Take On a Positive Money Mindset

Keep Working to Set Yourself Up for Financial Success
Personal Finance Tips
Create a Financial Calendar

Check Your Interest Rate

Track Your Net Worth

Set a Budget, Period

Consider an All-Cash Diet

Take a Daily Money Minute

Allocate at least 20% of Your Income Toward Financial Priorities

Budget About 30% of Your Income for Lifestyle Spending
Conclusion
It's difficult, but not impossible, to get out of debt. You'll be released sooner than you think if you're careful, determined, and practical.
Related Blogs

You May Like