The Business of Media Rights for Famous World Premier Leagues Year 2022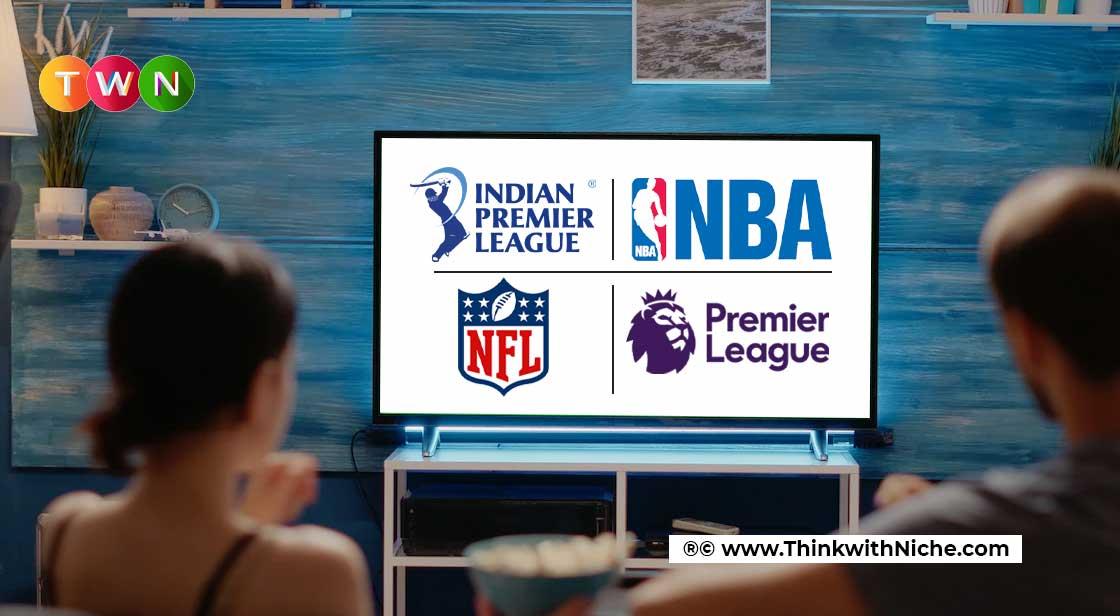 Sports are not only a great source of entertainment but are also one of the biggest fortune makers for the organizers. Billion dollars are earned by the sports boards just by selling the Media Rights for Famous World Premier Leagues. Some of the numbers that we are going to discuss today will even shock you and make you regret your decision of choosing academics over sports. #TWN
Continue Reading..
Sports are now not limited to fields; the bigger is the fan following of the sport is, the bigger it is in the financial game. Billions of dollars are spent on sports every year. NBA alone by T.V. viewership earns around $10 billion every year. So, it's obvious that there is a war going on among all the broadcasting companies for the media rights of these big leagues. Companies are ready to spend billions just for broadcasting rights because of the humongous profit involved in advertisements. If we talk about NFL, it signed a $100 Billion+ deal for its broadcasting rights with different companies. Ok, I'll not confuse you by discussing all the big leagues broadcasting rights in one place. Hence, let's discuss each of them separately and take a glance at the revenue model of each of those leagues and who is the biggest revenue generator among them.
Indian Premium League (IPL) Media Rights
IPL is the biggest cricket league in the entire world and the biggest moneymaker for the Indian cricket board (BCCI). Media houses go crazy when it's time for the bidding of IPL's media rights. For the media rights of 2023-27, some big players have stepped in namely Amazon, Netflix, and Facebook are likely to bid for the media rights of IPL's media rights. Times of India, Apple may pick the tender documents by next week and is likely to be challenged by tech giants like Facebook and Netflix. Some of the biggest companies like Disney, Zee-Sony, Amazon, and TV18-Viacom already have bought the tenders.
The prices of IPL media rights have been increased severely in the last 14 years. Starsport, the current owner of the media tender of IPL, bought the rights for Rs.16,347 crores in 2017, but for the years 2023-27, the base price of the media rights will fall between Rs.45,000 crore- Rs.50,000 crore.
This time IPL media rights have been divided into four buckets. Let's take a deeper dive to understand these buckets:
IPL TV Broadcasting Rights- First Bucket
The base price for TV broadcasting rights has been already set to Rs. 18,130 crore. Each game has a fixed price of Rs. 90 crore. This price may rise if the number of matches increases.
IPL Digital Rights- Second Bucket
The base price for the digital rights has been set at Rs. 12,200 crore. These rights are expected to get out of stock pretty soon as the consumption pattern of the audience has changed drastically in recent years.
18 Games including the opener and four play-offs- Third bucket
This bucket will include 18 games which will include the opener as well as the play-off matches. The base price for this bucket has been set to Rs.1,440.00.
Overseas TV and Digital rights- Fourth Bucket
This bucket price has been set to Rs.1,100 crore.
National Football League(NFL) Media Rights
NFL media rights have been distributed way beyond the 2021 season. The league signed a long-term agreement with familiar names like; Amazon, CBS, ESPN/ABC, Fox, and NBC. These agreements will be effective by 2023. Let's take a deep dive into each of the agreements:-
Amazon
Amazon Prime is available on every device, and the content is consumed thoroughly throughout the world and now has the exclusive rights to "Thursday Night Football" after it became a part of the "Tri-Cast" distribution model with few other networks in 2017. As per a report published by CNBC, Amazon is paying $1 Billion per season for the midweek exclusivity.
CBS
For the past 78 years, CBS has been a primary home for AFC games on Sunday afternoons, which will now be streamed on the new subscription service Paramount Plus as well as on CBS television. This deal costs CBS $2.1 billion-per-season.
ESPN/ABC
Disney didn't let go of "Monday Night Football" on ESPN by investing around $2.7 billion per season, as per a report by CNBC. ESPN and ABC now have two super bowls in 2026 and 2030. On ESPN+, all the games will be streamed, from both networks. If you are a subscriber of ESPN+, you get exclusive access to at least one international game per season.
Fox
Just like CBS, Fox continues to hold on to NFC since 1994. NFC receives $2.2 billion annually from fox, and right now, Fox has the rights to the Super Bowls of 2024, 2028, and 2032.
NBC
"Sunday Night Football" isn't relocating as of now, and it has retained the rights by paying $2 billion per season for exclusive coverage. NBC's Peacock (streaming service of NBC) will also have exclusive rights for the coverage of select games as per the agreement. NBC has the Super Bowl telecast rights for 2025,2029, and 2023, as per the latest deal.
NFL Network
The official network of the league still has rights to network some games.
AT&T/DirecTV
No changes can be seen in the NFL's premier premium TV package, as this remains the only way to subscribe to NFL Sunday Ticket.
National Basketball Association (NBA) Media Rights
Just like NFL celebrated its $100 Billion deals, everyone's eyes were on the NBA's media rights deal for the year 2024-25 season. Early prediction suggests that NBA will seek at least a $75 billion rights package. Anyways that's the future of the NBA. Let's talk about the present deals and what is the current revenue model of the NBA's media rights.
Currently, NBA has a deal of $24 billion, and NBA receives $2.6 billion per year. NBA's International Media Rights are owned by Viacom18.
NBA deal with Viacom18
Viacon18 is owned by Indian billionaire Mukesh Ambani. This network has signed a three-year deal with the NBA, the American professional basketball league, and has the exclusive telecast rights of the weekly games, NBA Play-In Tournament, the Playoffs, and finals. Viacon18 will also telecast daily highlights and NBA extra. Viacom18 will provide coverage of regular seasons and marquee events on its TV channels, VH1 and MTV, and will also be streamed on its online digital platforms, VOOT and Jio TV.
English Premier League Media Rights
One of the most popular leagues in the football world. Although the English premier league only involves teams from England but is still popular all over the world, and hence, the revenue generated by the Media Rights of this league was $3.9 Billion in the year 2021, which rose to $7.1 Billion for the year 2022. Let's take a look at local and international media rights distribution of EPL.

| | |
| --- | --- |
| Belgium | Telenet |
| Bulgaria | Nova |
| Central and Eastern Europe | IMG |
| Cyprus | Cyta |
| France | Canal+ |
| Germany, Austria and Switzerland | Sky Deutschland |
| Greece | Cosmote |
| Iceland | Siminn |
| Ireland | Sky Sports, BT, Premier Sports |
| Italy | Sky Italy |
| Netherlands | Ziggo |
| Norway | TV2 |
| Poland | NC+ |
| Portugal | Sport TV |
| Russia | Rambler |
| Spain | DAZN |
| Sweden, Denmark and Finland | NENT |
| United Kingdom | Sky Sports, BT, Amazon |
| Middle East and North Africa | beIN Sports |
| South Africa | SuperSport |
| Sub-Saharan Africa | SuperSport |
| Sub-Saharan Africa (free-to-air) | Infront |
Australia

Optus

China

Tencent Sports*

Hong Kong SAR

PCCW

India

Star Sports

Indonesia and East Timor

Mola TV

Malaysia

Astro

Mongolia

SPS

New Zealand

Spark

Pacific Islands

Sky Pacific

Singapore

Singtel

Taiwan

Eleven Sports

Thailand




TrueVisions Group

Brazil

ESPN Brazil

Canada

DAZN

Central America

SKY Mexico

USA

Global

UEFA Champions League




NBC Sports

IMG/Sport24



UEFA Champions League Media Rights
One of the biggest leagues not only in entire Europe but in the entire world whooping $17.5 Billion dollars deals were signed for the television broadcasting rights till 2027, which is an insane amount. We will require an entire dedicated article, if we try to cover every media broadcasting company that owns the rights in detail, hence we in this article we will discuss some major broadcasting rights owners and in a dedicated article, we will discuss these possessions in detail:-

| | |
| --- | --- |
| Albania | |
| Andorra | |
| Armenia | Vivaro Media |
| Australia | |
| Austria | |
| Azerbaijan | CBC Sport |
| | |
| Belarus | |
| Belgium | |
| Bolivia | |
| Bosnia and Herzegovina | |
| Brazil | |
| Brunei | |
| Bulgaria | |
| Cambodia | |
| Canada | |
| Caribbean | |
| | |
| | Saran Media |
| China | |
| Costa Rica | |
| Croatia | |
| Cyprus | |
| Czech Republic | |
| Denmark | |
| Dominican Republic | |
| Ecuador | |
| El Salvador | |
| Finland | |
| France | |
| Georgia | |
| Germany | |
| Gibraltar | Gibtelecom |
| Greece | |
| Guatemala | Chapin TV |
| Haiti | |
| Honduras | |
| Hong Kong | |
| Hungary | |
| Iceland | |
| | |
| Indonesia | |
| Ireland | |
| Israel | |
| Italy | |
| Japan | |
| Kazakhstan | |
| Kosovo | |
| Kyrgyzstan | Q Sport |
| Laos | |
| Luxembourg | |
| Macau | |
| Malaysia | |
| Malta | |
| | |
| Mexico | |
| Moldova | |
| Mongolia | SPS |
| Montenegro | |
| Myanmar | |
| Netherlands | |
| New Zealand | |
| Nicaragua | |
| North Macedonia | |
| Norway | |
| Pacific Islands | |
| Panama | Medcom |
| Paraguay | |
| Peru | |
| Philippines | |
| Poland | |
| Portugal | |
| Romania | |
| Russia | |
| Serbia | |
| Singapore | |
| Slovakia | |
| Slovenia | |
| South Africa | |
| | |
| South Korea | |
| Spain | |
| | |
| Sweden | |
| Switzerland | |
| Taiwan | ELTA |
| Tajikistan | Varzish TV |
| Thailand | |
| Turkey | |
| Ukraine | MEGOGO |
| United Kingdom | BT Sports |
| United States | |
| Uzbekistan | MTRK |
| Venezuela | TLT |
| Vietnam | FPT |
You May Like