Top 10 Indian Colleges Dropouts Who Became Successful Entrepreneurs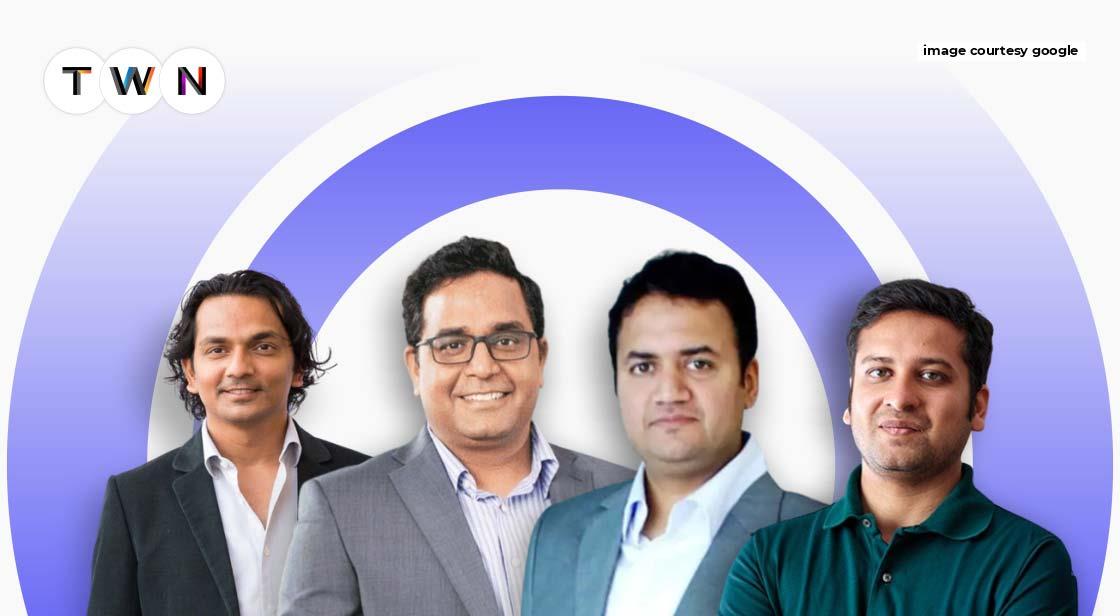 College Dropouts have become cool these days. We all have heard about Mark Zuckerberg and Steve Jobs as college dropouts who made it big in the entrepreneurship world, but we are not going to talk about them in this article. We will cover some of the Indian entrepreneurs who became successful after dropping out of college. Indians, by no means, are bound to the traditional way of success. They created opportunities and made it big globally. A list of college dropouts who became successful is something that will motivate you to follow your passion no matter what phase of life you're in. These people made it happen in their prime education time. Why should you hold back! #TWN
Continue Reading..
College Dropouts have become cool these days. We all have heard about Mark Zuckerberg and Steve Jobs as college dropouts who made it big in the entrepreneurship world, but we are not going to talk about them in this article. We will cover some of the Indian entrepreneurs who became successful after dropping out of college. Indians, by no means, are bound to the traditional way of success. They created opportunities and made it big globally.
Let's look at the list of Indian college dropouts who became successful entrepreneurs, and we hope you get some motivation from their stories.
Without any further ado, let's get started and motivate you to be among them.
1. Mahesh Murthy
Mahesh has invested 29 years advising big brands on marketing and 13 years advising startups on marketing and funding. Nineteen of these years have indeed been spent in digital media. Mahesh dropped out of Osmania University and began selling vacuum cleaners door-to-door. He rose to prominence and received awards as Creative Director for Unilever, The Economist, Pepsi, and MTV, for whom he wrote and directed a series of award-winning advertisements. He is now the founding father of the advertising firm Pinstorm, which provides pay-for-performance solutions to businesses all over the world.
At Seedfund, Mr. Mahesh Murthy holds the positions of Managing Director, Managing Partner, Founding Partner, and Partner in addition to being a Co-Founder. Mr. Murthy started Passionfund.com in 2000, and he is its founder. As the company's founder and CEO, Mr. Murthy leads Pinstorm Technologies Private Limited. After running Channel V till the year 2000, he started Passionfund to support and invest in entrepreneurs. As a Creative Director for brands including HP, The Economist, Pepsi, and MTV, where he developed and directed a spot that was named "Asia's best commercial of the decade," Mr. Murthy also worked with Grey and Ogilvy.
Mr. Murthy formerly held the position of Vice President of Marketing at iCat. He was a partner, general manager, and creative director at CKS Partners, where he helped develop the Earth's Largest Bookstore campaign for Amazon.com in 1997 and the first commercial version of Yahoo in 1995. 1994 saw him join Amazon.com. Prior to joining Amazon, he worked in international advertising agencies for nine years, managing Microsoft, Pepsi, Intel, MTV, Unilever, and other brands. He worked with Star TV to revamp its youth channel, Channel [v], and give it a web and TV presence. Mr. Murthy made investments in WebDunia, Geodesic Ltd, Compassbox, and EBS Direct. He also serves Geodesic Information Systems Ltd. as a Non-Executive Director. He holds the position of Director for both Innoz Technologies Pvt. and Netcraft Retail Solutions Private Ltd. Ltd. Mr. Murthy worked at Geodesic Ltd as a director.
2. Azhar Iqubal
IIT, Delhi must be doing something incorrectly because this is the second dropout who has made 'news.' Yes, Azhar Iqubal is among successful IIT dropouts who made it big. He dropped out of college in his fourth year (seventh semester). He made headlines by presenting News in Shorts, the one and only app that cuts to the chase, delivering only the most important details in a news story to those who are too lazy or don't have enough time to read them all. The app ensures that each piece of news is communicated in less than 60 words. Do you have a minute? Keep up with the world with news in bite-sized chunks. It began as a Facebook page and has achieved such fame that it received INR25 crore in funding three months ago.
During the Entrepreneur Awards 2022, which were hosted by Entrepreneur India magazine, Inshorts Co-Founder and CEO Azhar Iqubal was awarded "Entrepreneur of the Year" in the media category. According to the magazine, the honour is given to an entrepreneur who has excelled in the media industry. Inshorts, a 2013 startup, runs the location-based social networking platform Public and the 60-word news app Inshorts.
Azhar is thrilled to have won several esteemed industry honours and awards, the most recent of which being the Business World Young Entrepreneur Award. The Most Enterprising Brands, Leaders of Asia Award, Business World 40 under 40, Fortune India 40 under 40, Forbes India 30 under 30, and Forbes Asia 30 under 30 are just a few of the awards he has previously received. Azhar, who is from the Indian state of Bihar, enjoys driving and seeing new places. He enjoys taking his friends on road vacations.
3. Varun Shoor
As a self-taught programmer and web designer at the age of 13, he developed a natural interest in web application development. Varun founded Kayako in 2001 after noticing a clear gap in the industry for an easy-to-use, consumer-centric approach to web-based ticketed assistance and visitor engagement. He is the CEO of Kayako Infotech Ltd. and supervises the overall direction as the leading product architect, playing an active role in the product line's design and development. After dropping out of college, he founded the company in 2001 at the age of 17, with its first office in Jalandhar. Indian dropouts sure have something up their sleeves always, like Varun Shoor.
In the past, Shoor engaged in online coding communities where he encountered a business offering customer support software for US$2,000 and thought he could do better. Software for customer service is offered by Kayako.
The company is profitable and has not yet received any money from outside investors. Kayako announced the provision of cost-free complete licences for charitable organisations and open-source software initiatives in August 2009. It has already given out software worth $100,000 to several charities.
4. Deepak Ravindran
Deepak, a computer engineering dropout from LBS College Of Engineering in his fifth semester in 2007, never let books and syllabi chain up his ideas. He decided to break all the bonds forced by the education system and pursued his love for computers, which led him down the entrepreneurial path. He founded Quest Technologies, which allows people to respond to someone else's text-messaged question. His main company was Innoz Technologies, which was behind 'SmsGyan,' which distributed internet knowledge via text messages. His most recent venture, Lookup his most recent venture, is a common market messaging app that allows users to chat with local companies and shops.
Engineers can be anything they want, and Deepak Ravindran proved it. No doubt he is among the famous engineering dropouts in India.
The four friends' decision to join the iAccelerator'09 programme, which had provided them with their first external source funding, and their open invite to participate in the incubator at the Centre for Innovation, Incubation and Entrepreneurship at IIM Ahmedabad, led to their decision to drop out of college, and that too during their final semester.
"SMSGYAN - Spreading Knowledge through Innovation," a fourth-year project, was the birth of Innoz. It was a relatively straightforward tool that aided those without internet access. Giving stupid phones a chance to be smart by delivering answers from the internet without requiring them to be online.
The initiative garnered accolades and quickly took off across the school. The platform quickly expanded to include people without a college degree as a result of the low internet consumption and cost-effectiveness. With more than 120 million users now, the service has handled more than 1 billion requests.
5. Rahul Yadav
Another IIT dropout became a successful entrepreneur.
Rahul Yadav, one of the company's co-founders and a 4th-year dropout from IIT Bombay, is the mastermind behind housing's rise. It didn't stop him from accomplishing his goals. He was aware that he was creating a brand and working to resolve an issue that no one had ever addressed head-on. Despite being embroiled in a slew of controversies, he has maintained his cool, resigning and then retracting his resignation or throwing free half of his shareholdings to his staff. This guy exudes confidence and has a brash demeanor.
Rahul Yadav's reputation in 2015 underwent an important transformation during a short period of time, going from the face of youthful entrepreneurship to the enfant terrible. Early that year, an email he had sent to Sequoia Capital investor Shailendra Singh threatening to "vacate the firm" if they continued to "messing around" with him became public. Yadav, who at the time was the co-founder of Housing.com, remarked, "This marks the beginning of the end of Sequoia Cap in India," It set off a downward spiral for the then-25-year-old, who at first resigned and then retracted it before being fired. He did this by labelling his board members and investors "intellectually incapable" of engaging in discussion. About four years later, Yadav is seated across from me at the table and carefully considers every word he uses. He gets upset when people refer to him as the "Housing.com guy" since "I'm kind of done with that story now", he adds. He currently serves as the chief technology officer for the real estate consultancy Anarock and claims that his current positions have given him much greater stability in both his professional and private lives.
6. Pallav Nadhani
Can you establish a company from bed? This man did it in 2001.
Pallav Nadhani is the co-founder as well as CEO of Fusion Charts & RazorFlow and also the CEO of Collabion. He founded this company in his bedroom in 2001, at the age of 16, after becoming frustrated with Microsoft Excel's charting capabilities while completing high school assignments. The company used to provide data visualization products as a service and was named one of the NASSCOM EMERGE 50 leaders in 2009.
Even though he dropped out of the University of Calcutta, this roadblock did not deter him from achieving his goals. He later earned a Master of Computer Science degree from the University of Edinburgh.
College dropouts in India fear nothing.
7. Abhishek Gupta
Yet another successful IIT Delhi dropout.
He is an entrepreneur who enjoys coding and instilling new ideas in others. He, along with Nikunj Jain, co-founded Frankly.me with Nikunj Jain with the goal of connecting people via web and mobile. Frankly is a platform designed to broaden the scope of conversations in which people participate. It has onboarded a number of celebrities, and so many people have used the platform to ask them questions and receive video responses in the back. He previously founded Zumbl.com. Despite being an IIT Delhi dropout who was studying Computer Science, he wants to raise the IQ of an average Internet conversation.
8. Amritanshu Anand
Amritanshu Anand, known as the co-founder of Retention.ai. This software enables application developers and marketers to monitor and understand uninstalled users. It also allows businesses to re-target users who have previously uninstalled the app. He began his career as an advisor at IIT Kharagpur's Entrepreneurship Cell, where he ended up working to foster the entrepreneurial spirit in India. Despite dropping out of IIT, he did not let any of it stop him from trying to pursue his interests, which led to the formation of his firm in May 2013.
9. Ankit Oberoi
Ankit Oberoi is the co-founder of Adpushup, which optimizes ads so that publishers and bloggers can gain financially from their established website traffic without requiring any coding knowledge. A/B testing is used by the company to compare different ad variations, such as different placements and sizes. He dropped out of Maharaja Agrasen College during the first semester because he thought it was a waste of time. "You don't have to be at the university to learn something – the Internet can guide you better," he said. His interest in the internet led him to Tamranda Web Solution, which offered web hosting, domain registration, and other services. He worked as the director of Innobuzz before launching Adpushup.
Aren't these Indian College dropouts motivating you to become a part of this?
10. Trishneet Arora
When CBI wants you, you must be something. So is Trishneet Arora.
He is not an Indian college dropout but a high school dropout. Yes, Trishneet Arora went from being a high school dropout to becoming a millionaire at the age of 23. He is the CEO and Founder of TAC Security, an IT security firm that protects corporations from security breaches and network vulnerabilities. Today, Arora's firm collaborates with industry titans such as Reliance Industries, the Central Bureau of Investigation (CBI), and the Gujarat Police.
Conclusion
Dropping out is not a bad thing to do if you have a passion for something and you think colleges are not allowing you to explore your full potential. These successful and rich dropouts from Indian colleges show us that if you have it in you, you can become a master without any paper proving your value.
With that being said, we hope we inspired you to look for your passion and turn it into a successful venture, just like these college dropouts did.
You May Like