Steve Ballmer & His Success Mantra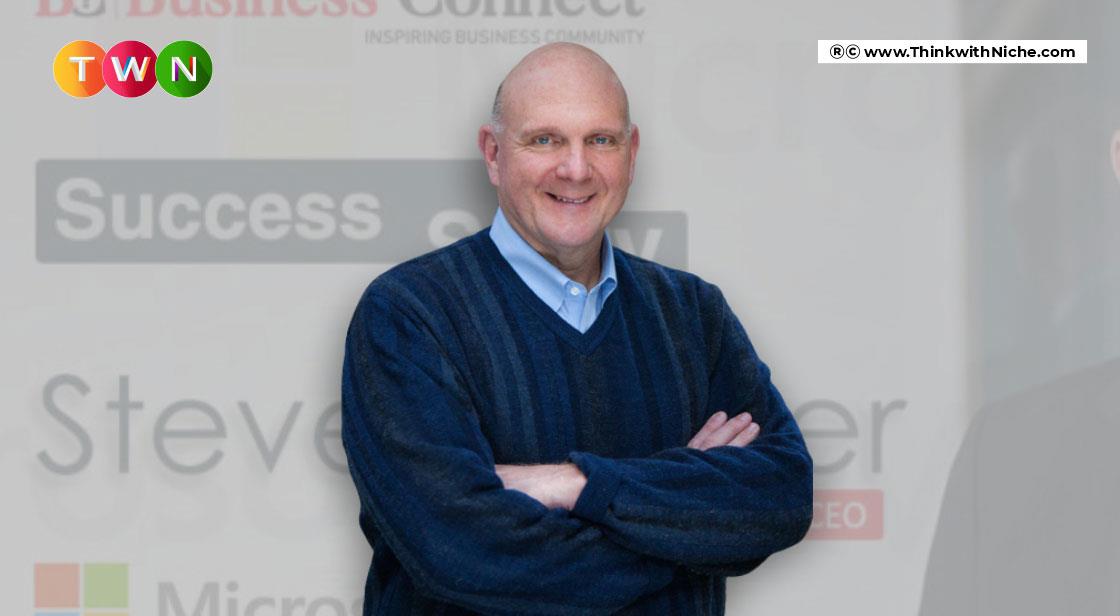 In this blog, I will share the success story of Steven "Steve" Anthony Ballmer, an American investor, businessman, and philanthropist from Detroit. Steve Ballmer is best known as Microsoft's CEO.
He is the current owner of the Los Angeles Clippers. In January 2018, Ballmer was named the world's best businessman of the twenty-first century.
According to Forbes, Steve Ballmer's net worth is estimated to be around 95.9 billion dollars as of 2022, making him one of the world's richest businessmen. Let's explore the Success Story of Steve Ballmer. #TWN
Continue Reading..
Steve Ballmer is an American businessman who is the current owner of the Los Angeles Clippers of the National Basketball Association and the former CEO of Microsoft.
Adding another feather to his crown, Steve is also the creator of Microsoft's cultural phenomenon, Xbox. He is also the ninth richest person in the world as of July 2021.
Who is Steve Ballmer?
Before getting to the core, let me give you a personal outlook of who Steve Ballmer is.
Steven Anthony "Steve" Ballmer is an American businessman best known as the CEO of Microsoft from January 2000 to February 2014. He spent the first 34 years of his career working for Microsoft. He was the company's thirty-first employee. Steve bought the Los Angeles Clippers after a long tenure at Microsoft. He is currently pursuing his basketball passion and investing in philanthropic opportunities with his wife.
Quick Facts about Steve Ballmer
Birth: March 24, 1956

Place of Birth: Detroit, Michigan

Nationality: American

Parents: Frederic Henry Ballmer, Beatrice Dworkin

Spouse: Connie Snyder (married in 1990)

Education: Harvard University (1977)

Children: 3 sons — Sam, Peter, and Aaron Ballmer

Occupation: Investor and Businessman

Fields of Expertise: Mathematics, Economics, and Consumer technology

Net Worth: $95.9 Billion

Awards: Knight of the Legion of Honor in Paris by Nicolas Sarkozy
Steve Ballmer Early Life
On March 24, 1956, Steve Ballmer was born in Detroit, Michigan, to Frederic Henry Ballmer and Beatrice Dworkin. He has one sister, Shelly. His father was a wealthy Ford Motor Company executive. Steve Ballmer has had a prosperous life at such a young age.
He grew up in Farmington Hills, Michigan, and attended Detroit Country Day School in Beverly Hills, Michigan, a private college preparatory school. He attended college prep advanced courses at Lawrence Technological University during his high school years. He graduated as valedictorian from Detroit Country Day School.
He continued his education at Harvard, where he met and befriended Bill Gates. He managed the Harvard Crimson football team and worked for the Harvard Crimson newspaper as well as the Harvard Advocate while at Harvard. He received a Bachelor of Arts in applied mathematics and economics from Harvard in 1977, graduating magna cum laude.
After a brief stint at Procter & Gamble, Ballmer moved to Hollywood and attempted to write screenplays. He eventually stopped writing to continue his education at Stanford Graduate School of Business. He did not complete this next stage of education because he was hired as a business manager by Bill Gates at the inception of the company Microsoft.
Steve Ballmer Career, A Pinnacle of Business Leadership
Steve Ballmer's resume may be short on employers, but he has decades of experience and dignified job titles. He spent a few years after graduating from college looking for the right job for him. By 1980, he had found a home at Microsoft.
Procter & Gamble
After graduating, Ballmer worked for Procter & Gamble for two years as an Assistant Product Manager. He shared an office with Jeff Immelt, the future CEO of GE.
Microsoft
On June 11, 1980, after a brief artistic period of writing screenplays in Hollywood, Ballmer dropped out of Stanford Graduate School of Business to accept an offer from Bill Gates to join Microsoft as the company's 30th employee. He was the first business manager hired by Gates.
8% Stock Holder
During Microsoft's incorporation in 1981, Ballmer was instrumental in reorganizing the company. He was given 8% of the company's holdings as part of the stock creation process. He kept all his stakes until 2003 when he sold 39.3 million shares. It reduced his ownership to 4%, which he still has today.
Operating System Development Head in the 1980s
During Microsoft's rise as a technological behemoth, Ballmer led a team of developers working on an operating system for a contract with IBM. It is what led to the development of MS-DOS and, later, Microsoft Windows.
Executive Vice President, Sales, and Support
In February 1992, he was assigned to lead a team of in-house developers working on the.NET framework. He was able to spearhead the.NET project as Executive Vice President of Sales and Support.
President of Microsoft
From July 1998 to February 2001, Steve Ballmer was Microsoft's second-in-command, reporting only to then-CEO Bill Gates. In this role, he was responsible for analyzing the company's financial operations. He also gained insight into future technologies that Microsoft would require to remain competitive.
Chief Executive Officer
Ballmer was appointed CEO of Microsoft in January 2000. Under his leadership, Microsoft began to allow developers to experiment with a wider range of products. It included Microsoft's iconic early-generation contribution to gaming consoles, the Xbox, as well as the Zune, a niche iPod competitor. Microsoft's financial success was a result of Ballmer's leadership. The company's annual revenue increased from $25 billion to $70 billion, with a 215 percent increase in net income.
Retirement
Ballmer stepped down as CEO of Microsoft in February 2014. In August of that year, he resigned from the Board of Directors. Some have blamed this on his mistakes with mobile development while in charge. He does, however, still own a substantial amount of Microsoft stock. Ballmer stated in his retirement announcement that his decision was based on the need for Microsoft to have new longer-term leadership for the company's transition to a devices and services company.
Steve Ballmer Achievements
The majority of Steve Ballmer's accomplishments revolve around his work as a Microsoft employee. His wife has also gotten him involved in various philanthropic donations.
Tripled Microsoft Annual Revenue
During his time as CEO, the company's annual revenue increased from $25 billion to $70 billion. In effect, this increase increased the value of his stock holdings. As a result of his success as a Microsoft executive, he amassed enormous wealth.
Headed the Development of Microsoft Operating Systems
Ballmer was the project's driving force, leading a team of in-house developers of an operating system for an IBM contract. This operating system evolved into MS-DOS. This evolution resulted in Windows and helped shape the modern reality of computing user interfaces. It's also worth noting that during his time at Microsoft, he promoted a wide range of projects, including Xbox and Zune.
USAFacts.org
In 2017, he founded the non-profit organization USAFacts.org intending to educate people about US government revenue, spending, and societal impact. He reportedly contributed $10 million to fund research teams tasked with gathering information for the website's database, which will be filled with official and factual data.
Philanthropic Donations
Ballmer has donated to a few organizations over the years. Among these was a $50 million gift to the University of Oregon. He also made a $60 million gift to Harvard University's computer science department.
He is also a member of the Jewish National Fund's World Chairman's Council. It means he has given at least $1 million to the JNF.
Steve Ballmer Family and Support System
Ballmer does not live a particularly private life, though members of his family have chosen to be more private. Because he respects their wishes, only a limited amount of personal information about Steve Ballmer and his family is available.
Marriage
In 1990, Steve Ballmer married Connie Snyder. They maintain their friendship as philanthropic partners today. Connie Ballmer is the co-founder of Partners for Our Children, a non-profit organization based in Washington State. Connie has a history of volunteering for charities as a public relations executive.
She is currently a general partner and founding investor at Blue Meridian Partners, as well as the Co-Founder of Ballmer Group. She also serves on the boards of the Obama Foundation, StriveTogether, and the Los Angeles Clippers Foundation. In 2019, she was awarded the Pioneer Award by the University of Oregon. She was also named to the School of Journalism's Hall of Fame.
Children
Sam, Peter, and Aaron Ballmer are the sons of Steve and Connie Ballmer. The public is aware that all three of Steve's sons attended and graduated from college. Aaron Ballmer, his youngest son, has chosen a more private life that does not include sharing his school, though it is assumed that he is pursuing an athletic career. In 2017, Peter Ballmer earned a bachelor's degree in computer science from Stanford University. Sam Ballmer earned a bachelor's degree in cognitive science from the University of Southern California.
Steve Ballmer: Awards and Achievements
Ballmer's most notable accomplishment may be his celebrity and recognition. He has, however, been given one title and has only recently received recognition for his wealth.
Knight of the Legion of Honor
Steve Ballmer was appointed a Knight of the Legion of Honor by then French President Nicolas Sarkozy in 2011. The award is generally given to American veterans who risked their lives fighting in French territory during World War II. However, the French President thought the efforts of Microsoft to improve business and the quality of life across the globe deserved the title.
Ninth to Join the $100 Billion Club
In 2021, Steve Ballmer saw his net worth go over $100 billion. Though it is not stably secure over the $100 billion mark, he is only the ninth person in the United States history to achieve this.
Words of Inspiration: Steve Ballmer Quotes
If you liked reading this article, we have two more for you. Click on the link below to explore!
"Great companies in the way they work, start with great leaders."

"One capability every business is expected to have is the capability to make money. It requires a certain kind of discipline, a certain kind of mindset."

"The world is changing, but so is Microsoft."
You May Like