Social Media Marketing new way to change your business game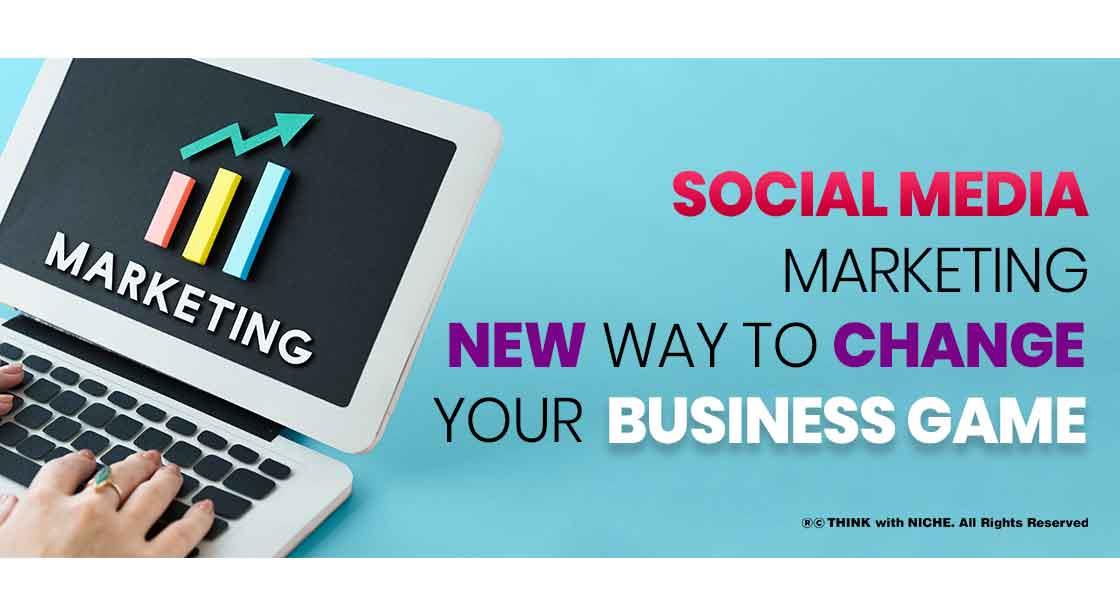 A concise plan offers you the concentration you need to say "no" to efforts that don't fulfill your goals in a landscape with more competitors, content, and networks than ever before. That's why we put prepared a comprehensive guide on developing a social media marketing strategy from the ground up.
The new business owner must develop strategies to reach customers in order to be a successful entrepreneur. Social networking can help with this.
Social media's emergence as a marketing tool has had a significant influence on businesses, particularly startups. According to studies, more people follow brands on social media than celebrities.
This blog is an informative blog to help you with Your business. We have researched deeply keeping Indian business in mind and have found some ways in which social media can be helpful in improving the business.
Continue Reading..
India, in the age of digitalization, has witnessed massive growth in internet users. In 2020, urban users grew by 4 percent reaching 323 million and rural India internet users grew by 13 percent reaching 299 million users. In this era of the internet adopting good social media, strategies can really change the business game and make it more user-friendly and personal.
According to a survey done by Statista in January 2021, India has around 499 million active social media users. YouTube secured the highest penetration followed by Facebook. Low upfront costs and increasing penetration make social media the most viable option for a business to grow efficiently.
Merely posting content on social media platforms like Facebook or Instagram will not get you the desired penetration. There are certain strategies businesses should adopt to interest users and attract them to your business.
Social media strategies that can change your business game
Social media marketing entails promoting your brand and selling your product or service using social media platforms such as Instagram, Twitter, and Facebook.
If your company releases a new product and plans to advertise it on social media, that is social media marketing. Social media marketing is when you communicate with your consumers through comments. And social media marketing includes creating interesting content that highlights your brand's values and stories.
This type of marketing necessitates the use of social media management skills and tools. You must plan for social media marketing in the same way that you plan for other areas of your marketing strategy.
Now that we've defined social media marketing, let's go through how to build a strategy.
Social media goals for 2023 and beyond
What is most important is that you create realistic social media goals.
The word "realistic" is highlighted. We advocate focusing on modest goals that allow you to expand your social activities in a sensible and economical manner.
The following are some examples of social media marketing objectives that businesses of all sizes and shapes might pursue.
Social media marketing objectives
Boost brand awareness
This entails publicizing your name. Avoid just releasing promotional messaging to establish true and long-lasting brand awareness. Instead, prioritize information that highlights your personality and beliefs.
Produce leads and sales
Followers do not make purchases by mistake, whether online, in-store, or directly through your social accounts. You may create income using social media. For instance, are you informing customers about new items and promotions? Do you have your product catalog integrated into your social profiles? Are you offering exclusive bargains to your followers?
Increase the size of your brand's audience
Drawing in new followers entails figuring out how to present your brand to those who haven't heard of you before.
Increasing your audience also entails identifying the most important conversations about your company and sector. Without monitoring or listening for certain keywords, phrases, or hashtags, sifting through your social networks is practically difficult. Keeping an eye on these dialogues allows you to increase your core audience (and reach adjacent audiences) far more quickly.
Increase community involvement
Because social media is all about engagement, it pays to experiment with fresh ways to pique the interest of your present followers.
According to the Sprout Social 2022 IndexTM analysis, customers want to see content that promotes a brand's goods, services, and personality, as well as customer testimonials.
Social media strategies
Chat Bots
Chatbots, an automated computer programs used to interact with consumers like a human. It is an Artificial Intelligence (AI) used through social media messengers to interact with customers. A chatbot, short for chatterbot can not only take feedback from customers but can also solve their queries about business, handle complaints, and on top of it give users a personalized experience.
Agents that reply to repetitive common customer queries lose their motivation and energy while replying to the customer. The chatbot will not only address multiple queries at a time but will also treat every customer query as a priority. This enables businesses to increase the productivity of the business without worrying about the downfall of the quality of the business.
Chatbots can be classified into two categories, Set Guideline chatbot and Machine Learning chatbot. A set guideline chatbot is limited to its programming codes whereas a Machine Learning chatbot is a self-learning chatbot design to understand new words and vocabulary like a human brain.
The chatbot will enhance the customer experience and will help your business to change its game and increase penetration through personalizing your business.
Efficient Content Marketing Strategy
Good quality content will always be the key to a business. Content marketing is an approach that has been relevant for years and will continue to be relevant for a long time. Social media provides a great opportunity for businesses to attract an audience through content marketing. But generating fresh content every day can be exhausting for the business and can add unnecessary workload on employees. Social media tools provide several ways to generate automated content.
Content curation refers to posting already available content on the internet into one's own business page, keeping in mind that such content is relevant to the audience that the business wants to attract.
Simply making a reel on Instagram, showcasing all the products that your business provides on a trending song can increase the penetration. That's the power of good, analyzed content.
User Generated Content
Recommendations on social media are like creating good word of mouth for the business. In the pre-digital era, one used to recommend other's product, based on the satisfaction it provided them. Then slowly films and film stars gain popularity. Now amid the global pandemic, people have started to rely on social media for entertainment. That's where User-generated Content (UGC) comes in. UGC includes Influencer marketing and brand advocacy.
While influencers are individuals with massive social media followings, brand advocates can be your own employee or people with less following. Influencer marketing brings in more penetration, but brand advocates are useful as they would refer your product to an audience that trusts them, and it can give you regular customers.
Create channels on Relevant Social Media Platforms
Business before developing a social media strategy needs to conduct proper research about its target audience and their demographic and psychographics. This is the same strategy that is used to advertise on television, but one can interpret the data for social media as well. One needs to identify the age and class (working or non-working), to interpret which channels they watch the most to get the highest impression. Similarly, one needs to interpret the data according to social media.
What is the target audience? What social media platform does that age group prefers? How does the target audience engage in that specific platform (through posts, stories, or short videos)? Identifying answers to such questions before developing a strategy can help the business find relevant audience penetration.
Diversify the Content Strategy
A monotonous social media profile might be the reason for low online impressions on your business profile. Diversifying social media profiles is very important. It is evident that people are not on social media for serious content consumption, they come to lighten their mood. You must provide content differently every time to keep the audience engaged. Such content can be diversified by posting some images on a profile, engaging the audience by asking questions on social media, etc.
social media is emerging constantly, and it will soon become a major advertising platform. By using specific tools and strategies one can attract a large audience to their business. It is advised to take benefit of the opportunity right now as social media marketing is still in its growing stage.
You May Like