Top 10 Digital Marketing Tools For 2023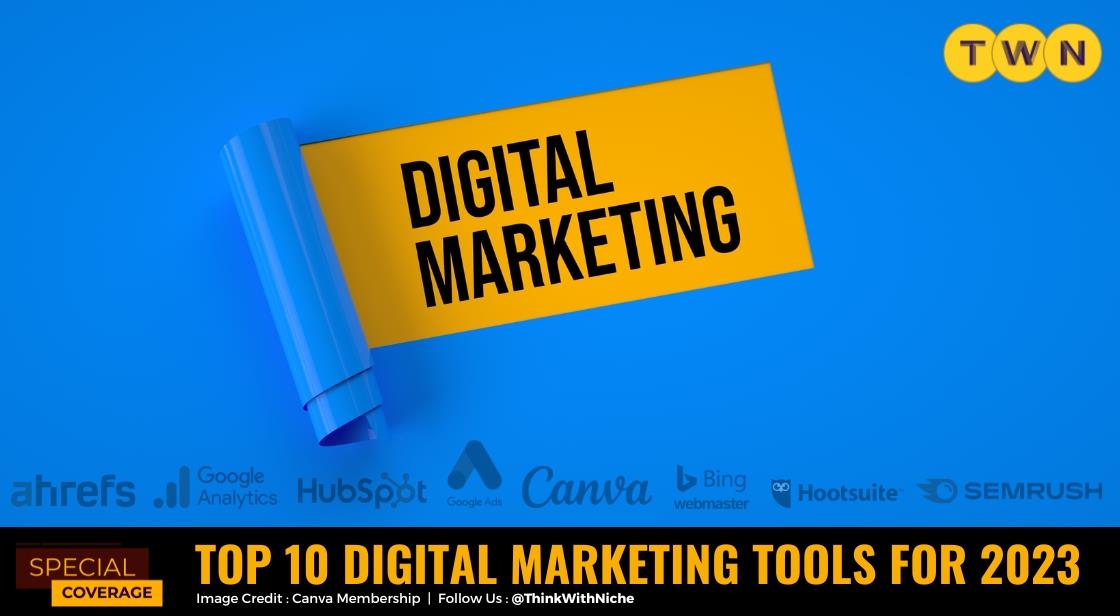 Digital marketing needs a workhorse in the backend to be this good and to live up to its standing as one of the top 10 jobs to have in this decade. This workhorse is powered by the abundance of tools that are assisting marketing professionals with everything from placing strategies on products and scaling a brand to catering to millions of audiences and fine-tuning the social presence. All of these things will be simple with the right tools, allowing digital marketing professionals to focus their efforts where they are most needed while also saving a massive amount of time.
Finding the correct technology will greatly assist in edging out the competition. With the right Digital Marketing tools list, tactics can be readily implemented. A Digital Marketing expert needs a variety of tools, including Email Marketing, Social Media Marketing, Data Analytics, Web-based Forms, and more.
Online marketing strategies must constantly be of the highest caliber, and avoiding digital marketing blunders is not always simple. We will be breaking down the top 10 Digital Marketing tools and techniques so you may choose the tools based on the tactics you intend to execute and, of course, based on your present requirements. This will ensure that your strategies are top-notch.
Continue Reading..
You should be aware of some tools that can simplify things if you're a digital marketer wanting to improve your marketing strategy and ROI. You will be able to implement appropriate plans in the appropriate way with the aid of digital marketing technologies. These tools are made to keep things organised and provide you with the flexibility to customise things as needed.
We must concentrate on developing stronger and more original tactics in 2023 after dealing with the issues in 2022. If you want to outperform your marketing initiatives in 2022, experiment with and try the ten most effective and innovative digital marketing tools we've included in this article.
Strategies for Online Marketing
One can employ a variety of tactics to build a digital marketing platform that will only lead to success. Some of the most popular tactics employed by experts in digital marketing around the world include the following:
Search Engine Optimization (SEO)

Content Creation

Organic Social Media

Website Analytics

Video Hosting

Affiliate Marketing
To plan and automate digital marketing campaigns, use MailChimp, a social advertising and email marketing tool. It is one of the top digital marketing tools available for enhancing your campaigns and monitoring the volume of traffic. Also, the platform supports several connectors with various SaaS providers. With the help of the tool, you can interact with your audience through email campaigns. A well-known brand in the field of email marketing is MailChimp.
Features of MailChimp include:
Better content may be produced using simple design tools.

Employ an AI-powered helper to produce unique designs.

Use marketing automation to send tailored emails that can increase orders by up to 6 times.

Offers resources for gathering insights and data in one location.

Give small merchants a free plan as well.
You can easily reach the right audience at the right time with MailChimp's pre-built, adaptable email automation. The best thing is that you can please your consumers and keep your business top-of-mind by sending birthday greetings, using welcome automation, and sending order alerts.
MailChimp can help you improve traffic, boost conversions, and boost sales for your online retail and e-commerce firm.
You can use Google Analytics, a potent digital marketing tool, to guide a variety of marketing choices. You can simply track both your e-commerce business and the objectives that can assist your business stay on course. Marketers may easily comprehend the directions that must be taken with website updates and alterations by using the countless data insights that Google Analytics offers. All you need to do to get started is install Google Analytics on your website.
Google Analytics features:
Gives you data on website traffic that is broken out by devices, products, pages, and other factors.
Make it possible for you to develop your own metrics, dimensions, and dashboards for quick access to data and information.

Aids in improving your understanding of your target audience.

You will receive real-time updates about visitors to your website, including information about the pages they are presently viewing.

This will give your visitors a better user-friendly experience, which will help you make your landing page more appealing.

Let you learn more about the performance of the company.

Enables you to communicate the insights using a variety of reporting tools.

Organize and visualise the data in accordance with your business's needs.
Last but not least, Google Analytics has a tonne of functions, features, and the capacity to produce dashboards and reports that are personalised.
No matter how big or little the business is, Google Ads can be used to promote it. Although a lot of marketers believe Google Ads is too pricey, it is one of the most effective digital marketing platforms that may grow your company.
The features of Google Ads:
Drive website visits

Through the use of a click-to-call button, increase the number of consumer calls.

Boost customer traffic in your stores
To use Google Ads properly, people must first become familiar with it; else, they will waste their money. The best thing about Google Google Ads is how simple it is to calculate Return On Investment (ROI). Furthermore, the platform is much quicker and simpler to use thanks to new artificial intelligence technologies. You can achieve outcomes in display advertising more quickly with the use of AI features.
You can target your consumer base based on a variety of criteria, such as age, gender, geography, occupation, etc., thanks to the numerous targeting choices. You won't find this in other digital marketing tools, therefore it stands out.
The ability to access Google Agency Account Strategist is very crucial since it allows you to learn about the newest services that Google offers. Additionally, having access to this also gives you access to some beta testing.
If you work in digital marketing, you'll appreciate the necessity for a good design tool that can assist you in producing eye-catching social media posts and other marketing materials. With the help of Canva, a well-known design tool, you can create marketing campaigns that are successful using visual content that can be shared on blogs, websites, social media, and other platforms. The foundation of any digital marketing effort is visual material. You must create engaging posts if you want to draw in your target audience.
Canva's features include:
You may modify posts and make any kind of graph with Canva.

The tool has a lot of templates. You can use its enormous collection of stock photographs, illustrations, graphics, icons, and vectors to produce any kind of visual content for your marketing campaign.

It gives you the option to select from a vast array of designs, including those for postcards, brochures, CD covers, wallpaper, books, resumes, certificates, magazine covers, letterheads, presentation graphics, blog banners, cards, posters, flyers, presentations, logos, and social media.
You can construct visual components for your campaign using its straightforward drag-and-drop interface. The best aspect is that you can develop graphic material for your digital marketing campaign without the help of a skilled designer. Anyone, even those with no prior design experience, can utilise it.
Trello is a good option if you're searching for a content management system that can assist you in coming up with and planning content for your digital marketing strategy. Thousands of digital marketers around the world utilise it as one of the most well-liked content management systems to plan, organise, and produce content for the web.
The platform keeps the entire team working together, which greatly facilitates and manages communication. You can assign several team members to a single card so they can collaborate on a project. You will be aware of who is in charge of creating, writing, editing, publishing, and including call-to-action offers in a post in this way.
Trello's features include:
Allows you to set deadlines, allocate topics to particular teams, and create cards with notes on the card topic.

Makes it possible for your teams to access their assignments and projects remotely. Trello can help you plan your digital marketing initiatives and make sure you never miss anything your team is up to.
No matter what stage your business is at, HubSpot has a number of tools to help you expand it. There are various tools that are free to use to get started. For lead capture, you can set up web forms, pop-up forms, and live chat programmes. Once you've entered all of your data into the free CRM, you can send email marketing campaigns, track visitor behaviour, and more.
With advanced marketing automation, things become more complex as you move up the paid levels.
Although it works well with other point solutions you may employ, HubSpot is an all-in-one solution for managing your content and social media, tracking emails, and communicating with your leads (Typeform, HotJar, etc.).
In the end, the solution enables you to:
Reduce deal cycles and boost closing rates with the given sales tools; grow your traffic, convert leads, and demonstrate ROI for your inbound marketing initiatives.
Ahrefs is a comprehensive SEO tool that can help you increase website traffic. They have data on more than 150 million keywords in the United States and more than 150 million in other nations.
Ahrefs is excellent for competition analysis because it lets you see who is linking to your rivals, what their top pages are, and other information. You can use the Content Gap tool to detect major deficiencies in your content sections and to check how their content is ranked.
The Top Pages tool allows you to examine which pages receive the most traffic as well as how much traffic is directed to rival websites.
It never ceases to wow me with features you can use on a daily basis, and regularly discover new features. It is without a doubt the most durable product on this market.
SEMRUSH is a comprehensive marketing toolbox that uses SEO, content marketing, market research, advertising, social media management, and search engine reputation management to increase a company's online visibility.
SEMRUSH's features include:
Increases organic traffic using SEO tools and processes

Help in the creation of material that is ranked

Reveals the techniques and plans used by rivals

Helps you learn how to reach more prospects for less money.

Helps develop social media strategies.
According to their official website, SEMRUSH is a favourite digital marketing tool among 7 million marketing experts. As the best SEO software, the application has received numerous honours. The programme is incredibly simple to use; all you need to do is find your keyword strategy, implement them, and begin tracking them. The tool is available for free trial, however after seven days the user must select a subscription plan.
Hootsuite is a stunning digital marketing solution that places a strong emphasis on maintaining simplicity and elegance. The main selling point of Hootsuite is the availability of multiple social media channel monitoring. Hootsuite can handle several Facebook pages or Twitter identities for you. Without having to put in endless hours of work, this directly assures that your reachability is great. Of course, your reachability will soar with the assistance you receive in the curation of material that you know your audience adores!
10. Microsoft Bing webmaster
Bing's main goal as an online search engine is to connect people with the most pertinent search results from the internet, making it simple for users to access high-quality material created by web publishers.
Bing's main goal as an online search engine is to connect people with the most pertinent search results from the internet, making it simple for users to access high-quality material created by web publishers.
Conclusion
In conclusion, businesses must remain updated with the newest methods and trends because digital marketing is a field that is constantly evolving. It's crucial to keep in mind that different tools will work better for different companies depending on their particular objectives and target market. The secret is to explore and identify the optimum tool combinations for your needs. In order to adapt and take advantage of new opportunities as they present themselves, it's also critical to keep up with new trends and advances in the field of digital marketing.
You May Like