Shinzo Abe-A True Friend of India-A Transformational Leader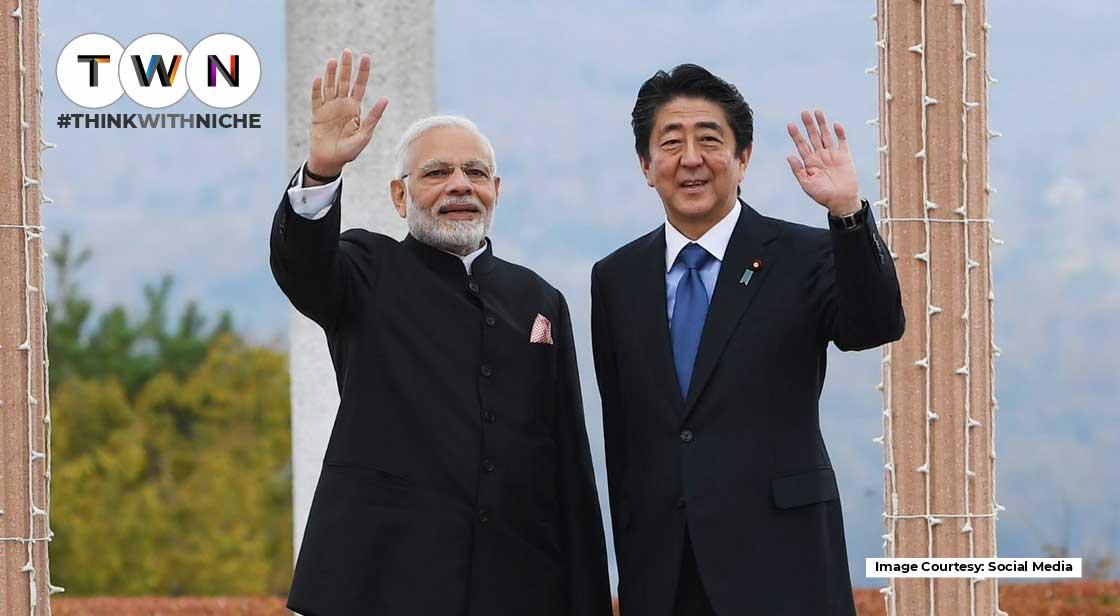 Former Japanese Prime Minister Shinzo Abe passed away on Friday. The attack on Abe happened when Shinzo Abe was giving a speech in the city of Nara. The attacker fired two shots at him from behind, after which Shinzo Abe fell to the ground. Everyone called the incident of Shinzo Abe's shot dead as unfortunate. The whole world is expressing condolences to his family and the people of Japan on the killing of Shinzo Abe. India has lost a close friend who worked towards strengthening bilateral ties between India and Japan. Prime Minister Narendra Modi said Abe made a huge contribution in taking India-Japan relations to the level of a special strategic and global partnership. Shinzo Abe was the youngest Prime Minister of Japan after Fumimaro Kono and also the longest-serving leader of the Prime Minister of Japan. Abe was the Prime Minister for the first time from 2006 to 2007 and then Shinzo Abe was the Prime Minister from 2012 to 2020. Shinzo Abe was awarded the Padma Vibhushan by the Government of India on January 25, 2021. He was a great global statesman and administrator. He dedicated his life to making Japan and the world a better place.
#ShinzoAbe
#TributeToShinzoAbe
#IndiaJapanRelations
Continue Reading..
The Longest-Serving Prime Minister of Japan and the reviver of the Japanese Economy was Shinzo Abe. Shinzo Abe, Former Prime Minister of Japan and a very good friend of PM Modi died on Friday, after this incident, a wave of mourning has run across the world. His passing away like this is shocking to everyone. Abe was attacked and the attack happened while he was giving a speech in the city of Nara. The attacker fired two shots at him from behind, after which Shinzo Abe fell to the ground and died after being taken to the hospital. With this, India also lost its trusted friend. The day of irreparable loss and unbearable pain caused by his death shook the entire nation. Because he was a Transformational Leader for Japanese relations with every country and friendly relations with India. Shinzo Abe was known for his flamboyant foreign policy and a signature economic strategy, which became popularly known as "Abenomics". A hugely popular politician, Abe, 67, led the Liberal Democratic Party (LDP) to victory twice. The former Prime Minister of Japan, Shinzo Abe, was about to change the Japanese economy. Let us know about his political journey and his achievements in this article.
Abe will be Remembered for Remaking Japan.
Abe was not an average politician. Abe was a rare politician who saw Japan as an economic power in the 21st Century, and could also contribute meaningfully to the Indo-Pacific geopolitical issues. His message to the nation when he was elected in 2012, after a brief stint in 2007 was clear - "Japan's back". This reflected Japan's newfound confidence and role as a global guardian, not just an observer riding piggyback with others. He was particularly interested in Japan's defense and security in a rapidly changing environment. This included reviewing the pacifist Constitution, the role of self-defense forces, restrictive defence export guidelines, as well as strengthening the collective security in the extended neighborhood. He was able to see new possibilities that would increase Japan's importance and he also had the conviction to do so.
A True Friend of India
Abe will always be special for India. He partnered with Prime Minister Modi to give ties a new boost. His commitment to India's growth was demonstrated by Japan's participation in India's most important projects such as the bullet train high-speed rail, bullet train, or the advancement of infrastructure and connectivity projects in the country. He stated publicly that the India-Japan relationship has the greatest potential in the world.
Abe listened to Prime Minister Modi's vision that Japan would play an integral part in India's development aspirations and joined forces with him in support of flagship initiatives like Make in India or Skill India. Japan emerged as the leading source of foreign investment. With Japan's regular participation in the Malabar Exercise, naval cooperation grew. Under his supervision, exercises between ground forces were also initiated.
PM Modi Remembers Moments Spent with Shinzo Abe
Modi is deeply pained by the passing away of Shinzo Abe, a very good friend of PM Modi. Prime Minister Narendra Modi expressed condolences over the incident and on Friday evening wrote a blog in memory of Shinzo Abe. India's Prime Minister Narendra Modi remembered Shinzo Abe, saying that he is no longer with us, an outstanding statesman of Japan, a great global statesman and a staunch advocate of Indo-Japan friendship. Japan and the whole world have lost a great visionary statesman and a very dear friend of mine. I met him for the first time in 2007 during my visit to Japan as the Chief Minister of Gujarat. Since that first meeting, our friendship has gone beyond all the formalities of the office and the shackles of official protocol.
Recalling old memories, PM Modi said that visiting Toji Temple in Kyoto, our train journey on Shinkansen, our visit to Sabarmati Ashram in Ahmedabad, Ganga Aarti in Kashi, elaborate tea ceremony in Tokyo, the list of our memories is very long. Along with this, our personal bond remained as strong as ever. Modi further said that it was a privilege for me to work with him to bring about an unprecedented transformation in the strategic partnership between India and Japan. Not forgetting to mention the PM Padma Vibhushan, he said that he was awarded the prestigious Padma Vibhushan in 2021 for his contribution to India-Japan relations. The PM further said that I will always be indebted to him for his warmth and wisdom, friendship and guidance. He also expressed his heartfelt condolences to his family.
External Affairs Minister S Jaishankar on Friday condoled the death of former Japanese Prime Minister Shinzo Abe, saying it is a very bad day for Japan and the world. Jaishankar tweeted that this is a sad day for Japan, India, the world, and for me personally.
Also Read : The Success Story of American Express Owner!
How did Abe rise to power?
As the son of former Foreign Minister Shintaro Abe and grandson of former Prime Minister Nobusuke Kishi, Abe was born into a political dynasty. He realized that his mission was to continue the work of his forefathers - to establish Japan as strong, great and a force to be reckoned with on the international stage.
He was instrumental in building the political dominance of the Liberal Democratic Party (LDP). Abe was first elected to Parliament in 1993 and became Chief Cabinet Secretary in 2005. His rise to the top was rapid and he rose to prominence as a popular leader, becoming the Youngest Prime Minister of post-war Japan in 2006.
The elections to the upper house in July 2007 resulted in heavy losses for the LDP, and in September of the same year, he resigned due to ulcerative colitis. But then in 2012, Abe returned as prime minister, saying that he had overcome the disease with the help of medicine. He was subsequently re-elected in 2014 and 2017, becoming Japan's Longest-Serving Prime Minister.
What was Abenomics?
In fact, Abe's signature economic program was a set of policies he launched in 2012. His plan was to use the so-called "Three arrows" of Abenomics to lift Japan's economy out of a two-decade stagnation and aim to transform the economy. He spearheaded the "Abenomics" policies, a comprehensive policy package that aims to strengthen Japan by reviving the economy from the gloom of deflation while maintaining fiscal discipline.
Monetary Policy: Japan's ultra-easy monetary policy was implemented to make it cheaper for consumers and companies to borrow and spend money in the form of negative short-term interest rates.
Fiscal stimulus: Putting money into the economy, which means the government is spending more money on things like infrastructure or giving companies financial incentives like tax breaks.
Structural reforms: Corporate reforms, adding more women to the workforce, labor liberalization, and allowing more migrants into the workforce to help reduce labor pressure and help economic growth.
The popularity of these policies led to the return of Abe and the LDP to power in 2012. But his efforts faced a major challenge when the country again went into recession in 2020.
Did Abenomics Work?
The most high-profile policy of his time was "Abenomics" which bears his name. Abe took office in 2012 at a time when Japan was in recession and Abenomics was seen as helping return to growth during his first term. As an exercise in political branding, Abenomics was certainly a success, although it fell short of Abe's own major economic goal. When his government took office, Japan was faced with the daunting task of reviving its once-dynamic economy, which was still in a great recession. Abenomics helped spur growth, though not at the pace the country had seen during its post-war boom. But as soon as he left office, many economists credited Abe for putting the country in a stronger position to withstand economic shocks such as the pandemic.
Shinzo Abe was born on September 21, 1964, in Tokyo, the capital of Japan. Shinzo Abe was the youngest Prime Minister of Japan after Fumimaro Kono and also the longest-serving leader of the Prime Minister of Japan. For the first time he was the Prime Minister from 2006 to 2007 and then from 2012 to 2020, Shinzo Abe was Prime Minister. He became the Prime Minister of Japan on 26 September 2006 at the age of 52. Shinzo Abe was also the most popular PM of Japan. India-Japan relations reached new heights during the tenure of Shinzo Abe. Talking about his visit to India, Shinzo Abe visited India in his first term as well and then he reached India thrice in the second term. Earlier, no Japanese Prime Minister had visited India so many times during his tenure. Shinzo Abe was the first Japanese PM to be the chief guest at the Republic Day parade in 2014. Shinzo Abe was awarded the Padma Vibhushan by the Government of India on January 25, 2021. Shinzo Abe resigned from the post of Prime Minister in the year 2020 due to ill health. He recently took over as the President of the Japan-India Association.
One of the most talked about agreements with India during Abe's tenure is to create a free and open Indo-Pacific. When Abe came to India for the first time to start this, he won the heart of India by talking about the 'confluence of two oceans'. In addition to implementing economic reforms in Japan, Abe's account is also recorded for approving the sending of Japanese troops to fight on foreign soil for the first time since World War II. In 2007, Abe initiated the Quadrilateral Security Dialogue between Japan, the US, Australia, and India.
Why is Japan called a peaceful country?
In Japan, any citizen has to go through a strict process to get a gun license. Due to being a peaceful country and less violent incidents, a small number of people take gun licenses for self-defense, but after the assassination of former Japanese Prime Minister Shinzo Abe, the whole world is in shock. People are not able to believe that in a peaceful country like Japan, someone can carry out such an incident. Shinzo Abe was the most famous and popular politician out there so everyone is in shock.
Japan is such a country, where most people live their whole life spend without seeing a gun. Actually, the people of Japan believe in leading a peaceful life. According to a report, Japan, with a population of 12.58 million, had only 10 criminal cases related to guns last year. Only one person was killed and four were injured in these incidents. Of these, eight cases were gang-related.
In 2022, the capital Tokyo had no reported gun-related incidents, injuries, or deaths. In such a situation, the murder of the country's most loved politician surprised the whole world including Japan.
National mourning over the death of Shinzo Abe
One day of national mourning has been declared in India after the killing of Shizong Abe. He was a very friendly, popular leader and has been a true friend of India. He had a special attachment to India. The national flag was flown at half-mast at all important government offices, including the Rashtrapati Bhavan, in national mourning over the death of Shinzo Abe. This was announced by PM Modi on Friday. Not only in the country but also in the Indian Embassies and High Commissions abroad, the tricolor has been flown at half-mast. It is worth noting that during this time no formal government program is organized. Shinzo Abe took many decisions in favor of India while in power. Prime Minister Narendra Modi has condoled the death of Shinzo Abe. He wrote in the tweet, "I am shocked and saddened by the tragic passing of one of my dearest friends, Shinzo Abe. Abe was a great global statesman and administrator. He dedicated his life to making Japan and the world a better place.
You May Like