Know the Legend- Sachin Tendulkar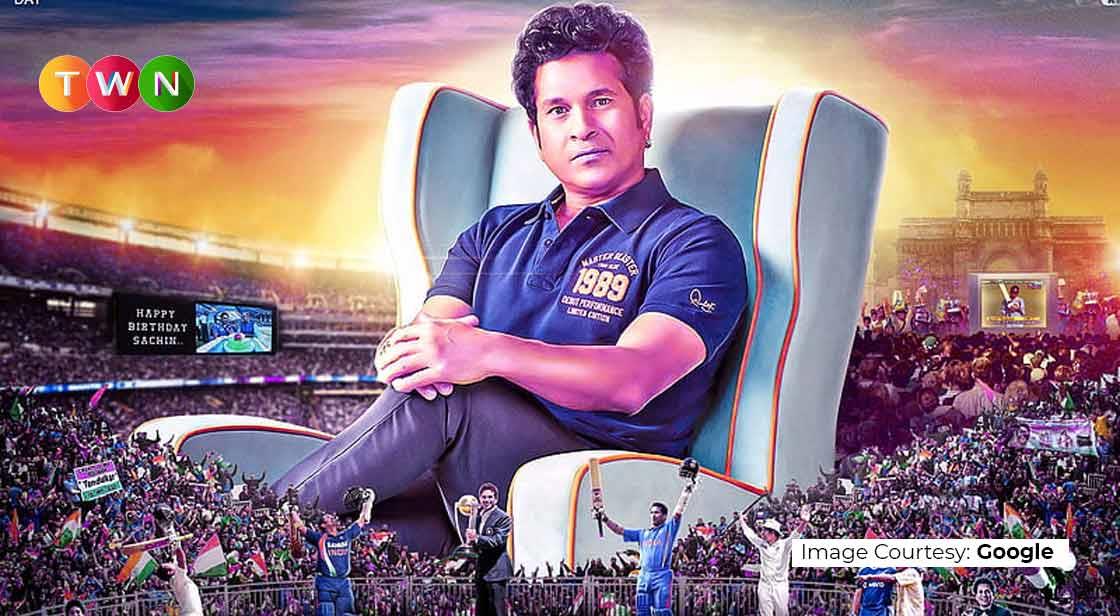 Sachin Tendulkar is the greatest batsman of all time, the most prolific run maker of all time, and possibly the greatest cricket icon of all time. His batting style was based on the most fundamental principles: perfect balance, the economy of movement, stroke precision, and anticipation, an ethereal trait only geniuses possess, and like the famous Indian comedian Mr. Zakir Khan said, "Sachin sabka baap hai" (Sachin is the best). Sachin will always be admired by Indian cricket fans. He was the reason why every Indian child wanted a bat of MRF in their childhood, he was the reason why most of us started watching cricket, and he was the reason why every parent wanted to name his kid Sachin. On the occasion of his birthday, let's take a look at his legendary career and why he was called the "Master Blaster." So let's start the blog. #TWN
Continue Reading..
24th April 1973, a novelist was celebrating the birth of his fourth child, but little did he know that this child was born to create history and will go on to become the "God Of Cricket." Sachin Tendulkar was the youngest child of the family and hence was the most pampered one his elder brother and also his current manager "Ajit Tendulkar" first noticed his talent just after he held the bat for the first time.
Sachin's Early Cricket Career
After teaching Sachin some basics of cricket, Ajit took him to the most reputed coach of Mumbai " Ramakant Achrekar," who rejected him in the first trial but later granted him admission in his coaching after a lot of pleading from his elder brother.
Sachin till date calls Achrekar sir as his Guru. In the beginning, Sachin never wanted to be a batsman, he wanted to be a fast-bowler instead, but his coach told him to focus on batting as he spotted a brilliant batsman in Sachin.
Achrekar Sir had some unique ways of coaching Sachin. He used to keep a coin in the middle of the pitch and asked his best bowlers to ball Sachin. Whoever was able to take the wicket of Sachin got the coin, and if Sachin left the field not-out, he used to get that coin.
Sachin got a Vada-Pav (Indian Street Food) as a reward every time he used to perform well in a Local-Match. Apart from his coach, even Sachin had some unique way to practice his game. He used to dip the ball into the water and then asked the bowler to ball him. This way he was able to judge which part of the bat did ball actually hit and what improvements were required to improve his game.
International Cricketing Career
At the age of 16, Sachin debuted in team India for international Cricket. Sachin was the youngest player on the team. In his first match, he scored 0, and the selectors wanted to drop him, but somehow he managed to stay in the playing 11, and after that, it was no looking back for him.
There are many stories about the reactions of the bowlers after they saw this 16-year-old kid playing from the side of Team India; Waseem Akram once called Sachin a kid, which proved to be his worst mistake. Sachin's small frame but hard-hitting gave him the title of "Little Master."
Let me tell you another very interesting storing about this legendary cricketer; Waqar Younis's bouncer broke Sachin's nose once, and the captain of team India asked Sachin to get retired hurt, but Sachin replied with only two words, "Mai Kheleyga" (I'll play), and no matter how much the captain convinced him to get retired hurt, he kept on saying these words and captain with no other option left, allowed him to bat.
Sachin ended up hitting 57 runs in that match. He achieved so many things in his career that mentioning everything in just one article will be a straight injustice, but we can discuss some of his greatest achievements.
Sachin Tendulkar Unbreakable Records
Sachin Tendulkar has created many unbreakable records; He has 34,357 runs to his name, out of which 15921 runs were created in the Test Matches while 18426 runs were hit by him in the ODI's, and don't forget Sachin Tendulkar Centuries, he was the one and the only player to hit 100 centuries in total, although this record could have been much higher if he did not fell victim to the nervous '90s.
Sachin was also the first player to hit 200 runs in the ODI format. Sachin also has the record for longest ODI career and Sachin was also known for his golden arm in the 90s. Sachin also has a unique record to his name, Sachin is the player who fell victim to the nervous nineties the most number of times.
Sachin Tendulkar National Honors
India
The Government of India awarded him the Arjuna Award in 1994 for his excellent achievements in sports.

1997–98 – Khel Ratna Award, India's highest award for sporting excellence.

Padma Shri, India's fourth-highest civilian award, was first bestowed in 1999.

2001 – He was honored with Maharashtra Bhushan Award, the highest civilian award in Maharashtra.

Padma Vibhushan, India's second-highest civilian award, was accepted by Sachin Tendulkar in 2008.

Bharat Ratna, India's highest civilian honor, was awarded to him in 2014.
Australia
2012 – Honorary Member of the Order of Australia, which was awarded to him by the Australian Government.
Other Honors
2013 Indian postage stamps commemorating the Sachin Tendulkar 200th Test Match
Wisden Cricketer of the Year in 1997.

Wisden Cricketer of the Year in 1998 and 2010.

Sachin Tendulkar's name was renamed to one of Wankhede Stadium's stands in 2001 by the Mumbai Cricket Association.

2002 – On the eve of the British Grand Prix on July 23, Tendulkar was invited to Ferrari's Silverstone paddock to receive a Ferrari 360 Modena from F1 world champion Michael Schumacher, to commemorate his milestone of equaling Don Bradman's 29 centuries in Test Cricket.

He was selected Player of the Tournament in the 2003 Cricket World Cup.

ICC World ODI XI in 2004, 2007, and 2010.

Polly Umrigar Award for international cricketer of the year 2006–07, 2009–10. ICC World Test XI 2009, 2010, 2011.

The Asian Awards in London, 2010 - Outstanding Achievement in Sport and the People's Choice Award.

The Sir Garfield Sobers Trophy for Cricketer of the Year was awarded in 2010.

LG People's Choice Award, 2010.

The Indian Air Force named him Honorary Group Captain in 2010.

The Castrol Indian Cricketer of the Year award was given to him in 2011.

Wisden India's Outstanding Achievement Award was given in 2012.

2013 – India Post issued a stamp honoring Tendulkar, making him the second Indian after Mother Teresa to have one issued during their lifetime.

Cricketer of the Generation, ESPNCricinfo, 2014.

The Asian Awards Fellowship Award was presented at the 7th Asian Awards in 2017.

Inducted into the ICC Cricket Hall of Fame in 2019.

Laureus World Sports Award for Best Sporting Moment (2000–2020) Laureus World Sports Award for Best Sporting Moment (2000–2020) Laureus World Sports Award for Best Sporting Moment (2000)
If you have enjoyed reading this Blog, TWN recommends you to read our Blog on "Virat – Rohit: Rift or Reverence?" Click on the Image Below!
You May Like