Virat – Rohit: Rift or Reverence?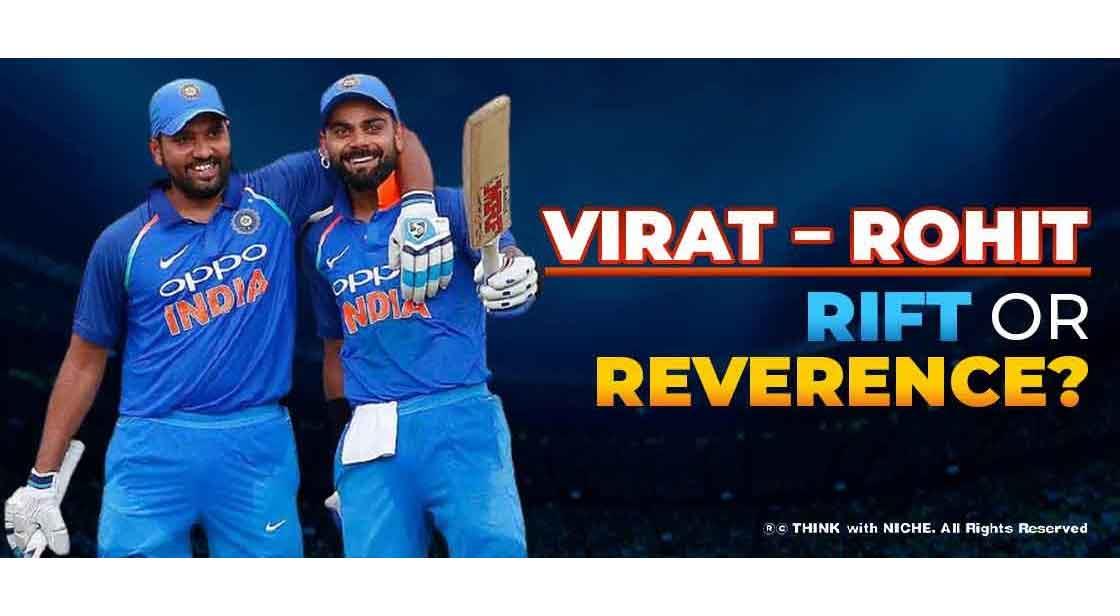 It has been a while now since the news has flooded the internet that there is an obvious rift between the two cricket giants of this generation, Virat Kohli and Rohit Sharma. This blog will bring light to reality! #ThinkWithNiche
Continue Reading..
A cricket frenzy nation! It is how the sports world recognizes us! We live, dream, and sleep cricket! Sunil Gavaskar, Sachin Tendulkar, and MS Dhoni have been our heroes. We have always idolized them. Their hits have made us crazy, while their misses broke our hearts. When they are victorious, we are on the moon while their defeat pushes us into the darkest pit of misery. Maybe this is why even the tiniest piece of news about our cricketing heroes catches the spotlight and turns into a huge controversy. Our present heroes are ace cricketers, Captain Virat Kohli, and vice-captain (till now) Rohit Sharma, the famous Hitman. Naturally, they have to bear the showers of petals as well as pebbles from us! It is the cost of being an Indian cricketer, perhaps! And only Indian cricketers but great cricketers who have broken many records in world cricket!
The Legacy of Virat and Rohit!
Rohit Sharma and Virat Kohli made their debut in the Indian Cricket team virtually at the same time. While Rohit Sharma made his debut on 23rd June 2007 against Ireland, Virat Kohli wore the blue cap on 18th August 2008 against Sri Lanka. It is noteworthy that they made their debut in first-class cricket in the same year in 2006. Virat may have piled up 70 centuries to just 41 of Rohit, but Rohit is the only player in the world to have scored three double hundreds in one-day internationals. There is also not much difference in their skills as far as captaincy is concerned.
Virat has played 205 matches as a captain and won 130 games in all formats. Rohit has played about 185 matches and won 122 matches in total. We know this Delhi cricketer Virat Kohli as a man of principles. He has come out to be an immensely daring and fiercely competitive cricketer. A firm bottom-hand grip and the ability to smash the balls in his chosen direction have helped him to earn the title "Run Machine." People often compare him with the great master blaster Sachin Tendulkar for his knack for breaking records. The cricketer from Mumbai, Rohit Sharma, caught the imagination when he scored his first double century in the shorter format of the game.
Known as an effortless striker, Rohit gradually made his permanent place in the Indian Cricket Team. He is perhaps the best opener in present times! Apart from the numerous wins as a captain, he has also 5 IPL Titles to his credit. His calm attitude and his habit of speaking only with the ball have won many hearts. It is another thing that his greatest gift (to score big in limited edition) becomes his burden (to meet the ever-increasing expectations of the people every time he takes the field). But the number of shots in his armory easily puts him in the league of the greatest players of all time. No wonder he is known as the "Hitman" in cricket.
Rohit-Virat: The Magical Duo!
Together, Virat and Rohit are the exact foil for each other. They both complete each other. They are perhaps, the greatest pair in the present era as far as partnerships are concerned. Kohli-Sharma has an average of a daunting 65.51%. They have 15 hundred-run partnerships and five double-hundred partnerships to their credit. The success rate of this pair in winning matches is a daunting 84.04%. Is it proof not enough of the mutual understanding and respect they share?
The Controversy: O'Captain, My Captain!
The Captaincy row has very often caused a dent in the grace of the otherwise great Indian Cricket. It happened with Saurav Ganguly, and it has happened now with Virat Kohli. After all, it is a shift in leadership. How can controversy leave behind? The whispers had already begun in the corridors of cricket that Virat might lose the Captaincy. But it happened on 8th December when the BCCI announced the Test team for the South Africa Tour where Rohit Sharma was named as the ODI Captain instead of Virat Kohli. Kohli had earlier given up the T20 Captaincy after the T20 World Cup in October November, citing a heavy workload. He said on 16th September, "Understanding heavy workload is a very important thing and considering my immense workload over the last 8 - 9 years playing all three formats, and captaining regularly for the last 5-6 years, I feel I need to give myself space, to be fully ready to lead the Indian Team in Test and ODI cricket." It is in this statement that the problem resides! Virat Kohli gave up the T20 Captaincy in November, but the selectors were against having two different white-ball (ODI & T20) captains.
The BCCI president Saurav Ganguly stated, "He stepped down as T20 captain, and the selectors decided not to split limited-overs captaincy, opting for a complete separation. The bottom line is that there can't be two white-ball captains." So Virat Kohli was kept as the Test Captain, and Rohit Sharma was given the mantle of the ODI and the T20 Indian Cricket teams. What added fuel to the fire was the injury of Rohit and his availability for the Test Matches in South Africa. Next, the captaincy row gave birth to rumors that Virat was unavailable for the ODI series, and so it appeared that they did not want to play under each other. But Virat is available so, no love is lost between the two greats!
Rohit-Virat: No Love Lost!
So it is visible that Rohit Sharma has no role to play in this whole incident. Even if there is a rift, it is certainly not between Virat and Rohit. They may not be best friends, but they are not enemies either. They have enjoyed great partnerships and have won so many matches together. They are both team players, and they both work hard for its success. As Virat said, "I am tired of clarifying my doubts on my relationship with Rohit. My responsibility is always to push the team in the right direction.
Rohit is a very able captain and tactically sound. We have seen that in the games that he has captained India and in the IPL. Along with Rahul (Dravid) Bhai, who is a very balanced coach and a great manager, they will have my absolute support in whatever vision they have for the team." Rohit echoed similar sentiments when he said for Virat, "We had a great time playing under him. I have played a lot of cricket with him and enjoyed every moment, and I will continue to do that. We need to keep getting better as a team and as individuals, and that will be the focus not just for me but for the entire squad moving forward." Their warmth and mutual respect are reflected by their statements. When you are a team, tiffs and occasional disagreements are bound to happen. But what lies is a deep bond which only gets stronger with time!
Conclusion
Why? Why do they do it? It happened with the legends Sunil Gavaskar and Kapil Dev. It happened with great icons, Sachin Tendulkar and Rahul Dravid and then MS Dhoni and Virat Kohli. But in reality, the bonhomie and mutual respect are there for all to see! Virat and Rohit are one of the greatest players of this era who complement each other well! So leave the rift for the rumor-mongers, and let us enjoy the game! Let's go for the glory of Team India in South Africa!
You May Like