Business Model of Meesho | How Meesho Earns Money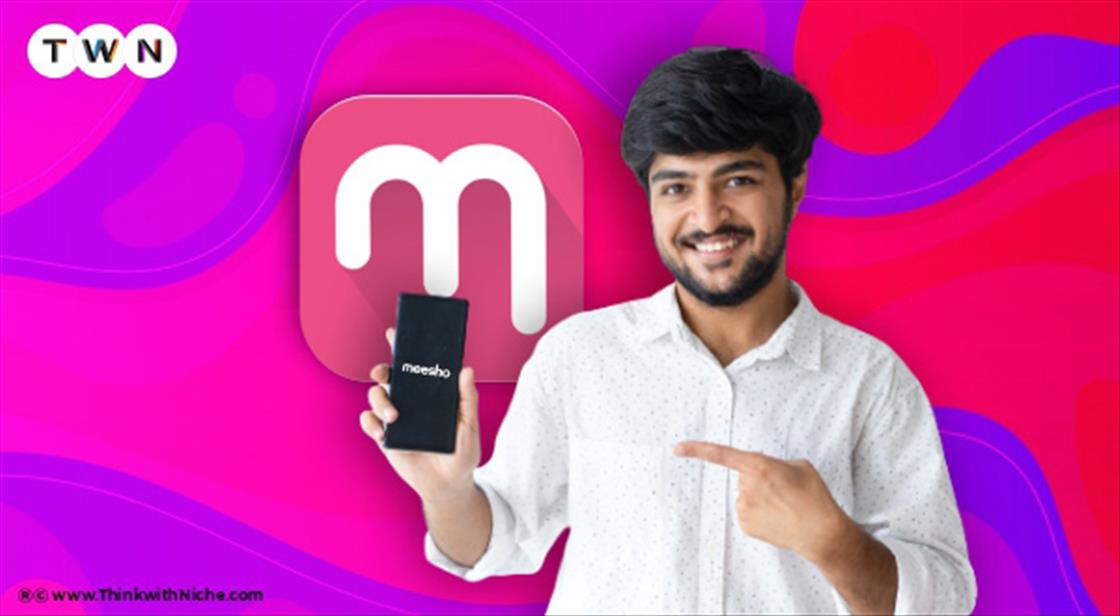 Today's market is currently dominated by "online purchases." With a slew of e-commerce websites rising to prominence, offering a diverse range of products across niches as well as affordable and convenient services for users that can be trusted, purchasing online has become a very real possibility.
It is impossible to deny that online shopping websites and e-commerce stores have changed the lives of buyers and sellers since their inception. However, it is also important to note that these websites provide enormous opportunities for people who want to be resellers and thus earn a decent margin for themselves.
Meesho is a prime example of an Indian social eCommerce company that also provides numerous opportunities for small businesses and individuals looking to launch their own online businesses using social media platforms such as Facebook, Whatsapp, and Instagram. In this post, I will talk about "Meesho Business Model," besided highlighting how to sell and earn money on Meesho! #TWN
Continue Reading..
Meesho is a social commerce platform in India that allows users to resell products through their social networks. Vidit Aatrey and Sanjeev Barnwal, both IIT Delhi graduates, founded it in 2015.
About Meesho – Company Details
Meesho is an India-based social commerce platform founded in December 2015 by two IIT Delhi graduates (Vidit Aatrey and Sanjeev Barnwal). The platform enables small businesses and individuals to launch online stores through social media platforms such as WhatsApp, Facebook, and Instagram.
Meesho's Business Model is similar to that of any other e-commerce company. Meesho earns money in a variety of ways, including the following:
Commission
Meesho earns money from the commissions they charge sellers. When a reseller sells a product on the Meesho platform, the seller of that product will be charged a 10-20% commission. The commission earned model is similar to e-commerce platforms such as Amazon, Flipkart, and others.
Note: Commission is not charged to individual users (Resellers) but to registered businesses (Sellers) who sell goods/products through the platform.
Rank Push
The number of sellers on the Meesho platform is steadily increasing. Meesho earns money from sellers who want their products to appear at the top of the product page. It can provide an additional revenue stream.
Selling of Data
As we all know, data is the new oil in today's world, and data will undoubtedly add a revenue stream to Meesho. Meesho did not violate any of the policies governing privacy. They can only sell data that does not violate any privacy concerns.
Logistics
Meesho accepts the high delivery charges and is working hard to reduce them effectively. Meesho can increase its revenue by utilizing logistics technologies.
How Meesho Works
Meesho is a social e-commerce startup that helps customers get cheaper prices on products such as apparel, electronics, and jewelry. Over 70% of customers are from Tier 2/3+ cities. These customers are generally price-conscious, but they are willing to pay a premium for high-quality goods.
Resellers push the products listed by sellers or suppliers, allowing the Meesho model to scale quickly.
Consider the reseller to be an affiliate marketer who assists suppliers in finding buyers for their products in exchange for a commission. These resellers are typically housewives or fashion influencers who run WhatsApp and Facebook groups with hundreds of potential buyers.
These resellers already have their group members' trust and loyalty, which they use to acquire customers.
So, how does Meesho fit into this seller-reseller business model?
Previously, after ordering something from the seller, the reseller had to deal with things like product packaging, delivery, payments, and so on.
Meesho simplified the entire product distribution process for the reseller.
Now, the resellers can easily recommend products to their audience from the app's curated digital catalog. It means that the best reseller will never run out of products to sell.
When a buyer expresses interest in a specific product, the reseller only needs to enter the buyer's address and add his/her margin, and the product will be shipped from the seller's location by Meesho logistic partners.
The majority of Meesho resellers are Indian housewives who want to earn money or start their own business but have been unable to do so due to a lack of funds. Meesho provides these housewives with all of the tools, resources, and guidance they need to launch their own online business from the comfort of their own homes.
Meesho – Funding and Valuation
As of September 30, 2021, Meesho had raised a total of $1.1 billion. YC, Facebook, Naspers, Sequoia Capital, Shunwei Capital, and SAIF Partners were among the venture capital firms that contributed to the fund.
According to reports dated July 5, 2021, Meesho plans to raise more than $100 million in its latest round of funding, which will be led by two new and existing investors. According to the reports, Softbank and Prosus will be the primary faces of this new round of investment, which, if successful, will be the company's second fundraising round and raise its valuation to anywhere between $3.5 to $4 billion.
The company raised $570 million today, September 30, 2021, in a massive round led by Fidelity Management and Eduardo Saverin's B Capital Group, paving the way for the upcoming Meesho round. It allowed the company to more than double its valuation from six months ago, bringing it to $4.9 billion. Softbank led the previous round, which helped the company raise around $300 million and achieve unicorn status.
How to Sell on Meesho? Meesho Seller Registration Process
Here's a step-by-stepp process of how to sell on Meesho:
Create Your Account
The first step in starting a business on Meesho is to register on the Meesho Supplier Panel, which requires a GSTIN, a PAN card, and a bank account. Navigate to the Meesho supplier website and log in using your email address and password after successfully registering as a supplier.
List Your Products
After completing the registration process on the Meesho Seller Panel, the next step is to add products to the catalogs you want to sell. Create three to four catalogs if you want to increase your sales. If you sell clothing for women, men, and children, for example, you should create a catalog and organize your products accordingly. You must also include the dimensions, weight, price, and photographs of your product.
Receiving Orders
Your products will be visible to all Meesho resellers once they are live on the Meesho app. If they think your product is worthwhile, they'll tell their friends about it on social media, and you'll start getting orders.
Order Delivery
When you receive an order, you'll be notified via email and the Meesho supplier panel. After that, you must accept the order, package the item, and apply the label to the package. To collect and transport packages from vendors, Meesho has partnered with several courier companies.
Payments
Both online and offline payment methods are available. The resellers will receive payment from the customer after the order is placed. You will receive payment for your offline orders on the 15th day after delivery. On the Meesho Supplier Panel, you can find payment information.
How to Earn on Meesho?
You must share a product that is listed on the Meesho app to earn money from the Meesho platform. You can share the products with your friends and family via WhatsApp and Facebook pages and groups, and you can earn a commission on each sale.
You can add your commission and shipping charge above the price as an individual, and you will receive a notification when an order is confirmed. Your margin will be credited to your bank account within 10 working days after the customer receives the order.
Conclusion
We can conclude that Meesho Company can generate revenue in a variety of ways and profitably from them. Meesho is one of many Indian startups with a unique targeting and marketing strategy. Meesho is the most recent member of the Unicorn Club. They reached the $1 billion valuation milestone in just 5 years. They recently received $300 million from Softbank Vision Fund 2.
Related Blogs



You May Like