Jawed Karim Success Story! How did he Founded YouTube?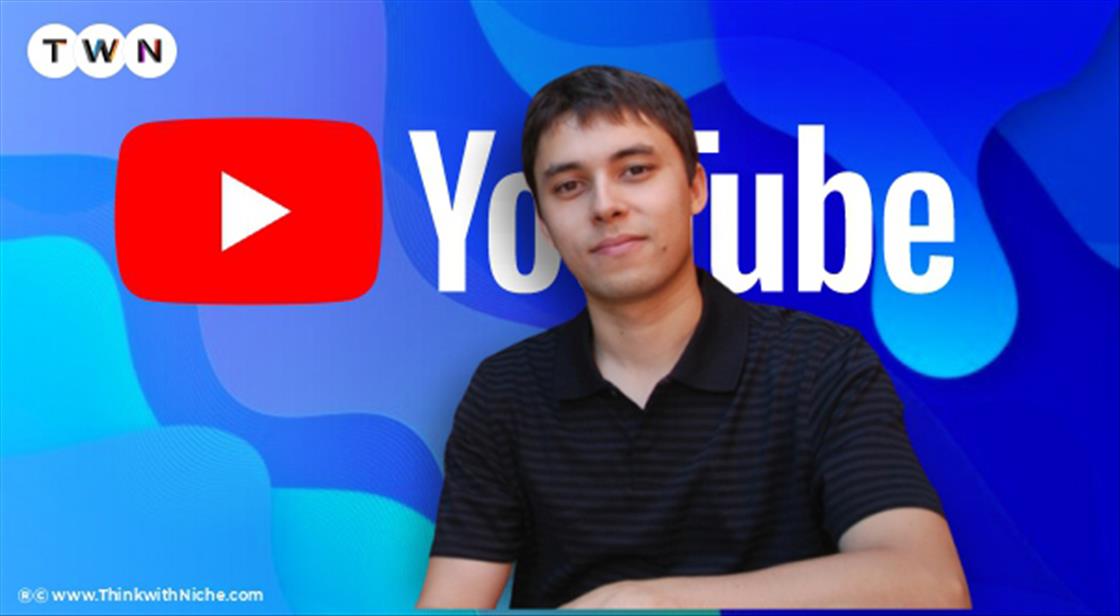 Eleanor Roosevelt once said, "Great minds discuss ideas, average minds discuss events, and small minds discuss people," and three great minds got together, discussed ideas, and founded YouTube, one of the leading social media and video sharing platforms. YouTube has grown in popularity over the years, and I'm sure you've interacted with it in some way, whether as a general viewer, a content producer, or even both. Jawed Karim is one of YouTube's brilliant minds. Continue reading to learn more about him and his life journey to where he is now. Success Story of Jawed Karim! Let's explore together! #TWN
Continue Reading..
In the last two decades, social media has radically altered the lives of people all over the world. People have been brought closer by social media platforms such as Facebook, Twitter, Instagram, and Snapchat. In terms of geography, the chasm is now almost non-existent.
YouTube has established itself as one of the oldest and most popular video-sharing platforms among a plethora of social media and video-streaming platforms. In fact, after its parent company, Google, YouTube is widely regarded as the most visited website on the planet.
On February 14, 2005, Jawed Karim, Chad Hurley, and Steve Chan launched YouTube. They are also widely regarded as the creators of YouTube. Jawed Karim is a software engineer and entrepreneur from the United States. He is of German and Bangladeshi descent. Jawed Karim has been with YouTube since the first video was uploaded, and the company's revenue is expected to exceed $28.80 billion in 2021. His contribution to YouTube's growth is simply indispensable.
Anyone with internet access has probably watched a video on YouTube at some point in their life. YouTube is the platform that gave birth to many sensations; without it, there would be no T-Series, Pewdiepie, CarryMinati, or thousands of other video creators. Susan Wojcicki is the current CEO of YouTube, having joined the American online video sharing and social media platform in February 2014.
Do you know that the first video ever uploaded to YouTube was "Me at the Zoo," which was uploaded on April 23, 2005, by none other than Jawed Karim? As of March 2022, the first video ever uploaded to YouTube had been viewed over 224 million times.
Take a look at the success story of Jawed Karim, the co-founder of YouTube. I will talk about his wealth, education, personal life, and other topics.
| | |
| --- | --- |
| Name | Jawed Karim |
| Born | 28 October 1979 - Merseburg, East Germany |
| Age | 42 |
| Net worth | $300 million |
| Nationality | American/German |
| Parents | Christine Karim, Naimul Karim |
| Siblings | Ilias Karim |
| Education | The University of Illinois at Urbana–Champaign (BS), Stanford University (MS) |
| Occupation | Entrepreneur |
| Known for | Co-founder of YouTube, Uploader of the first video ever on YouTube |
| YouTube channel | Jawed |
Jawed Karim - Early Life and Education
Jawed Karim was born to Christine and Naimul Karim on October 28, 1979, in Merseburg, East Germany (now Germany). His father is a Bangladeshi researcher who works for 3M, an American multinational conglomerate (originally known as Minnesota Mining and Manufacturing Company) headquartered in Maplewood, Minnesota and founded in June 1902. Karim's mother is a German scientist who works as a Research Professor of Biochemistry at the University of Minnesota. Ilias Karim, his younger brother, is his only sibling.
Jawed Karim was born in Merseburg but raised in Neuss, West Germany. In the early 1980s, he and his family were forced to cross the border of inner Germany due to rising xenophobia. However, he had to deal with several other instances of xenophobia in Neuss, which is why he had to relocate with his family to Saint Paul, Minnesota, in 1992. Karim graduated from Saint Paul Central High School in 1997.
Jawed enrolled in the Department of Computer Science at the University of Illinois. Jawed dropped out of university before completing his degree and went to work for PayPal, where he was one of the company's first employees. In 2004, he completed his education and earned a bachelor's degree in computer science. Jawed went on to Stanford University and earned a Master's degree in Computer Science, but this was after YouTube had been founded.
Jawed Karim – Career
Karim began his career as an intern at Silicon Graphics, Inc. during his university years. He had worked on "3D voxel data management for very large data sets for volume rendering, including data for the Visible Human Project" there. However, he soon dropped out of college and went to work for PayPal, where he met Chad Hurley and Steve Chen, the future co-founders of YouTube, in 2002.
Jawed Karim – How he founded YouTube?
He met Steve Chen and Chad Hurley, the other two creators of YouTube, at PayPal. The lack of Super Bowl XXXVIII video clips, as well as the Indian Ocean earthquake and tsunami, inspired Jawed to create a video-sharing platform. The controversial Super Bowl half-time segment with Janet Jackson was a rage at the time, and everyone wanted a glimpse of it. Hurley and Chen, on the other hand, have cited the website Hot or Not, a rating site that allows users to rate the attractiveness of photos submitted voluntarily by users, as the inspiration for creating YouTube. The founders also stated that when they decided to launch YouTube, they had in mind an online video version of a dating site.
If you're wondering if YouTube was the first video-sharing website on the internet, the answer is no. It is because Vimeo was launched in November 2004, before YouTube, but because it was a side project of the developers of the Los Angeles-based internet comedy company CollegeHumor at the time, Vimeo did not grow as quickly.
YouTube as a Dating Site and Why it Didn't Work Out!
As previously stated, YouTube was intended to be an online video dating site, with "Hot or Not" serving as a major influence for the founders, but this did not pan out. The founders even attempted to advertise on Craigslist for attractive women to upload their videos to YouTube in exchange for $100 per video post. However, due to a scarcity of dating videos, they were unable to pivot to the same strategy. The website's creators then changed their minds and began accepting videos of all kinds. Whatever the inspiration, we are grateful to have YouTube today!
The 'YouTube' domain name was activated on February 14, 2005, after the necessary measures and steps were put in place. In May 2005, they launched the YouTube beta site after receiving $3.5 million in funding from Sequoia Capital.
Following that, a series of events occurred. The business eventually began as a venture capital-funded technology startup. YouTube then received funding from several other investors, including Sequoia Capital, which contributed $11.5 million, and Artis Capital Management, which contributed another $8 million to the platform, making it the largest investor at the time. These funds significantly aided YouTube's rapid growth.
Before expanding its headquarters to San Bruno, the company was headquartered in San Mateo, California, directly above a pizzeria and a Japanese restaurant.
Jawed Karim – First YouTube Video Ever
Jawed Karim created the first YouTube channel, "Jawed," and the first-ever video on YouTube was titled "Me at the Zoo," which he uploaded. Yakov Lapitsky, a high school friend of his, shot this video. Karim was featured in the owner's video from the San Diego Zoo. To date, the video has received over 218 million views.
Jawed Karim – Growth of YouTube
YouTube's first million-view video, a Nike commercial featuring the legendary Brazilian soccer player Ronaldinho, was uploaded in 2005. Ronaldinho was shown receiving his "Golden Boots" in the video. YouTube was officially launched on December 15, 2005, at a time when the site was already receiving over 8 million daily views. However, when YouTube first launched, it only accepted videos up to 100 megabytes in size, which were typically limited to 30 seconds of video footage.
During the same week as YouTube's launch, NBC-Saturday Universal's Night Live aired a skit titled "Lazy Sunday" by The Lonely Island. As a result, Lazy Sunday was quickly unofficially uploaded on YouTube. It not only increased the ratings and contributed to the long-term viewership of Saturday Night Live, but it also greatly aided YouTube in gaining recognition, making it one of the first viral videos on YouTube. When the skit was recorded in February 2006, it received 5 million views on YouTube before being removed two months later at the request of NBCUniversal due to copyright issues. Under YouTube's policy, this paved the way for the Content Verification Program. It made it simple for copyright holders to identify infringements. After a few squabbles, YouTube reached an agreement with NBC. This agreement aided NBC's entry into the world of digital broadcasting. And this was just the beginning of YouTube's numerous collaborations with industry heavyweights.
Though most of the videos were removed, the duplicate uploads did not stop; instead, they continued to pour in, ostensibly to popularise YouTube.
YouTube grew quickly, and in July 2006, it was announced that the video-sharing platform was receiving over 65,000 new video uploads per day. Furthermore, YouTube confirmed that it receives 100 million video views per day.
Jawed Karim – YouTube Google Acquisition
After launching YouTube, Jawed Karim became an informal adviser to the company rather than an employee because he wanted to finish his studies, eventually enrolling at Stanford University. He took a smaller stake in the company than the other co-founders, Steve Chan and Chad Hurley.
Much of the time, he went unnoticed by the general public until the arrival of Google. Karim returned to the news and media only after YouTube was sold to Google for nearly $1.65 billion in 2006.
This small share was large enough for him to receive nearly 137,443 shares, worth approximately $64 million, at the close of the famous Google acquisition of YouTube. Jawed Karim's net worth is currently $300 million.
Jawed Karim gave a lecture on YouTube's history in 2006 at the University of Illinois' annual ACM Conference, titled "YouTube from Concept to Hypergrowth." Furthermore, Karim returned to the University of Illinois in May 2008, where he was chosen as the 136th and youngest Commencement Speaker in the school's history.
YouTube "Broadcast Yourself"
After Google acquired YouTube, users and other content creators were looking for another dependable option. The other video-sharing sites then attempted to gain prominence and distinguish themselves from YouTube, but they ultimately failed with the announcement of YouTube's slogan "Broadcast Yourself." It marked the beginning of YouTube's Broadcast Yourself era, which aided in the company's subsequent period of rapid growth. According to a 2007 Daily Telegraph report, YouTube consumed enough bandwidth to equal the entire internet's bandwidth in 2000. By 2010, the company had reached the 14 billion video view milestone and boasted a 43 percent market share. To further boost its growth, YouTube simplified its interface in the same year, with the goal of increasing viewers' dwell time on the platform.
In 2011, YouTube reached yet another milestone: 3 billion videos watched per day, with 48 hours of new videos uploaded every minute.
Jawed Karim – Opposing YouTube's Decisions
Google's policy was significantly altered in 2013. To leave a comment on any YouTube video, a user need a Google+ account. The move sparked outrage and was widely condemned by the YouTube community. Several users signed an online petition to express their displeasure with the new policy.
The petition received approximately 240,000 signatures. Karim was also opposed to the policy change; to protest Google+'s intervention, he changed the video description on his first video to "I can't comment here anymore, as I don't want a Google+ account."
After the YouTube community protested, Google apologized for forcing Google+ users to use their real names and, as a result, Google dropped the policy of integrating Google+ with YouTube. Google+ services were permanently disabled in 2018 after consumer and developer adoption failed.
Karim also criticized YouTube's recent decision to remove the dislike count. He declared, "When every YouTuber agrees that removing dislikes is a bad idea, it is most likely a bad idea. Please try again, YouTube."
Conclusion
Jawed Karim's story exemplifies the importance of identifying a niche and then focusing on it, and it is undoubtedly inspiring for today's entrepreneurs. A video-sharing platform may be commonplace today, but it was not in the early 2000s. Karim was always a prominent face on YouTube when it first launched. Furthermore, Karim had a significant say in many crucial YouTube decisions, including the decision to collaborate with companies such as Google and NBC, which can undoubtedly be regarded as some of the most significant reasons for YouTube's current popularity. Nobody could have predicted that a small video of a man introducing an elephant at the zoo would forever change video sharing and streaming!
FAQs
Who owns YouTube?
Google is the parent company of YouTube. Google purchased YouTube in November 2006 for $1.65 billion in stock and is now the sole owner of the site.
Who is the founder of YouTube?
YouTube was founded by Jawed Karim, Chad Hurley, and Steve Chen.
What was the first YouTube video?
Jawed Karim's "Me at the Zoo" video was the first to be uploaded to the social media platform.
When was YouTube created or when did YouTube start?
On February 14, 2005, YouTube was launched. Jawed Karim, Chad Hurley, and Steve Chen founded the popular social media platform.
How much was YouTube sold for?
In November 2006, Google paid $1.65 billion in stock for YouTube.
Who are Steve Chen and Jawed Karim and what are they known for?
YouTube's co-founders are Steve Chen and Jawed Karim, who established the popular video-sharing platform in 2005.
What is the Jawed Karim net worth?
Jawed Karim's net worth is estimated to be $300 million as of 2022.
How old is Jawed Karim?
Jawed Karim is 42 years old and was born in October 1979.
What is the net worth of YouTube?
YouTube's net worth is currently estimated to be around $170 billion.
Did YouTube begin as a dating site?
According to reports, YouTube began as a video version of an online dating service, the concept of which was influenced by the Hot or Not rating site founded by James Hong and Jim Young.
You May Like