International Olympic Day 2022, History | Theme | Significance and Every Insight that You Want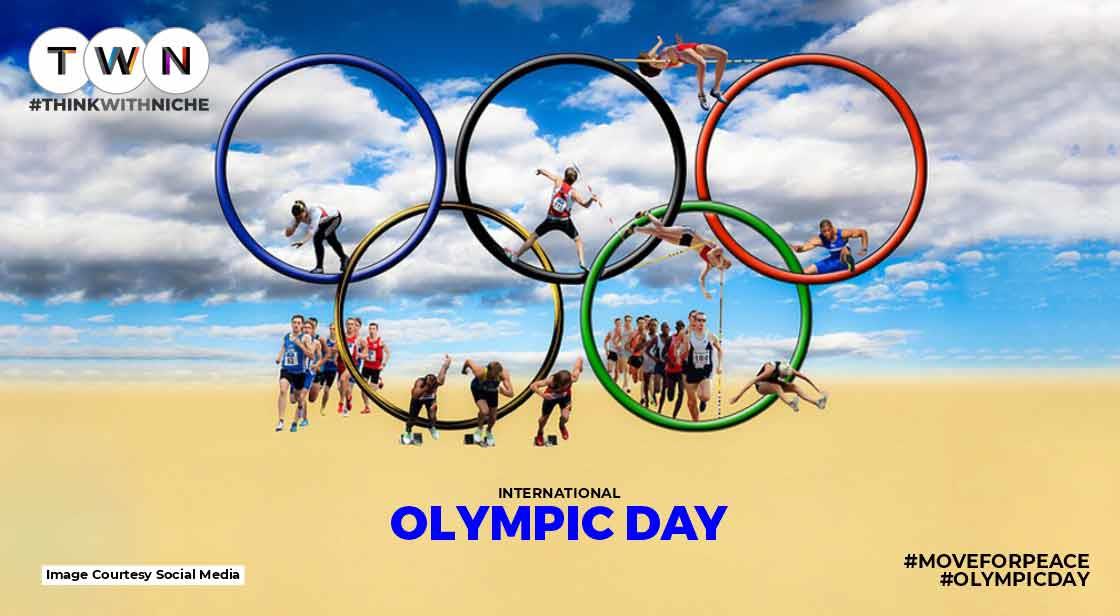 On June 23, the International Olympic Day is observed to promote sports and health. The International Olympic Committee (IOC) was founded on this day in 1894. It also emphasizes the Olympic concept and propagates the message that sports are an important part of living a healthy and active life. Sport is an essential part of our life and it must be celebrated globally. Sports indeed bring people together. We have seen that in almost every sport played, fans spread love even when they are rivals, and that is the message that must be spread with the help of World Olympic Day. Let's know more about this year's International Olympic Day. #TWN
Continue Reading..
We love sports like we love our lives. Those who are passionate about it know its importance in life, and those who have no idea about sports must know about it. There is nothing greater than the Olympic games to know about different sports, and to celebrate the Olympic games, we have a day known as International Olympic Day. Let's know more about this day and celebrate the presence of the Olympic Games in our world.
On June 23, the International Olympic Day is observed to promote sports and health. The International Olympic Committee (IOC) was founded on this day in 1894. It also emphasizes the Olympic concept and propagates the message that sports are an important part of living a healthy and active life.
Let's know more about it.
Together for a peaceful world.
This is the theme that will be followed this year. The theme honors sports' ability to bring folks together and make a contribution to a world of unity and peace. Sports indeed bring people together. We have seen that in almost every sport played, fans spread love even when they are rivals, and that is the message that must be spread with the help of World Olympic Day.
International Olympic Day 2022: History
Doctor Gruss, a member of the Czech International Olympic Committee, proposed the idea of commemorating World Olympic Day. During the 41st Session of the IOC in Stockholm in 1947, he presented a report proposing World Olympic Day. One year later, at the 42nd IOC Session in St Moritz, the proposal was adopted. The committee was then asked to select a date between June 17 and June 24. Finally, the committee decided to recognize the International Olympic Committee's founding date as International Olympic Day.
On June 23, 1948, the first International Olympic Day was observed under the leadership of Sigfrid Edstrom, the IOC's president at the time.

On June 23, 1948, Greece, Austria, Uruguay, Portugal, Canada, the United Kingdom, Switzerland, Venezuela, and Belgium observed the first Olympic day. At the time, IOC President Jacques Rogge encouraged young people to make sports a crucial part of their lives.

On June 23, 1948, the first International Olympic Day was observed.
International Olympic Day 2022: Significance
The day is observed by National Olympic Committees across the world to inspire people of all genders, ages, and social backgrounds to partake more in sports. The Olympic movement is built on three pillars: movement, learning, and discovery. The main goal of commemorating the day is to raise awareness about the importance of staying healthy, strong, and active. Several organizations and non-governmental organizations now commemorate the day by hosting sports competitions and welcoming people to participate in any type of game.
International Olympic Day 2022: Celebrating the Olympic Values
Olympic Day is also a chance to celebrate the Olympic values of brilliance, friendship, and respect by organizing Olympic Day activities around four pillars:
Move - inspires people of any age and skill set to participate in the Olympic Day Run and other community events on Olympic Day.
Learn - promotes sport's role in society and Olympic values, emphasizing the role of sports activities in improving social situations.
Discover - is all about folks trying out new sports and activities for the first time – in the corporation of local teams, athletes, and even Olympians.
Together for a better world - encourages people to band together in support of Olympic values, transforming Olympic Day into a worldwide moment of activity & connection. The new pillar, which was introduced in 2022, allows for attention to a specific message every year. The theme for this year is "Together for a Peaceful World."
World Olympic Day: Celebration for Every Country
To commemorate Olympic Day, NOCs host a variety of sports, cultural, and educational events for people of all ages, genders, social backgrounds, and athletic abilities.
Every country's celebration is distinct. While over 100 nations host their own Olympic Day Run annually, the IOC also welcomes NOCs to design their own Olympic Day events. NOCs on all continents are constantly looking for new and interesting ways for sportspeople and Olympians to collaborate with schools, families, and the general public to learn about Olympic values, try new games, and get active.
Some countries have implemented the event into the education curriculum, and many NOCs have decided to add shows and expos to the celebration in recent years. In 1948, nine countries actively participated in the first Olympic Day, ranging from Austria to Venezuela. Since these humble beginnings, 170 NOCs all around the world have organized Olympic Day ceremonies in recent years. Despite the COVID-19 pandemic, over 3 million people in 116 countries commemorated Olympic Day in 2021.
Go For Olympic Day Runs!
Why not look up the location of your closest Olympic Day run? Alternatively, simply get involved with your friends or by yourself and use #MoveForPeace.
And, if you participate in any task that demonstrates how the sport is helping to spread peace, tag @olympics on social networking sites with the hashtags #MoveForPeace & #OlympicDay.
FAQs On International Olympic Day 2022
Where is the headquarters of IOC situated?
The Headquarters of the International Olympic Committee is situated in Lausanne, Switzerland.
When was the IOC founded?
The International Olympic Committee was founded on the 23rd of June 1894 in Paris, France.
Who is the Committee President of IOC?
Thomas Bach is the President of the IOC.
Who is the General Director of the IOC?
Christophe De Kepper is the General Director of the IOC.
You May Like