Himanshu Laul: Know How Rayna Tours' Managing Director Tide The Company Over Difficult Times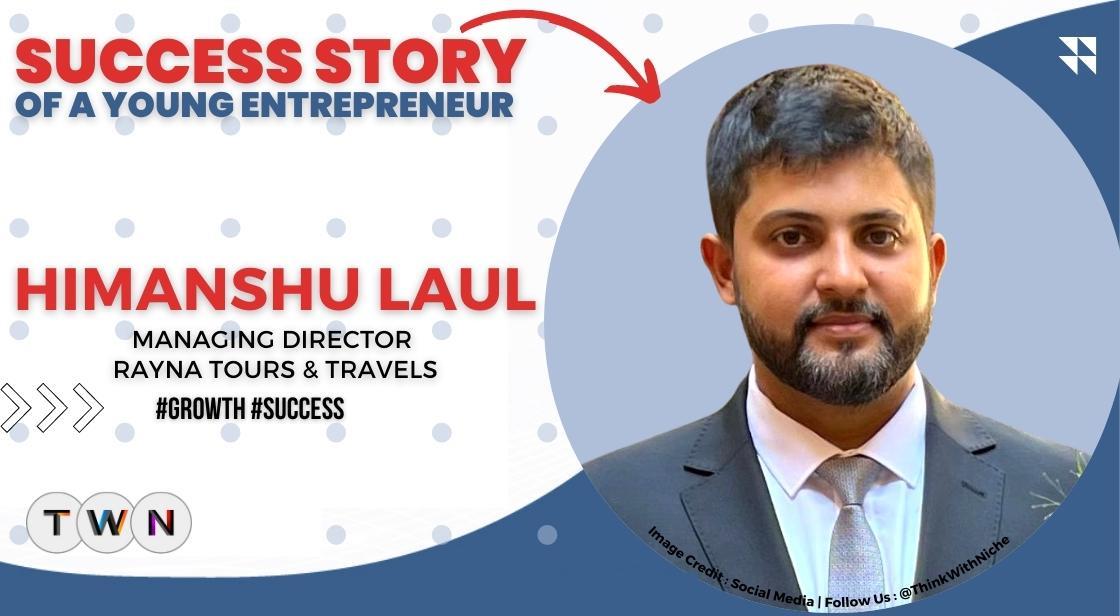 Rayna Tours and Travels is an international travel management company with its headquarters office in Dubai. The company, which began as a single travel boutique in a Dubai hotel more than ten years ago, has since grown into one of the industry's giants as a result of its effective yet prudent business practices. Certainly,
Rayna Tours and Travels' success story is so motivating that it will give you hope that you may achieve success or expand your company using little money. The managing director of Rayna Tours is the renowned IIT, Roorkee alumnus and travel industry expert Himanshu Laul. Let's explore how this young Entrepreneur Himanshu Laul leads the company during difficult times and sets an example for others.
Continue Reading..
Himanshu Laul, the managing director of Rayna Tours and Travels, has set a perfect example for those who want to strengthen their company's success and growth through organic marketing methods. But things didn't come effortlessly or quickly for him. So, in this post, find out how this young, enterprising businessman broke stereotypes to prove his concepts and ideologies about business right.
EARLY LIFE
Himanshu was born in 1988 and raised in Delhi, where he did his schooling at Summer Fields School. After completing his graduation in architecture (BArch) in 2011 from the reputed IIT (Indian Institute of Technology), Roorkee, he didn't wait to build his career by taking the conventional route of working in a firm. Instead, a year later, in 2012, he followed his passion to launch an art café known as Kuzart Lane in the Indian capital city of Delhi. Later, he served as the CEO of the Dubai-based Laully DMCC.
WALKING INTO RAYNA TOURS AND TRAVELS
He became a part of Rayna Tours and Travels (www.raynatours.com) due to his longtime friendship with Manoj Tulsani, Rayna Tours' CEO and co-founder, whom he considers his mentor and role model. Himanshu joined the company during one of the most challenging times—the onset of the pandemic in 2020.
In his own words, "We were in talks to launch Rayna Tours and Travels' London branch, and then the pandemic hit. So I took my role at the company's headquarters in Dubai as the Director of Business Development."Two years later, in 2022, he assumed his new role in the company as its Managing Director. Since then, he has been an inevitable part of the company's managerial team, along with Manoj Tulsani and Yasser Noman, the company's Executive Chairman as well as a veteran in the travel and hospitality industries.
ABOUT RAYNA TOURS AND TRAVELS
Rayna Tours and Travels is one of the UAE's top-leading destination management companies. It has branches in several parts of the world, with a strong presence in India, Singapore, Malaysia, Thailand, etc. With dedicated departments to plan and execute every minute detail of leisure or business travel, the company's motto is to help its clients travel better without any hassle. It was founded in 2006 as a small travel boutique in Dubai's Flora Grand Hotel by Manoj Tulsani and Kamlesh Ramchandani.
It is now an award-winning travel management company active in every travel vertical; it caters to B2C and B2B clients and helps small travel businesses grow their business through innovative solutions. It was awarded the Travelers' Choice Awards, one of the highest TripAdvisor awards, two times consecutively in 2020 and 2021. The company is also the winner of other esteemed awards, including the Best Partner Award for Dubai Parks and Resorts (2017) and the Arabian Travel Awards (2018) in two categories: Best B2B Travel Portal and Best Destination Management Company.
DEVELOPING THE BUSINESS WITH A DISTINCT CONCEPT AND CREATIVE PASSION
Himanshu is someone who cares about the ways a business should be developed. He believes that aggressive, impractical marketing campaigns will not help a company's goal or success to be translated. According to him, "While it may cater to your short-term goals, the catch is to always invigorate business growth without losing its real soul or purpose." He vouches for the significance of strategies that reach out to the targeted audience naturally, through content that is more informative and entertaining than intensely persuasive or promotional.
"I think it is the most effective way to improve brand visibility and establish a long-standing connection with them. Moreover, there is more interaction, as it allows our viewers to communicate directly with our brand. The idea is to focus on building a powerful community abuzz with discussions, positivity, and excitement about our upcoming deals and new product or service launches." In fact, Himanshu has largely been credited with pivoting Rayna Tours' marketing visions in a more meaningful and resourceful way, especially in the most critical and difficult times.
And we couldn't agree more; Rayna Tours and Travels has carved a niche for itself on social media domains, with hundreds of thousands of loyal fans and followers on Instagram, Facebook, Tik Tok, LinkedIn, etc.
CHALLENGES AND LESSONS
As mentioned earlier, Himanshu didn't have any work experience, nor did he come from a business background. "I was in my early 20s when I started my first business, and I didn't have a trove of expertise or skill to steer the business forward. But it was certainly a wakeup call for me to avoid all those mistakes in the second round." Apparently, his success story proves that one can make it big without experience.
He says, "If you have a great idea, don't wait for the right moment or time to make it happen or foray into the entrepreneurial world. It is now not a big deal to put an idea or a concept into action, but what matters is to have that unflinching dedication to grow your ideas through the effective optimization of resources while tackling all challenges and competitions along the way." His message is clear: to work hard, reap success, and, most of all, sustain it through discipline and determination.
CONCLUSION
As we wind up this post, we anticipate Himanshu's entrepreneurial wisdom and journey will inspire those looking to enter the business world and make a name for themselves.
You May Like