Charlie Chaplin: Less-Known Facts about the Comedy King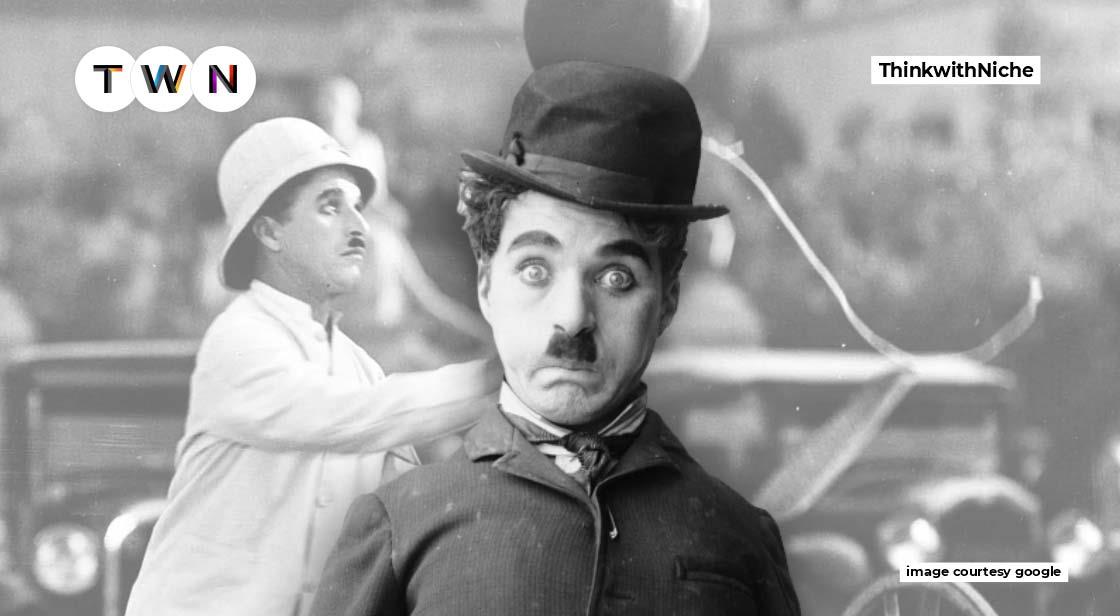 The undisputed king of silent movies, Charlie Chaplin, has left an indelible mark on British cinema by repeatedly stretching the boundaries of film and satire.
Here's what we know about the man best known for playing The Tramp, who had an insatiable appetite for the silver screen.
The Blog Flow:
Charlie Chaplin's Less Known Facts

The Chaplin Trivia
#ThinkWithNiche #TWN
Continue Reading..
Charlie Chaplin, best known for his silent films, is a comedy legend. The legacy and impact of Charlie Chaplin on cinema cannot be overstated. His contribution to the film industry is far more than just making people laugh. Several of his films are frequently ranked among the greatest films of all time. Classics such as The Kid and City Lights continue to make audiences laugh as hard as they cry during the emotional moments.
As a tribute to this legend, the eleven entries that follow will present lesser-known facts about Charlie Chaplin, ranging throughout his eminent career.
Here are some interesting facts about the ever-loved comic.
1. He didn't Win a Charlie Chaplin Look-a-like Contest
Chaplin entered a Charlie Chaplin look-a-like contest in 1915. Surprisingly, neither the judges nor the audience realized he was the real Charlie Chaplin! Instead of winning, he won the third prize.
2. He was the first actor to appear in Time Magazine
Charlie Chaplin was the first actor to appear in Time Magazine. He achieved this feat in the 6th July 1925 issue. The magazine is known for its influential covers, so this was a big step for the actor.
3. He became Richer than the President of the United States
The president of the United States was paid $75,000 per year at that time. After signing a contract with the Mutual Film Corporation of New York in 1916, Chaplin's salary increased to $670,000.
4. He saved Disney
Snow White and the Seven Dwarfs was Disney's first feature-length animated film, released in 1937. Walt Disney was unsure about the film's success, but Chaplin reportedly encouraged the director to finish and distribute Snow White. The two became business partners, and Chaplin was instrumental in spreading Disney's name.
5. The Great Dictator
Chaplin's other notable project, The Great Dictator, was not without controversy. While the film received several Academy Award nominations, including best picture, some people were critical of the director's decision to mix art and politics.
6. He was an Accomplished Musician
Besides his abilities as a filmmaker, Chaplin was also a self-taught musician. As a result, when it came to the music in his films, he aimed for the best. He wrote the majority of the scores for his works, but he couldn't read notation, so he enlisted the assistance of other composers to translate his ideas into written form.
As a result, some believed that these composers should have received the majority of the credit, but the majority of those who worked insisted that the final product was a result of his ideas. Some of his film's more pop-oriented songs even became hits.
7. He Resisted Sound
Chaplin was adamantly opposed to using sound and dialogue in his films. He felt it was unnecessary because the majority of his comedy was pantomime. He also bemoaned its technical shortcomings. City Lights was made at a time when the sound had all but had become the norm, and despite being a silent film, it included sound effects.
Despite his opposition to the growing popularity of talkies, the film was a huge success and remained one of his most celebrated works.
8. He once Directed Marlon Brando
Iconic thespian Marlon Brando acted under Chaplin's direction in Countess From Hong Kong in 1967.
The actor was a huge fan and was overjoyed at the prospect of working with him.
9. He was a Perfectionist
It is possibly the most well-known trait of the English filmmaker. His films were not masterpieces by chance. Chaplin painstakingly planned every detail until it felt just right, then shot countless takes. He expected the same level of commitment and professionalism from everyone else on set.
10. His Romances
Anyone who has kept track of the director's marriages and flings will notice something peculiar. He frequently dated women much younger than him.
His final wife, Oona O'Neill, whom he married in 1943, was eighteen years old at the time. Chaplin was already in his fifties. Despite their age gap, the couple remained together until his death, and they had eight children.
11. Longest Standing Ovation at the Oscars
Charlie Chaplin holds the honor of receiving the longest standing ovation at the Oscars. He received a 12-Minute long Standing Ovation when receiving the Honorary Award in 1972.
The Chaplin Trivia
Sir Charles Spencer Chaplin was an English comedian, film director, and composer who rose to prominence during the silent film era. Through his screen persona, the Tramp, he became a worldwide icon and is regarded as one of the film industry's most important figures.
When was Charlie Chaplin born?
He was born on April 16, 1889.
Who was Charlie Chaplin's spouse?
Oona O'Neill (Married 1943-1977)

Paulette Goddard (Married 1936-1942)

Lita Grey (Married 1924-1927)

Mildred Harris (Married 1918-1920)
Charlie Chaplin had 11 children from 3 wives.
Charlie Chaplin's Net Worth
Charlie Chaplin had a net worth of at least $100 million at the time of his death. In today's dollars, that equates to around $400 million.
What were Charlie Chaplin's last words?
When the priest who was attending him on his deathbed said, "May the Lord have mercy on your soul," Chaplin replied, "Why not? After all, it belongs to Him." That was the last thing he said.
You May Like