Comparative Analysis Of Starbucks And Dunkin' Donuts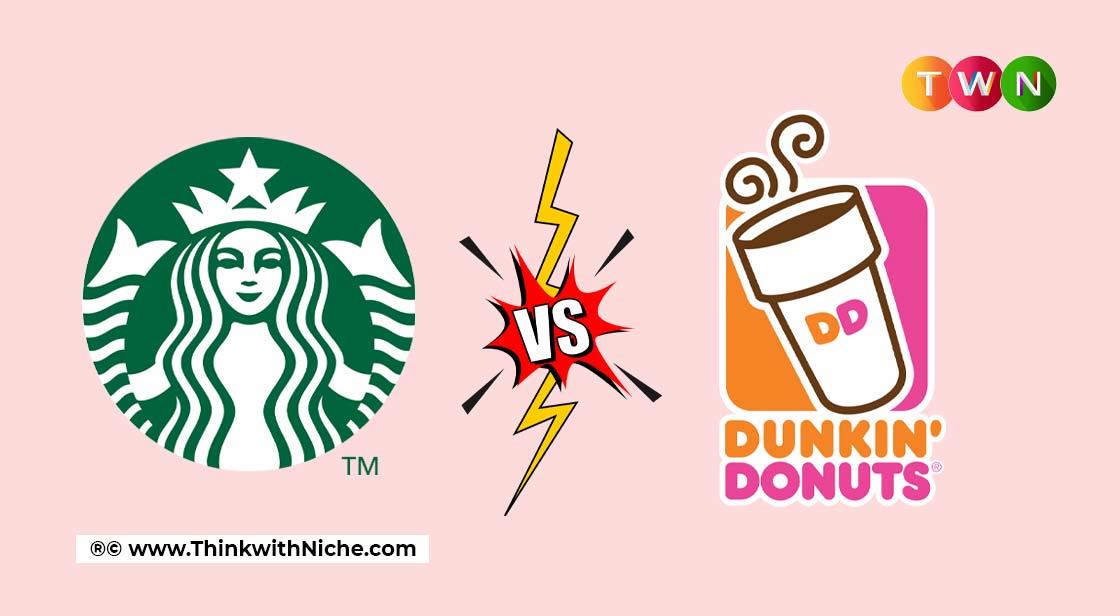 The two most well-known coffee shops should be known to all coffee enthusiasts: Starbucks and Dunkin' Donuts. But which is better compared? Which one do you usually use? Do you think of Starbucks or Dunkin Donuts when you want to have a cup of coffee in the morning? You can make this selection with the aid of numerous variables. factors including the atmosphere, rates, apps, food and beverage alternatives, and food options. More than 3,100 Dunkin Donuts outlets can be found in more than thirty nations, including China, Russia, Spain, Brazil, Chile, and Canada. In the United States, they have 8,500 stores spread over 41 states. This results in a global total of more than 11,600 stores. Starbucks operates 14,600 locations within the United States and 14,718 locations abroad. They have locations in 63 nations, including Turkey, France, China, Mexico, Thailand, and Canada. This demonstrates how well-liked both brands are. Everywhere in the world, they both have thousands of places. But which is better? In this blog post, we will provide a Comparative Analysis Of Starbucks And Dunkin' Donuts. Starbucks Vs Dunkin' Donuts.
Continue Reading..
Coffee resonates with general citizens. A lot of people are dependent upon coffee because it contains caffeine, and helps a person to work longer. Now people assume that the word 'coffee' is derived from elements that keep them warmed up for the entire day and pumped up during work hours. However, there is a myth to this narrative. Coffee is not altogether healthy as it makes people pursue the idea of coffee 'making a person alert'. All coffee lovers should be familiar with the two most well-known coffee shops: Starbucks and Dunkin' Donuts. But which is superior in comparison?
Despite being established 20 years after Dunkin' Donuts, Starbucks grew quickly and today is a far larger company. Dunkin' Brands recorded sales of more than $860 million in FY 2017, while Starbucks made over $22 billion in revenue. Compared to Dunkin' Brands' more than 20,500 points of distribution worldwide, Starbucks has a greater footprint with over 28,209 locations. With over 14,000 outlets nationwide, Starbucks outpaces Dunkin' Donuts, which has about 9,200 locations. Starbucks intends to expand its presence in regions like China by opening an additional 3,400 outlets in the United States by 2021, while Dunkin' expects to add 1,000 net new stores by the end of 2020. As of the end of 2017, Starbucks had far more international expansion, with 27,339 stores in 75 different nations. Although the majority of Dunkin' Brands' overseas outlets are Baskin-Robbins ice cream shops rather than Dunkin' Donuts shops, the company has a sizable global footprint. While there are only 3,397 Dunkin' Donuts outlets outside of the United States, the firm has 5,422 Baskin-Robbins locations worldwide as opposed to 2,560 in the United States.
Less than 4% of Dunkin' Donuts' overall Q1 2018 sales, which totaled $139.9 million, came from its overseas operations, which brought in $5.4 million. In the most recent quarter which concluded on April 1, Starbucks' consolidated net revenues of $6 billion were attributable to markets outside of the Americas by almost 30%. In an effort to challenge the footprint of its main rival, Dunkin' has announced aggressive ambitions for both domestic and international expansion. However, the differences in magnitude are the result of different expansion strategies.
Comparative Analysis Of Starbucks And Dunkin' Donuts
Franchising
Franchises make up the majority of Dunkin' Brands' locations. Since corporate-owned and operated stores make up 59% of the stores in the United States and 48.6% of the locations abroad, licensed Starbucks locations are disproportionately found outside of the country.
Compared to Starbucks, which is mostly owned by owner-operators, Dunkin' Donuts has a higher exposure to the franchise and rental income, which results in a fundamentally different business. This has significant effects on revenue sources, cost structures, and capital expenditures.
Operational and capital expense structures in company-operated stores differ from those in franchised sites. Starbucks' cost of goods sold (COGS) and retail running costs as a proportion of sales are substantially higher than Dunkin's. Changes in coffee bean prices have a more significant impact on Starbucks' earnings since COGS is so much more prominent in its expense structure. Considering that Dunkin' Donuts is not required to purchase cooking equipment for franchise sites, Starbucks also has a heavier load of capital expenses.
Food Choices
The menu selections at Dunkin Donuts and Starbucks are significantly different. Starbucks serves sandwiches, bagels, muffins, scones, and other baked goods. Starbucks also offers premade lunchboxes called "bistro boxes," which are sold separately and often include a sandwich, some snack-size vegetables, and a small dessert. They also sell cookies, cake pops, and tarts, among other dessert delicacies. A healthy menu is also available at Starbucks. They sell breakfast sandwiches, oatmeal, spinach and feta wraps, and reduced-fat turkey bacon sandwiches with egg whites. The spinach and feta wrap is shown in the image on the right. I assure you that it is not tasty, despite how it may appear. except if you're a vegetarian. In an effort to gratify their customers, Starbucks has added seasonal Christmas goods. Starbucks has also added new culinary options for the winter holidays, including paninis with turkey and stuffing, carved ham and egg sandwiches, croissants with pistachio honey, gingerbread loaves, penguin cake pops, and snowman cookies. They add a duck-shaped cake pop for Easter and a heart-shaped cake pop for Valentine's Day.
On the other side, Dunkin Donuts offers bagels, muffins, croissants, sandwiches, hash browns, and wraps. The main distinction between Dunkin Donuts and Starbucks is that the latter sells highly favored goods like donuts and munchkins. Donuts are available in a variety of flavors, including chocolate frosted, chocolate glazed, vanilla frosted, boston creme, and glazed. The most common flavours of Munchkins are glazed, glazed chocolate, powdered sugar, and jelly. There is a healthy menu at Dunkin. In addition to turkey sausage sandwiches, egg and cheese sandwiches, oats, multigrain bagels, and veggie egg white sandwiches are available. They increase their offerings for the winter holidays to include Santa doughnuts, Hershey kiss donuts, and cinnamon cream cheese. They created the heart-shaped doughnuts in the photo for Valentine's Day.
Drink Options
The standard sizes for drinks at Dunkin Donuts are small, medium, and large. A selection of hot and iced coffees, lattes, hot chocolate, iced teas, fruity iced teas, and coolatta are available at Dunkin Donuts. Americano, latte, macchiato, cappuccino, espresso, and cold brew are among the coffee options at Dunkin' Donuts. A coolatta is the ideal beverage to have on a warm summer day. It consists of a mixture of coffee, ice, and flavour syrup (or fruit juice, depending on the sequence). Caramel, mocha, raspberry, blueberry, and coconut are among the flavours. Dunkin expands their menu with extra festive products. They added a Peeps marshmallow-flavored coffee for Easter. They expanded their menu to include Irish Creme coffee and espresso for St. Patrick's Day. For the winter holidays, they also provide almond joy coffee and peppermint mocha hot chocolate. Along with images of some Christmas trees, Dunkin' Donuts also updates its cups to include the word "joy." They have pumpkin spiced coffee and lattes, maple coffees, and pecan coffees available during the fall.
However, Starbucks offers its beverages in many sizes, including tall, grande, and venti. The decision to label the sizes in Italian was made when Howard Schultz, the man behind Starbucks, traveled to Italy. Lattes, hot and iced teas, lemonade, hot chocolate, various hot and iced coffees, as well as their renowned frappuccinos and refreshers, are just a few of the drinks that Starbucks serves. They serve espresso, cappuccino, americano, latte, and macchiato in addition to coffee. Starbucks's signature drink is the frappuccino. Depending on the type of frappucino you get, it is coffee combined with flavours, ice, and other components. Caramel, mocha, chocolate chip, and vanilla bean are the most popular flavours. A refresher from Starbucks has fruit juice, ice, and a small quantity of coffee. Berry hibiscus, strawberry acai, mango dragonfruit, and my personal favourite, the pink drink, are all popular tastes. Passion fruit juice, coconut milk, acai juice, and strawberries are combined to make the pink beverage. In addition, Starbucks expands its menu over the holidays. They serve peppermint mocha hot chocolate, chestnut lattes, caramel brulee, gingerbread and eggnog lattes, and toasted white chocolate mocha coffee throughout the winter holidays. There are winter holiday beverages seen in the image. To help their clients get in the festive spirit, they also switch their cups to red, white, and green. The coolata and frappucinos are the two drinks that differ the most from one another. Although they both provide cold drinks, the taste options vary. Their flavours are also extremely diverse.
Marketing and branding
A coffee cup is prominently shown on the business's emblem, and corporate management has made it clear that Dunkin' Doughnuts is a beverage company. Dunkin' Donuts markets itself as a coffee seller who also sells donuts and food. Despite developing a reputation as a coffee seller, food continues to play a significant role in Dunkin' Donuts' menu. In an effort to draw consumers outside of breakfast hours, Dunkin' Donuts has shifted its attention more and more toward non-conventional food alternatives in recent years. Steak was added to the menu in 2014 as a step toward adding heartier meal items in addition to an increasing number of sandwich alternatives. Compared to Starbucks locations, Dunkin' Donuts interiors are distinct, with the former frequently evoking images of fast food restaurants in terms of furnishings and decor.
Starbucks positions itself largely as a beverage supplier with a more standard dining environment. The comfort of Starbucks patrons is a priority in the design of its establishments. Those looking for a place to read, unwind, or hang out with friends have a more alluring option thanks to the free internet connection and warm atmosphere. Additionally, this turns visiting a Starbucks into a viable social activity, transforming the establishments into destinations rather than just somewhere to buy coffee. Customers looking for a premium experience would like this. These customers typically have more money to spend and are more willing to pay more for items of higher quality. People with smaller disposable incomes are more inclined to change their purchase patterns during economic downturns than those with larger financial safety nets. Although the macroeconomic environment undoubtedly has an impact on Starbucks, the company is well-established and has a consumer base that is hardier and less price-sensitive, which helps to soften the blows caused by economic cycles. Like Dunkin' Donuts, Starbucks has changed its emphasis to include more items geared toward customers in the afternoon and evening. These include sandwiches, small meals, wine, and beer. Both businesses have intensified their strategic technological initiatives, such as mobile ordering and delivery, which explains Dunkin' Donuts' partnership with Waze, a navigation software from Alphabet Inc. (GOOGL), which was launched in March 2017.
Quality
Compared to Dunkin' Donuts, Starbucks has developed a more premium brand. Starbucks provides a wider selection of food and a greater degree of product personalization, which is emphasized by the addition of each customer's name to the side of their cup. The business encourages consumers to stay and chat, work, study, read media, or listen to music while eating their Starbucks beverage by providing a quiet, pleasant setting with free wireless Internet connection. When combined, these elements create a more quality experience and justify a higher price. With a focus on the middle class, Dunkin' Donuts offers more affordable prices. Dunkin' Donuts management has stated its intention to be the lowest-cost provider in the market while maintaining quality above an acceptable standard in corporate filings and earnings conference calls.
Prices
Dunkin Donuts' pricing is significantly lower when compared. At Dunkin' Donuts, a large latte runs about $2.49. However, Starbucks charges $4.15 for a venti latte, almost $2 more than Dunkin. Costs for Starbucks' food are likewise higher. While a bacon, egg, and cheese croissant costs $4.75 at Dunkin', it only costs $3.59 there. The data above compares the costs of normal iced coffee at the two establishments. Without any additional seasoning, Dunkin Donuts is about 30 cents less expensive. Despite the seeming smallness of the difference, it can mount up. Saving 30 cents on a cup of coffee might add up over time if you drink one every day as I do. In a hypothetical scenario, switching from Starbucks to Dunkin Donuts every day for a year would save you about $110. (365x.3).
You May Like
Marketing and Communications

Marketing and Communications

Marketing and Communications

Marketing and Communications