Best Indian Web Series That You Must Watch in 2022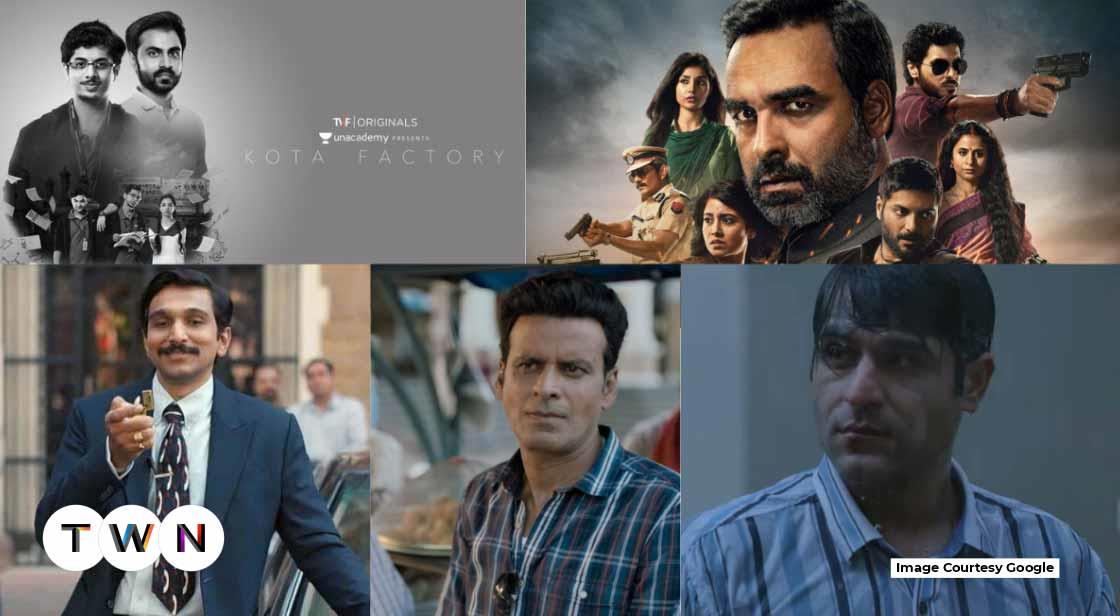 Indian web series has taken over the OTT world with some amazing and immersive series on the block. Everyone has different tastes, and Indian web series deliver them in every way possible. From crime thriller to light comedy, you will find it very easily. This article has the sole purpose of bringing a list of the best Indian web series for you that will keep you entertained. Keep your popcorns ready & coke chilled. because we are bringing you the best Indian web series to watch in 2022. #TWN
Continue Reading..
Indian web series has taken over the OTT world with some amazing and immersive series on the block. Some way or the other, you will find one Indian web series ranking among the other internationally acclaimed web series. In this article, we will give you a list of the latest as well as all-time best Indian web series that you could binge-watch this summer season. This list will also have some new Indian web series that will take you by surprise. So, make sure you read it all and find the best one for you to watch with popcorn and a can of coke.
Let's get it started!
TVF, Aspirants
Release Date – 7th April 2021
IMDB Rating – 9.7/10
Director - Shreyansh Pandey & Arunabh Kumar
'Aspirants' tells the story of three friends who are also UPSC (public service competitive exams in India) aspirants. It is a story about how their friendship changes as they progress toward success. It is, as of, now one of the most popular web series in the world.
If you are also an aspirant who wants to clear UPSC exams, we suggest you watch this web series. It will give you some valuable insights to help you out.
Matsya Kaand
Release Date – 18th Nov 2021
IMDB Rating – 9.5/10
Where to watch – MX Player
This web series tells the story of Matsya Thada (played by Ravi Dubey), an honorable con artist who conducts wrongdoings with proficiency, intelligence, and charm rather than brute strength. Ravi Kishan, Ravi Dubey, Zoya Afroz, Piyush Mishra, Madhurr Mittal, Naved Aslam, and Rajesh Sharma star in the web series.
Scam 1992: The Harshad Mehta Story
IMDB Rating: 9.4/10
Episodes: 10
Release Date: 9th Oct 2019
This has to be one of the best Indian web series to ever exist!
This series is set in the Bombay in 1980s and 1990s and follows the life of Harshad Mehta, a financial adviser who took the financial markets to unimaginable heights before collapsing. Based on stockbroker Harshad Mehta's 1992 Indian stock market scam, the series is adapted from journo Sucheta Dalal and Debashish Basu's 1992 novel The Scam: Who Won, Who Lost, Who Got Away.
Pratik Gandhi, Chirag Vohra, Shreya Dhanwanthary, Anjali Barot, Ramakant Dayma, Vishesh Bansal, Kumkum Das, and Jay Upadhya are among the cast members. SonLIV is currently hosting this web series.
The Family Man (Season 1 & 2)
IMDB Rating – 8.8/10
Release Date – (2019 & 2021)
Where to Watch – Amazon Prime Video
The story revolves around a common family man who is the head of the Indian Intelligence Agency. In the first season, Srikant battles against some terrorists who want to blow up a chemical factory.
In the second season, Samantha Akkineni, aka Rajji, will be a threat to Manoj Bajpayee, aka Srikant. This season, the spotlight shifts to Chennai, where a new threat of terrorism is on the rise. Samantha Akkineni made headlines for her incredible portrayal of an LTTE militant.
Abhay 2
IMDB Rating: 7.9/10
Episodes: 6
Release Date: 14th Aug 2020
Abhay Season 2 is an Indian web series that will premiere on ZEE5. Kunal Kemmu, Deepak Tijori, Gopal Singh, Rituraj Singh, Elnaaz Norouzi, Maninee, Mishra, and Sandeepa Dhar star in Abhay 2.
Abhay 2 is divided into three different murder mysteries with real-life undertones. Abhay Pratap Singh (Kunal Kemmu) is a Special Task Officer tasked with solving complicated cases. His demeanor is precise, and he is harsh with his facts. He has taught himself to maintain his cool in stressful situations. Surprisingly, he is one of the few officers motivated to use his brain rather than his brawn.
Undekhi Season 1-2
IMDB Rating: 8.2/10
Release Date:10th July 2020
Where to watch – Sony LIV
Undekhi is an upcoming Indian crime drama web series that premiered on Sony Liv on July 10, 2020. Applause Entertainment and Edgestorm Ventures produced it.
The series depicts two sides of society: the power-hungry impactful people who believe they can get away with anything and the victimized who, after years of torture, intend to bring themselves to justice. Season 2 of Undekhi was aired on March 4, 2022.
Mirzapur Season 1&2
IMDB Rating: 8.6/10
Release Date:16th Nov 2018, 29th Nov 2020
Where to watch – Amazon Prime
Mirzapur, hands down, is the best Indian web series that has an amazing fan base. Major memes have originated from this series.
Mirzapur revolves around two siblings, Guddu (Ali Fazal) and Bablu (Vikrant Massey), who become engaged in a world of drugs, firearms, and brutality after meeting Munna (Divyendu Sharma), the child of Mafia boss Akhandanand Tripathi (Pankaj Tripathi).
Sacred Games Season 1
IMDB Rating: 8.7/10
Episodes: 16
Release Date:5th July 2018
Sartaj Singh (played by Saif Ali Khan) is a troubled Mumbai police officer who gets a phone call from a wanted gangster called Ganesh Gaitonde (played by Nawazuddin Siddiqui) demanding that he save Mumbai within the next 25 days.
When released back in 2018, it was among the new web series to watch. Netflix just regained its popularity in India after they released Sacred Games.
Breathe
IMDB Rating: 8.4/10
Episodes: 8
Release Date: 26th Jan2018
Breathe is an Indian drama that looks at the lives of ordinary men who find themselves in extraordinary situations. Kabir (Sadh), a brilliant but unconventional Crime Branch officer, connects the dots between seemingly unrelated deaths, leading to a doubtful suspect - the affable Danny (R. Madhavan).
Kota Factory
IMDB Rating: 9.1/10
Episodes: 5
Release Date: 16th April 2019
If you are an IITian or preparing for the IIT-JEE exam, then you must watch this series and understand why Kota is what it is today.
The story takes place in Kota, Rajasthan, a popular educational destination known for its coaching institutes. The show follows the life of Vaibhav (Mayur More), a 16-year-old who shifts to Kota from Itarsi. It depicts student life in the city as well as Vaibhav's efforts to gain admission to IIT by passing the JEE Advanced examination.
Raghav Subbu directed Kota Factory for The Viral Fever (TVF). On April 16, 2019, the series debuted simultaneously on TVFPlay and YouTube.
Now that we have curated a list for you, as a bonus, we are adding a few more in case you want only Netflix-specific web series.
Delhi Crime
She
Jamtara
Ghoul
Betaal
Little Things
Bard of Blood
House of Secrets
Taj Mahal 1989
Mis Matched
These will keep you hooked until you finish them. In case you want a list of some latest web series, we have you covered. Just scroll down and find the one that suits you the best.
Latest Web Series of 2022
Let's get you what you want! This list is for those who love content regardless of its origin.
The Great Indian Murder
Rudra
Moon Knight
Ms. Marvel
London Files
Stranger Things
Ice Age: Scrat Tales
Neymar: The Perfect Chaos
And that's all for this blog.
Conclusion
When work stresses you, take your time off, watch any series and refresh yourself. This list has everything you want to watch. We hope we made a relevant list for your every mood.
You May Like