Azim Premji's founder of Wipro- 6 mantras of Success for Entrepreneurs!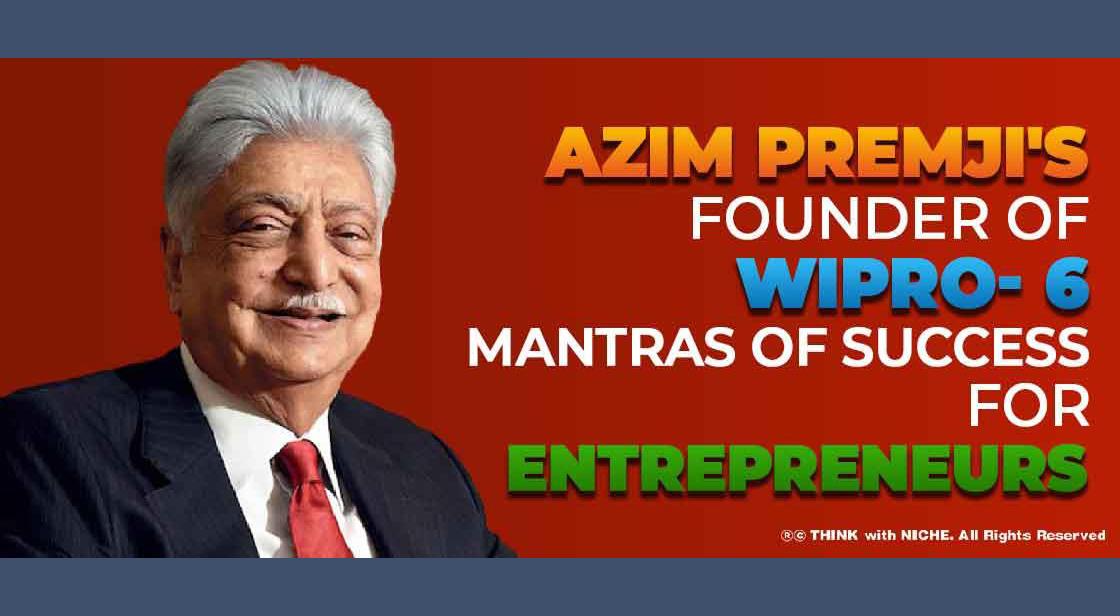 Entrepreneur, investor, engineer, and philanthropist Azim Premji is also a businessman. He serves as Wipro's founding chairman and a non-executive board member. Wipro, which was formerly a manufacturer of vegetable and refined oils in Amalner, district Jalgaon in Maharashtra, is credited with diversifying due to Azim Premji, the richest tech entrepreneur in India.
Set lofty objectives for yourself and make it your life's purpose to achieve them. Azim Premji believes that innovation can't be achieved at the expense of ignoring previous lessons and failing to comprehend context. Differences of opinion are unavoidable in an environment that thrives on ideas. The same is true in social situations. Let's look at the Success Story of Azim Premji and the lesson we can learn from it.
Continue Reading..
Azim Premji, India's fourth richest man, is credited with broadening Wipro, which began as a maker of vegetable and refined oils in Amalner, Maharashtra's district Jalgaon. The 69-year-old business magnate assumed command at the tender age of 21 and has since shared many of the lessons he learned throughout his career with India's youth.
Without the pursuit of perfection, it's impossible to establish a juggernaut the size of Wipro, which is today valued at $19.4 billion. Premji is a demanding boss who demands the best from his leaders and employees, as well as himself. Certain characteristics, he feels, are essential in personnel aspiring to the greatest levels of quality and achievement. Self-assurance is one of them.
Azim Premji Biography
Let's start the journey:
Azim Premji Early Life
Azim Premji was born in Bombay in a Gujrati Muslim Family. He got his business mindset from his father, who was also a successful businessman and was often called the Rice King of Burma. The founding father of Pakistan, " Muhammed Ali Jinnah" invited his father Muhammed Hashem Premji to Pakistan, but he declined his offer, and as an Indian, I am very thankful to God that he did.
Premji opted for a Bachelor Of Science in Electrical Engineering degree from Stanford University. He is married to Mrs. Yasmeen Premji, and the couple has two children together, Rashid and Tariq. Currently, Rishad Premji is the chief strategy officer of the IT business in his father's company, Wipro.
In 1945, Muhammed Hashim Premji established Western Indian products Ltd. It manufactured cooking oil under the brand name Sunflower Vanaspati and soap called 787. In 1966, after the death of his father, Azim Premji returned from Stanford University and took charge of Wipro. Back then: Wipro dealt in Hydrogenated oil, but Azim Premji later diversified the company to toiletries, bakery fats, lighting products, hydraulic cylinders, baby toiletries, and hair care. In the 1980s, Premji recognized the bright future of the IT sector and took advantage of the gaps in the IT sector, and entered the technology sector by manufacturing minicomputers with the help of an American company Sentinel Computer Corporation, and the rest is history.
Azim Premji Net-Worth
Azim Premji's Net-Worth was calculated to be 990 Crore USD, meanwhile, his company Wipro's Net-Worth was calculated to be USD 42.96B Billion dollars by 2022.
Social Work By Azim Premji
Azim Premji said- "I strongly believe that those of us, who are privileged to have wealth, should contribute significantly to try and create a better world for the millions who are far less privileged."
Azim Premji launched the charity Azim Premji Foundation in 2001, which is dedicated to promoting education in India. He promised to provide $2 billion in 2010, one of India's greatest donations, to help the nation's educational system. He gave the foundation 34% of the Wipro shares he owned in 2019.
He endorsed "The Giving Pledge," a movement started by Bill Gates and Warren Buffett to get the world's richest people to pledge to donate the majority of their wealth to charitable causes. Azim Premji accomplished this, becoming the first Indian to sign The Giving Pledge.
Azim Premji has always been known for his generosity, and in 2013, he announced that he will give away half of his wealth by Signing Pledge. His Azim Premji Foundation is dedicated to providing education for free to every child in India, to achieve this goal he has invested around $2.2 Billion till far.
Entrepreneurial Life Lessons from Azim Premji
Here are 6 Entrepreneurial Life Lessons:
Know your Strength
While it is critical to be aware of one's flaws, it is also critical to be aware of one's strengths. Azim Premji has lived by this philosophy his entire life, growing a $2 million hydrogenated cooking fat company into a $7 billion corporation with a presence in 60 countries. He had noted at an event co-hosted by AIMA and the Bombay Management Association that it is critical to value the positive aspects of ourselves because it is only our strengths that allow us to correct our flaws.
Stay Grounded
Every entrepreneur has the potential to succeed. But it's crucial not to get carried away with your accomplishment. Premji claims as much. He has always counseled young entrepreneurs to stay grounded because the moment they allow success to enter their heads, they are doomed to fail. He has also emphasized the concept that failure, as an accomplishment, is a normal occurrence. So, if you fail, remember to learn from it and move on!
Be Far-Sighted
The philanthropist, who is 69 years old, believes that change is unavoidable. As a result, he recommends that everyone create their early warning system, which will sound the alarm and prepare them for the changes ahead. Even when things are going well, he feels that "being forewarned is forearmed."
Stick to your Values
He believes that the core of a business is one's value system. Premji has repeatedly underlined the importance of adhering to ideals because he feels that business success would automatically follow. He claims that if you stick to your beliefs and don't compromise them under any circumstances, you'll be more resilient in the face of adversity, which is a quality that many entrepreneurs admire!
Have Faith
Azim Premji has always felt that having faith in one's ideas is crucial, even if everyone else tells you it's impossible. It is because of this conviction that he has been able to diversify Wipro and turn it into a global IT behemoth.
You alone Shape your Destiny!
When it comes down to it, there are numerous causes for failure, including a lack of effort, a lack of education, and so on. Where there's a will, there's a way, as the saying goes. Life is full of challenges, but you are the only one who can shape your destiny and the path ahead of you. Take Premji's case: after the death of his father, he was forced to drop out of Stanford to manage his family's business at the age of 21. Rather than succumb to the uncertainties of the future, he took up the trade and used his entrepreneurial spirit to broaden his horizons and develop the Wipro empire.
Azim Premji's Awards & Achievements
Azim Premji received the Padma Bhushan and Padma Vibhushan from the Indian government in 2005 and 2011, respectively. In 2010, Asia Week selected him as one of the top 20 most powerful persons in the world. Additionally, he was included twice in Time Magazine's list of the 100 Most Influential People in the World. In 2019, Azim Premji resigned from the Wipro board of directors. Through four decades of diversification, Premji has led Wipro to become one of the top names in the software industry.
Azim Premji, the chairman of Wipro and the company's founder, has been picked for the prestigious Yashwantrao Chavan National Award for both his business and philanthropic efforts.
Simplicity Of Azim Premji
Despite his enormous riches, Azim Premji is renowned for his modesty and thrifty ways;
He drives a Toyota Corolla

He flies an economy flight.

He would rather stay at a company guest home than a five-star hotel.
He is a living legend among Indian businessmen and an inspiration to many aspiring businesspeople. At the age of 75, he is still working to create the third ecological era in Wipro's history.
Conclusion
One of Azim Premji's most important legacies is his commitment to establishing a profitable business with inherent social value. At the end of the day, it's all about striking the appropriate balance - between job and life, revenue and social good, past lessons and future objectives, and differing viewpoints – and that, in and of itself, is a lesson. If you're going to follow the rules, make them Azim Premji's!
You May Like