5 Business Lessons from Ratan Tata You Can Apply to Your Own Company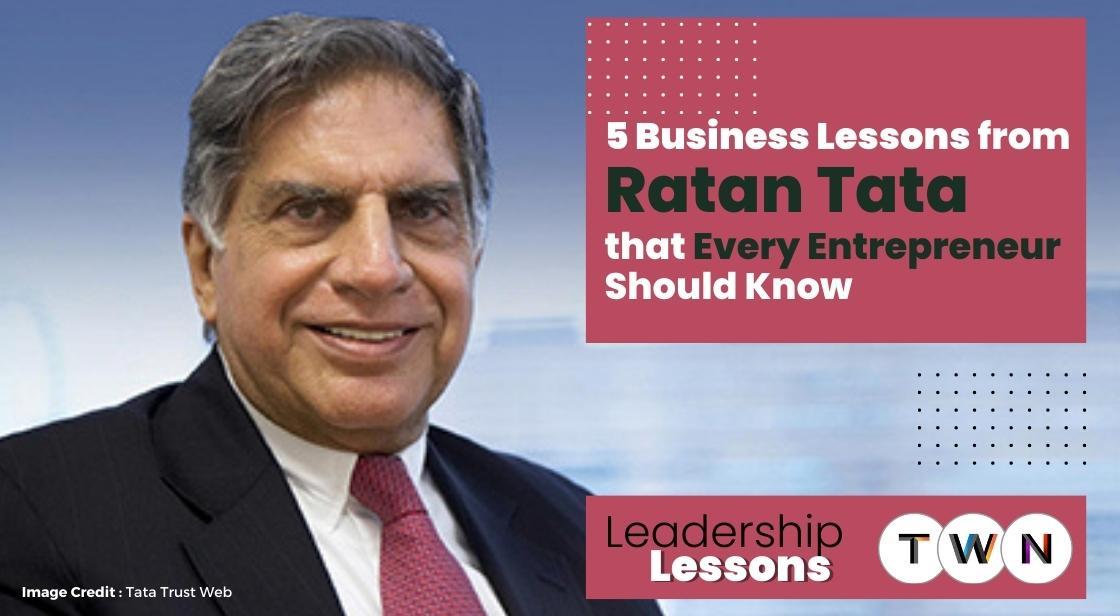 Indian corporate magnate and philanthropist Ratan Tata, Chairman Emeritus of Tata Sons, turns 85 on December 28, 2022. His 118 lakh Twitter followers attest to the fact that he is one of the most well-respected businessmen not just in India but also internationally.
Ratan Tata is the most followed Indian industrialist on social media, and his Twitter following increased by 18 lakh this year, according to IIFL Wealth Hurun's India Rich List 2022.
Despite not being on the list of the country's wealthiest individuals, Ratan Tata is well known for his business empire and his unwavering work ethic.
On Ratan Tata's 85th Birthday Think with Niche is paying his Best regards for his successful life. On this spacious occasion, we will discuss 5 Business Lessons from Ratan Tata You Can Apply to Your Own Company.
#ThinkWithNiche wishes a very #Happy Birthday To Ratan Tata Sahab.
Continue Reading..
Ratan Tata, the man who built one of India's most iconic companies, is now the chairman emeritus of Tata Sons. He was credited with turning around the company he took over from his predecessor and then expanding it into a global powerhouse. His retirement letter to employees reveals his secrets to success — and we think they're something we could all learn from. Whether you're running your start-up or managing a team in a larger organization, these five lessons will help you navigate the business world.
Before we get started, let's look at Ratan Tata's life story and explore his motivational journey,
Early years and childhood of Ratan Tata
The Tata Group, one of India's wealthiest corporate families that contributed to the country's industrialization following independence, Ratan Tata was born in 1937 in Mumbai. He studied architecture and structural engineering at Cornell University in the United States before obtaining a management degree from Harvard University.
Although he would eventually become the chairman of the Tata Group, he started off as a blue-collar worker at the Tata Steel Division. When the National Radio and Electronics Company Limited (NELCO) was in need of a revival in 1971, he was appointed Director-in-Charge and revived it.
When he became the Tata Group's leader in 1990, he implemented a number of reforms to update the organization's business practises in order to successfully compete in the new era. During his time there, he consolidated all of the Tata companies, bought Tetley and Jaguar Land Rover, and floated Tata Motors on the New York Stock Exchange, bringing the business recognition on a global scale.
Achievements of Ratan Tata
Naval Ratan Tata served as the Tata Group's chairman until he retired in 2012, at which point he took on the interim role in 2017. The industrialist has been awarded the Padma Bhushan and the Padma Vibhushan, two of the highest honors given by the Indian government.
One of Ratan Tata's most important achievements, aside from founding the Corus Group, was expanding the Tata brand internationally by purchasing companies like Tetley Tea, the truck-making division of Daewoo Motors, and Jaguar Land Rover.
Ratan Tata led TCS, an IT services company, as it went public in 2004. Under Ratan Tata's leadership, the automaker Tata Motors was listed on the New York Stock Exchange.
With the group developing a truly indigenous Indian brand, the Indica, and then the Nano, which was his own design, Tata's contribution to the Indian auto industry has been a point in his popularity. The Tata Group's revenues and net earnings more than doubled during his leadership.
Ratan Tata's philanthropic work
Ratan Tata is a well-known philanthropist who supports rural development, education, and healthcare. Over 65% of his shares are held in trusts for charitable purposes. A $28 million Tata Scholarship Fund has been endowed by the Tata Education and Development Trust, a charitable arm of the Tata Group, enabling Cornell University to offer financial aid to undergraduate Indian students. The development of an executive centre at Harvard Business School received a $50 million donation from Tata Group enterprises and Tata charities in 2010. The Tata Group established the Tata Center for Technology and Design in 2014 to create design and engineering principles appropriate for the requirements of people and communities with limited resources. This donation was the largest in IIT, Bombay's history, and it was made by the Tata Group.
1. Know your Company's Purpose
Companies need to know their purpose. Ratan Tata writes that his company's purpose is to "be the best-managed company in the world." To achieve this, he had to live up to a few high standards:
i) Quality and safety
ii) Social and environmental sustainability
iii) Ethics and transparency
iv) Innovation and digital readiness
These were the principles on which Tata Sons was built. They also create a framework for more specific goals — like prioritizing innovation — and serve as a measuring stick for success. This principle might seem obvious, but it's worth keeping in mind that running a successful business means living up to certain standards. Knowing what those standards are will help you grow your company into something great.
2. Stay Close to Your Customers
"It is always better to stay close to your customers. You follow their needs. They will follow you up the ladder."
An important lesson for any entrepreneur is that it's not enough to just have a brilliant idea. You need to be able to execute it. The only way you'll know what your customers want is if you are constantly in touch with them. Your goal should be to be closer than the competition, listening closely to what they need and understanding them intimately. This will make it easier for you to deliver on their expectations and exceed their expectations as well. The knowledge you gain from these interactions will help you create better products and drive success for your business as a whole.
3. Build a Strong Team for the Long-Term
Tata says that one of the most important things he learned is to build a strong team that could weather the storms. Be mindful of how your decisions affect your people, and you will create a company that will last.
4. Concentrate on Profit, not just Revenue
Tata noted that the company's revenue has grown from $5 billion to $100 billion during his tenure. But, as he said in his letter, "What matters, even more, is the profitability of those revenues." "In any business, what matters is whether or not you are making a profit on your turnover," Tata said. It might sound old-fashioned, but this is a lesson a business leader should never forget. Understandably, many of us focus on increasing our revenue — and we're all for that — but we also need to make sure we're making a profit. If you're not profitable and making money with your revenue, then what's the point? When you focus on profits first and foremost, you'll be able to better leverage your resources and time. You'll be able to make smarter decisions about where your money goes, where it doesn't go, and whether or not it's worth spending more time and energy on this particular project or customer base.
5. Be Consistent in your Decisions
A leader can't be swayed by what's popular but should instead be guided by the right decision. That said, it's not always easy to make a decision that will have a long-term impact on your company. When you're faced with a difficult decision, here's what Tata recommends: "First decide if there is a clear answer and then decide if the answer is correct." Ratan Tata feels that a leader should focus on making decisions that are in line with their values. "The world may change around you, but your values must not," he writes. "This is because these values give coherence to your actions."
You May Like