10 Best Writing Apps To Improve Your Writing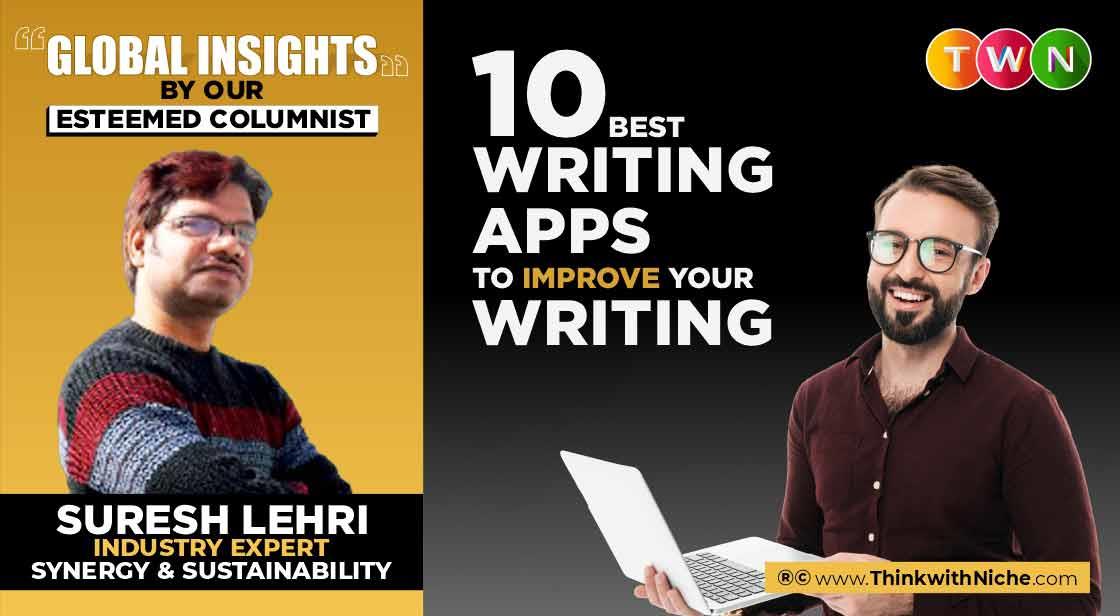 Writing is a crucial skill set in today's business ecosystem and is the key driver behind delivering quality content for blogs, whitepapers, case studies, presentations or leisure. It is the best approach to reach out and engage your target audience as readers.
Writing is more than just putting words on paper. In this blog post, we at #TWN have listed the best applications available in the web and app domain to support your writing abilities and assist you with faster and more productive outcomes.
These applications and plugins are built to improve the efficiency and quality of your writing abilities and also help eliminate errors. These apps can help you identify various aesthetics of tone and presentation styling, and improve your writing competencies. These AI-oriented applications will not replace you but can help you create content faster.
We need to remember that the ability of writing is all about creating something unique and desirable, or, something your audience (reader) is looking forward to reading, or, something that engages your reader to further share with others, simply because he/she loves it.
We hope these shortlisted Writing Apps will be useful for you.
#10 Best Writing Apps, for you, are:
#1 HubSpot Blog Topic Generator
#2 Plottr
#3 Canva
#4 Storyist
#5 Milanote
#6 Libre Office
#7 Coschedule
#8 Evernote
#9 Focus Writer
#10 Grammarly
Now, let's choose the best one for you...
Continue Reading..
Writing is an art, that can be improved upon by everyone. Everyone can become a better writer. Writing is more than just a way to express your thoughts and ideas. It's an essential step in creating something new and exciting in the arena of content development. It also helps to reduce stress and improve your ability to articulate your thoughts. Writing can be intimidating for many people.
You won't be able to write an email, write a blog post, or a full-length novel without the right tools. Which raises the question, what are the Best Writing Apps to help you with everything from basic composition to overall productivity? This blog post aims to answer this question.
We've broken down some top writing apps for you so that you can choose which one you are comfortable with and willing to make yours.
You can use these apps to improve the quality of your writing and eliminate unnoticed errors.
1. HubSpot Blog Topic Generator
This app is a great tool to help writers come up with new ideas for content. Sometimes, our minds get stuck and we can't think of any good content ideas. If you have difficulty generating content, this app will help. The generator only requires three nouns. There will be many topics to choose from for the week!
2. Plottr
Plottr might be the best plotting software. Plottr was designed with one purpose in mind to help you plan and outline your story. It shines to that end. Plottr allows you to easily create scenes, plots, and arcs for your story. Its intuitive interface then lets you visually arrange, re-arrange and colour-coordinate until your plot makes sense.
To help you plan smarter, additional features such as timelines, plot cards, and starter templates are included in the program. Software that does more than its parts makes plotting easier.
3. Canva
Canva is an excellent app that can create beautiful logos or posters for your blog, LinkedIn newsletters, and Instagram posts. There are free templates and premium templates that you can purchase. If you are not familiar with Photoshop, don't be afraid to learn how it works.
Let's now talk about screenplay-writing apps. Storyist is a great tool for writing novels, but screenplay and stage plays are where this app shines. You'll be prompted to choose an action, character, and dialogue when you create a new project. This ensures proper formatting. also keeps you aware of the elements you are using so that you don't forget to transition between scenes or overdo it with dialogue.
Sidebar tabs allow you to organize your settings, characters, and images. This is useful for screenwriters who need strong visuals to complement their writing. Storyist has very few features. It's meant to be simple and accessible for beginners. However, it does have enough formatting flair that you can feel like a rising Hollywood star.
5. Milanote
Milanote is a simple-to-use tool that organizes your ideas and projects into visual boards. These boards allow writers to keep track and organize everything.
You can do multiple tasks with the flexible interface:
- Make to-do and note lists.
- Upload files and images.
- You can save images, text, and links from the internet, plus many other things.​​​​
6. Libre Office
Libre Office is a word processing program for writers looking for an alternative to Microsoft Word. There are many features, including a sophisticated word processor layout and support formats. An online editor allows you to create a book using a simple memo.
Also Read: How To Monetize Your Content from Affiliate Link Promotion
You are fully aware of the significance of creating a compelling headline if you work as a copywriter, marketer, or blogger. Headlines are your content's first point of contact with the outside world and are frequently the main factor in readers' decisions to read it, making them an essential component of the writing process.
You can create headlines with Coschedule that will increase sales, shares, click-through rates, and search engine results. You may write headlines for your blog entries, email subject lines, or social media postings using Coschedule Headline Analyzer.
Your headline's general structure, grammar, length, keyword density, and readability are all examined by the programme, which also shows samples of the subject lines for emails and Google searches.
Evernote is an excellent app for taking notes and keeping track of ideas. It allows you to create lists and checklists to track specific business expenses. You can also use it to create graphics.
9. Focus Writer
All writers must avoid distractions. Facebook and other social media platforms can distract your attention. Focus writer is a tool that will allow you to work with no distractions. Focus writer provides a clear interface for the processor to remove clutter from your computer screen. It is not the best interface for editing second and third drafts, but it is great for editing.
Grammarly, the most popular spelling and grammar tool for writers outside of word processors, is Grammarly. Grammarly, like any editor, highlights errors and weak sentences in your writing. But Grammarly goes beyond that by giving a label and a detailed explanation for every correction so you can learn from your mistakes
Grammarly offers many nuanced features that will ensure that your writing achieves what you desire. You can set goals for your audience, formality level, and tone. Analyze your text for clarity, engagement, delivery, and other factors. This makes Grammarly a well-rounded writing environment. We will however say Grammarly is better for short-form copywriting than it is for long-form storytelling. Grammarly is a great tool for those who write lots of emails. Grammarly might be more useful for you if you are a writer of books.
Related: 7 Optimization Tools That We Need To Know For Linkedin
These apps will not replace you but can help you become a better writer. Choose the right app. Writing is about creating something unique and beautiful to share with others. We hope these apps will be useful for you.
You May Like
Innovation and Technology

Innovation and Technology

Innovation and Technology

Innovation and Technology