Three Inspirational Success Stories of Young Entrepreneurs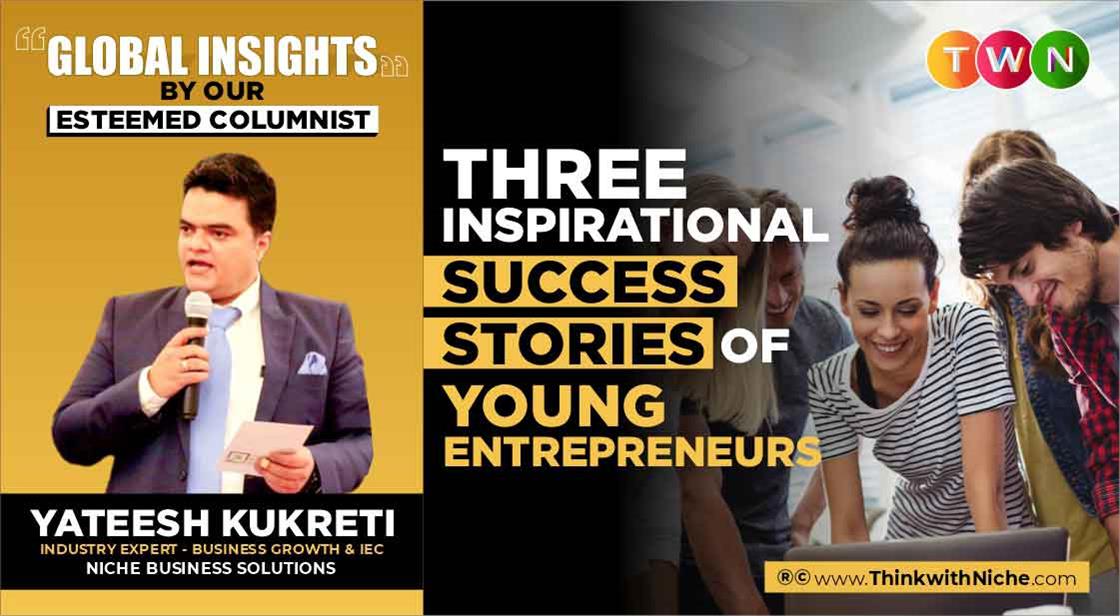 Explore the inspirational success stories of young entrepreneurs and self-made millionaires from India who became successful start-ups and entrepreneurs at a very young age, proving that age has nothing to do with success in business. Their determination in converting sustainable ideas into businesses have brought a whole new dimension to Success. Learn more about their technology learning practices and their adoption, which make them unusual for young people of their age. #ThinkWithNiche
Continue Reading..
Our younger generations are full of life and their dreams know no bound. Their determined thought process and ways of seeking knowledge are quite adventurous making them decide who they want to be and achieve, in today's fast-moving era.
The World has seen the evolution of young entrepreneurs and India has always been a step forward when it comes to the sustainable evolution of the mighty brains. This is mainly due to the technical know-how of the younger population of the country, which has always been over the top in view of adaptation and perseverance. This has made ways to the expansion of growth in different sectors with younger sets of demographics making waves and outperforming the organized sector/ larger organizations with their innovation in ideas and new business opportunities for a bright future.
Let us explore the Three Inspirational Success Stories of Young Entrepreneurs from India:
1. Shravan Kumaran and Sanjay Kumaran
"The Tech Brothers"
Starting with the youngest entrepreneurs of India, Shravan and Sanjay Kumaran launched their company named "GoDimensions" Website Link for GoDimensions in the year 2011, at the age of 10. These tech brothers hold their passion towards software leads as their company deals with development units.
They have created 11 applications for children among which 7 are already accessible in the Apple App Store/ Apple Store Online (iOS) and 3 of them are available at the Android Play Store. One of their popular application is known as Colour Palette along with Alphabet Board, Prayer Planet, to name a few.
They have also become the youngest speakers in one of the biggest platforms named TED Conferences LLC. You can click on the link to visit some of their experience on the TEDxTalks TEDx Talks YouTube Channel
"Teenage Internet Entrepreneur"
As a teenager, Advait Thakur has become an established Young Entrepreneur as he founded Apex Infosys India Weblink for Apex Infosys India becoming its CEO at the age of 12. His interest in computers and programming started at the age of 6 and by 9 years of age, he launched his first website. He is also at work with the famous Google's AI and Cloud. He also has hands-on expertise on platforms such as Hubspot, Bing, and Google.
He holds the record of being Wikia's Young Entrepreneurs under 20 in the year 2017 securing 4th place. At 14 years of age, he launched an app named "Technology Quiz" where young kids and children get vivid education about Technology and Science.
He is also connected with numerous NGOs and has introduced an app named "Autism Awareness", the application educates and informs users about autism and different disorders in children thus helping them understand specially-abled children's diagnostics and needs.
"Kid Out of the Box"
Arjun Rai is one of them. He is one of those teenagers who wanted to create a whole different dimension to the Marketing and Promotions Arena, and he made it possible as well. Arjun grabbed the position of COO in an advertising company that was growing wildly in 2010; later he switched to his core interest by starting his own startup named Odysseys Ads; which became a great success for marketers and businesses.
Later, he created more start-ups that turned out to be successful, they include, "The BizDen", "FuelBrite.com", "WordData AI " Website of Word Data AI, and HelloWoofy.com Link to HelloWoofy to name a few. His knowledge and interest could not be held in a box and thus "Canvs+" came into existence.
This start-up gained a lot of appreciation making it a leader when it came to visual management of different projects. At the young age of 21, Arjun- Personal Website of Arjun Rai has established himself as a self-made millionaire setting a whole new world when it comes to start-ups in India.
Conclusion
These young startup experts have created a future for themselves and inspired the younger set of individuals to be one. Their knack for introducing a whole new transformation in the world should always be praised but as we know, children's development starts with family thus parental guidance becomes the core motivation force for creating such inspirational success stories. A combined effort and synergy in mindset works wonder when it comes to creating a bright developing future for the upcoming generation to live for.
Explore more of our reads on- success stories, blogs, and motivational writes, just simply log on to #ThinkWithNiche Success Section Link for More Articles & Blogs on Success
We at Think With Niche Welcome Industry Experts as Columnist on Our Platform. Let us build Global Intellect collectively!
You can reach us at: editor@thinkwithniche.com
You may follow Yateesh's LinkedIn Profile: https://www.linkedin.com/in/yateeshkukreti/
You May Like
Innovation and Technology

Innovation and Technology
Innovation and Technology

Innovation and Technology