The Success Story of boAt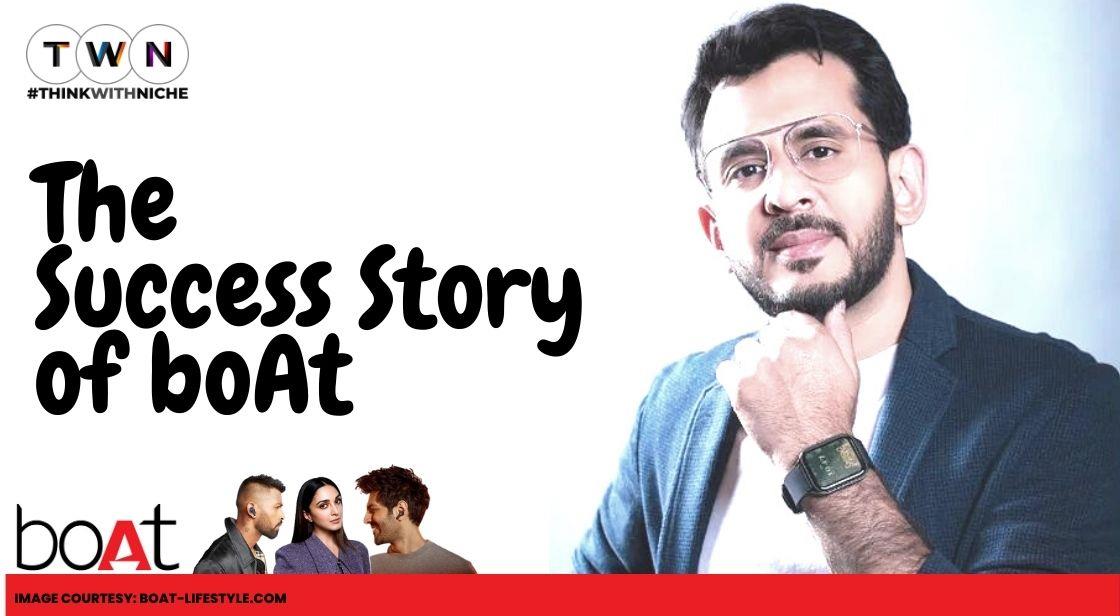 The finest way to treat oneself is to indulge in some quality music, and it is the icing on the cake if you are listening to it on a boAt device. This lifestyle brand, which offers us reasonably priced, fashionable, and high-quality consumer electronics, has revolutionized the market in this way.
The company provides us with a variety of products, including a large selection of speakers, earphones, headphones, and travel chargers. There have been terrific companies on the market that offered a wide variety of things, but the issue with them was that they were either incredibly expensive or had a poor look. The boAt lifestyle started the change in this area. With its fashionable items, this Indian firm has been successful in attracting customers.
So, in this blog, we will be covering the small but interesting journey of boAt Lifestyle, the Success Story of boAt. We will also learn about their products in brief to understand the extension of their catalog. We will also look at market performance over the years.
Continue Reading..
With the development of headphones, music enthusiasts, listeners, and other professionals may now watch their favorite movies, listen to their favourite songs, and converse with friends and coworkers in private without disturbing others. Even while headphones have been there for a while in India, just like they have elsewhere in the world, there aren't many Indian manufacturers to be found. One of the key participants among them is the boAt company, and the brand absolutely steals the show!
The company The boAt offers an incredible selection of earphones, earbuds, headphones, and wireless speakers that distinguishes out for its high level of quality, accessibility, and premium aesthetics. BoAt is regarded as the top earwear and audio brand in India. Users are able to simultaneously experience spirit and energy due to the company.
The company's track record isn't particularly impressive. The Delhi-based startup was launched in 2016 by Aman Gupta and Sameer Mehta. The company bills itself as a lifestyle brand that sells trendy consumer electronics. The goal of BoAt Lifestyle was to provide low-cost, long-lasting audio equipment and accessories to millennials. Several aspects have been credited with boAt's success. Let's have a look at them now.
About boAt
An Indian company called boAt sells electronic devices with a focus on music, including wireless speakers, earbuds (Airdopes), wired and wireless headphones and earphones, home audio equipment, premium tough cables, and a variety of other technological accessories.
Startup Story of boAt
The founders aimed to build a lifestyle brand that would offer millennials attractive audio equipment and accessories. This notion originated with boAt. According to research from 2020, the company started out as a cable manufacturer and supplier before quickly expanding into other markets to serve more than 800,000 clients. BoAt began as a bootstrapped startup with an initial investment from the founders of around Rs 30 lakhs.
Founders and Team of boAt
The two men that founded boAt are Sameer Mehta and Aman Gupta.Co-founder of boAt and its Chief Product Office,owner of Redwood,
Sameer Mehta
Co-founder of boAt and its Chief Product Officer (CPO), Sameer Mehta. He also serves as Kores (India) Executive Director. The founder and owner of Redwood Interactive, Sameer Mehta, began his career there. Mehta completed his education at St. Xavier School in Mumbai before attending Narsee Monjee College of Commerce and Economics to obtain his bachelor's degree in commerce. The parent firm of boAt, Imagine Marketing Pvt. Ltd, was also founded by Sameer.
Aman Gupta
Co-founder of boAt and its Chief Marketing Officer (CMO), Aman Gupta. He graduated from Delhi University with a bachelor's in commerce, and then he joined The Institute of Chartered Accountants of India. As an exchange student at Northwestern University's Kellogg School of Management, Gupta also pursued an MBA in general management and marketing in addition to an MBA in finance, strategy, and general business at the Indian School of Business.
He began his career at Citibank as an assistant manager and eventually served as the company's co-founder and CEO. Then Aman became a Senior Management Consultant at KPMG. At HARMAN International, he also held the position of Sales Director. In the end, Aman Gupta and Sameer founded boAt in 2016. Additionally, he was a founding member of Imagine Marketing India, which later evolved into boAt.
BoAt's Business Model
BoAt sells a variety of products, including wireless and wired earphones, speakers, headphones, smartwatches, and trimmers. BoAt lifestyle is the leading brand in the earwear category with a market share of 27.3%.
In FY2021, it earned 1,531 crores in revenue and around 127.1 crores in profit. From 48.85 crores in FY20 to 78.6 crores in FY21, its earnings increased by 61%.
BoAt concentrates on offering wired earbuds for the least amount of money. Due to the fact that no manufacturer produces wired earbuds in this price range, their products are priced between 350 and 550.
The business has always produced products that have resulted in demand-pull, thus it doesn't need to sell its released products. Due to its high quality and affordable pricing, it has already gained popularity.
For instance, BoAt introduced the "BoAt Stone," a portable Bluetooth speaker, which became popular right away. BoAt was selling the speaker for approximately $2,000, while its rivals were charging $5,000 for similar models.
Strategies That Helped BoAt Succeed
Outsourcing The Manufacturing
The biggest problem was that they lacked the knowledge to produce high-quality earbuds in India. As China is the center of the electronics manufacturing industry, they made the decision to contract out the manufacture to Chinese firms. They, therefore, concentrated completely on creating the product and developing the brand through marketing and sales.
boAt's Innovations and a Customer-centric Approach
The company's user community is known by a unique moniker. Anyone who buys a boAt product is labeled a boAthead and invited to join the clan. As a result, users will feel more at peace. The corporation keeps a close eye on the needs of its customers and develops products in response. The company's first product was a non-breakable Apple charging wire and charger. The product was founded after the founders saw a need for it.
Showing it as a Lifestyle Brand
The company portrays itself as a lifestyle brand rather than a consumer electronics company. This strategy was on display at the 2019 Lakmé Fashion Week in Mumbai, as models walked down the runway for one of the designers wearing only boAt items as their sole accessories.
Expanding Catalog
After debuting the durable Apple charging cable and charger, they followed up with an audio line that included earbuds. According to the company's critical customer insight, Indians adore bass. The brand's first earbuds were called BassHeads.
Right Targeting
Brands are a way of life for millennials. The brand targets the youth by offering trendy and affordable things. Furthermore, all of the brand evangelists are under the age of thirty. Most of the hoopla surrounding boAt has come from brand advocates who represent India's most popular passions (and obsessions) - Bollywood and cricket. The company even creates goods just for teenagers. For example, among India's fitness-conscious millennials, sports earphones and Bluetooth speakers have become popular. Customers choose goods that suit their exercises, routes, and walks, or, to put it another way, their way of life.
boAt's Online Marketing
The company has relied on online techniques to sell its goods. The brand has shied away from traditional media such as television and print. They mostly promoted their projects on Facebook and other social media platforms. The majority of millennials are online, according to one of the founders. "What has worked for boAt is the community of followers they have developed online, which is pretty amazing," says Pankaj Mirchandani, managing partner of Rhythm Corner Alaknanda (RCA), a marketer and distributor of electronics in India.
Conclusion
We've virtually completed this lifestyle brand's brief journey. They have just recently joined the market, but they have already acquired a small portion of it. The hallmark of boAt lifestyle has been the beautiful and sturdy products. Their impact on the market has been so significant that big companies like JBL have been compelled to cut their pricing to compete in the affordable audio segment due to the popularity of boAt's products. It's fascinating because, as previously stated in the blog, Aman used to work for JBL.
You May Like