Physics Wallah: India's 101st Unicorn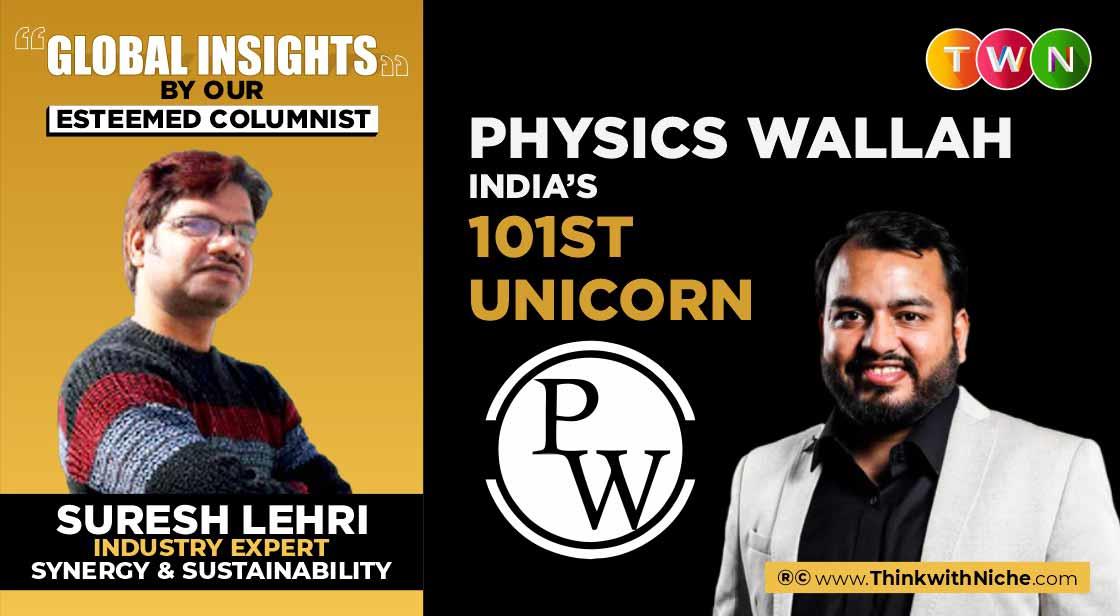 Despite its many ups and downs, Physics Wallah's narrative has been hailed as inspirational. The adage "excellent things take time" is true. That's true, I suppose. Alakh Pandey's journey was equally difficult and time-consuming. Before launching his YouTube channel in 2015, Alakh Pandey started a Facebook group called Physics Walah. He made instructive memes, posed queries, held contests, and announced numerous rewards for the winners, but his Facebook page didn't get much popularity. It is more difficult when someone is passionate about learning and teaching but does not have adequate resources. However, nothing can prevent you from attaining your goals if you make constant efforts. He persisted in his efforts in the face of numerous challenges, and as a result, his business became India's 101st Unicorn at a time when other Edtech platforms are experiencing a downturn. Physicswala has become the 101st Unicorn Company of India. This startup company is the First Edutech Company in the country to achieve this position.
#PhysicsWallah
#AlakhPandey
#UnicornCompanyOfIndia.
#GoldPlayButton
Continue Reading..
Alakh Pandey launched the Edtech Startup Physics Wallah in 2017. It is an Online Learning Platform that provides high-quality educational opportunities at a decent cost. For students in grades 6 to 12, this startup offers lectures and solutions on a variety of topics for the JEE, NEET, and other entrance exams. Live and recorded lectures, question-and-answer sessions, organized materials, and examinations all assist students to assess their own progress when using Physics Wallah.
As of today, Physics Wallah, which began as a YouTube channel, has mentored over 6 million students and has over 13,700 video lectures available on its platform. Physics Wallah has established a solid reputation among thousands of students by providing both free and paid batches.
The startup Became A 'Unicorn'
Edutech company Physicswala has become the 101st Unicorn Company of India. This startup company is the first edutech company in the country to achieve this position in Series A funding. Physicswala was founded by Alakh Pandey, a tuition teacher from Prayagraj in Uttar Pradesh, six years ago in 2017 in a small room. Today its valuation is around Rs 777 crore. Alakh Pandey wanted to become an actor in childhood but destiny had something else in mind. Today his company employs 1,900 people, including 500 teachers and 90-100 tech professionals. Alakh Pandey i.e. Physicswala, his company adtech firm Physicswala has now been included in the group of unicorn companies of the country.
Alakh Pandey, Founder, and CEO of Physicswala Alakh Pandey used to earn only Rs 5,000 a month. However, today he is the owner of edtech company 'Physicswala', which is the 101st Unicorn company in the country. Also, it is the first edtech company in India to achieve the goal of becoming a unicorn with just Series A funding. Let us tell you that unicorns are called those companies whose valuation exceeds 1 billion dollars.
Alakh Pandey's company Physics Wallah has raised around $100 million (Rs 777 crore) from Westbridge and GSV Ventures during Series A funding. The company was valued at $1.1 billion during this round. The secret of this success may lie in the attitude of Alakh Pandey. In a recent interview, he said that he cannot do business that does not give profit.
Faced Many Difficulties
Alakh, who studied engineering, has become an example for others in education and the trouble he had faced, he did not want that the same problem should happen to other children, so he is making the path of other people easier in education today. Alakh faced a lot of difficulties during his studies. Actually, he had to face financial trouble while doing engineering and due to this problem his house was sold. Alakh says that when his house was sold due to lack of money, after that his family had to move to another place. Alakh had realized during his school and college days that he should help students with education in the times to come. In the year 2015, Alakh returned to Prayagraj after completing his studies and here he opened a coaching class and after that started a YouTube channel.
Beginning in 2017
After completing 12th from Bishop Johnson School and College in the year 2010, he got admission in B.Tech at HBTI Kanpur. Pandey completed his BTech from HBTI Kanpur in the year 2015 and started teaching at the same institute. By making videos of his lectures, he started uploading them on YouTube. This is how 'Physicswala' started as a YouTube channel in 2017. It is very much liked by those preparing for competitive exams. When the views and subscribers started increasing on YouTube, he started putting his full attention on uploading and making lecture videos. For three years, he kept uploading free videos on YouTube. In the Corona period, he prepared the app in view of the problems of the children preparing for JEE-NEET. Started giving them online coaching at very low fees. Those preparing for competitive exams, especially NEET, love his style of teaching physics. He teaches physics to children in such a way that they get an understanding of the subject. Sometimes teachers are also seen advising to watch their videos in college.
How Physicswala Become Popular
His ability to solve difficult questions of Physics and Chemistry easily and explain to students to the preparers made him very popular. You can guess the popularity of Alakh from the fact that so far 69 lakh people have subscribed to the Physicswala YouTube channel and 50 lakh apps have been downloaded. Every day six lakh people use his app. Alakh was offered an annual package of Rs 4 crore by Unacademy, but he turned it down.
In the year 2020, Alakh Pandey got Physicswala registered under the Companies Act. His channel has now become a company. Prateek Maheshwari, who did engineering at IIT BHU, joined him. When Prateek took over the business, Alakh completely froze in academics. After this, the popularity of the company increased and today the company has become a company with a net worth of $ 1.1 billion. With this, the company has reached number 101 in terms of being included in the country's unicorn companies. Such startup companies are called unicorns whose valuation has reached one billion dollars.
Alakh Pandey had told that he will always try to stop investors from investing money in his company, because in doing so, tuition fees may have to be increased to withdraw the investment. However, now Alakh Pandey has brought a change in this plan. According to Physicswala, he will use this money for business expansion, branding, opening more Physicswala learning centers, and launching new courses.
Mobile App was prepared during the Corona period
After this, Alakh Pandey continued to upload videos of similar lectures on YouTube for 3 consecutive years, after which a mobile app was prepared in view of the problems of children preparing for NEET and JEE during the Corona period, in which online coaching was done at very low fees. began to facilitate
Claim to Make 10 Thousand Students Successful
The company claims that in the academic sessions 2020 and 2021, 10,000 students who took coaching from Physicswala have cleared the medical and engineering examinations. According to the company's claims, one in six medical and one in 10 engineering students in the country are associated with them. The company has been profitable since its inception in 2020. In the year 2020-21, the turnover of the company was 24.52 crores, in which there was a profit of 6.93 crores. After having 2 crore transactions in the year 2021-22, the company has set a target of 5 crores for this financial year.
Awarded by YouTube with the Gold Play Button Award
Alakh taught a new thing to the people by putting videos on the online platform. Children started using YouTube to read and started studying online. Due to this, they started benefiting. Children started learning a lot online. Today, where thousands and lakhs of rupees are taken from students in the name of coaching and students who are not financially strong, their dreams die there, but there is also a teacher who fulfills the dreams of students by giving free coaching. trying to do. Yes, Alakh Pandey has become famous as Online Guru today. Today children are crazy about his knowledge. He has become famous not only in India but also outside India by giving free coaching of Physics and Chemistry. Today, by giving Physics Wallah Live Class on his YouTube channel, he has subscribers not only in India but also from Bangladesh, Nepal and Saudi Arabia including Pakistan. Alakh has been awarded the Gold Play Button award by YouTube and this award is given to those whose channel has at least one million subscribers, so one of them was Alakh Pandey. He had achieved YouTube's coveted 'Gold Play Button' when he was 26 years old. At that time his subscribers were more than 10 lakhs. Today he has 62.5 lakh subscribers.
​​​​​​Success is Achieved by Hard Work
The popularity that Alakh Pandey has got was not so easy. For this, he has worked hard and today he has become popular because of his method of teaching and easy-to-explain style, but there was a time when he had to sell the house due to the poor financial condition of the house. After this, he realized how expensive it is to take coaching. After completing B.Tech, his only motive was to help the students. Then he decided to open a YouTube channel. In which he used to upload videos of Physics and Chemistry. No work is completed without hard work. Alakh takes around 6 hours to make a 40-50 minute video and while making a video you also have to anticipate the questions that a student might ask. Meaning you have to be ready for this too. By logging on to the online website Physics Wallah, you also provide facilities like Notes, Books, and Free quizzes. And also their website, where you will find chapters related to the course, Alakh says that all the problems I faced during my studies, I try to overcome through my YouTube channel.
Future plans of

Alakh Pandey

:
Now that his biggest desire has come true, he has more to do in the years to come. His interviews indicate that he has two goals for his platform:
First and foremost, he wants to widen the channel as much as possible. He claims that in order to reach students studying in any part of India, the curriculum will be made available in nine regional languages, including Bengali, Tamil, Marathi, Telugu, Gujrati, Odia, Malayalam, and Kannada.
Second, he wants to add a few more academic courses and offer up more offline classes.
You May Like