Know What Makes Bill Gates A Billionaire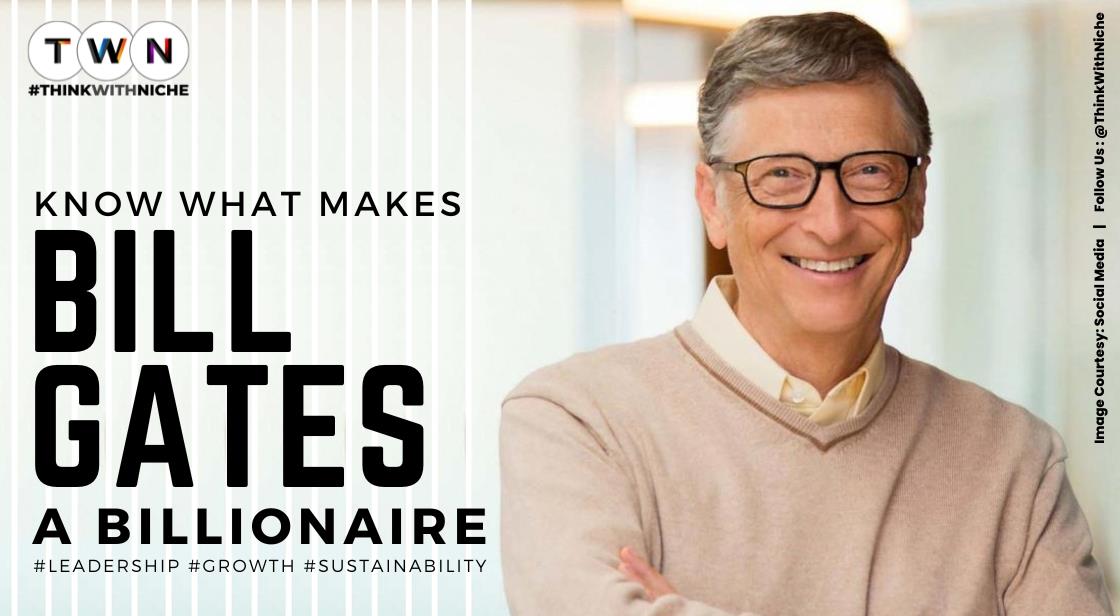 According to Forbes, co-founder of Microsoft Bill Gates is the second richest person in the world, with an estimated net worth of $95.7 billion. Because of his wealth, Gates can spend $1 in the same way that the typical American can spend $1.06 million. And that's after the co-founder of Microsoft donated almost 27% of his net assets to charitable causes throughout the years.
With that much money, it's difficult to comprehend what to do, but Gates knows how to utilize it effectively. Even though he enjoys some extravagances, such as a $125 million Washington estate, a private plane, and a collection of high-end cars, they only account for a small portion of his immense wealth.
In this blog post, we will throw light on the various dimensions from which we can know how Bill Gates became a billionaire.
Continue Reading..
In his senior year of high school, Bill Gates used his love of computers to obtain a job as a coder for the electrical grid at a power plant in the state of Washington. In 1975, he and his high school classmate Paul Allen founded the software company Microsoft, which they later took public in 1986, and he dropped out of Harvard. Beginning at a time when very few people owned a computer, Microsoft was instrumental in transforming the face of personal computing. Gates was first classified as a billionaire by Forbes in 1987; from 1995 to 2017, he occupied the position of the richest person in the world (except in 2008 and from 2010 through 2013). He has lost the title of the richest man in the world to Jeff Bezos in 2018, largely because of the $59 billion he has given to the Gates Foundation. Gates ranked as the seventh richest person in the world as of November 1, 2022. Steve Ballmer, who lived across the hall from Bill Gates during his second year at Harvard, took over as Microsoft's CEO after Bill Gates stepped down in 2000. Ballmer remained chairman of the board until 2008 and served on the board for over another 12 years. The Bill & Melinda Gates Foundation, the largest private philanthropic foundation in the world with $53.3 billion in assets, continues to be co-chaired by Bill and Melinda Gates despite their divorce from one another in 2021.
History of Bill Gates' wealth
$30,2 billion: Cash and other investments
A sizeable portion of Gates' estimated money is reportedly invested in things for which there is no public record. The assets of the Bill & Melinda Gates Trust, which supports the Gates Foundation, as well as the assets of the Gates family are invested by Michael Larson's Cascade Asset Management. Cascade invests with a long-term perspective "across asset classes and geographies," according to its website.
According to 2019 records, Gates owned around 1.3% of Microsoft stock when he stepped down from the company's board in March 2020. Whether Gates has sold any shares since then was not confirmed by a Gates representative. According to Forbes, he has secured his Microsoft shares.
Since at least 2002, Gates has owned shares in this garbage disposal and recycling company. He currently has a 35% share in the Phoenix-based company, which runs collection routes in 41 states in addition to 128 landfills and 71 recycling centers.
Gates has invested in two companies for recycling and waste management; one of them is Republic Services and the other is Waste Management.
$7.7 billion: Deere & Co.
Gates gave the Bill & Melinda Gates Foundation approximately $1.3 billion worth of his shares in the tractor and farm equipment manufacturer Deere & Co. in July 2022. As part of their divorce settlement, Gates also gave Melinda French Gates about 5 million shares of Deere stock in two separate transactions in 2021. He still has a 6.5% ownership stake in the 180-year-old company.
Cascade Investment has announced in September 2021 that it would buy the majority of the shares held by Saudi Prince Alwaleed bin Talal in the Four Seasons management company. In a deal that gave the company a $10 billion enterprise value, that increased Gates' stake to 71.25%.
$4.8 billion: for Ecolab
A variety of industries, including healthcare, food service, mining, manufacturing, and petrochemicals, rely on Ecolab for services related to water purification, hygiene, and infection prevention. Just under 11% of the company's shares are owned by Gates, who increased his investment in August of this year. In 2011, he was initially noted as a stakeholder with a 5% or greater stake.
$3.2 billion: Givaudan S.A.
Since at least 2011, Gates has owned stock in this Swiss manufacturer of flavours and fragrances. Customers of its come from the food and beverage, cosmetics, fragrance, and personal care industries. Additionally, the Givaudan stock is owned by the Bill & Melinda Gates Foundation.
$2.7 billion: Waste Management
H. Wayne Huizenga (d. 2018), an entrepreneur-turned-billionaire, cofounded this Houston-based waste collection company in 1968. (Gates also holds shares in the auto dealership AutoNation and the waste management company Republic Services, both of which were founded by Huizenga.) The Bill & Melinda Gates Foundation holds 4.5% of Waste Management in addition to Gates' estimated 4% share. The foundation's holdings are excluded from Gates' calculation of wealth. In 2011, Gates' ownership of Waste Management stock was first disclosed.
Recycling and trash removal are lucrative industries; Gates will receive $43 million in dividends from his stake in Waste Management in 2022.
Since 1991, Warren Buffett, the CEO, and chairman of Berkshire Hathaway has been friends with Bill Gates. They discuss books, business, and bridges. The Giving Pledge, a campaign encouraging billionaires to donate at least half of their fortune to charitable causes, was established in 2010 with the help of Melinda French Gates. Gates joined Berkshire Hathaway's board in 2004 and left in March 2020. His ownership in Berkshire is no longer needed to be disclosed, although according to Forbes, he still owns the 4,050 A shares that were disclosed in 2020.
$1.2 Billion: Farmland & Landholdings:
According to The Land Report, Gates owned 242,000 acres of farmland across 18 states in 2021, making him the country's largest landowner. His major holdings are in Nebraska, Louisiana, and Arkansas. His land has been used to grow rice, soybeans, and corn in Louisiana.
$1,1 Billion: Canadian National Railway
Since at least 2013, Gates has owned stock in this Canadian rail company; in May 2021, he gave Melinda French Gates approximately $1.5 billion worth of those shares (or about 18% of his stake), likely as part of the couple's divorce settlement, and in July 2022, he gave the Gates Foundation approximately $5.2 billion worth of those same shares. Between March and May 2022, he sold a portion of his stake for roughly $1.7 billion. A July 2022 filing for the Montreal-based business, which runs 19,500 miles of track in Canada and the United States, shows that all of these trades decreased his ownership interest to 1.4%.
In 2022, Gates reduced the amount of Canadian National Railway stock he had by selling some of the shares and giving the Gates Foundation equity for $5.2 billion in July.
Between early 2021 and early 2022, Gates reduced his ownership of this Florida-based auto dealership company by almost 50%. In May and August 2021, he gave Melinda French Gates shares worth around $700 million, or one-third of his shareholding, perhaps as part of the divorce settlement. The shares of Gates were later sold by Cascade Investment in September and October 2021. He still owns 15% of the Ft. Lauderdale-based company.
$930 million : Sika AG
This Swiss chemical company specializes in materials that bond, seal, reinforce, and more for the automotive and construction sectors. Sika stated in November 2021 that it will pay more than $5.5 billion to acquire MBCC Group (formerly BASF Construction Materials). In the first half of 2023, the deal is anticipated to be completed.
$750 million: Fomento Economico Mexicano
This Mexican corporation, better known as Femsa, owns 47% of Coca-Cola Femsa, the largest volumetric franchise bottler of Coca-Cola products in the world. Additionally, it runs the small-format retail chain Oxxo and has 14% of Heineken, making it the second-largest shareholder.
The Oxxo convenience store chain, owned by Femsa, has joined the fintech market and anticipates 10 million clients by 2023.
Gates started investing in the synthetic biology startup through Cascade Investment during its Series C fundraising in 2016. The company claims to be using cells to biologically produce items like innovative medications, food ingredients, and chemicals typically made from petroleum. It was founded in 2008 by four MIT Ph.D. students and their professor. In September 2021, it completed a SPAC deal to go public. Gates owns just over 10%.
$230 million: OtterTail
Along with manufacturing firms, this Minnesotan power provider also owns plastic pipe companies. With an 8.3% shareholding, Gates is the second-largest stakeholder behind Vanguard.
$300 million: Homes
Gates owns several residences in the United States, the largest of which, dubbed Xanadu 2.0 and situated in Medina, Washington—a city close to Seattle—took six years to construct and measures 66,000 square feet. It's been estimated at $130 million. Other properties include a $44 million seaside mansion in Del Mar, California, just north of San Diego; a 6-bedroom house in Indian Wells, close to Palm Springs; and a $25 million horse farm on 7.7 acres in Florida, a favourite destination for horse riders.
Bill Gates Philanthropy
He founded the Bill & Melinda Gates Foundation in 2000 with Melinda French Gates. Since then, he has given the foundation $59 billion in donations, the majority of which have been gifts of Microsoft stock. With a $53.3 billion endowment, the foundation has grown to be the largest private charitable organisation in the world. In 2006, Warren Buffett started yearly gifts of billions of dollars' worth of Berkshire Hathaway stock to the Gates Foundation. In underdeveloped nations, the foundation funds initiatives aimed at boosting health (including vaccinations) and helping people rise out of poverty; in the United States, the foundation mostly supports educational initiatives. By 2026, Gates stated to Forbes that he hoped to boost annual donating by 50% to $9 billion. According to the plan, the Gates Foundation would only operate for 25 more years, Gates stated at a Forbes event in September 2022. According to a Forbes estimate, the Gates Foundation would spend $36.5 billion on grants by the middle of 2022.
You May Like