How Artificial Intelligence And Metaverse Influenced Avatar 2: 6 Interesting Insights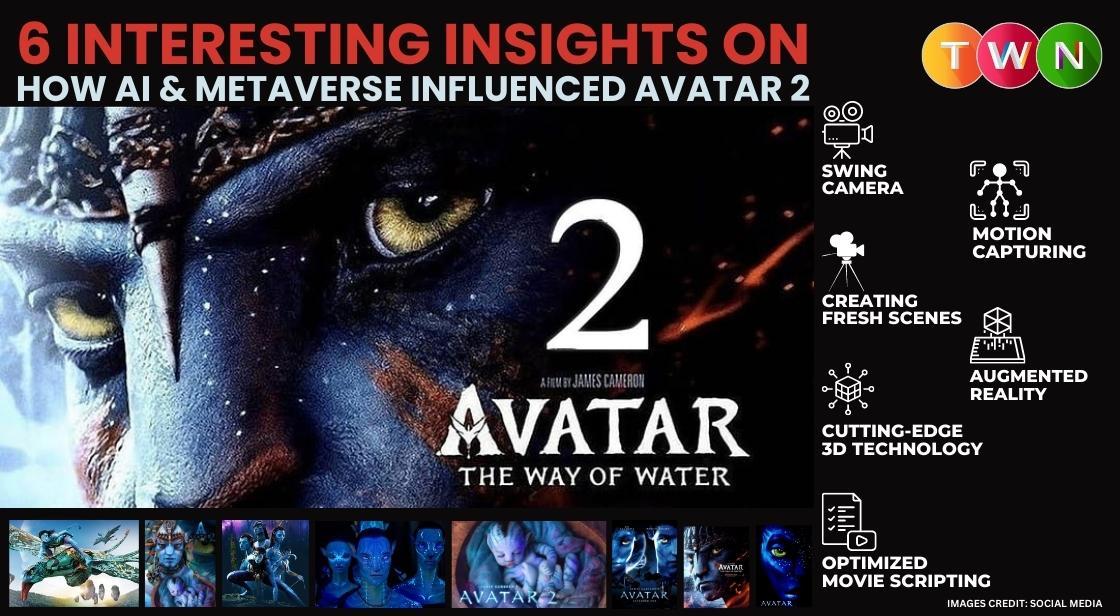 Have you ever seen a film that an AI algorithm created and deep learning algorithm animated? Wonderful, isn't it? However, the truth is that Artificial Intelligence (AI) has already been incorporated into a variety of areas of the film industry, including scriptwriting, graphic design, casting, and even film promotion.
James Cameron is no stranger to artificial technology; in fact, the Terminator filmmaker is a supporter of this epochal development in science. To create a realistic rendering of the Pandora universe, Cameron has made use of AI's computing capacity. The advanced artificial intelligence and machine learning techniques used by Peter Jackon's Weta special effects workshop produce visually appealing settings that enhance and advance the plot.
James Cameron has frequently discussed the development of filmmaking and how artificial intelligence is changing this field. Actors can express their complete range of emotions in a CGI-controlled setting thanks to AI algorithms. We will explore 6 ways artificial intelligence and the metaverse influenced Avatar 2 in this blog post.
Continue Reading..
James Cameron's movies are known for using cutting-edge technology. No matter if it's the Magnum Opus Avatar 2, The Terminator, or the Titanic. Throughout the global switch to the internet. By developing the metaverse-based film Avatar, he took a big step. The concept was enthusiastically embraced in spite of the audience's lack of knowledge of it at the time. The movie Avatar rose to the top of the box office and quickly garnered fame.
As a storyteller, he is aware of what makes a story seem believable, and cutting-edge technology plays a key role in his toolbox. Creating a planet that no one has ever seen before and making it understandable requires talent. He stressed artificial intelligence's (AI) potential role in spontaneous filmmaking numerous times. In his movie Avatar 2, he utilized powerful machine learning and artificial intelligence algorithms.
A true underwater immersion experience is provided to the viewer. It is crucial to assess the various aspects of human perception and how they interact. The cast and crew used virtual reality (VR) headsets to explore and interact with the imaginary Pandora in real-time.
1. Create fresh scenes
There is always the possibility of fresh stories before the film is actually released. It is believed that dialogue or facial expressions need to be improved throughout the film's editing process. Previously, it was done by taking a headshot or a wide picture, which increases the chance of a poor lipsync. To go around this, Cameron developed a novel method for adding fresh language or facial scans to previously-performed scenes.
2. Augmented Reality
The world of Pandora's planet appears realistic in the movie because it is an example of augmented reality (AR). A sensation of interactivity and immersion is produced by AR by effectively superimposing things from the real environment. It is impossible to disregard AR's impact on this film because it features exotic animals with complex anatomies.
3. Analyze movie scripts
Recently, algorithms have gotten better at understanding story flow and adapting to different storytelling modalities. It makes sense for AI to be used to assess the plot in a VFX-heavy movie like Avatar. The audience can observe how well the Avatar 2 script is crafted.
4. Motion Capturing
With the help of this technology, sometimes referred to as performance capture, motions generated by people or objects can be captured and then transferred to animated objects in a virtual environment. Normally, this procedure requires large machinery, but a machine-learning system can simply replace it. It can quicken the plot, make it more predictable, and have a bigger analytical impact.
After opening with $134 million in domestic ticket sales, Avatar 2 made more than $400 million at the international box office. grew in popularity over time, bringing in more than $1 billion in its third weekend. Avatar 2 is the second movie from 2022 to earn over a billion dollars, following Top Gun 2. Avatar 2 finished the New Year's weekend with $1.379 billion in worldwide box office receipts.
James Cameron incorporated a variety of cutting-edge cinematic technologies during the making of the film Avatar 2: The Way of Water.
5. Swing Camera
James Cameron can guide his actors in the studio in accordance with the set pieces he imagined in the computer-generated sequences much as he would in a live-action movie thanks to a camera that can render the shooting site in a virtual environment. In order to create a depiction of the finished showcase, he might also develop mock-ups of airborne vehicles. James Cameron was able to practice the final scenes in virtual reality and identify flaws in the set design.
6. Cutting-edge 3D technology
The Deep X, a novel method of filming, is utilized in Avatar 2: Way of the Water movie. Pawel Achtel created it, and James Cameron used it to shoot 3D underwater videos. The distortion brought on by water movement and water-borne particles is considerably lessened by this technology. Nikon provides the Deep X with two UW-Nikkor submersible lenses that are parallel to one another. These give the general people who watch movies an unsurpassed sense of depth by creating a 3D image with each camera correlating to each human eye.
Also Read : 10 Not-To-Be-Missed Movies Coming to Netflix in January 2023 - A Must-See List!
Technology in the Avatar film
James Cameron incorporated a variety of cutting-edge cinematic technologies during the making of the film Avatar 2: The Way of Water.
Simulcam technology and computer graphics
The mythical land of Pandora and its inhabitants are a key component of the Avatar film series. James Cameron had to rely on computer-generated image (CGI) technology, which Peter Jackson had developed in the Lord of the Rings trilogy, to precisely and faithfully depict the movement of these monsters.
To enhance the visual immersion of the picture, James Cameron shot live-action scenes with virtual reality components. In order to do this, he attached reflective markers to the camera rigs that were used to record and timing live-action performances that used CGI. This gave directors who wished to add fresh components to their storylines a new level of liberty.
The potential of a filmmaker Industry In today's technologically advanced cinema, it takes engineers with specialized training to assist bring the dreams of filmmakers like James Cameron to life. Today's movies produce enormous amounts of data that must be transported from the camera to the studios, where skilled artists add CGI aspects to the narrative. To meet the needs of studios, 5G networks need to be reliably transmitted by data scientists and engineers.
Industry professionals create programs at Skill-Lync and assist students in acquiring skills that are marketable. The students engage in projects that mirror the challenges faced by engineers in the field. To assist students in achieving their aspirations, They offer on-demand, experienced technical support.
You May Like
Lifestyle and Entertainment

Lifestyle and Entertainment

Lifestyle and Entertainment

Lifestyle and Entertainment