10 Not-To-Be-Missed Movies Coming to Netflix in January 2023 - A Must-See List!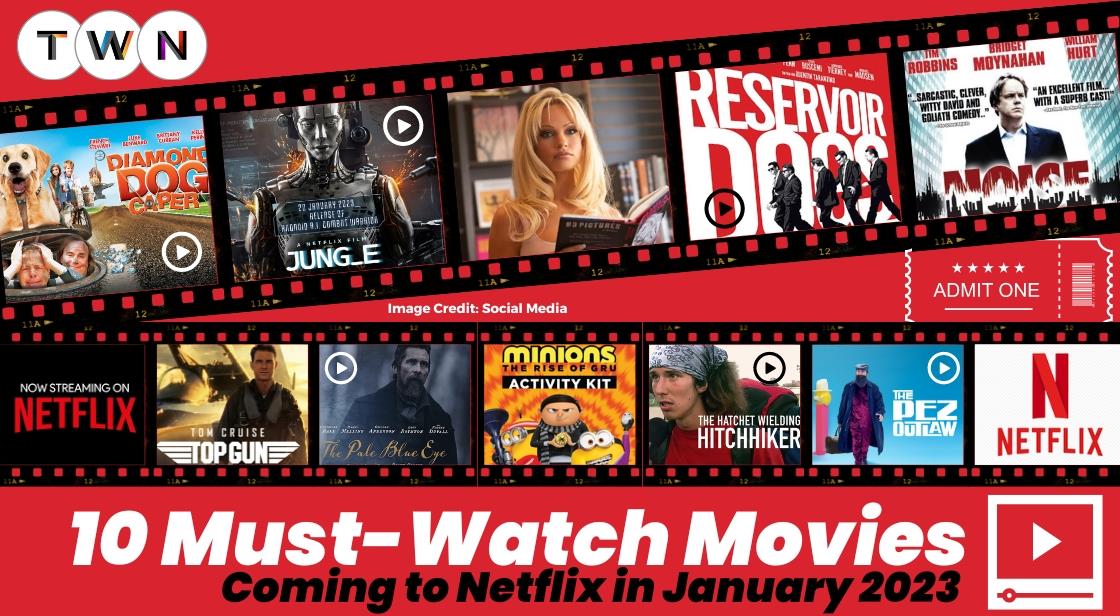 January is the perfect time of year to snuggle up with a cozy blanket and a good movie. With so many great films now streaming on Netflix, it's hard to decide which ones to watch. To help make your decision easier, here is a list of 10 Not-To-Be-Missed Movies Coming to Netflix in January 2023. From classic favorites to new releases, there's something for everyone to enjoy this month. Whether you're looking for a feel-good comedy, a heart-wrenching drama, or an action-packed adventure, this selection of films offers something for everyone. So grab your popcorn, get comfortable, and get ready to enjoy some of the best films Netflix has to offer this January.
Blog Flow:
Dog Gone
Jung_E
The Pale Blue Eye
Minions: The Rise of Gru
Top Gun
Reservoir Dogs
The Pez Outlaw
Noise
Pamela, a Love Story
The Hatchet Wielding Hitchhiker
Continue Reading..
With January 2023 on the horizon, Netflix is already gearing up to bring its subscribers the best cinema has to offer. From action and adventure to romance and comedy, there's something for everyone to enjoy. Whether you're looking for an exciting new release or you're a fan of a classic, there are 10 must-watch movies coming to Netflix that you won't want to miss. From the heartwarming drama 'Little Women' to the star-studded thriller 'Knives Out', there's something for everyone to enjoy in the upcoming Netflix lineup. So, get comfy on the couch, grab the popcorn and prepare to dive into a world of captivating stories and unforgettable characters. Here are the 10 must-watch movies coming to Netflix in January 2023.
People are looking forward to Netflix's January 2023 releases, especially the streaming service's new movies and shows. Here is a comprehensive list of 10 Not-To-Be-Missed Movies Coming to Netflix in January 2023.
10 Not-To-Be-Missed Movies Coming to Netflix in January 2023
Releasing on January 13 | Director: Stephen Herek
In this drama based on a true event, a young guy and his father set out on the Appalachian Trail in a last-ditch effort to locate their beloved dog Gonker before it's too late. Losing the closest friend is terrible, but in Dog Gone, a true story based on Paul Toutonghi's book of 2016, there is even more at stake: Only two weeks remain for Fielding and John to find Gonker, who is dependent on medication to survive. They'll do all in their power to find their pet and return him home with the help of Fielding's mother Jinny (Kimberly Williams-Paisley), many nice strangers, and themselves.
A father and son repair their broken relationship while hiking the Appalachian Trail to find their lost dog,
Releasing on January 20th | Director: Yeon Sang-ho
A fascinating sci-fi movie from South Korea will be released on Netflix in January 2023 as a result of the company's steamer significant investment in fresh Korean content. When climate change compels mankind to permanently depart the earth, JUNG E takes place in the not-too-distant future. Following then, many shelters fight for resources in the vacuum of space.
Mankind was forced to live inside an artificial shelter in the 22nd century after climate change rendered the world uninhabitable. A battle is taking place within the shelter in the present day. Jung Yi is the allied forces' skilled general. She has been subjected to brain cloning experiments. The cloning procedures might be crucial to winning the struggle.
Releasing on January 6th | Director: Scott Cooper
The lead character in the Netflix Original movies is performed by Christian Bale. This historical mystery-thriller is set in the early 1800s and centres on a detective who is hired to look into the grisly death of a cadet.
A young cadet is found dead early one winter morning, and when the body is taken to the mortuary, Augustus Landor (Christian Bale), a local detective, is asked to investigate the crime. When Landor investigates, he discovers that the young man's heart has been expertly removed. This turns the murder into a savage act.
Releasing on January 18 | Director: Kyle Balda
During the 1970s in the suburbs, Gru (Steve Carell) is growing up, sporting a lot of hair and wearing flared jeans. Armed with his minions' assistance, he hopes to become evil enough to join them. Kevin, Stuart, Bob, and Otto work together to build their first lair, experiment with their first weapons, and complete their first missions.
A summer movement known as Gentle Minions sparked the sequel, which was a box-office smash.
Releasing on January 1st, | Director:Joseph Kosinski
Is it time for you to take to the heavens? Tom Cruise stars in Top Gun, which is part of Paramount Pictures' first-of-the-month arrivals and arrives on Netflix.Val Kilmer, Miles Teller, Jennifer Connelly, Jon Hamm, Glen Powell, Lewis Pullman, and Ed Harris are also featured in the movie. In the movie, Maverick tackles his past while preparing a team of fresher Top Gun graduates for a perilous mission, among them the son of his deceased closest friend.
6. Reservoir Dogs (1992)
Releasing on January 1s | Director:Quentin Tarantino
Reservoir Dogs will be available in a special SteelBook 4K Blu-ray edition as well as standard 4K Blu-ray for the first film ever. The story of a heist gone badly wrong is told in Quentin Tarantino's first movie, Reservoir Dogs. The action-packed movie is bloody, has brutal thugs in it, and all of them are engaging (they debate the deeper meanings of "Like a Virgin").
Tim Roth, Michael Madsen, Steve Buscemi, Harvey Keitel, Chris Penn, Edward Bunker, Kirk Baltz, Quentin Tarantino, and Lawrance Tierney are among the cast members of Reservoir Dogs. Quentin Tarantino and Roger Avary wrote the script. Keitel, Roth, Penn, Buscemi, and Tierney are starring in Quentin's first directing job, a 1992 film.
Releasing on January 19th | Director: Amy BandlienStorkel and Bryan Storkel
The film, which was made by Amy BandlienStorkel and Bryan Storkel, will be released on Netflix in January 2023. It tells the story of the Pez dispenser smuggler, an enigmatic figure who operated during the 1990s.The story of Steve Glew, a machinist from the Midwest who smuggled expensive Pez dispensers from Europe and sold them for thousands of dollars, angering European and U.S. Pez collectors.
Releasing on January 11 | Director: Natalia Beristain
Noise follows Julia (Julieta Egurrola), a mother anxiously hunting for her 20-year-old daughter who was the case of a surge of missing person cases in Mexico. In a drama that exposes the miseries of having a member of your family mysteriously disappear, Julia will encounter other women in her search for the truth who are also looking for loved ones. Noise criticises the way that political corruption in Mexico is facilitated by drug cartels and other criminal groups, which encourages heinous crimes like sex trafficking.Erick Israel Consuelo, Teresa Ruiz, and Julieta Egurrola main cast.
Releasing on January 31 | Director: Ryan White
Pamela, a Love Story, a new Netflix documentary on Pamela Anderson's life, closes a quiet month. Anderson's long acting and modelling career will be explored in the documentary, along with how she overcome sex scandals to become a mother and an activist. The documentary is also on our radar for January 2023 since it promises to examine how a local girl may achieve international fame and have a lasting impact on so many people.
Releasing on January 10 | Director: Colette Camden
The first documentary on Netflix this year will focus on the life of Caleb "Kai" McGillvary, a nomad who rose to fame online after a video of him using a hatchet to protect a woman from a vicious attack went viral. The viral video of "Kai" triggered an investigation that led to his conviction for the murder of another man, despite the fact that he was first praised for his bravery and would be sought out by producers wanting to profit from his story. The Hatchet Wielding Hitchhiker by Colette Camden promises to expose the dirty details of the entire incident and demonstrate how viral videos cause people to glorify violence without realising the context in which such crimes are undertaken.
You May Like