Home and Garden Furniture: A Unique Blend of Class and Comfort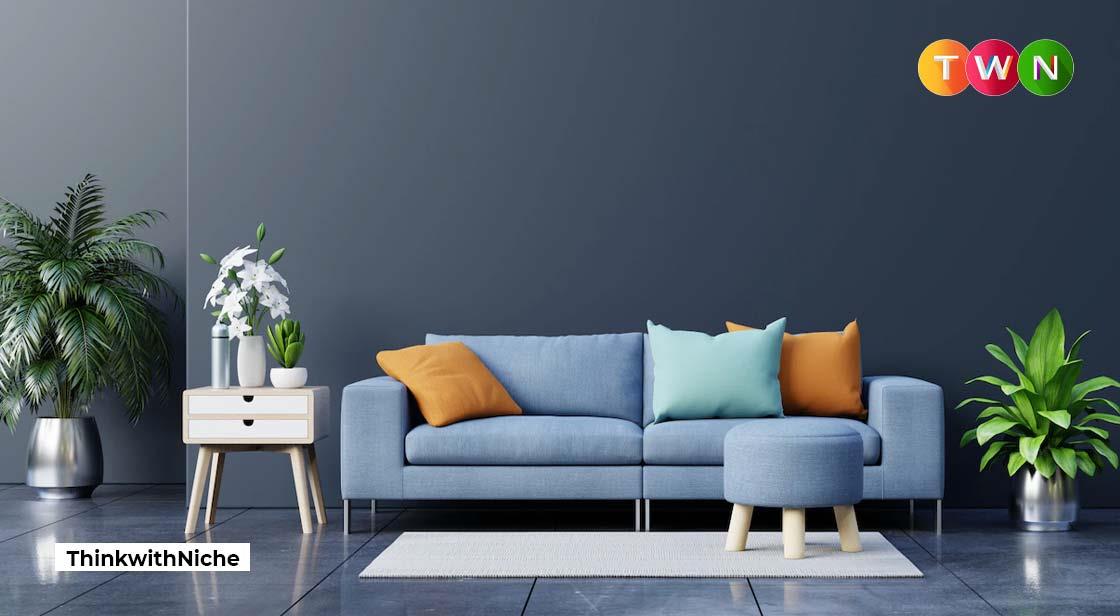 Home is where the Heart is! Indeed! Home is the best place on earth for us and the place where we find complete solace! It is why we furnish it in the best way we can! Furniture provides comfort, but at the same time, it is an expression of what we are! In this blog, let us learn about how to choose the best type of home and garden furniture for our home! #TWN
Continue Reading..
"Home Sweet Home!" It is a common phrase, and we all love saying it. And why not! Home is the sweetest place on earth! We live there, we find love there, and we make years of sweet 'n' sour memories there! And this is why we love furnishing it with tastefully designed curtains and bedsheets. But it is the home & garden furniture that offers major excitement!
Furniture is the thing which gives your home a complete look! Your bed, sofa, tables, and chairs are not just articles or objects. Rather, they are the most important aspect of a home! They render comfort when you return exhausted from work. They refresh you to think about new ideas and enjoy a happy time with the family. You enjoy a nice brunch sitting in your at-home patio chairs. So home and garden furniture acquires an invaluable place in the well-being of your home! This way, when we think about changing our furniture, we need to be extra careful because we are not buying an object, but adding a new dimension to our space! We must keep in mind six things while selecting furniture:
Comfort

Durability

Effectiveness

Aesthetics & Style

Size of the space

Budget
Comfort is the first requirement we must see when buying furniture. After all, this is what we strive for in a chair, couch, or bed! Isn't it! Another thing is durability. Furniture is not something you buy every day. It must last long and have the strength to resist the wear 'n' tear of time! Most importantly, it must effectively fulfill the purpose you have bought it. Like, the End Table must not be too big to consume all space and neither too small that you need an additional table!
Style is one aspect that you desire when buying furniture and you do not have to be guilty about it. We all want beautiful things so that our home looks presentable. We want people to admire us. So the furniture has to be stylish and tastefully designed to give your space a streak of elegance! Aesthetics play an important role in the selection of a piece of furniture. It must match the décor of your room.
The size of the space of your room or garden matters a lot when you make your selection. If you have a small space, your sofa set must not be too heavy to overpower the space of your room. Yes, if you have big rooms, heavy furniture will enhance your décor. Finally, budget is one aspect you cannot ignore, as you cannot afford to bring a million-dollar sofa set at home and then stare at your pocket to buy bread!
Living Room Furniture
Your Living Room is a reflection of your lifestyle. It expresses your personality. You work, laugh, play, celebrate and relax with your family in this part of the home. It is here that you meet your guests and spend your maximum time. It is a multi-purpose room you can say! So this room holds immense significance for your home. And it is no surprise that you wish to decorate it in the best way possible! All style and all creativity are pumped into this room. Therefore, when you prepare to bring this new entrant home, you must think before you give your final nod to the sofa set.
Spacing - You must consider the space of your living room. You can take a clue from the old furniture to get an idea of the measurements. You must also measure the doorway to see if the new furniture can enter the house, as it can be heartbreaking if it sustains a scratch while being pushed inside!
Colors & Patterns - Color coordination is another thing you would consider while buying living room furniture. You can be creative with different themes of patterns and colors. A monotone color palette can give the perfect feel to the room! But the thing to remember is that the space must get a cohesive look! It must blend beautifully with the walls and curtains of your living room.
Type of Furniture
Wow! It is where we all get stuck! How to select the type of furniture! Well, you do not want to stick to the stereotype, 3-seater sofa set as your Living room deserves a revamp! You can go for a Love Seat or Hanging Chair to add some style to your room! A Hanging Chair or Egg Chair is comfortable and good for your back! Another piece of furniture that adds grandeur to your decor is the Chaise Lounge. It is a 'Neighbor's Envy Owners Pride' kind of item!
Living Room Essentials Furniture
O' wait! It is not yet complete! Do not get lost in the elegant streak spread by your new furniture. How can a living room be complete without a TV Table and wall shelves for the living room? These objects increase the sheen of the room and, of course, they are essential for storage purposes also!
Dining Table Se

t
The Dining Area is one of the brightest areas of a modern living room. It is the place where the family sits together and enjoys lunch and dinner. So the dining table set must cater to the entire family. It must be durable and functional. Most importantly, it must blend with the rest of the furniture.
Furniture for Bedroom
Bedroom! It is the coziest part of your home! It is where you find absolute peace and happiness. It is where you find a good night's sleep and refresh for the grind ahead! So the bedroom must be comfortable and soothing! The furniture must enhance the beauty of the room as well as provide the utmost comfort to you and your family. But you must consider the person you are purchasing the furniture for, whether it is for children, teenagers or an adult!
Your bed is the item that attracts the most attention. You must consider the size of the room to see whether you wish for a kingsize bed or Queen size! These days, the side table accompanies the bed. The bed must be durable and solid. It is your choice whether you prefer a simple bed or a kingsize bed with storage! A small room is best for a stylish bunk bed. But big rooms may require a sofa also. However, I love cool bean bag chairs as they add a casual feel to a room. The only thing suggested is that the bedroom must not be too flashy or stylish! It must soothe your mind, body, and soul to give you everlasting peace!
Dressing Table
A Dressing Table set is an indispensable area of the bedroom. It does not just help you to get ready for your engagements, but it is an essential multipurpose space that accommodates your nitty-gritty things like a hairbrush, cosmetics, shoe brush, newspapers, etc. And yes, it is also the place where you rehearse your special moments in life, like a job interview, performance, a proposed moment, or even a heartbreak! So it must be selected very carefully! It should not necessarily be very heavy. Rather, it should be a sleek but simple dressing table that serves the purpose well!
Furniture for Garden
The Garden area is a matter of pride for the family members. The beautiful flowers and vegetation make it a place of admiration! Garden space is soothing and renders freshness to the mind and body. It is a venue for fresh morning get-togethers and enjoyable brunches! And rain, it is bliss to sit there and get lost in the splash of life! Not to forget the mouthwatering barbeque sessions with friends or family! So your garden furniture sets must be durable, light, and fit enough to cater to the garden's purpose! While selecting the furniture sets for the garden, one must go for easy-to-handle items that you can hold and keep anywhere! Here are a few things you must consider: -
Material – You must opt for a material that can endure the changing moods of the weather! Natural Wood is a good choice, but it needs a lot of care and maintenance. Rather, Cypress, Cedar, Teak, and Redwood would be a good choice as they are weather-resistant!
Rattan and Wicker – Rattan Wicker Furniture is one of the most popular furniture materials for the Garden. It gives a very casual and comfortable feel to the garden. But it needs weatherproofing after a few years!
Steel & Wrought Iron – Steel & Wrought Iron Garden Furniture is very striking, but in summers, it gets too hot. However, with tastefully designed cushions, it enhances the grace of the garden!
PVC and Plastic - This furniture is a favorite of everyone. Plastic chairs can be seen in virtually every home today because they are lightweight and durable! But they need to be washed once in a while!
Assurance of Good Quality - Quality is the basic aspect you must consider in Home and Garden Furniture. It must have a proper finish. It must be free of flaws like tiny scratches and hidden spots! The painting must be uniform, and the item must be well fitted with all the screws! The chairs or table must not wobble too much after assembling. The Home and Garden Furniture should be sturdy so that you and your loved ones can enjoy the seating experience thoroughly! So select with care and enrich your home with happiness!
Conclusion
A perfect Home and Garden Furniture set not only provides comfort but also renders style to the space! You can enhance the glory by adding colorful cushions and carpets. The rest depends on your creativity! We must also not forget that your home is an extension of your persona! So why wait! Just go and make your home and garden smile in the love of warmth and comfort!
If you liked what you read, here is another article that can help you with furniture.
10 Home and Garden Furniture Tips That Will Make A Difference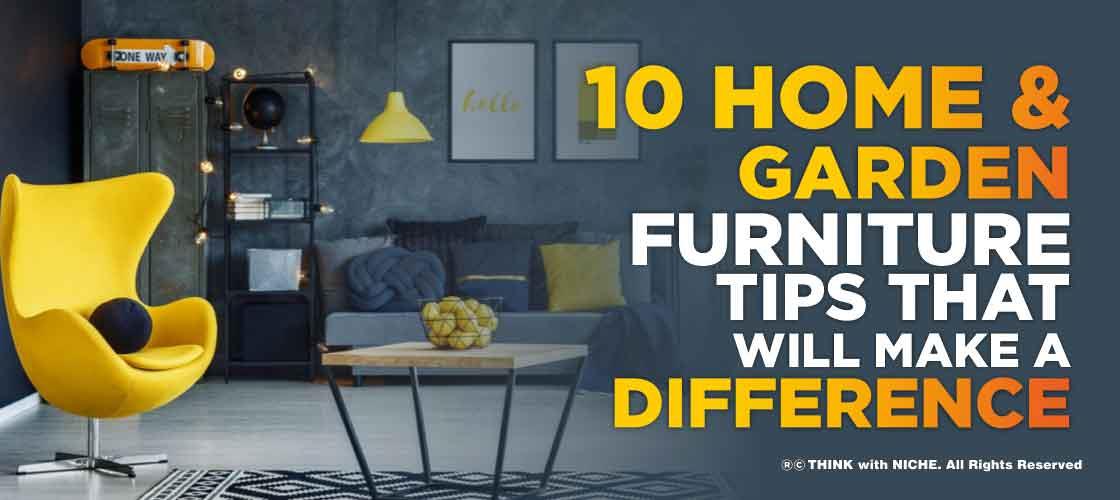 India's Top Sustainable Furniture Brands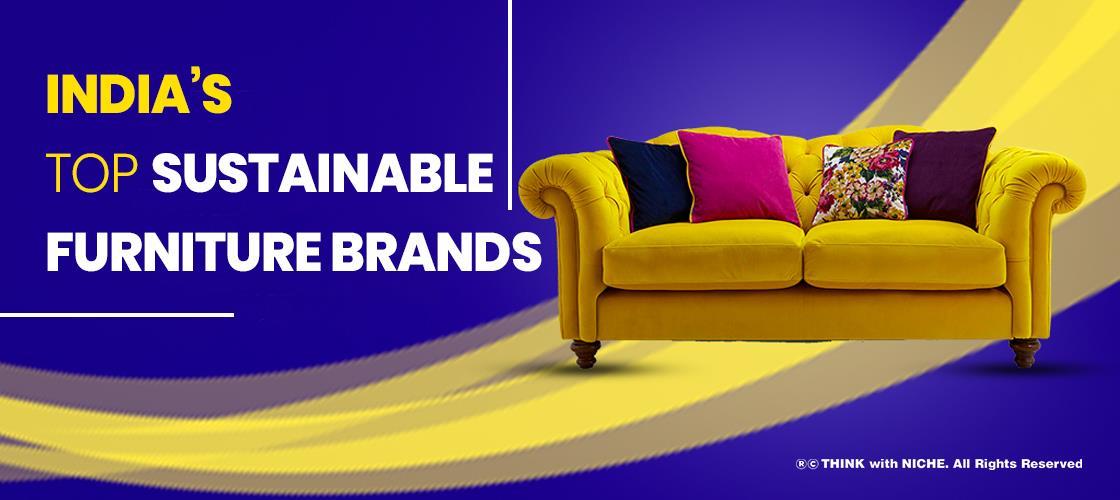 You May Like
Lifestyle and Entertainment

Lifestyle and Entertainment

Lifestyle and Entertainment

Lifestyle and Entertainment