Does Hell On Wheels Deserves Your Eyes?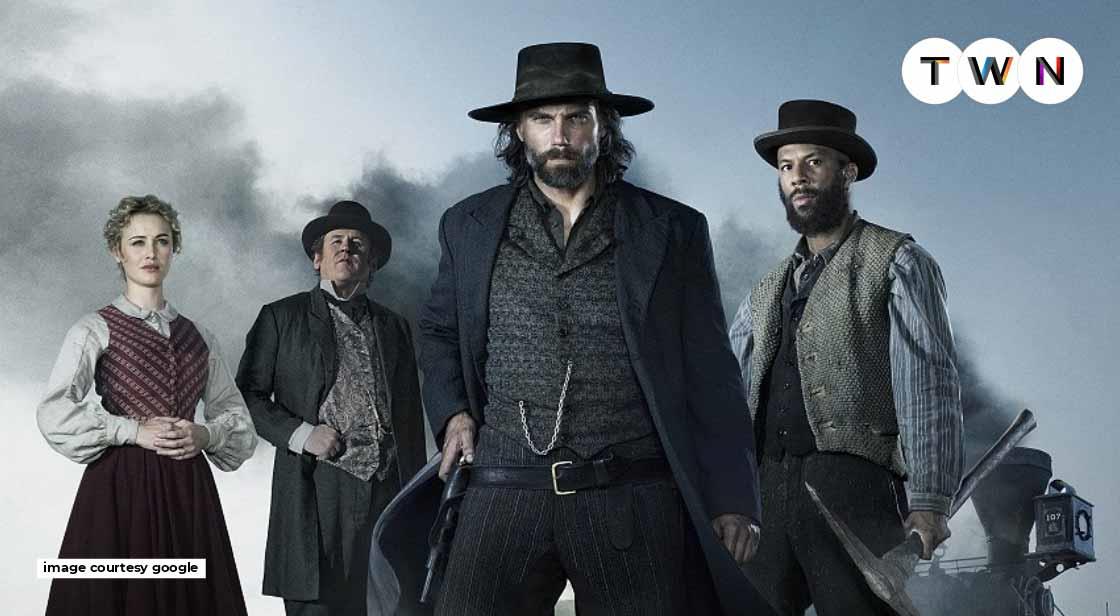 From November 6, 2011, until July 23, 2016, Hell on Wheels was an American/Canadian Western television series about the construction of the First Transcontinental Railroad through the United States, which aired on the cable channel AMC in the United States and Canada. Anson Mount, Colm Meaney, Common, and Dominique McElligott star in the series, which follows the Union Pacific Railroad and the laborers, mercenaries, prostitutes, surveyors, and others who lived, worked, and died in the "Hell on Wheels" mobile encampment that followed the railhead west across the Great Plains. #TWN
Continue Reading..
Cullen Bohannon (Mount) is a former Confederate soldier who joins the railroad to pursue down Union soldiers who murdered his wife and little boy during the American Civil War. In the process, he rises through the ranks of the railroad, eventually becoming a foreman and then the chief engineer.
Joe and Tony Gayton devised and produced the show, which is produced by Entertainment One and Nomadic Pictures and developed by Endemol USA under the supervision of senior vice-president of scripted programming Jeremy Gold.
Joe and Tony Gayton, the show's creators, declared in 2012 that they would no longer be involved in the show's day-to-day production. AMC announced on December 12, 2012, that showrunner John Wirth would take over for the third season.
Season One (2011–12) started in 1865, immediately after Abraham Lincoln's assassination, Season Two (2012) in 1866, Seasons Three (2013) and Four (2014) in 1867, and Season Five (2015–16) in 1869.
The list of Hell on Wheel's cast is quite long but we have only taken the main cast under consideration.
Cullen Bohannan (57 Episodes)
Thomas 'Doc' Durant (57 Episodes)
Eva (57 Episodes)
The Swede (57 Episodes)
Mickey McGinnes (57 Episodes)
Psalms (37 Episodes)
Ruth Cole (36 Episodes)
Elam Ferguson (30 Episodes)
Sean McGinnes (30 Episodes)
Louise Ellison (23 Episodes)
Lily Bell (20 Episodes)
Reverend Cole (20 Episodes)
Collis Huntington (17 Episodes)
Mr. Toole (15 Episodes)
On IMDB, this series is rated 8.3/10.
Here's what users have to say about the show:
Imagine the best western film, but 398,5 hours longer, and you've got this show! Hell on Wheels was fantastic from start to finish! It has everything that a decent series should have, plus a lot more! That is to say, the outstanding camera work, the atmosphere, the actors, and the emotion you get after watching each episode: I WANT MORE! I adore this show, and even if you don't care for westerns (as I once did), you will be enthralled by Hell on Wheels! AMC has done it again! Original series that I and many others rated a ten out of ten!
This show comes highly recommended by me.
Hell on Wheels is a gritty and thrilling western set just after the Civil War ends! I never saw it when it first aired and decided to give it a chance after hearing so many good things about it, and I'm glad I did. I binge-watched the entire series in a matter of weeks, and it was well worth my time. It's one of the most underappreciated shows of all time!

A genuine western series with no unnecessary love subplots. Despite the numerous western programs and films, there has rarely been such a thorough examination of the transcontinental railroad's construction. It's similar to "Deadwood," but it's not quite as good. The western drama gets so well that the first season becomes a riveting and entertaining experience, despite the fact that it has no standout strengths.

This reminded me of a series of Brutal Western novels by George G. Gilman called Edge that I used to read. It also brings back memories of my days as a Civil War reenactor. They've smacked the era history square in the face. They've also depicted the corruption as well as the splendor of the era. The scenes in Kansas are as good as they come on television. The west was built for tough people or those who were already dead. And the writers and directors haven't held back in depicting things exactly as they were. The Harlots don't appear to be from Las Vegas, and the Protagonist makes blunders. In its first two episodes, this series has shown a lot of promise, as well as some excellent human drama. I'm hoping the writers don't let that get to them and instead maintain it gritty and brutal without going overboard.
Critical response
On Metacritic, the first season has a 63 percent rating based on 28 reviews, indicating a "generally good" reception. On Metacritic, the second season had a 60 percent rating, indicating "mixed or average" reviews. Hank Stuever of the Washington Post praised the episode, saying, "Hands down, the most intriguing show on the fall schedule." Hell on Wheels is a western at heart, even if it has a chilly heart, despite its epic reach. There were plenty of guns, knives, arrows, and scalpings, as well as the explosive socio-psychological wounds left in the wake of the Civil War.
The show, according to Robert Lloyd of the Los Angeles Times, "takes its cues more from the movies than from actuality." I never felt like I was watching a train being built in the episodes I watched, and it required a little squinting not to view the characters as actors in a field reciting lines. Despite all of [the creators' implausible events in order to put their characters in place, and despite a handful of those characters' adamant refusal to become fascinating at all, the program gains momentum as it progresses.
Nancy Dewolf Smith of the Wall Street Journal has this to say: "'Hell on Wheels' finds enough beauty, peril, and emotion in each episode to make it feel fresh and worth the wait. Not that something brand new is usually a good thing. Despite giving outstanding performances in many of the minor roles, the performers are occasionally used to represent very modern preoccupations, such as race and gender. The sight of modern sensibilities hiding behind closed doors can be enough to spoil the spell."
"While the wide mix of personalities may work to the program's advantage in the long run," Variety's Brian Lowry writes, "hopping back and forth among them provides a diluted, herky-jerky ride in the early going."
According to the Washington Post, the series has been chastised for failing to feature Chinese immigrants during the construction of the transcontinental railroad. Joe Gayton, the creator, stated, "both financially and in terms of time. We could only concentrate on one side of [the railroad building], which is probably why we chose the [emanating from the East Coast] Union Pacific over the [emanating from the West Coast] Central Pacific to begin with." By the fifth season, the show had broadened its scope to include a comprehensive examination of the railroad's growth and the role of Chinese immigrant laborers.
Where to watch Hell on wheels?
The drama series Hell on Wheels, starring Anson Mount, Colm Meaney, and Common, is now available to stream. It's available on AMC, Prime Video, VUDU, Spectrum TV, Vudu Movie & TV Store, Apple TV, and Vudu Movie & TV Store.
There are many platforms that provide this series for free, but those platforms are not recommended as they post pirated content, and consuming or uploading pirated content is a punishable offense and hence should be avoided.
Conclusion
Now to answer the question, does this series deserves your eyes? Well, if you look at the reviews and IMDB ratings, it seems to be a show worth a watch.
You May Like
Lifestyle and Entertainment

Lifestyle and Entertainment

Lifestyle and Entertainment

Lifestyle and Entertainment