A Day for Heroes Without Capes – Father's Day 2022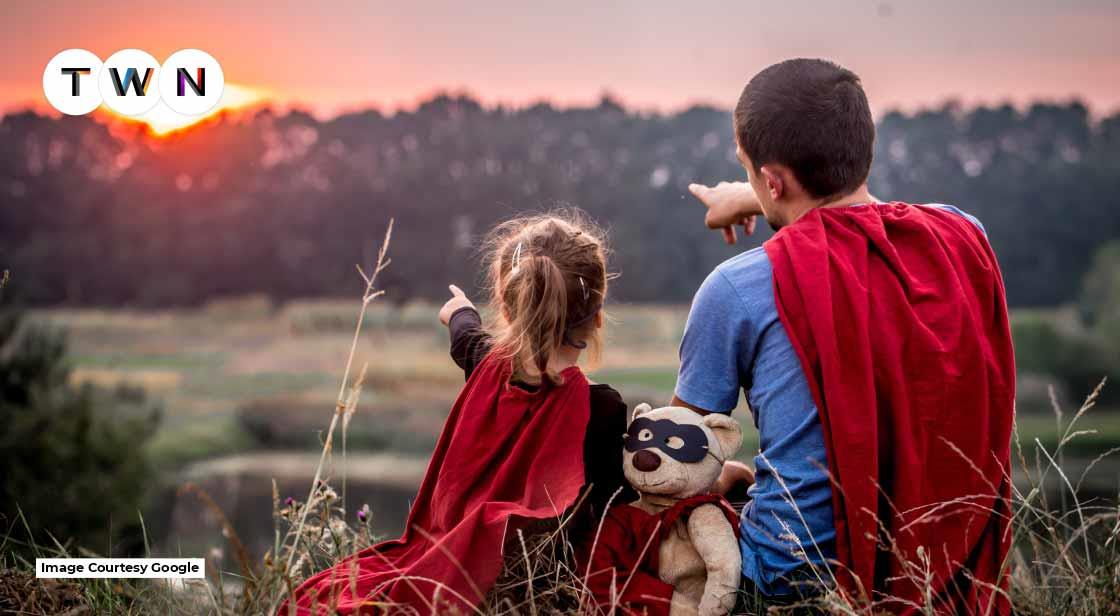 When you need a shoulder to cry on, an ear to listen to you, a hand to guide you the way, you look for only one person, and that is your father. Today, we will celebrate a day to respect and thank every father who has given everything for the betterment of those whom he cares for. Father's Day represents the significance of a father's role in one's life. Father's Day honors not only fathers but also father-like figures who frame our minds and play an important role in giving our dreams wings. Let's thank every father on this very special day. #TWN
Continue Reading..
Father's Day is a day solely dedicated to the man who makes it all possible for his family. Fathers are superheroes who work tirelessly to ensure the physical and financial well-being of their families. As such, Father's Day is a day to honor them. Father's Day is observed every year on the third Sunday of June, which falls on June 19 this year.
Father's Day honors not only fathers but also father-like figures who frame our minds and play an important role in giving our dreams wings.
When you need a shoulder to cry on, an ear to listen to you, a hand to guide you the way, you look for only one person, and that is your father. Today, we will celebrate a day to respect and thank every father who has given everything for the betterment of those whom he cares for.
A father is indeed a superhero without a cape with superpowers beyond imagination. Even Superman is weak without his father.
Father's Day represents the significance of a father's role in one's life. To express their affection for fathers, kids buy or make gifts, as well as write and draw cards. Some spend the day doing activities that they can enjoy with their father, such as catching fish, camping, shopping, art & craft, or simply sitting back and watching movies. Many children seize the incredible opportunity to develop a closer connection with their fathers.
So, how did Father's Day come into existence?
Sonora Smart Dodd established Father's Day in the United States. William Jackson Smart, Sonora's father, was a Civil War veteran. He was an Arkansas single parent who raised six children selflessly. Sonora had got to hear about Anna Jarvis's creation of Mother's Day in memory of her mother. So, she suggested to her church's pastor that something similar be done to honor fathers. On William's birth anniversary, June 5, she wanted to honor and recognize the role of her dad and all fathers.
Despite the petition's denial, Sonora persuaded local church communities to take part. The date was pushed back, and the commemoration was eventually moved to the third Sunday of June since the date proposed by Sonora was too soon for the minister to prepare, so he introduced it a few weeks later, on June 19. Father's Day has since been observed on the third Sunday of June.
This holiday is observed in many countries at other points of time of the year. Father's Day is observed on the first Sunday of Sept. in Australia, on the second Sunday of November in Norway, Sweden, and Finland, and on March 19 (St. Joseph's Day) in some Catholic countries.
Several other people across the country had similar ideas over the years, but Mrs. Sonora Smart Dodd is given credit for popularizing it, initiating events that led to Father's Day becoming a national holiday in the United States.
World Father's Day Celebration in Different Countries and Cultures
Father's Day tends to fall on Sunday, June 19 this year, in the United States. Some family groups host a party, whereas others grill and catch up. This special day, however, varies not just in terms of when it is observed but also in how it is observed. From Germany to Thailand, let's find out more about International Father's Day.
Germany – Vater Tag
Fathers in Germany take the day off from work to drink and enjoy little to no personal accountability. This fun-filled day for men, known as Vatertag (or Männertag), falls on the forty-fifth day after Easter, on a Thursday in May. That date in 2021 was May 13. Because the Friday following Vatertag is generally a Brückentag (bridge day), fathers have a four-day weekend.
The holiday began in the Medieval Era as a religious honoring ceremony honoring Gott, den Vater (God, the father). It wasn't until the 1700s that this day evolved into Vatertag, a family holiday honoring each household's father. The dad with the most kids in the village would be rewarded, usually with a ham. Although Vatertag faded for a time, it made a solid rebound in the 19th century, renamed Männertag and evolving into more of a "boys' day out."
Brazil – Dia do Pais
Father's Day is celebrated on the second Sunday of August in Brazil. That was August 8, 2021, last year. This celebration, identified as Dia dos Pais, actually started in the mid-1950s. The idea was to pay tribute to Saint Joachim, the patron saint of grandfathers and fathers.
Similar to the U.S, children frequently buy one-of-a-kind gifts for their fathers. They also frequently make a gift in school to honor their fathers. Some schools will also host special performances or ceremonies. A large lunch is frequently prepared, and families frequently take part in one of the many outings. Because Father's Day falls on a Sunday, which is not a public holiday, fathers do not have the day off. Most businesses also keep regular business hours.
Costa Rica - Día Del Padre
Costa Rica, like the United States, observes Father's Day on the 3rd Sunday of June. Costa Ricans honor both living and deceased fathers, as well as single moms who fill both positions. Other than family time, there are no specific traditions. Father's Day sometimes shares the attention with the World Championship Cup. Costa Rica was playing Serbia in 2018, and many fathers spent the day watching the game.
Many countries, including Costa Rica and the United States, celebrate Father's Day on the third Sunday of June! Argentina, Peru, and Colombia are among the other Latin American countries included.
Thailand – Wan Por
Father's Day is unique in Thailand because it is observed on December 5. This day honors the nation's longest-serving monarch, King Bhumibol Adulyadej. It is a national holiday commemorating the King's birthday and Father's Day. This is because many people saw the King as Thailand's representational father. On this day, Thais honor their fathers and grandfathers by giving them a canna flower or "dok phuttha raksa," which is equivalent to a lily.
For years, there would be country-wide celebrations to honor the King. Many Thais would spend the night outside, frequently dressed in yellow. The color represents Monday, the King's day of birth in 1927.
There are activities all over the nation, and the Bangkok Mass Transit System permits dads to commute for free when accompanied by their kids. This is intended to promote family bonding time.
You can celebrate the day in any way you want. It has to be your way of appreciating your father. Here, we are mentioning a few of them for you to try and make a day better for your superhero.
Grilling and cooking

Spa Day for Dads!

A Personal Memoir for your superhero

A Musical Gift (CD, Radio, A player)

Give your father a secure retirement

Make him financially sound

Get him his favorite dream car. Fathers love it!
Conclusion
No matter how strong or capable a child is, he needs his father to guide him through the ups and downs of life. A father is a shield that will shield you from everything while giving you the best at the same time. We wish every father and the father figures who shaped our lives a happy Father's Day.
You May Like