Top 10 Business Success Stories, Learn & Grow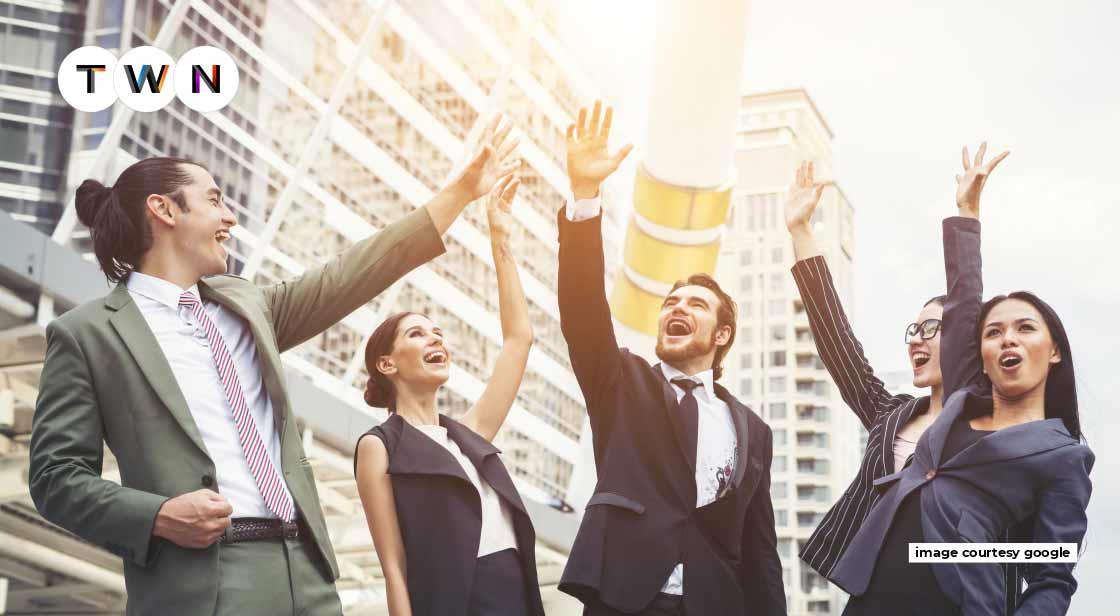 Ask any entrepreneur about the difficulties of starting your own business. Sometimes hearing some business success stories can help, especially when you're bogged down in the details of writing a business plan, obtaining a business loan, or finding a space. Even the most successful businesses, whether small, medium, or large, faced difficulties. And it can be extremely beneficial to remind yourself that you are not crazy for feeling overwhelmed.
When you're deep in the weeds of starting a business, it's easy to feel like giving up, but hearing about other people's successes can help lift your spirits. Take a look at these 10 business success stories for inspiration, and see what you can learn from each to help you make better business decisions. #TWN
Continue Reading..
Inspirational Business Success Stories of Entrepreneurs
Let's explore the top 10 Inspirational Business Success Stories of Entrepreneurs:
1. Spark Vision, founded by MaryBeth Hyland
The Business Success Story
MaryBeth Hyland founded Spark Vision to assist businesses in creating and maintaining collaborative and inclusive office cultures. Hyland and Spark Vision, which specialize in millennial engagement, provide workshops to help offices foster collaboration and connections among employees.
As an abused child, Hyland has faced numerous challenges to her self-esteem and confidence. She uses her survival daily to motivate herself to succeed in business, drawing on her past experience to connect with the people she works with. According to her website, Hyland believes her experience helps her succeed in her business.
The Takeaway
Everyone has a past, and not all of them are pleasant. Even if your experiences aren't particularly positive, using your background and experience to inform your business can be beneficial. In Hyland's case, a difficult childhood motivates and drives her, and her company benefits as a result.
2. Zoom, founded by Eric Yuan
The Business Success Story
Eric Yuan moved to the United States from China in the mid-1990s to take advantage of the internet boom, but it took him a long time to get here. He was denied a visa the first eight times he applied. He was finally approved after the ninth attempt, but the process took two years.
Yuan founded the communication platform Zoom in 2012, after years of working for a Silicon Valley communication startup. Yuan told Thrive Global that Zoom began as a daydream, an alternative to a long-distance relationship that necessitated a 10-hour train ride to see each other.
Zoom is now used by over 750,000 businesses to keep their teams connected via video and audio conferencing, collaborative workspaces, chat, and other features. Zoom's real-time, the face-to-face feature allows companies to stay in touch more easily, allowing employees to work from home or stay connected while working remotely or across multiple office locations.
The Takeaway
Yuan's difficult visa situation is common among immigrants. But it also shows what can be accomplished if you are persistent and willing to keep trying. Whether you're applying for a formal document such as a visa or a permit, or simply trying to solve a difficult problem, perseverance will pay off—even if it takes a few years.
3. Halfaker & Associates, founded by Dawn Halfaker
The Business Success Story
Halfaker & Associates, a Virginia-based contracting firm, works with the federal government on data analytics, data security, software engineering, and IT infrastructure. Dawn Halfaker worked on Capitol Hill and with various other contractors after being wounded in combat in Iraq, looking for a way to continue working with the military after being medically retired.
Halfaker, a veteran herself, understands what troops in combat require to succeed, and she saw a gap between those needs and what Washington could provide. This prompted her to start her own business and provide practical, common-sense solutions to aid the military's effectiveness.
The Takeaway
Halfaker's story is a shining example of perseverance and rising from adversity, as well as what can be accomplished with determination. But perhaps the most important aspect of her commitment to her community is how it benefits not only those in her immediate vicinity but also her business. Halfaker improves her company by hiring veterans and wounded warriors because of their experience and expertise.
4. Night Owl Cleaning Services, founded by Arlete Turturro
The Business Success Story
Arlete Turturro graduated from the Fashion Institute of Technology with a degree in merchandising and a real estate license from Queens College. But she is no longer in the fashion or real estate industries. She has been the owner of Night Owl Cleaning Services for nearly three decades.
Night Owl provides a wide range of services, including commercial cleaning, party attendants, and 24-hour emergency services. Turturro was featured in the Westchester Business Journal in 2004 and was named Woman of the Year. She is still alive and well.
The Takeaway
You can plan for one thing and end up in a completely different place. Turturro, for example, changed fields several times before finding the business that worked for her, and it has paid off.
Flexibility and openness to new possibilities can lead to great things, as can hard work. Starting out by cleaning homes and offices on the weekends isn't the most glamorous job in the world, but it's a necessary one that led to Turturro owning her own company.
5. Xaviars Restaurant Group, founded by Peter X. Kelly
The Business Success Story
Chef Peter X. Kelly is self-taught. He did not attend culinary school, but his restaurants and catering business grossed around $10 million per year. In 2006, he defeated Bobby Flay and rose to become an Iron Chef (no small feat, as any Food Network fan, can tell you). At the age of 23, he became the chef at the Highlands Country Club in Garrison, New York. When asked if he was nervous about being so young in such a position, he said he knew if he failed, he could pick up and try something else.
He did not fall short. Quite the opposite, in fact. He later opened Xaviars at Piermont and the Freelance Cafe & Wine Bar (both of which were sold in 2016), as well as X2O Xaviars on Hudson in Yonkers and Restaurant X & Bully Boy Bar in Congers. Restaurants are risky, as anyone considering opening one will hear over and over. However, in Kelly's case, the gamble paid off. Kelly is also a vintner (a wine merchant) and the founder and culinary director of Impromptu Gourmet, a company that delivers chef-inspired foods made with real, fresh ingredients right to your door.
The Takeaway
Entering the workforce in any field, but especially one as competitive as the culinary world can be difficult. Even if you lack formal training, you can compensate through passion and hard work, as Kelly did. This approach does not work in all fields, but it is not an unusual story. You might be able to make it big if you're willing to put in the effort and learn by doing.
6. CorpNet, founded by Nellie Akalp
The Business Success Story
Nellie Akalp is the founder of not one, but two massively successful businesses, as well as a mother of four, author, and speaker. Even though new entrepreneurs are often advised not to start businesses with their significant others, she and her husband founded MyCorporation.com in their living room and sold it to Intuit in 2008.
Rather than retiring from that sale, Akalp founded a new company, CorpNet, intending to assist potential small business owners by preparing and filing the documents required to start a business in any state. CorpNet can assist those who are already in business with ongoing paperwork such as filing annual reports, changing a brand name, and more.
The Takeaway
In the case of the Akalps, defying advice not to start a business together led to a hugely successful company and a $20 million sale. When you're starting a business, you'll get advice from a variety of sources, including the internet, other business owners, family, and friends. However, you must ultimately make your own informed decisions. Definitely take advice from those who have been there before. But keep in mind that you've done your homework and are free to choose your own path.
7. GooRoo, founded by Scott Lee
The Business Success Story
GooRoo is an online tutoring platform that helps people find tutors for everything from basic reading and writing skills to SAT prep and college admission essays. In New York, GooRoo has over 1,000 tutors and has facilitated over 3,500 sessions. And the figures continue to rise.
While still in high school in South Korea, Scott Lee founded his first company, Peertutor. Since then, he's returned to the Korean army, founded an online clothing retailer, worked for JPMorgan, and served as an Olympic advisor in Pyeongchang in 2018. After all, he's returned to his roots in education to found GooRoo and provide low-cost education to those who need it—and he can use all of his life experience to better inform his business decisions.
The Takeaway
Having a diverse set of experiences can help you run your business more effectively. All of Lee's experiences, he says, helped him be a better CEO when he returned to what he knew he wanted to do in high school. Of course, you don't have to abandon ship and return to the roost, but you should include outside-the-box experiences so you can think outside the box.
8. Red Rabbit, founded by Rhys Powell
The Business Success Story
Red Rabbit was founded in 2005 by former Wall Street trader Rhys Powell to provide healthy, nutritious meals to schoolchildren. Red Rabbit collaborates with various schools to provide students with fresh, homemade meals at reasonable prices.
Powell founded Red Rabbit after speaking with parents who were having difficulty finding healthy meal options for their children consistently. Initially, the plan was for parents to order meals online and have them delivered to the school. They quickly realized that doing things this way was expensive and yielded little return, so they changed their business model and made schools the primary customer rather than parents. Every day, Red Rabbit delivers more than 20,000 fresh meals to students.
The Takeaway
Powell was able to increase profits and reduce Red Rabbit's overhead costs by shifting his focus from parents to the schools themselves. Being adaptable and open to what the data tells you is critical to the success of your small business. No matter how extensively you plan and how well you stick to that plan, you will need to make adjustments from time to time. However, if you remain adaptable, your changes may pay off significantly.
9. Wine & Design, founded by Harriet Mills
The Business Success Story
Harriet Mills had a young child and had recently been laid off from her sales job in 2010. Rather than panicking, she took a deep breath and signed up for a paint-and-sip class. As she relaxed with her girlfriends, she realized that group painting for fun was a largely untapped market. Her own spin on the concept, Wine & Design, now has nearly 80 franchise locations across the country, offering a variety of events such as children's parties and corporate get-togethers.
The Takeaway
Always be on the lookout for market whitespace to fill—where that's your company will thrive. And if you're looking to start, pivot, or grow a business, opportunities may present themselves when you least expect them. Increase your awareness of areas in your own life that could use a boost to get started.
10. Grubhub and Seamless, founded by Matt Maloney and Jason Finger
Grubhub was founded in 2004 by two web developers who were fed up with keeping track of paper menus and reading credit card numbers over the phone. Replace web developers with lawyers in the origin story of Seamless, which merged with Grubhub in 2013.
Grubhub and Seamless now serve 80,000 local takeout restaurants in over 1,600 cities across the United States. In addition to their original single-meal model, they have a corporate catering wing where you can order larger-scale meals on a company card and have them delivered to the office. Even though they are owned by the same parent company, they operate as separate brands.
The Takeaway
Always be on the lookout for market whitespace to fill—where that's your company will thrive. And if you're looking to start, pivot, or grow a business, opportunities may present themselves when you least expect them. Increase your awareness of areas in your own life that could use a boost to get started.
The Final Word
Although each of these businesses has a unique history and set of circumstances, there is one thing they all have in common: the road to business success is not an easy one. You will face hardship, obstacles, detractors, and seemingly impossible decisions—but with hard work, smart planning, and a brilliant idea you believe in, you can put yourself on the path to success.
You May Like