Breaking Barriers: Ajay Banga's Journey From Mastercard To World Bank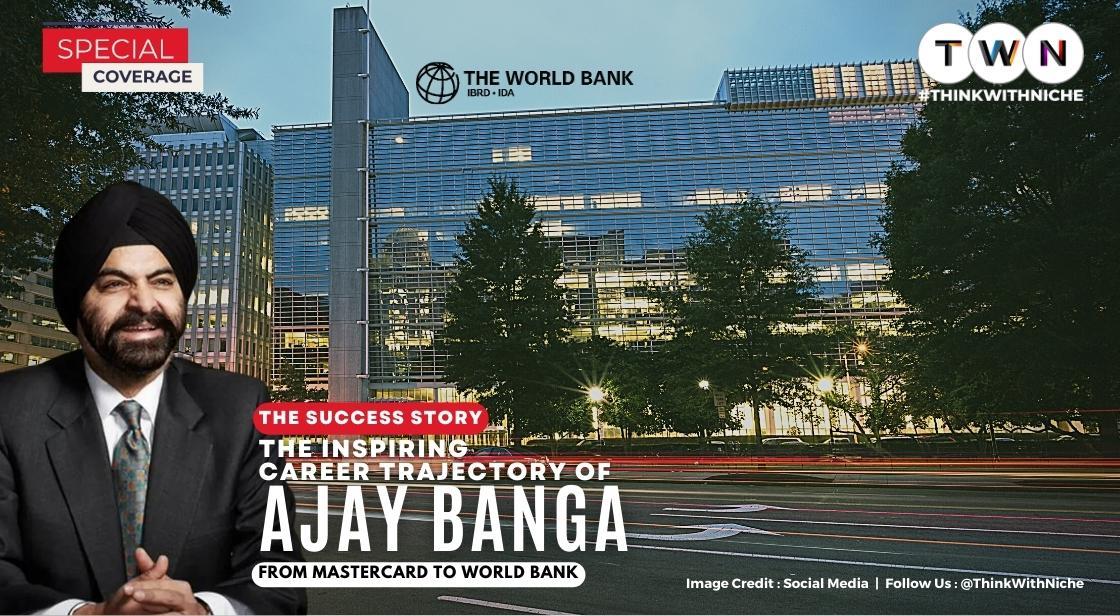 Ajay was born on November 10th, 1959. He earned a bachelor's degree in arts with honours in economics from St. Stephen's College in Delhi. Ritu Banga is the name of his wife. On February 23, 2023, he was nominated by President Joe Biden to lead the World Bank.
Ajaypal Singh Banga, also known as Ajay Banga, has just been nominated by US President Joe Biden as the 14th president of the World Bank.
When an individual of Indian descent was selected to lead a multinational organization, the media went wild. In actuality, 10 of the previous 13 World Bank Presidents were Americans, and the remaining three were Australian-American, South Korean-American, and Bulgarian. In this regard, the nomination of a person of Indian descent for the World Bank presidency is highly noteworthy.
In this article, we will take an in-depth look at Ajay Banga's journey from Mastercard to World Bank.
Continue Reading..
The fact that Ajay Banga has been asked to lead an international organization whose future is not only unknown but also competing for relevance is what makes this appointment so intriguing. Mastercard, a leader in global payments and technology, was the first such organization. In 2010, Banga was selected to be the President and CEO of Mastercard, a post he would hold until 2021. Visa, another worldwide payments company, was Mastercard's only opponent at the time Banga was hired. There were a number of players when Banga left Mastercard, in addition to some other issues.
Visa and Mastercard have held a monopoly on the global payments industry for several decades. By pioneering in the area of debit and credit cards, the two titans were at the forefront of the payments revolution. On any of the two systems, the majority of banks issue debit and credit cards. As a result, these two players were in competition, and one could observe games of strategy and one-upmanship, with Visa typically winning conflicts and dominating the markets. Two new firms entered the payments market in the middle of the decade. These new competitors not only posed a threat to the duopoly's market share, but also to the companies' continued existence!
Who is Ajay Banga ?
Banga has developed into a world authority in technology, data, financial services, and innovation for inclusion throughout the course of his career. He will preside over the International Chamber of Commerce from 2020 to 2022 as honorary chairman. In addition, he serves as an independent director at Temasek and chairman of Exor.
When BeyondNetZero, General Atlantic's climate-focused fund, was established in 2021, he joined as an advisor. He has previously held positions on the boards of Dow Inc., Kraft Foods, and the American Red Cross.
As Co-Chair of the Partnership for Central America, Banga has collaborated closely with Vice President Kamala Harris. In addition to being a member of the Trilateral Commission, Banga is a founding trustee of the US-India Strategic Partnership Forum, a former member of the National Committee on US-China Relations, and the Chairman Emeritus of the American India Foundation.
He was a member of President Barack Obama's Commission on Improving National Cybersecurity, co-founder of The Cyber Readiness Institute, vice chair of the Economic Club of New York, and vice chair of the Economic Club of New York. The US President's Advisory Council for Trade Policy and Negotiations previously included him as a member.
In 2012, he received the Foreign Policy Association Medal; in 2019, he received the Business Council for International Understanding's Global Leadership Award and the Ellis Island Medal of Honour; and in 2021, he will get the Distinguished Friends of Singapore Public Service Star.
Family of Ajay Banaga
Ajay grew up in a Saini Sikh family. His ancestors come from the Punjabi state of Jalandhar. His father, former lieutenant general Harbhajan Singh Banga, served in the Indian Army. Business executive Manvinder Singh Banga, commonly known as Vindi, is his brother. Deepa is the name of his sister.
Ajay Banga's Marriage
Ritu Banga is Ajay Banga's wife. They dated for a brief period of time before getting married. They became friends while pursuing an MBA at the Indian Institute of Management (IIM) in Ahmedabad. She helped start the counselling business Zoomdojo. Aditi and Jojo are the names of Ajay Banga's daughters. Aditi Banga works for Instagram and is a Harvard University graduate, and Jojo Banga has a degree from the same university.
Ajay Banga Education
St. Edward's School in Shimla and Hyderabad Public School in Hyderabad are where Ajay completed his education. He then made the decision to go to Delhi in 1976. He graduated from Delhi University's St. Stephen's College with a bachelor of arts in economics with honours. Afterwards, he enrolled at the Indian Institute of Management (IIM), Ahmedabad campus, where he earned a master's degree in business administration.
Awards and recognitions of Ajay Banga
Ajay received the 2012 Foreign Policy Association Medal. He received the Padma Shri, India's fourth-highest civilian honour, from the Indian government in 2016. He received the Global Indian of the Year award from the Economic Times Awards for Business Achievement in 2019. In 2021, the Singaporean government awarded him the Distinguished Friends of Singapore Public Service Star.
Ajay Banga has a $200 million net worth. The annual salary of Ajay Banga is $1,250,000. He enjoys playing golf and travelling. He was brought up in India before becoming a citizen of the United States. Ajay Banga is an Indian American citizen.
New competitors
Initially, a QR (Quick Response) code-based payment system allowed users to pay with a variety of wallets by just scanning a code on their smartphone. Without the use of any Visa or Mastercard-enabled cards, QR codes allow payments from a bank to be processed smoothly. The QR-based system was invented in India and has since been adopted by several major and growing economies, including Singapore, Germany, the UK, and others (China, Vietnam, Philippines etc.). These payment methods are not merely used within national borders. Indonesia, Malaysia, and Thailand are three South Asian economies that have embraced a standard QR-based payment system. Also recently revealed links between their QR-based systems are Singapore and India.
Central bank digital currencies come in second (CBDCs). They allow for safer digital payments using money that has been issued by the central bank than the QR-based approach. Several stages of the implementation of respective CBDC initiatives are being undertaken by central banks globally. Only a few nations—the Bahamas Islands and Nigeria—have CBDCs in circulation, while others—the Eurozone, the UK, and the US—are still working on it and undertaking pilot projects in it. Also, there are tests being run to enable cross-border CBDC transactions.
In these interesting and difficult times for the payments sector, Banga handled Mastercard. Governments compete with the duopolists since each central bank operates or supports its own payment system. A Rupay-based system that competed directly with Visa and Mastercard was also introduced by the Indian government. Who would have imagined that the government, who is perceived as being behind in technological innovation, would upset major companies in the global payment industry?
On Recognizable Ground
In a fascinating parallel, Banga has been selected to lead the World Bank, a significant international financial organisation that is also having trouble. In addition, there is a sort of duopoly present because the World Bank and the International Monetary Fund are also present (IMF). The World Bank and IMF are duopolies in their control over global banking and economics, despite the fact that they do not compete like Visa and Mastercard do. Over time, this supremacy has waned. In a parallel situation, Banga will lead the smaller of the two organisations because the IMF is still regarded as more significant than the World Bank. Banga had no idea he would find himself in a situation so similar so soon after quitting Mastercard!
The renowned Bretton Woods Conference, which took place in 1944 in the midst of World War II, gave birth to both the IMF and the World Bank. Like Mastercard and Visa, both organisations are established in the US and are therefore dominated by the US. The US and Europe agree that leadership of the World Bank and IMF will be chosen by their respective blocs.
The IMF was established to aid nations going through a financial crisis. There was a time when there weren't many crises, and people began to question the IMF's usefulness. Financial crises have become the norm since the global financial crisis of 2008, drawing attention to the IMF. The World Bank's (formerly known as the International Bank for Reconstruction and Development) mission was to offer loans and assistance for the reconstruction of the war-damaged global economy. After helping to construct Europe, the World Bank turned its focus to developing and underdeveloped economies.
The World Bank offers loans to countries all around the world for projects like infrastructure development and poverty eradication. The World Bank has, however, come up against competition from international financial institutions as global finance has grown. Once heavily dependent nations now have additional options, including borrowing money from international institutions and issuing bonds on international markets. To challenge the supremacy of the US and institutions backed by the US, nations like China also lend money and offer financial help to Asian and African nations. The IMF and the World Bank are both viewed as servants of the US government. To challenge US hegemony, the BRICS nations created the New Development Bank, a new financial organisation.
In difficult times, Ajay Banga has been chosen to lead the World Bank. The nomination of Banga has also drawn criticism since he is viewed as having ties to Wall Street and international finance. Additionally, his nomination occurs at a time when the global economy is experiencing a recession in the range of one-third to two-thirds.
The ongoing dominance of wealthy nations over international financial organisations like the World Bank is in doubt. The ability of Banga to slant these institutions' governance in favour of developing and rising economies will be under close scrutiny. Although the World Bank is a totally different environment, his Mastercard experience might be helpful. The decline of Mastercard was mostly unavoidable due to technology; whether he could stop a decline and save the World Bank remains to be seen.
Satya Nadella and Ajay Banga attended the same Hyderabad school
When his father, army officer Harbhajan Singh Banga, was stationed here in the 1970s, the former Mastercard Chief Executive attended HPS for his education. Indian-American Ajay Banga is now vice chairman of the equity firm General Atlantic. Together with Microsoft CEO Satya Nadella, Syed Akbaruddin, a former permanent representative of India to the UN, YS Jagan Mohan Reddy, chief minister of Andhra Pradesh, and well-known cricket pundit Harsha Bhogle, Ajay Banga is among the noteworthy graduates. Together with Ajay Banga, the city's top educational school has produced significant corporate leaders such as Prem Watsa, the founder and CEO of Fairfax Financial Holding, Shantanu Narayan, the CEO of Adobe Systems, and Satya Nadella.
You May Like