The man behind OLA- Bhavish Aggarwal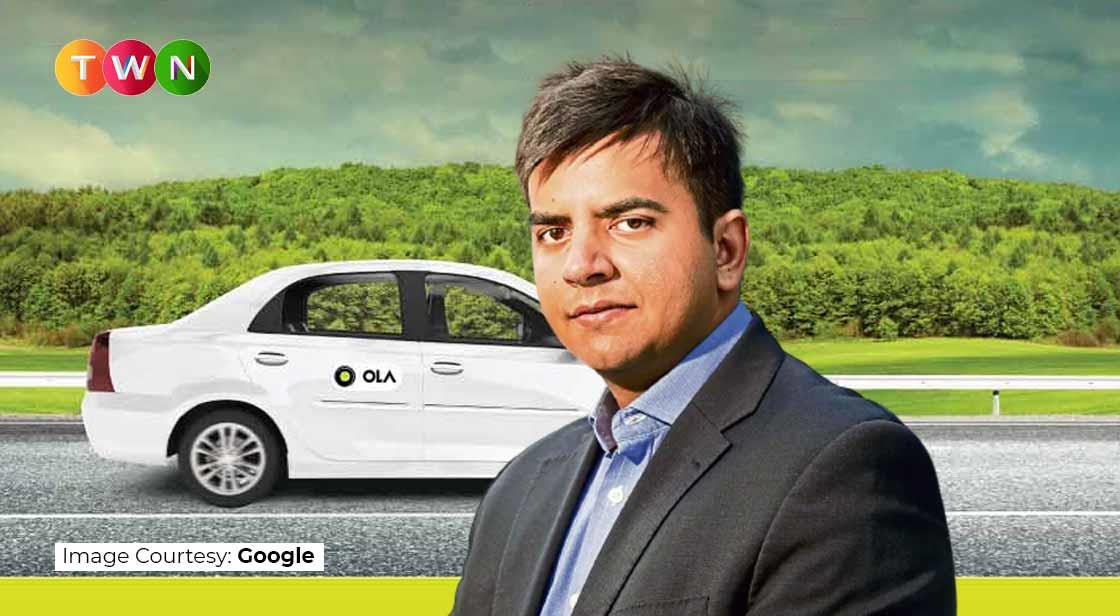 Ola owns almost 60% of the cab service market of India. India's first choice is always Ola. Rest all cab services are considered as the alternate for these Cab services. But the success was not overnight. There was a brilliant mind and a lot of hard work behind this success, so let's take a look at the journey of the man behind Ola and how he managed to take this company to the heights of success. #TWN
Continue Reading..
Born- 28th August 1985 Age (36), Ludhiana Punjab

Bhavish Aggarwal's Occupation- Founder and CEO of OLA Cabs

Bhavish Aggarwal's Parents- Mr. Naresh Kumar Aggarwal, Mrs. Usha Aggarwal

Bhavish Aggarwal's Net Worth- $500 Million

Bhavish Aggarwal's Wife- Rajalakshmi Aggarwal

Bhavish Aggarwal's Nationality- Indian

Bhavish Aggarwal's Monthly Income- $195,790.50

Bhavish Aggarwal's Twitter- https://twitter.com/bhash
"What! Do you want to be a travel agent? You can't be serious!" These were the words of Bhavish Aggarwal's Father, Mr. Naresh Kumar Aggarwal when Bhavish discussed his business plan with his father. Thank God! He was not discouraged by these harsh words and did not give up on his ambition. Else we wouldn't have witnessed the revolution he brought in the Indian Cab services. Bhavish, along with his co-founder Ankit Bhati, built an app that connected customers with cab drivers. This simple but innovative idea changed the cab business forever in India. Earlier, people used to physically walk to the local taxi stand and book a taxi from there itself, but ola's doorstep made it convenient for the customer to book a cab in just one click without taking a trip to the taxi stand. On the other hand, finding a customer became much easier for the drivers as they no longer had to go hunting for them or shout on the taxi stands to get their attention. Everything was now digital and operated with just a click. There were features like:-
Easy payment methods

Ride Scheduling

Intercity travel

Rentals for longer periods like 10 hours

And most important, the option to choose a ride according to your budget and convenience.

Option to share your ride, just like car poling.
These features made it even more convenient for both drivers and passengers. The net worth of OLA is $6.5 billion, and the best part is, unlike any other cab service, ola cabs do not own even a single car. Every car is owned by the respective drivers. All these reasons combined made ola "India's most popular aggregator and ride-sharing company." Let's take a look at the person who built it and how he implemented all the plans to make this company a success.
Bhavish Aggarwal Education and early life
The ola CEO Bhavish Aggarwal was born on 28th August 1985 in Ludhiana, Punjab. He completed his early schooling from Ludhiana and later cracked IIT-JEE, to get admitted into IIT-Bombay, and completed his Bachelors in Computer Science. He started his career as an intern in Microsoft Research India and later joined them as an assistant researcher.
OLA
The idea for a cab company struck Aggarwal when he had a bad experience with a cab, which led him and Ankit Bhati to co-found Ola Taxicabs in 2010. Ola Cabs have come to the largest network of particular transportation options within India and has surfaced as the most popular choice for numerous consumers in 22 Indian States.
By 2014, the company was now pocketing a network of relative automobiles across 100 cities. Also, it had been clocking a mean of relative bookings per day and also was now sitting on 60% of the cab market share of India.
Soon OLA also made some huge developments, which again served them well. Some of these included –
They launched their Ola Mini service in Bangalore & successively in Delhi (NCR), with a line of over 250 buses, and were also in medications to grow to 800 by 2015. Their offer again was enough unique and soliciting. They had started with an introductory price of Rs12/ km with a base price of Rs. 150 for the first six kilometers, making them the cheapest AC Cabs services available.
Next, Ola included motors in Bangalore and also expanded this service to other metropolises like Delhi, Pune, and Chennai.
Latterly, they announced their biggest news so far. OlaCabs bought TaxiForSure or TFS in March 2015 for about $200 million. Although, this wasn't their original plan. Their original purpose was to fill in their huge demand of drivers and, hence they had first tried to draw in their drivers by paying them some Original Perk Attachment Bias freed from Cost, but since they failed, they had to protect for the commercial to take care of their stable growth. Ola, who only worked with Motorists, had now begun working with the cab drivers after the accession.
With this accession in place, they also launched Cashless Rides, which not only worked with the taxicabs on their network but was also extended to Auto cabs and Kaali-Peeli Taxi. Ola lately has launched Ola Cafe. In simple terms, through this service, one can order food, grocery, vegetables, etc., and gain it delivered to their homes.
And once you check out Ola's growth, it's gone on to come India's favorite mobile app for cab booking, out- beating their challengers like Uber.
Talking about their fundings, Ola has raised $676.8 Million from investors like SoftBank, ABG Capital, Accel Mates, Mauritius Investments, Tiger Global Management, Matrix Mates, Steadview Capital, Sequoia Capital, and DST Global.
In May 2020, Ola Cabs laid off around 500 workers to survive the profitable impacts of COVID-19. It had suffered an inviting loss of about 95%.
In a webinar addressed to the scholars of Bennet University, Bhavish said that the COVID-19 epidemic was about to accelerate the inventions in technologies. He claimed that the markets might move towards auto rentals and subscription-grounded ownership of the car.
Despite all the hardships, OLA continues to grow. OLA has achieved a whopping net worth of $6.5 Billion. We don't see the fall of this company in any near future.
Awards
ET Awards, Richest of the year, 2017.
Conclusion
Bhavish took a huge risk by quitting his job and starting OLA, but he knew that he had to take the risk as this was his only ambition. Even today, when his company is so successful, he is determined to take it to new heights. His determination can be seen in his attitude. To this date, Bhavish does not own a car. He takes 3 to 4 trips as a customer and notes down all the flaws that are needed to be addressed. If you liked this article, we have another inspiring startup story for you.
You May Like