Best Applications Of Augmented Reality In Healthcare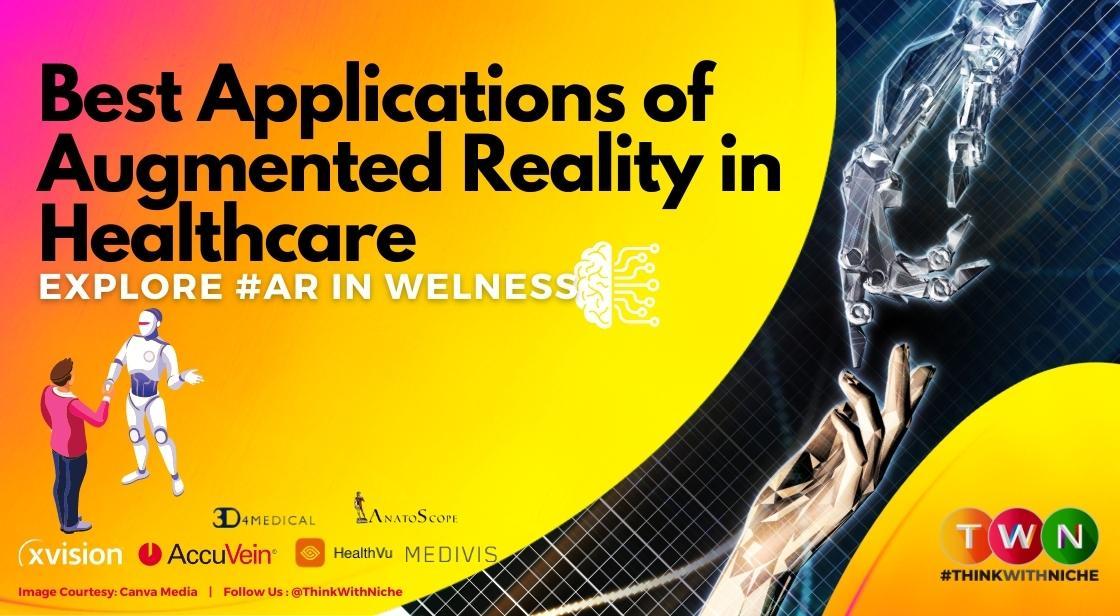 Due to the opportunities provided by AR technology, medical and diagnostic procedures are becoming more effective. Data visualization is used by doctors not only throughout the course of treatment but also during surgical training. AR experiences can be used to demonstrate and study how medical devices and new medications interact with the body. Many life science companies are utilizing augmented reality techniques to improve medical practitioners' (HCPs) ability to communicate in an interesting and effective manner.
Augmented reality is used by healthcare practitioners for two main purposes. First and foremost, for purposes of diagnosis and treatment, and second, for the training and education of medical professionals. Smart glasses and other augmented reality (AR) tools make it possible to monitor vital signs during surgery and have access to other crucial data. Such encounters significantly improve the standard of care and reduce the risks associated with procedures.
It may be challenging to use augmented reality technology in the healthcare industry, therefore weighing all benefits and drawbacks and comprehending precisely how the AR solution will improve the service are essential. We'll give a few examples of the Best Applications Of Augmented Reality In Healthcare.
Continue Reading..
According to studies on medical malpractice, up to 1,500,00 people experience a non-fatal injury each year as a result of medical errors. AR, a technology used to lessen medical error and enhance patient care and safety, aims to make it easier for doctors to access patients instantly through visualization, help first responders with treatment instructions, and directly diagnose patients' current conditions without the need for emergency medical services (EMS).
By allowing students to practice in real-time and simulate surgeries, augmented reality technology has an impact on medical education and training. It helps the patient's care team communicate better and gives healthcare providers patient-specific information. Additionally, by utilizing video telehealth features that enable real-time communication with distant medical specialists and permit healthcare to distribute resources effectively, AR can help in cost reduction.
In fact, augmented reality (AR) is already significantly changing how businesses and organizations learn, interact, visualize, and grow, and its potential to completely alter industries is only now becoming clear.
The augmented reality (AR) industry is anticipated to increase from $15.3 billion in 2020 to $77 billion by 2025, as reported by Markets and Markets, demonstrating how important a role this technology will play in transforming society in the future.
and healthcare is only one instance of how AR is improving society.
Numerous new developments in the healthcare industry are emerging as the market continues to develop and are assisting medical professionals in providing patients with care that is quicker, cleaner, smarter, and safer.
Ten of the most fascinating examples of how AR is transforming the healthcare industry are given here.
We'll get a brief overview of the Best Augmented Reality Applications in Healthcare in this blog post.
To assist doctors in rapidly, effectively, and painlessly identifying pertinent veins in patients, AccuVein AR offers intelligent vein visualization.
AccuVein enhances annual savings by as much as $350,000+, raises the probability of a successful first-time injection by 350%, and maintains patient satisfaction by enhancing vascular access.
The world's first augmented reality surgical guidance system is offered by Augmedics XVision. With the aid of this instrument, surgeons may view a computer representation of the anatomy of the patient from below the skin's surface, guaranteeing that every procedure is carried out precisely.
Anatoscope offers software solutions to automatically transform imaging into full 3D digital twins of the patients, ready for motion and physical simulation, to help diagnoses, to virtually try treatments, and to automatically design the best braces and prostetics for medical device companies looking to improve their personalized designs. Its unique method registers biomechanical templates to customized images and is the result of 20 years of study at CNRS and INRIA.
Its objective is to set the bar for customized brace and prostetics design by collaborating with dentistry, imaging, and orthopedic businesses.
4. HoloAnatomy
Medical students are learning about patient anatomy in a new and innovative way thanks to Microsoft's cutting-edge augmented reality technology.
HoloAntomy now offers a completely interactive experience where students can contribute and learn in ways that were previously thought to be impossible, as opposed to earlier versions of the subject when lectures on human anatomy were restricted to passive, didactic teaching methods.
5. Trajekt AR
Your performance is highlighted in the Virtual Replays that Trajekt creates from your Strava activity. You'll like syncing your activities with this app to track your progress if you've ever used Relive or another route visualizer. With an avatar, it simulates each step or pedal stroke to display how you and your buddies performed along each foot of the course.
Understanding of augmented reality (AR)
Use your phone's camera to watch your avatar race on a 3D map that is projected into the ground. Fast loading times allow for longer sessions. You can choose the playback speed. You can also adjust the camera angle and magnification level.
Another illustration of how AR is influencing the future of robotic surgery is Medivis.
With Medevis, healthcare practitioners can leverage the power of AR and artificial intelligence (AI) to provide improved patient outcomes, save costs, and boost productivity inside healthcare organizations.
7. Dorothy
The first augmented reality (AR) helper in the world, Dorothy enables patients with memory-decreasing diseases like Alzehimer's lead better, more fulfilling lives.
Dorothy uses cutting-edge augmented reality (AR) technology to guide patients with memory loss around any setting and will prompt them to finish tasks throughout the day.
It can also be used by caretakers to track the whereabouts of their patients to make sure they are never lost and are always in a secure area.
9. Complete Anatomy
The most precise, sophisticated, and popular 3D anatomy platform in the world makes another significant advancement with ground-breaking new technology, models, and content. An anatomy learning platform with special features for collaboration and education, not just an atlas.
200 of the top institutions in the world use it, including 6 Ivy League schools in the US, 20 of the top 25 medical schools worldwide, 7 of the top 10 largest public universities in the US, and 9 of the top 10 ranked universities in the UK.
In order to give healthcare professionals and patients the opportunity to learn "on the spot," HealthVu animates healthcare advertising, product packaging, point-of-sale promotions, and other imagery with 3D and video experiences.
With the help of your smartphone and cutting-edge augmented reality technology, HealthVu can create incredible learning opportunities. In order to launch 3D models, video, presentations, and internet content, HealthVu recognizes specific photos.
In addition to other features, HealthVu activates 3D models, virtual trainers, animated TV screens, on-page videos, and on-pack videos. The HealthVu mobile experiences combine interesting educational possibilities with the chance to connect with extra internet information and advertising options.
11. Arthroscopy Training
Ever wished to practice arthroscopy techniques on a pricey simulator? In a virtual or augmented reality environment, you may now learn about the anatomy of the shoulder and the typical diseases seen during shoulder arthroscopy.
You get a solid foundation in the fundamentals of shoulder arthroscopy from the descriptions and high-definition pictures for anatomy and tools. We are able to instruct you in some of the fundamental abilities required for arthroscopic surgery using motion tracking in augmented reality.
Conclusion
What is the potential for augmented reality in healthcare? We can anticipate even more innovation that will fundamentally alter the field of healthcare as the AR market continues to flourish and more developers enter the fray.
Additionally, we anticipate a continued expansion of the connections between augmented reality, artificial intelligence, and machine learning in the healthcare industry. A new era in medicine is just beginning and augmented reality has already given us a fascinating preview of what it could look like in the future.
You May Like
Technology Advancement and Wellness

Technology Advancement and Wellness

Technology Advancement and Wellness

Technology Advancement and Wellness