All Time Best Women Centric Films Of Bollywood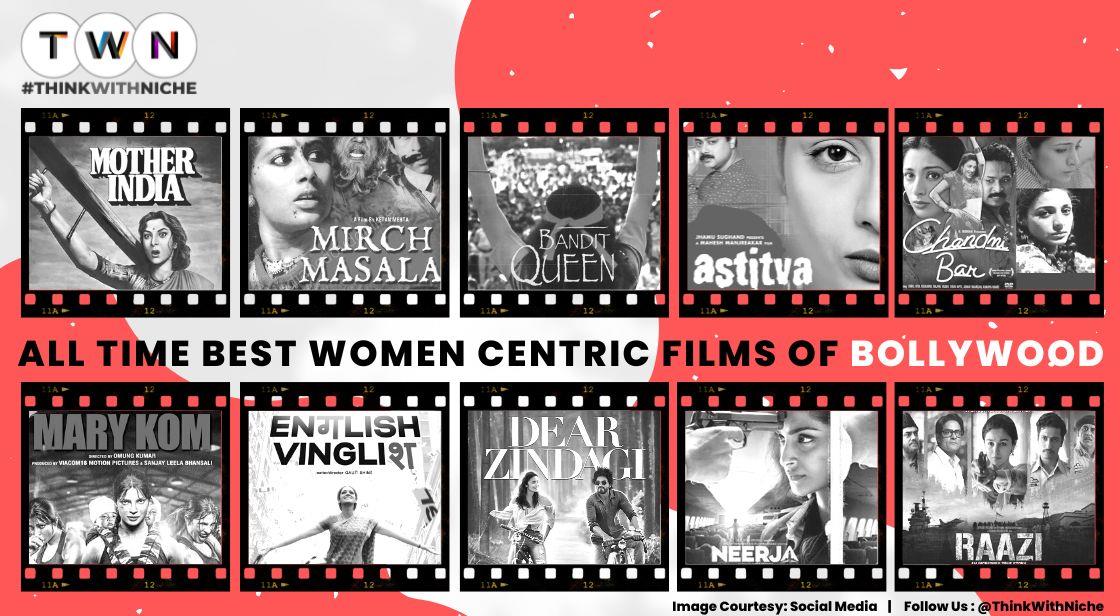 People often watch Bollywood movies for entertainment. For a long time, there was a belief that films have female leads but a film needs a good actor to earn the title of superhit. Film directors themselves also believed that women-centric films give a good message but lag behind in terms of earnings.
Only a few viewers take such films seriously and that is the reason why films do not do well. In this decade there was some change in Bollywood films. The directors made women-centric films in different ways, which were accepted by the audience, appreciated by the people, and even demanded more such films.
This is a great example of how times are changing. Bollywood is no longer just for men anymore. In modern films, women have come a long way from being decorative elements, if not victims or martyrs, to being a powerful force.
From the abla naari to the woman of substance and strength who fights for her rights, speaks out against injustice, defends her dignity and self-esteem, and rebels when necessary, I
Today we will tell you about some of the All-Time Best Women Centric Films Of Bollywood which made the audience think and because of these films, there were many good changes in society.
Continue Reading..
For decades, Hindi cinema has been a mirror reflecting its times and scenarios, and the circumstances the country has gone through. From playing the role of mere decorative objects in films, from sometimes being victims or helpless to being a strong force to be reckoned with, women have come a long way in our films. Hindi film actresses have earned a strong, self-respecting, and empowered identity who stand up for their rights, raise their voices against injustice, fight for their dignity and self-respect, and who deserves what they do not get. She also rebels against this.
Hindi films over the decades have effectively represented the changing times and cultures, be it the massive change in professions that women have been exposed to or even the domestic abuse against women today. From Meena Kumari to Vidya Balan, from Mother India to Lipstick Under My Burkha, the women of Hindi cinema have been instrumental in bringing about a change in the country. We bring you films that show women as heroes. And she is playing an important role in creating her own identity in society.
The decade saw directors create women-centric films of different genres, which were embraced by the audience, appreciated, and even demanded for more such films. This is a great example of how times are changing. Today we will tell you about some of the best women-centric films of Bollywood, which made the audience think, and because of these films, there were many good changes in society.
1. Mother India (1957)
Mother India is a great classic film from the early period of Indian cinema. Probably this was the first popular film that was highly appreciated not only in India but also abroad. It was an offbeat film of its time. It is considered to be one of Nargis Dutt's most influential and iconic performances.
Nargis as Radha is a poor rural woman who fights against all odds to raise her two sons. He is seen as a symbol of justice and like a god by the villagers. True to her principles, she kills her immoral son for the sake of justice.
Mehboob Khan was a pioneering producer-director of Indian cinema, best known for directing the social epic Mother India, which won two National Film Awards, the Filmfare Award for Best Film and Best Director, and the Academy Award for Best Foreign Language Film.
2. Mirch Masala (1987)
Mirch Masala, directed by Ketan Mehta, tells the story of a simple village woman, Sonbai, played by Smita Patil, who chooses to say no to a powerful officer, Subedar, played by Naseeruddin Shah, to save her from his evil eye.
Deepti Naval's character is that of the village chief's wife who rebels against her husband's tyranny against his desire to educate their daughter. Truly an impactful story of women's empowerment during regressive times. This presents a unique example of women's struggle for their existence.
3. Bandit Queen (1994)
The film is a biopic based on the life of Phoolan Devi, an Indian dacoit and portrayed by Seema Biswas who was sent to jail in 1983. He was prosecuted by the Indian police and turned into a legend by the people.
This is the story of a woman who fights against all the atrocities committed by men from police to goons. Ultimately she overpowers them all and emerges as a strong woman. Shekhar Kapur directed the film based on Mala Sen's biography, India's Bandit Queen: The True Story of Phoolan Devi.
4. Astitva (2000)
Astitva directed by Mahesh Manjrekar exposes the malevolent culture of Indian society. It exposes the issues like extramarital affairs and marital abuse prevalent in society, this issue was never talked about openly.
The film tells the story of Aditi Shrikant Pandit, a woman played by Tabu, who is trying to find her identity outside her marriage and is separated from her husband and son, who is supported by her future daughter-in-law, Namrata Shirodkar. And in the end, she also leaves the house, supporting her mother-in-law.
5. Chandni Bar (2001)
Chandni Bar brings to light the dark and helpless lives of many Mumbai women trapped in a web of underworld, prostitution, dance bars and crime. Tabu, who plays Mumtaz in the film, works hard to give a better future to her children but circumstances get the best of her. Directed by Madhur Bhandarkar, it is a nerve racking tale of the realities faced by women in certain areas of Mumbai.
6. English Vinglish (2012)
English Vinglish is the story of Shashi Godbole, a hardworking housewife. Shashi does her work with utmost devotion and is a wonderful wife, mother and homemaker yet Shashi's husband and her daughter often let her down. The reason for his behavior is that Shashi does not know how to speak English language.
Shashi learns the English language during an American trip and her family's attitude changes towards her. The character of Shashi Godbole is played by Sridevi in the film and the director of the film is Gauri Shinde.
7. Mary Kom (2014)
Priyanka Chopra Jonas played the lead role in this film based on the life of Mary Kom. The film traces his journey from training at a local gym to becoming a national champion. While the film was criticized for Priyanka's tone, it cannot be denied that it is a powerful story.
8. Dear Zindagi (2016)
'Dear Zindagi' is the story of Kaira, who lives in Mumbai. Kaira is a cinematographer and wants to make her own film. Kaira's life takes a turn when she breaks up with her childhood friend for a guy who gets engaged to another girl without her knowing. Meanwhile, due to some problems, he has to leave Mumbai and come to Goa to be with his parents.
Due to bad relationship with parents, breakup, betrayal, Kaira starts feeling very sad and can't even sleep. Amidst all this, Kaira meets Dr. Jehangir. Kaira learns that she is suffering from depression. Dr. Jahangir tells her several unorthodox ways that Kaira gets to know herself better.
Finally, she also completes her short film, on which she was working for many years. In this film, Alia Bhatt plays the character of Kaira and Shahrukh Khan plays the character of Dr. Jehangir. Dear Zindagi movie is directed by Gauri Shinde.
9. Neerja (2016)
When it comes to biopic films hardly anyone forgets to mention Neerja movie. The film Neerja is based on the life of flight purser Neerja Bhanot, who saved the lives of 359 passengers and crew on board the flight after it was hijacked and Neerja died saving them. Sonam Kapoor played the character of late Neerja Bhanot in the film and the film also won the National Film Award.Ram Madhvani is the director of Neerja. Along with Yogendra Tikku, Abrar Zahoor, Shabana Azmi, and Sonam Kapoor.
10. Raazi (2018)
After doing Student Of The Year, Alia Bhatt has given stellar performances in several women-centric films such as Highway, Dear Zindagi and Raazi. In the coming times also some women centric films of Alia will be released. The film Raazi is based on Harinder Sikka's 2008 novel Calling Sehmat, which is a true story.
At the behest of her father, Sehmat marries into a Pakistani military officers' family so that she can convey some important information to India. Through this film, Sehmat explained the meaning of being a true patriot. The film stars Alia Bhatt in the role of Sehmat and the film is directed by Meghna Gulzar.
You May Like
Lifestyle and Entertainment

Lifestyle and Entertainment

Lifestyle and Entertainment

Lifestyle and Entertainment