6 Things You Need To Start A Resume Writing Business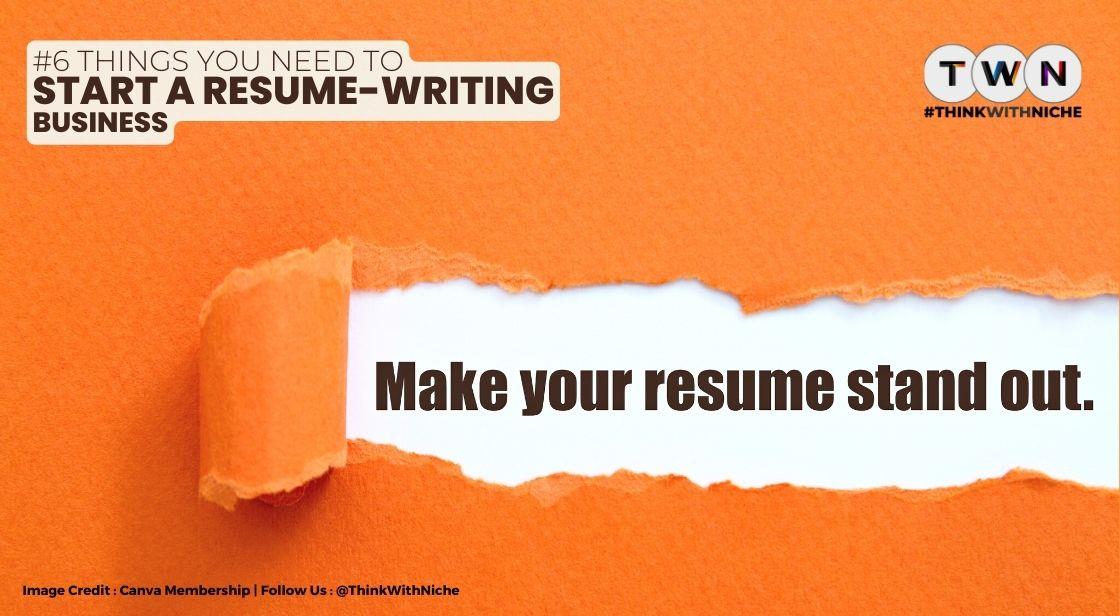 For those with experience in human resources, recruiting, writing, and related professions, starting a resume writing business can be a wise career move. Professional resume writers have the flexibility to determine their specific tasks, working hours, and location of work. Understanding how to start a resume writing business can assist position your new company for success in the future. In this post,
This article will explain what a resume writing business is, how to market and advertise it, and other pertinent issues that may be helpful to you. So if you are looking to open a small business on the side, resume writing is a great business idea.
Continue Reading..
Resumes are the first impression a job seeker makes on an interviewer. That one sheet of paper can make or break your career (it's an exaggeration but you get my point). A well-written resume can make you stand out from the crowd. That's why designing a good resume is of utmost importance when you are going for a job interview or are applying for a job.
But now many have opened their eyes to the power of a well-written resume and therefore it's a wonderful business opportunity for anyone with good writing skills. A resume writing business is a great idea for a small business that you can easily operate on the side. It doesn't require much; both in terms of resources and investment.
What exactly is a resume writing business?
A resume writing business is a service that helps job seekers in creating resumes that are formatted professionally, document their prior experiences, and highlight their relevant skills. It is simpler for clients of a resume writing service to capture the hiring manager's attention and demonstrate on paper their vast qualifications for the position.
Businesses that write resumes frequently conduct in-person or online interviews with jobseekers to learn more about their education, professional experience, skills, and credentials. The candidate's pertinent experience will subsequently be included in a resume that is written by a professional resume writer. Businesses that specialize in resume writing may also offer other career services, such as cover letter writing or career counselling.
How much does it cost to start a resume writing business?
The majority of experienced resume writers advise aspiring authors to start out small by working from home. To begin providing services, all you need is a computer and a phone, but you also need a way to advertise that you are available for business. It can cost as little as $20 to purchase a domain name, put up a website, and create social media pages. If you want to meet clients face-to-face without renting office space, you can do it at a coffee shop. Depending on your state, how much you earn, and how many hours you work, you might require a small business license. If you decide to establish an office, you will need to budget for rent or lease expenses. Startup expenses could total as little as $50.
What are the ongoing expenses for a resume writing business?
The cost of maintaining a resume writing list will be relatively low:
Maintenance of computers

Marketing costs

Rent for offices

Clients' refreshments

Maintaining a resume-building education
Who is the target demographic?
Entrepreneurs in this industry are searching for clientele who are aware that employing a resume writer could mean the difference between months of unemployment and high-paying employment. Your clients will be sensible, long-term thinkers who see the need of making sound investments today for the future.
How does a resume writing service generate revenue?
For their work, resume writers often charge a fee that covers all services. To put it another way, there isn't a separate charge for the interview, editing, etc. Prices should reflect the writer's skill level and time commitment.
How much can you charge customers?
Depending on who is providing the service, professional resume writing services might differ greatly. Those with very little experience and very cheap overhead may only charge $20 or less. Individuals with extensive understanding in a well-paying sector, however, can charge up to $1,000 for drafting a resume that includes personalised cover letters and thank-you cards.
How to promote and advertise a resume writing business
The key to promoting a resume service is demonstrating to candidates how you can profit from their employment. Create a user-friendly website that is routinely updated to advertise your services. Pay-per-click advertising on Facebook groups for job searchers is something you might want to consider. Candidates should be informed quickly if a short-term investment now could earn them tens of thousands of dollars or more annually. Describe how you attract the interest of even the most discerning decision makers. If you want to stay local, cold calling and print media may also be useful for spreading the news.
So if you are looking to set up a small resume writing business for yourself, here are 6 important things you'll need to take care of first.
1. Writing Skills
This one's a pretty obvious tip. You are stepping into a writing business and you'll need to have a good command of the English language. You must know how to express a lot in just a few sentences. Apart from this, you'll have to learn how to write attractive sentences without any grammatical errors. Nothing can be worse in a resume than a grammatically incorrect sentence.
2. Good Interviewing Skills
You cannot fill a resume with false information. So to get all the right information from a client, you'll have to learn how to be a good interviewer. You'll have to extract out all the required information such as education, background, skills, experience, abilities, hobbies, etc.
3. Designing
A good resume has to have a beautiful and simple design. And here you'll have to decide whether you want to take some time off and learn a bit of designing or team up with a designer and share the profit. Designs are an extremely intricate part of a resume and this tip can potentially help your business expand.
4. Develop a Business Plan
Before starting any business, big or small, you'll have to chart out a business strategy that you can follow strictly. This business strategy will include everything, from your ideas to your future vision, to your marketing tactics, everything. So sit down and plan a strategy that works well for you.
5. Website/ Social Media
You'll have to have a catalog of all the resume designs that you can create. For this, you'll either need a small website or an Instagram page where you can display your resumes. Your clients can easily go through them and decide which design they would want for their resumes.
6. Marketing Tool
You'll have to spread the word about your business. And for that, you'll have to take the help of various marketing tools available, such as social media, LinkedIn Profiles, mailing lists, brochures, online advertising, etc.
You May Like
Marketing and Communications

Marketing and Communications

Marketing and Communications

Marketing and Communications