5 Must-Have Email Marketing Tools to Skyrocket Your Business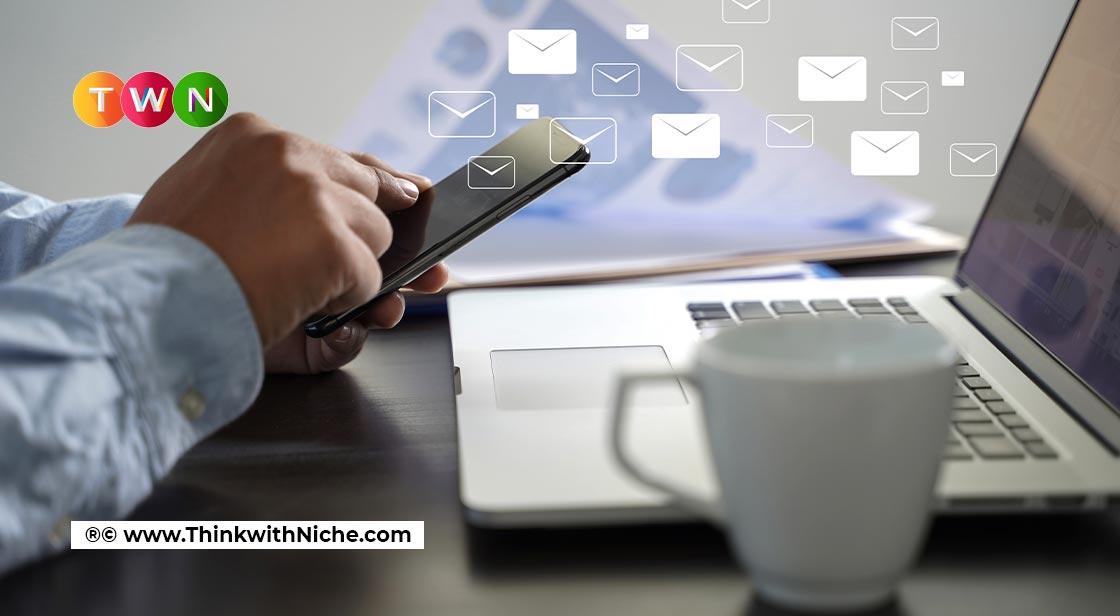 You may either work on the product or waste that time sending emails to people. So cut you some slack online email marketing came as a savior. You can send up to thousands of emails in just a click and utilize that time it improving the service or the product. This article can be a lifesaver if you are looking for the best email marketing tool. #TWN
Continue Reading..
Email Marketing Tools & Services
With the surge in online businesses globally, everyone wants to reach maximum people and turn them into loyal customers. Sending emails to every single person is a tedious job that consumes a lot of time. You can either work on the product or waste that time sending emails to people. So, to cut you some slack online email marketing came as a savior. You can send up to thousands of emails in just a click and utilize that time it improving the service or the product. This article can be a lifesaver if you are looking for email marketing software. Here we will talk about the 5 email marketing tools that you can look into if you want to boost your business.
Best Email Marketing Tools
HubSpot

GetResponse

Moosend

Mailchimp

MailerLite
These best email marketing tools companies are unique in themselves. They all have some features that are unique to themselves. It is up to you which one will you entrust your business with. Choosing the right tool for email marketing can make or break your business. So, we will talk about the best-in-class tools, and ultimately you can choose the one to go for.
HubSpot
It is considered a one-stop for content marketing software. It can do all the work you can think of. From managing web content to managing social accounts in one place, you can deploy it to do any web job you want it to do. It can manage web content, create landing pages, show internet traffic, and manage every single social media account related to your website. If you do things traditionally, you will need different agents to carry out every function mentioned above. It will include a definitive amount of workforce and manpower to do the work. With HubSpot, you can do all the work at once without segregating the tasks and prioritizing them. Try HubSpot today!
HubSpot offers a bunch of tools that you can use to push the limits of your business. Integration of certain features for Microsoft Dynamics CRM, NetSuite, Salesforce.com, SugarCRM, etc., has made HubSpot one-of-a-kind software to entrust. In addition to all the features, Taboola can also be seen in its dashboard. Talk about the PPC model, and HubSpot has it. It is great software, to begin with, email marketing.
Let's talk about the pricing HubSpot has to offer.
HubSpot Marketing Hub offers three different prices, namely starter pack, professional pack, and enterprise pack. It's provide a free email marketing tools, you do not need to pay anything. You can manage contacts, monitor web activity, and much more without costing a penny. Just sign up.
1. Starter Pack.
The pack starts at $45 paid monthly. If you decide to pay annually, it'll cost you only $540. In the package, you will be allowed to email up to 1000 contacts. If you wish to get more contacts in this starter pack, you need to pay a bit more for those added contact. For instance, if you want 2000 contacts, you will have to pay $90 in the starter pack. In the starter pack, you will get various benefits like the removal of HubSpot Branding from various forms, emails, landing pages, etc. You will get storage for up to fifteen million contacts overall.
2. Professional Pack
This pack starts at $800 paid monthly. In the annual plan, it will cost you $9,600. You can manage up to 2000 contacts in this plan. Just like the starter pack, you can get more contacts and pay for them. The plan is packed with tons of features (starter pack features are included) like automation & personalization of engagement on different channels, efficient campaigns, A/B testing, ad optimization, web traffic analysis, and many more. This plan is best for a business that has grown a bit and needs further push to get leads.
3. Enterprise Pack
This pack is the most expensive one among all three plans. This plan will cost you $3,200 paid monthly. Annually, you will have to pay $38,400 for 10,000 contacts. It is the ultimate plan one could go for if the organization is big and need multiple leads to convert them into potential customers. It has every feature of the starter and professional pack. In addition to those, you get features like team management tools, brand management tools, team hierarchy, adaptive testing platform, lead scoring, and many more at once.
GetResponse
This tool is like a wizard of online marketing tools. With the introduction of this software, sending emails in bulk has become a piece of cake for marketing businesses. With GetResponse, you can send emails to a vast audience, and many would turn out to be potential customers for your business. Without beating around the bush, let me tell you about the price plans the company has set up. Try GetResponse for Free!
If you are newcomer and want free email marketing tools, then there is no better tool than this. This plan can be used for 500 contacts. In this plan, you get unlimited newsletters, one landing page, a website builder, a custom domain, and signup forms. It is the minimum you would need for starters. If you want to upgrade, there are three other plans lined up.
1. Basic Pack
It is a Package that will cost you $12.3 paid monthly for a thousand contacts. You will get every feature that was available in a free plan, and more will be available too. You will get autoresponders, countless landing pages, many website builders, basic segmentation, and email scheduling. To get this plan, you will need to create a free account where you will get free services. Then you can buy the basic plan according to your needs.
2. Plus Pack
For this pack, you will have to pay $40.18 monthly. This package will have everything you had in the Basic pack. In addition to that, you will have services like Webinars, marketing automation, the addition of three team members, tagging & scoring the contacts, advanced segmentation, and five sales funnels.
3. Professional Pack
It is the ultimate plan that any organization could have. For a thousand contacts, you will pay $81.18 monthly. You will get every feature of a Plus Pack. Additional services include unlimited automation, adding five team members, paid webinars, web push notifications, unlimited funnels, and many e-commerce features.
Moosend
When it comes to email marketing, one name always rings a bell and is known by almost everybody. Moosend is an amazing email marketing tool available on the market that can be used to nurture leads without depending on the changing market situation. The main aim of Moosend is to expand the lead–nurturing strategy very efficiently. Moosend tries to automate some of the monotonous marketing chores to free you from all the marketing stuff and allows you to focus on more important things like improving client relationships and new product development. Let's talk about the price plans of Moosend so that you can get started with it right away. Starting with a positive and amazing point, Moosend does not ask for your credit card details when you open an account and try for free. Instead, it will give you an option for a 30-day free trial and then ask for your details. Isn't that a good deal? Get Started with Moosend Today!
1. Pro package
Pro package has almost everything you want, and that too, at a reasonable price. For 500 contacts, all you need to pay is $9 per month. It is the lowest you can pay. For 50,000 contacts, you will have to pay $315 per month. It is not that much expensive considering the features you get. You get unlimited emails, automated workflows, unlimited landing pages, and an SMTP server. One service that is missing in the package is the account manager, but don't worry, another plan will leave no stone unturned.
2. Enterprise Package
It is a type of custom plan that allows you to choose from the services you want to have. This plan will have every pro feature that we have talked about. In addition to that, an account manager will also be available. You will pay for what you use, with no extra charges.
Mailchimp
Mailchimp is another tool that can be used extensively for email marketing. It is among the earliest companies that offered email marketing tools. It helps you in building the audience, importing the contacts (if you have any), creating a landing page for new contacts, and many more features. For new members, it provides a tour to make it easy for them to understand. Everything that I have mentioned comes at a price, and I am about to list the price plan. The plan might come as a shock to a few people. Talking about the free plan, you will not pay a penny for the services. You will get about 2,000 contacts in this free plan. Talking about the services, you will get access to marketing CRM, a website builder, Mailchimp Domain, creation of landing page, creative assistant, and many more.
1. Essential plan
This plan is very effective and useful for email-only senders who prefer support around the clock. At the cost of INR 770 per month, you will be able to get 500 contacts for email campaigns. You will get every feature that was available in a free plan. In addition to that, you get templates for email and landing pages, customized branding, A/B testing, and many premium features.
2. Standard Plan
This plan is the most recommended plan by Mailchimp. The plan has data drive automation tools and optimization tools included. You will have to pay INR 1,150 for 500 contacts. As you might have guessed, you will get everything that essential package was included. In addition to this, you will get branching points, custom templates, dynamic content, and many more features.
3. Premium Plan
It is the most expensive plan that Mailchimp offers. It is for those who are already in the field and are doing good. The upgrade plan is ultimate for big businesses to bring in more leads. For this plan, you have to pay INR 23,000 per month for 10,000 contacts. Yes, it is very expensive but highly beneficial for email marketing. You get every feature of the standard plan. In addition to this, you also get advanced features and tools like advanced segmentation, multivariate testing, phone support, priority support, and many more.
MailerLite
MailerLite is another amazing software that many small business owners, bloggers, and many content creators. They use MailerLite to collect emails and create landing pages & forms. Let's talk about the prices MailerLite has to offer. Just like every other company, it also has a free plan that you can use. In the free plan, you get up to a thousand subscribers and an email limit of 12,000 emails per month. If you want to get unlimited emails, pay $10 for the same number of subscribers. $15 for 1,000 to 2,500 subscribers. $30 for 2,500 to 5,000 subscribers. $50 for 5,000 to 10,000 subscribers. MailerLite is an affordable service if you don't want to spend much on email marketing.
Conclusion
The software or company for your business email strategy is completely your choice. We have lined up what is the best in the market right now. With this price listing, you will be able to make a decision and choose a plan of the best email marketing software that works best for you. You don't have to choose right away. Read the articles related to these email marketing tools and make a wise decision.
You May Like