Use Canva To Create More Than Just Pictures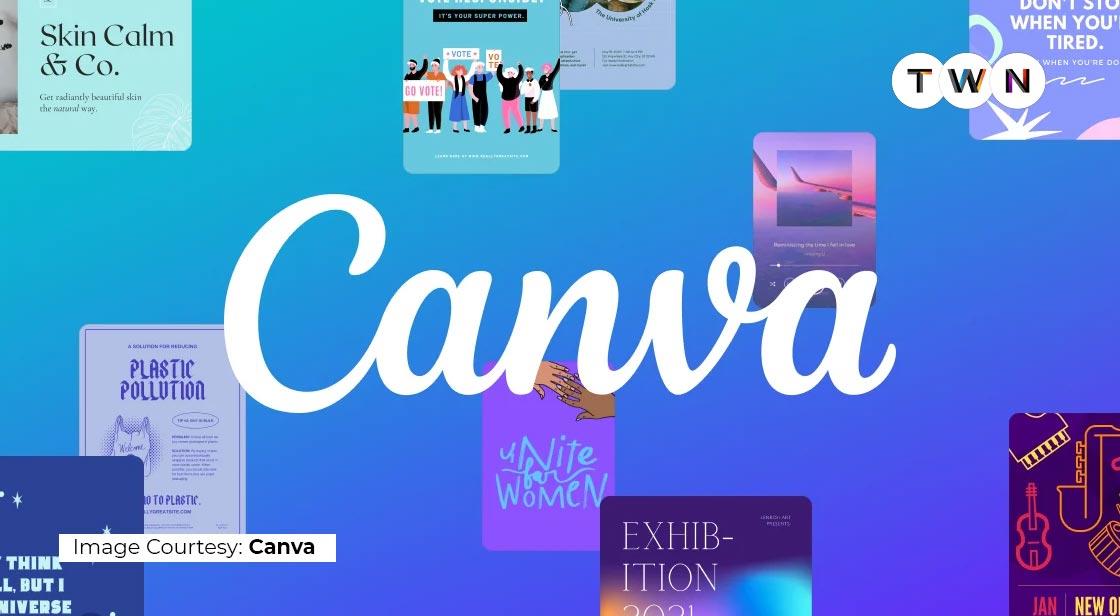 Thanks to its user-friendly drag-and-drop interface, Canva is a breeze to use. Users can use Canva to generate graphics for social media, presentations, posters, as well as other visual content. Anyone can take an idea and turn it into something beautiful thanks to a simple user interface and a large collection of templates and design ingredients like fonts, illustrations, video, and audio content, as well as the ability to include content from the web like Giphy and Google Maps. Canva is an app that can be used on the web, iOS, and Android. With Canva, you can learn more about your hidden creative power for social media, print materials, and more. #TWN
Continue Reading..
Canva is a visual design platform that you can use for free or purchase a paid upgrade to gain access to a more comprehensive set of features. Canva can be used as a simple web browser photo editor, but its actual potential resides in transforming simple photos into design elements such as social media posts, cards, brochures, posters, logos, and the header or cover picture for a Facebook page, among other things. Canva's free tier comes with a plethora of tools and templates that anyone can use to create great graphics without having any prior knowledge of graphic design.
Features of Canva Design Platform
Ease of Use
To guarantee that you obtain the finest results, Canva includes a library of varied backgrounds, themes, photos, fonts, and stickers. You don't need to be a technologist to take advantage of these capabilities. These tools allow you to build an engaging design in only a few clicks. All you need is a little imagination.
Change and Resize your Designs Easily
You recall that you need that very same ad modified for Instagram, or perhaps Eventbrite or MailChimp after you've successfully developed a Facebook banner. However, one image size will not work for all social networking platforms. With Canva Pro's Magic Resize feature, you can quickly resize your design to fit a range of templates.
Drag-and-drop Editor
Working with pictures, videos, templates, objects, and typefaces is simple with the drag-and-drop editor for the web. Select whatever you want to make, and Canva will show you everything you need. You can alter and add them using the drag-and-drop method. In minutes, you will be able to generate your visualizations. If you've used the templates previously, you'll be able to make them in a matter of seconds.
Creates more than just Images
Canva is commonly thought of as a tool for making images solely. Cards, calendars, business cards, blog posters, newsletters, menus, certifications, workbooks, webpages, brochures, and more may all be created. There are other resources available for online schooling as well. You can return to the drag-and-drop editor. Canva will propose templates based on the type of project you're working on.
Click Below on the Banner for experiencing CANVA as a useful Social Media Tool, For FREE
Photos Tab
You can pick from millions of free, premium, and Pro-only stock photographs under the Photos page. You can change the photographs on your designs to give them a fresh look or to make them more relevant to your industry. You can also use pictures from some other stock photography website or your images. Simply drag and drop them into the Uploads section. You may use Canva's picture editing features to apply filters, tweak the photo's parameters (brightness, contrast, saturation, and so on), crop, animation, and change the transparency after you've chosen a photo.
Form a Group
You may set up a team on Canva and give them accessibility to the designs. Through the shareable URLs to make adjustments, you may control the level of access that your team members or employees have.
Brand Kit
The Band Kit is a storage area for your brand assets, including fonts, brand colors, and logos. The main benefit is that you can easily access the assets while designing. It saves time and helps you maintain a consistent look across all your designs. The Brand Kit is only available in Pro and Enterprise accounts. You can create one Brand Kit with a Pro account. To create more, you must upgrade to Enterprise. It's better suited for agencies that design for multiple clients or corporations that house several brands.
Canva has three different pricing options. The following features are included in the free plan.
There are around 250,000 free templates available.

There are over 100 different design types to choose from, covering business cards, slideshows, and social media postings.

Photographs, logos, typefaces, photos, and graphics are all available for free.

Work in a group to exchange, collaborate, and review designs.

5 GB of cloud storage for your designs.

Share designs on Instagram, Twitter, LinkedIn, Facebook, Pinterest, Slack, and Tumblr, among other networks.
The Pro plan is available at $12.99 per month (or $119.99 per year) for up to 5 people. It will include everything available with the Free plan and the following.
There are over 100 million premium stock pictures, videos, music, and graphics available.

Up to 100 Brand Kits with your company's colors, logos, and fonts • Over 610,000 premium and freebie templates with new themes added every day

Background Cleaner and Magic Resize are available.

Make your templates with your ideas.

Save your designs in the cloud with 100GB of storage.

Create social media graphic designs for Instagram, Twitter, LinkedIn, Facebook, Pinterest, Slack, and Tumblr and schedule them across up to eight platforms.
The Enterprise package starts at $150 per person for a group of five. Everything available with the Pro plan is included, as well as the following.
Manage your team's access to apps, graphic elements, colors, logos, fonts, and posting with brand controls.

Workflows help you get approval for your designs.

With template locking, you can determine what your team may alter and stay on brand.

You can save your designs indefinitely.

Log in with a single sign-on (SSO) and have accessibility to Enterprise support 24 hours a day, 7 days a week.
Click Below

on the Banner for experiencing CANVA as a useful Designing Tool,

For FREE
Conclusion
Canva is a fantastic application that may assist your company in developing stronger social media marketing content. Everything from basic photo editing to producing social media photos, brochures, and documents can be done with it. It has a lot of features and is reasonably priced at $12.95 a month. There's also a basic free plan, and the customer service is excellent. It provides entrepreneurs and marketers with a superior design experience. But keep in mind that without a strategy, outstanding articles will do little to help your company develop.
You May Like