11 Top Tech Trends To Look For In 2023 And How They May Impact Your Life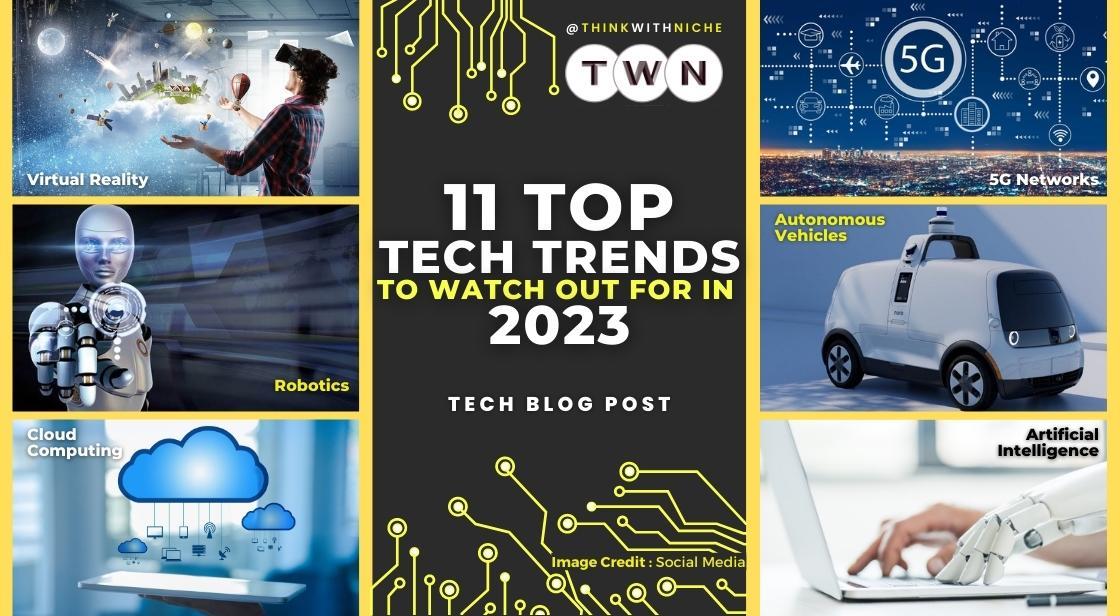 Technology has come a long way in the last few decades and the future looks even more promising with each passing day. In 2023, we are likely to witness a major shift in the way we interact with technology, with breakthroughs in artificial intelligence, robotics, and the Internet of Things. The top 13 tech trends of 2023 are sure to revolutionize the way we live, work, and play. Today's technology is developing quickly, enabling quicker change and advancement and accelerating the rate of change. However, there are many other changes that have occurred this year as a result of the COVID-19 outbreak, which has made IT professionals realize that their job will not remain the same in the contactless world of the future. From machine learning and autonomous vehicles to blockchain and quantum computing, these cutting-edge technologies will shape the future in ways we can barely imagine. As we prepare to embark on this journey of technological discovery, let's take a look at the most promising 11 Top Tech Trends To Look For In 2023.
Blog Flow:
Artificial Intelligence

Autonomous Vehicles

5G Networks

Robotics

Virtual Reality

Cyber security

Blockchain

Sustainable Technology

Cloud Computing

Green Energy

3D printing

Conclusion
Continue Reading..
As we move closer to the future, technology continues to rapidly evolve, offering us glimpses of the world to come. In 2023, tech trends will be more advanced, more efficient, and more exciting than ever before. From advancements in artificial intelligence to the emergence of 5G networks, the top 11 tech trends of 2023 will offer us a glimpse into the future. From the world of healthcare and transportation to the gaming industry, these trends will continue to shape the way we live our lives and interact with the world around us. It's an exciting time to be alive, and these tech trends will only continue to expand our horizons. Keep reading to learn more about the top 11 tech trends of 2023 and find out how they will affect our lives.
11 Top Tech Trends To Look For In 2023
1. Artificial Intelligence
Artificial intelligence has been a popular tech trend for years now, and it's only going to become more advanced in the future. In 2023, AI will have increased exponentially, and we will likely have begun to see strong ethical concerns regarding its use. While AI has the potential to make our lives easier, it can also pose a threat to humans if not used responsibly. As AI systems advance, they will be able to do more and more, and the decisions they make will be difficult to control or predict. This could lead to ethical dilemmas in certain industries and sectors where AI is already present. In healthcare, for example, AI could be used to recommend treatments for patients. However, if the AI is not programmed to take the patient's specific circumstances into account, it could recommend treatments that are not appropriate. This could lead to patients taking medications that are not necessary or being given incorrect doses. In order to avoid issues like this, researchers will need to make sure that AI systems are programmed with strong ethical algorithms that protect human rights.
2. Autonomous Vehicles
Self-driving cars have been around for a while now, but in 2023, they are expected to become the norm rather than the exception. Autonomous vehicles, or AVs, have been touted as the solution to many of the world's traffic problems, and they could dramatically reduce the number of accidents caused by human error. However, new technology is never completely problem-free, and autonomous vehicles are no exception. AVs are still in development, and there have been a number of accidents involving autonomous vehicles. While the accidents were not caused by the cars themselves, many of them occurred because humans were unable to react quickly enough to emergencies. AVs are expected to follow the rules of the road, but there are certain situations that they will not be able to respond to quickly enough. For example, if two cars are involved in a fender bender and there is damage to the vehicles, AVs will not be able to respond. The cars will need to be cleared before the AVs can move on. As AVs become more prevalent, it is likely that laws will need to be put into place to deal with the new technology.
3. 5G Networks
5G networks are expected to take the world by storm in 2023, dramatically increasing the speed and efficiency of our smartphones. 5G networks have been in the works for a few years now, and they are expected to be fully implemented by 2023. These networks will be faster and more efficient than 4G networks, and they will provide much faster speeds for things like downloading video and accessing the internet from your smartphone. These faster networks will allow us to do just about everything from our smartphones that we can do from our computers at home. They will also make it easier for businesses to streamline their supply chains and allow the "Internet of Things" (IoT) to become fully integrated into our society. 5G networks are expected to make the internet feel like an entirely new world, and they will dramatically change the way we interact with technology.
4. Robotics
Robotics has been an important tech trend for a while, but it is expected to advance significantly in the next few years. In 2023, robotics could be used in almost every industry and in almost every setting. From hospitals to homes, robotics will likely be used in some capacity. In hospitals, robotics are already used to perform surgery and assist healthcare workers. As technology advances, these robots will be able to do more and more. They will be able to perform certain surgeries more accurately and quickly and will be able to assist doctors and nurses with routine tasks. In homes, robotics will likely be used to complete simple tasks. Some people have already begun to use robotics in their daily lives, and these devices could become more commonplace in the coming years. Robotics could be used to clean floors and surfaces, keep an eye on pets and children, and power appliances in homes. They could also be used in an agricultural setting to help farmers with their work.
5. Virtual Reality
Virtual reality has been growing in popularity for years, and it will only continue to expand in 2023. VR has the potential to be used in many different industries, and it will likely be integrated into all aspects of daily life. In healthcare, VR is expected to be used to train medical professionals and provide medical services to people in remote or underserved areas. It will also be used to help people with certain mental health issues and allow people to connect with loved ones who are far away. In the gaming industry, VR is expected to grow dramatically. It is likely that most new games will include some form of VR, and more people will become interested in purchasing VR headsets. VR could also be used in education to help students learn. Instead of having a classroom full of students all learning at different paces, VR would allow for one type of learning for all students. VR could also be used to hold larger events where people around the world can virtually come together to watch a sporting event or concert. VR will likely become more commonplace in the next few years, and it will have an impact on all aspects of our daily lives.
6. Cybersecurity
As technology becomes more advanced, it is important that we stay focused on keeping information safe. Cyber security is expected to become even more important in the coming years, as hackers become more sophisticated. In 2023, businesses and other organizations will likely become even more focused on protecting their data. In order to protect themselves, many organizations will begin to employ artificial intelligence systems to monitor and protect their data. These systems will be designed to spot and flag any signs of a cyber attack, and they will be able to take action to protect the data before an attack can be completed. This could come in the form of an automated system that deletes the data if it is determined to be a threat. It could also be a system that shuts down the network to prevent the data from being accessed. Businesses have a responsibility to protect their client's data, and these types of systems could be helpful tool for keeping information safe.
7. Blockchain
Blockchain has been one of the top tech trends in the financial sector for a while now, and it is expected to grow even more in the coming years. Blockchain technology is used to verify the authenticity of items and to keep financial data safe. As we move towards a cashless society, blockchain will become increasingly important. Many banks and other financial institutions are expected to begin using blockchain to keep customer data safe and verify transactions. Blockchain is designed to be decentralized, and it is used to verify information and ownership without the need for a central authority. This makes it much more secure than systems that use a central server. Blockchain is expected to become even more widespread in the coming years, and it will likely be used to protect a wide range of data.
8. Sustainable Technology
Sustainable technology has been around for a while now, but it is expected to grow significantly in the next few years. Sustainable technology refers to technology that is designed for the long-term. It is energy efficient, it uses sustainable materials, and it minimizes waste. Sustainable technology is expected to become more prevalent in the next few years as people become more interested in protecting the environment. There are many different types of sustainable technology, and they are expected to become more common as time goes on. There are solar panels that generate energy from the sun and wind turbines that use the wind to create power. Sustainable technology is expected to become more common in everything from homes to cities. This will help reduce pollution and make it easier to protect the environment. Sustainable technology is expected to become more commonplace in the next few years.
9. Cloud Computing
Cloud computing has been an important tech trend for a while now, but it is expected to grow significantly in the next few years. Cloud computing refers to storing data and running programs on servers that are remotely located. This allows users to access their programs and data from any device, and it reduces the need for computers. Business organizations can increase the agility of their workload management by leveraging industrial cloud platforms. They can hasten improvements to data analysis, corporate operations, and compliance processes. To enhance adaptability, quicken time to value, and meet the demands of vertical industry sectors, they combine platforms, software, and infrastructure as a service.
10. Green Energy
For the benefit of our planet's landscapes and the energy we consume, everyone has committed to going green. As a result, homes use greener options like solar and renewable energy while cars run on electricity or batteries. Even better, people are aware of their trash and carbon footprints, making it even more beneficial to reduce them or convert them to renewable energy. Careers in the environment and in data are also growing in the alternative energy sector. These professions are relevant to persons with social science training and science specialties.
11. 3D Printing
The use of 3D printing to create prototypes is a strong trend in innovation and technology. The impact of this technique has been felt in the industrial and biomedical fields. We never considered printing a genuine object from a printer, yet it is possible now. Therefore, 3D printing is a further breakthrough that will endure. Many positions pay well and are available internationally for businesses in the data and healthcare sectors that need a lot of 3D printing for their products. You only need to be well-versed in artificial intelligence, machine learning, modeling, and 3D printing.
Conclusion
As you can see, 2023 is going to be a very exciting year. From an increased focus on artificial intelligence to the emergence of 5G networks and even more immersive virtual reality experiences, these are just a few of the top tech trends we can expect to see in the coming year. If you liked this article and would like to get more information on the trends mentioned above,
You May Like