Youtube Hacks Decoded- 6 Hacks You Definitely Do Not Want To Miss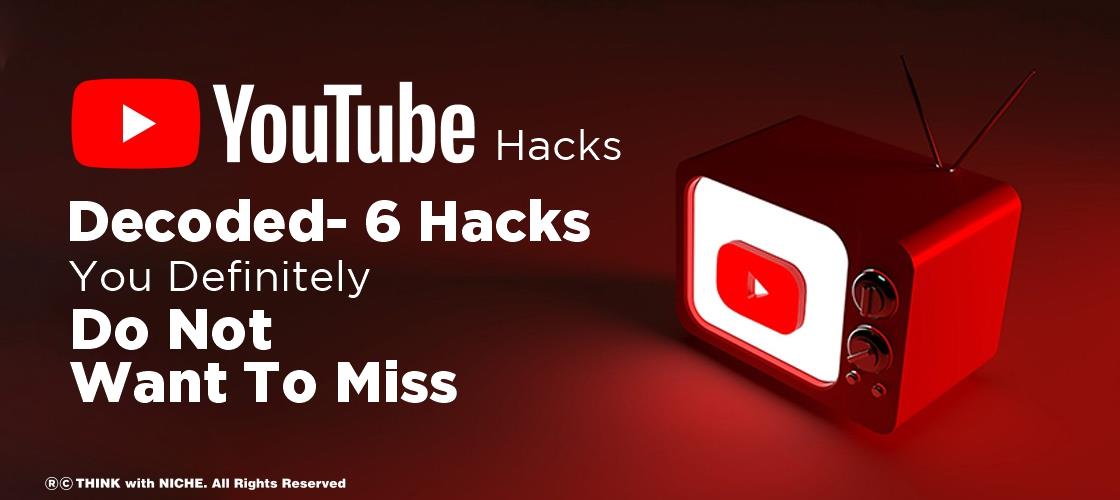 YouTube holds the attention of more than 2 billion users with 30 million daily visits making the platform a huge threshold for the content. The videos talk about the different platforms that make their way through small businesses.#ThinkWithNiche
Continue Reading..
If you are owning a small business and trying to improve your marketing strategy then this is the perfect article for you, Marketing is venturing towards visual display rather than stoic content. For binge-watching, the platform might seem to be quite simple and easy to use but as a business owner, it is a compilation of plans, goals and strategies.

Here are the YouTube hacks that might throw a little limelight when it comes to advancing the brand.

Encouraging Viewers For Subscription
With the help of a subscription, whenever you upload a certain video, a notification will reach the viewers informing them about your current updated video, playlist and more. You get an assumption of the reach that the video will get through the viewers.

Video-Sharing On Other Social Media

It is advised to link videos on your website or other media platforms. Putting a halt at direct video links, therefore, link back to the channel to see how it looks like as an audience. You need to have a clear strategy while uploading the videos, without vision everything is useless.

Relevant Keyword Is A Must

The best way to reach more viewers or audiences is to explore the hashtags. The right keyword is enough to hit the SEO strategy connected to the marketers in the social media sites. It helps the audience to select their definite genre or interest. It is always suggested to create realistic keywords It is always important to search for keywords not used by many.

Engagement Of Similar Content From Different User

It is important to like and comment on the post of other users. There are high chances that those users might view your channel and like it. Other people who get to watch the comment may also try to see what you offer through your channel. This strategy should be applied where you have created similar videos on similar topics to attract an audience or viewers.

Playlist

If you are following a certain theme for the different videos, it is always good to put them organized or in order. If you upload videos for every Sunday, you can create a video compilation of them as a "Sunday Series" playlist. It will be visible on your page below the video that you have uploaded.

Regular Content Upload

If you have a strength of a decent number of subscribers around you, the viewers will always wait for what you have to present by creating, editing and uploading them. The brand gets relevancy through that. It also encourages other users to come and visit your page. Consistency is the key when it comes to video uploading.

Conclusion

You can follow various techniques to boost the content of your video this improving and forming a relationship with the viewers or audience. Your efforts will determine what you present to the people around you.
You May Like