Top 10 Small Business Ideas in the UK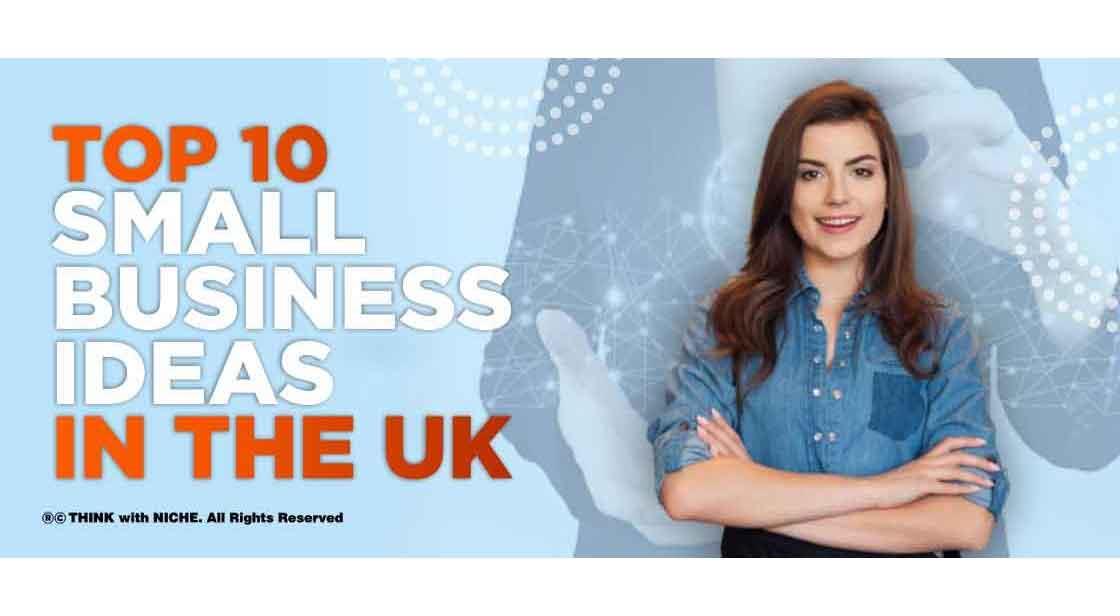 You've come to the right place if you're interested in starting a small business. Get ideas for your new business with this free list of the most recent UK small business ideas.
With so many different types of businesses to choose from, we're confident you'll find a business idea that will take off. #TWN
Continue Reading..
Do you want to start your own business in 2022? Think With Niche has combed through the customer data to uncover the most recent trends among small enterprises and self-employed people.
What are the most popular small-business concepts, and how has Covid-19 influenced entrepreneurship? Continue reading for some inspiration and ideas.
According to Starling Bank data, despite a difficult era, 68% of small businesses are optimistic for the coming year.
In the meantime, more than three-quarters of CEOs expect to make record financial investments in their businesses in 2022.
So, what trends should you be aware of if you're planning to start a small business this year?
To find the fastest expanding small business categories, we looked at all new business insurance policies taken out in 2020 and 2021.
Here are the top ten most popular small business ideas:
Craft stall

Market trader

Online retailer

Photographer

Handyman/handywoman

Caterer

Teaching/tutor

Home baking

Dog walkers

Accountant
Pandemic has Shaped the Small Business Landscape
As the Covid-19 epidemic enters its second year, a new group of businesses has emerged from a tumultuous two years.
From selling online or converting a hobby into a business to operating outside or providing services for an increasing number of pets, the pandemic has shaped many of the most popular and inventive small business concepts.
Craft Stall
Craft booths were the fastest-growing small business trade in 2021, with a 237 percent increase over the previous year.
Since the outbreak, more people have converted hobbies into full-time businesses, owing to the rise of the side hustle.
Craft enterprises are in high demand, whether you're a candle maker or knit your own clothes.
Market Trader
Since 2020, outdoor enterprises have expanded due to continued Covid-19 limitations and individuals feeling less comfortable in congested interior areas.
In 2021, market merchants were the second-fastest-growing small business trade, with a year-over-year increase of 113%.
Online Retailer
While high streets in the United Kingdom have faltered in recent years, online merchants have flourished.
Because selling on platforms like Etsy and eBay is so simple, new retailers may get up and running quickly. As a result, between 2020 and 2021, the number of new internet retailers increased by 62%.
Even estate agents and property / real estate auctioneers in areas like Manchester and beyond have been moving more of their activities online.
Self-employed Service Sector to Remain Strong
Going self-employed has a lot of advantages, including a better work-life balance and more creative freedom.
The number of freelancers and tradesmen providing services to clients increased last year.
Photographer
The number of freelance photographers climbed by 56 percent between 2020 and 2021, making it the fourth fastest-growing small business trend.
According to Truly Experiences, the number of weddings is predicted to increase by 205 percent between July 2021 and June 2022, making 2022 a good year for wedding photographers.
Handyman/Handywoman
Homeowners have also spent more money improving their dwellings as a result of the pandemic.
It has resulted in a substantial increase in demand for handymen and women, with our data indicating a 44 percent growth in this type of activity year over year.
Despite high demand, trades companies have struggled with growing costs and supply chain concerns.
Caterer
According to our statistics, the number of new catering businesses increased by 39% between 2020 and 2021.
Food safety has gotten a lot more attention in recent years, thanks to new laws like Natasha's Law.
Furthermore, demand for ecological packaging is increasing. Therefore it's something that all catering companies should be aware of.
Home Businesses Continue to Thrive
Because flexible working appears to be here to stay, it's no wonder that home-based businesses were among the most popular new trades in 2021.
Running a business from home can be less expensive and more convenient than renting a space, but you must follow certain laws, such as registering with HMRC and determining whether you must pay business rates.
Teaching/Tutor
If you're considering launching a teaching or tutoring business this year, you're on the right track since the number of new firms in this industry climbed by 21% year over year.
Home Baking
The home baking industry has exploded as a result of individuals spending more time at home as a result of the pandemic and the popularity of TV programs like The Great British Bake Off.
Following a 157 percent increase between 2019 and 2020, the number of home baking firms climbed by another 24% between 2020 and 2021.
Dog Walkers
We've traditionally been a dog-loving nation, with the Pet Food Manufacturers' Association reporting that 3.2 million people had purchased pets since the outbreak began.
As a result, the need for dog walkers is higher than ever, and it's no wonder that the number of new dog walking firms has climbed by 22% year over year.
Accountant
According to our analysis, the number of self-employed accountants will increase by 21% between 2020 and 2021, making it the seventh fastest-growing small business idea.
According to UKtalent.com, the average freelance accountant pay in the United Kingdom is £52,650 per year or £27 per hour.
We also looked at where the top 10 most popular small business concepts grew the fastest in the United Kingdom.
Between 2020 and 2021, South West England saw the most increase in new business insurance policies for the top ten trending trades (70 percent).
Other regions that performed well included:
South Central England (65 percent)

North East England (64 percent)

East Anglia (63 percent)

North West England (62 percent)
London (34% annual growth) and Scotland (33% annual growth) had the lowest yearly growth rates (32 percent).
In 2021, the following regions had the newest business insurance policies taken out for the top ten small company ideas:
East Anglia

The Midlands

North West England
What are your Top Small Business Ideas?
This article's profitable small business ideas are intended to inspire you. If you want to pursue an idea, make it a business by conducting proper research and planning – writing a business plan is a good place to start.
You May Like