Five Best Biotechnology Business Ideas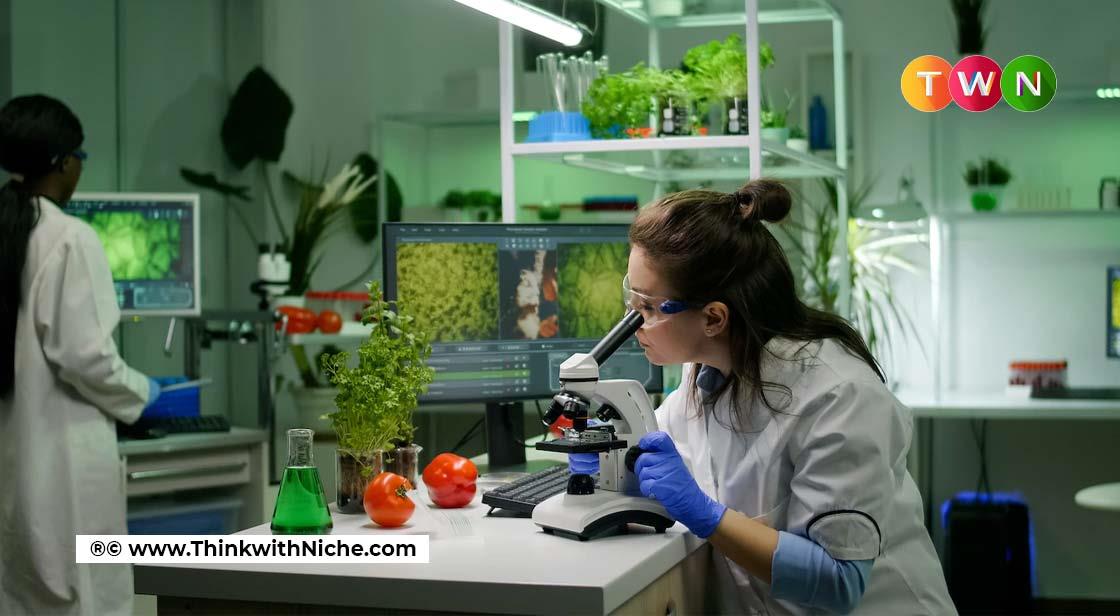 The Indian biotechnology industry is one of the fastest-growing knowledge-based sectors in India and is expected to play a key role in shaping India's rapidly developing economy. With numerous comparative advantages in terms of research and development (R&D) facilities, knowledge, skills, and cost-effectiveness, the biotechnology industry in India has immense potential to emerge as a global key player.
Are you looking for biotechnology business ideas? Are you a biotechnology professional looking to establish a small business? We have identified the five Best Biotechnology Business Ideas for new entrepreneurs and biotechnology professionals in this article.
Continue Reading..
The biotechnology industry is a massive industry that is filled with great opportunities and great business ideas. So it's a great opportunity if you are looking to set up your business in this industry. The Indian biotechnology industry has seen massive growth and expansion over the past decade and has established itself as one of the most profitable industries in the country. It is expected that biotechnology would play a key role in the rapid growth of the Indian economy. So there couldn't be a better time to invest in this industry or start your own business. Now even the Government of India is offering different sorts of assistance to the biotech industry in order to attract more business.
However, because biotech covers so many different fields, it can be difficult to know where to begin and how to establish a business. There are many great business ideas out there, but finding one that fits your vision, capabilities, and budget is difficult. But that's exactly why we're here: to provide you with some fantastic business ideas. As a result, we've narrowed down the five best biotechnology business Ideas for entrepreneurs and biotechnology professionals.
Five Best Biotechnology Business Ideas
1. Food Processing
The early signs of biotechnology can be found in the production of bread, curd, and other dairy products. Using living micro-organisms like bacteria and yeast in the food manufacturing process can result in higher-quality, and healthier meals. This is how biotechnology assists the food processing industry. Food processing is not just about making money. It's also a great way to start a business that could lead to many more opportunities in the future. With the right guidance and knowledge, food processing can be a great entry point into entrepreneurship. It's not easy starting your own business, but with the right preparation, you'll have little trouble getting started. With this article, we hope to give you all the information you need to get your food processing business off the ground. From understanding what type of food processing business makes sense for you and your company to potential resources for starting up and growing your company as well as pitfalls to avoid if you want your venture to succeed.
What is a food processing business?
Food processing is the process of transforming one or more raw products into food and/or other consumable products. The transformation can take place at a number of specific stages in the production and sale of food and other products. The term "food processing" includes the production of ingredients, ingredients for ready meals, the making of processed food, or the distribution of these products. The term "food business" includes all these operations. Food processing includes the following operations: - Preparation of ingredients - Manufacturing of various products - Distribution of these products
Why start a food processing business?
The best part about starting a food processing business is that it can be done in your garage. You don't need a massive investment to get going either. All you need is a passion for food and the drive to be your own boss. If you have experience in a field like food preparation, you can do it all yourself or hire a handful of people to help you out. Regardless of the endeavor, becoming a food processing business owner is a great way to make money from a passion. However, you'll have to weigh the idea against the potential disadvantages of food processing. One of the main benefits of starting a food processing business is that you can work from home. Start a food processing business because you want to build a great life. You want to work fewer hours while still making a good income. You want to be your own boss. Food processing businesses can offer all of these things to the right people.
3 Things You'll Need To Start A Food Processing Business
A. passion for food
B. Decent amount of money
C. Good location for your food processing business
If you have experience in food preparation or food service industries, you can start a food processing business with a loan from a small and local bank. The loan amount you'll need depends on the type of food processing business you want to start. If you're planning on making jams, jellies, and other fruit-based products, you'll need to invest more in equipment. If you're interested in commercial food processing, you'll need even more money. In any case, you'll need a commercial kitchen for your food processing business. Next, you'll need a place to process the food. You can process foods in your home, but you should look into renting out a commercial space if you have the room.
3 Tips for Starting a Food Processing Business
Find a niche-focused product that matches your passion - You'll want to find a product that is in demand and has high margins. When you find one, research exactly who buys it and how they use it. This will help you find ways to improve your product.
Find a supplier who is willing to work with a new customer - Once you've found a product with high margins, find a supplier willing to work with a new customer. This supplier might be hesitant to work with you because of the low customer count, but it's worth the effort.
Be ready for the long haul - Food processing businesses take time to build. You'll need to lower your costs, find suppliers and make products that are in high demand. There isn't a one-size-fits-all recipe for success in food processing businesses.
4 Foods You Should Process For Profit
1. Apple cider vinegar - Apple cider vinegar is a popular health food. You can use it in different dishes to increase their nutritional value and make them more delicious.
2. Pickles - Pickles are great for bulking up salads and sandwiches. They make bland foods more filling and are great for those who don't eat meat.
3. Organic jams and jellies - Organic jams and jellies are delicious and nutritious. You can serve them with breakfast, as a sweet snack or on bread for a nutritious meal.
4. Natural yoghurt - Natural yoghurt is a great source of probiotics and is delicious. You can use it in smoothies, on bread, in salads, or as a snack.
Starting a food processing business isn't as difficult as you might think. In fact, it's actually a great way to make money from your passion with little investment and effort. Food processing can be a good option for those with experience in the industry. It's best to find a niche-focused product that has high margins and is in high demand. Once you've got those things figured out, get started with your food processing business today!
2. Vaccine Manufacturing
For every businessperson, this is a game-changer. If you look at various business and economic figures, you'll find out that the Indian Vaccine Industry is one of the largest in the whole world. So, it's a great field to start a business in this field as well. Vaccines employ biotechnology to provide liquid dosages that aid in the fight against a virus by infiltrating a person's immune system. Biotechnology also helps the vaccine industry in a variety of different ways.
This is a risky business because it takes a large sum of money as well as a slew of permits and licenses. So, if you think you have what it takes to open a vaccine manufacturing plant or center, this could be a fantastic opportunity for you.
Why Start a Vaccine Manufacturing Business?
There is a huge demand for vaccines and the need is only set to rise as the world's population continues to grow. In many countries, the government is responsible for ensuring that the population is protected against diseases such as diphtheria, whooping cough, tetanus, and measles. However, some countries have seen a rise in anti-vaccination sentiment as many people opt to avoid vaccines for reasons such as being anti-medicine or a belief that vaccinations are linked to serious medical conditions. While the anti-vaccination sentiment is a growing concern in some parts of the world, it's by no means a widespread problem globally. As a result, there is an increasing demand for vaccines from both the public and the pharmaceutical industry. This has led to an increase in the number of vaccine-manufacturing businesses.
How to Start a Vaccine Manufacturing Business
If you want to start a vaccine production business, you will want to first make sure you understand what it takes to produce vaccines. This is a highly regulated activity that relies on strict controls and quality assurance measures to ensure a safe supply of vaccines. There are a number of steps you'll need to take to become a successful vaccine business owner. You'll need to decide on a business name, select a location and secure a license. You'll also need to source raw materials, design your production process and get your equipment ready to go. A lot of this work can be a lot of challenging and time-consuming. However, if you do it correctly and carefully, you can be successful.
Key challenges of starting a vaccine production business
Costs - The cost of setting up a vaccine manufacturing business is extremely high - between $2.5 and $3 million. The costs will vary depending on your location and the type of equipment you'll be needing.
Regulatory scares - Vaccine production is highly regulated. This can lead to regulatory scares that can shut down production lines. A regulatory scare can happen when a batch of vaccines is found to be flawed and poses a threat to public health.
Supply chain disruptions - The production of vaccines relies heavily on strict controls to ensure that all components are safe for use. This can lead to disruptions in supply chains caused by issues such as production delays, equipment breakdowns, and labor disputes.
Scale-up challenges - Most companies start small, focusing on small product runs. However, many businesses struggle with the large-scale production required to make vaccines.
Key risks of starting a vaccine production business
Financing - If you're not careful, you might end up putting all your money into the business before it begins to make a profit. You'll need to be careful to make sure you have sufficient funds to support your new business while it's growing.
Accuracy of product claims - All vaccines are designed to protect against a wide range of diseases. It is important that the claims made on the packaging are accurate and compliant with relevant regulations.
Losing patents - Once a vaccine is approved by the FDA, it is granted several years of protection. As a result, many vaccine manufacturing businesses are worried that they may lose their patent protection after a few years.
Competition - Smaller pharmaceutical companies are often interested in producing vaccines. These companies may have more experience and be able to produce a higher-quality product more quickly than the companies that are just starting up.
Vaccines are an incredibly important part of modern medicine and public health and are one of the most effective forms of prevention against life-threatening diseases. In order to protect the general population, it is important that vaccines are produced in a safe and regulated environment. While the process of creating a vaccine is not an easy one and requires a large amount of specialized equipment and expertise, it does not have to be prohibitively expensive. With a little research and some hard work, you can become a successful vaccine production business owner.
3. Biofertilizer Production
Biofertilizer is a type of fertilizer that uses living organisms to enrich the soil and, as a result, aid in the production of high-quality crops. This is a widely used commodity in organic farming, and with more people opting for organic farming in India, setting up a biofertilizer facility would be a terrific business idea. But, before you make your decision, keep in mind that this is a knowledge-based business, so either learn all of the necessary information or hire a competent team. Furthermore, because your business necessitates extensive transportation and marketing, you should enlist the help of some investors. Biofertilizer units require a bunch of licenses and permits so make sure you do proper research before you venture into this business.
4. Seed Processing Unit
This is again a knowledge-based business idea since it deals with research and development. Hybrid seeds that produce a good crop are produced by seed processing machines. Because of their excellent yielding rate, these seeds are always in high demand. The demand for these hybrid seeds is increasing as India's farming methods change dramatically. As a result, establishing a seed processing business will yield a rapid return on investment. This is one of the biotechnology industry's most successful enterprises.
5. Medicine Manufacturing
Biotechnology is widely used in the production and processing of medicines. These medicines are different as they are developed using living micro-organisms as compared to the traditional way of manufacturing medicine using chemicals manufacturing medicines is a large and responsible field of work. Patience, a great team, knowledge, capital, and a lot of permissions are all required. You must keep in mind that this is a serious company, and getting into it will not be simple. Don't get into this business just for the sake of it. Make an informed decision after conducting thorough research.
Biotechnology is a fantastic industry, but keep in mind that, unlike many others, it is knowledge-based. As a result, it's best to either conduct your research before getting into this business or hire a team of well-read people who can advise you. Biotech has a lot of potential, and if you go into it right, you can make a lot of money. You must be knowledgeable about the business in which you wish to invest your time and money. We hope you find this list useful and make an informed decision based on it.
You May Like