Five Best Biotechnology Business Ideas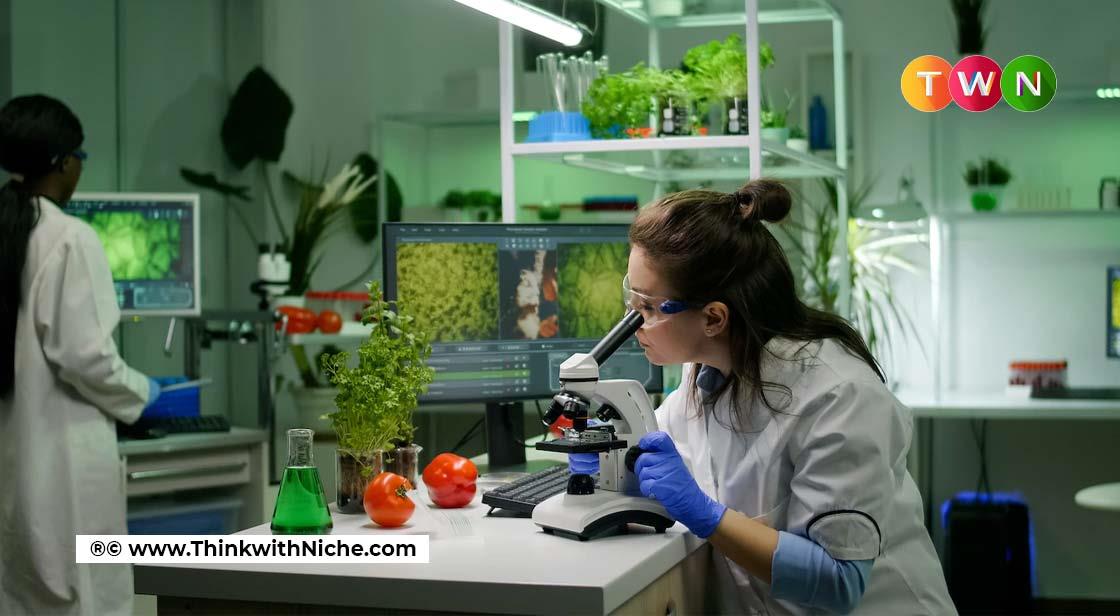 If you are struggling to decide which business to invest in, it's completely fine. The biotechnology industry is a huge industry with many business ideas. In this article, you can get some ideas to start a Biotechnology Business.#ThinkWithNiche.
Continue Reading..
The biotechnology industry is a massive industry that is filled with great opportunities and great business ideas. So it's a great opportunity if you are looking to set up your business in this industry. The Indian biotechnology industry has seen massive growth and expansion over the past decade and has established itself as one of the most profitable industries in the country. It is expected that biotechnology would play a key role in the rapid growth of the Indian economy. So there couldn't be a better time to invest in this industry or start your own business. Now even the Government of India is offering different sorts of assistance to the biotech industry in order to attract more business.
However, because biotech covers so many different fields, it can be difficult to know where to begin and how to establish a business. There are many great business ideas out there, but finding one that fits your vision, capabilities, and budget is difficult. But that's exactly why we're here: to provide you with some fantastic business ideas. As a result, we've narrowed down seven excellent business ideas for entrepreneurs and biotechnology professionals.
1. Food Processing
The early signs of biotechnology can be found in the production of bread, curd, and other dairy products. Using living micro-organisms like bacteria and yeast in the food manufacturing process can result in higher-quality, and healthier meals. This is how biotechnology assists the food processing industry. You can start a food processing firm in a variety of methods, such as research institutes or processing plants.
2. Vaccine Manufacturing
For every businessperson, this is a game-changer. If you look at various business and economic figures, you'll find out that the Indian Vaccine Industry is one of the largest in the whole world. So, it's a great field to start a business in this field as well. Vaccines employ biotechnology to provide liquid dosages that aid in the fight against a virus by infiltrating a person's immune system. Biotechnology also helps the vaccine industry in a variety of different ways.
This is a risky business because it takes a large sum of money as well as a slew of permits and licenses. So, if you think you have what it takes to open a vaccine manufacturing plant or center, this could be a fantastic opportunity for you.
3. Biofertilizer Production
Biofertilizer is a type of fertilizer that uses living organisms to enrich the soil and, as a result, aid in the production of high-quality crops. This is a widely used commodity in organic farming, and with more people opting for organic farming in India, setting up a biofertilizer facility would be a terrific business idea. But, before you make your decision, keep in mind that this is a knowledge-based business, so either learn all of the necessary information or hire a competent team. Furthermore, because your business necessitates extensive transportation and marketing, you should enlist the help of some investors. Biofertilizer units require a bunch of licenses and permits so make sure you do proper research before you venture into this business.
4. Seed Processing Unit
This is again a knowledge-based business idea since it deals with research and development. Hybrid seeds that produce a good crop are produced by seed processing machines. Because of their excellent yielding rate, these seeds are always in high demand. The demand for these hybrid seeds is increasing as India's farming methods change dramatically. As a result, establishing a seed processing business will yield a rapid return on investment. This is one of the biotechnology industry's most successful enterprises.
5. Medicine Manufacturing
Biotechnology is widely used in the production and processing of medicines. These medicines are different as they are developed using living micro-organisms as compared to the traditional way of manufacturing medicine using chemicals manufacturing medicines is a large and responsible field of work. Patience, a great team, knowledge, capital, and a lot of permissions are all required. You must keep in mind that this is a serious company, and getting into it will not be simple. Don't get into this business just for the sake of it. Make an informed decision after conducting thorough research.
Biotechnology is a fantastic industry, but keep in mind that, unlike many others, it is knowledge-based. As a result, it's best to either conduct your research before getting into this business or hire a team of well-read people who can advise you. Biotech has a lot of potentials, and if you go into it right, you can make a lot of money. You must be knowledgeable about the business in which you wish to invest your time and money. We hope you find this list useful and make an informed decision based on it.
You May Like