Top Fantasy Sports Apps to Follow this Season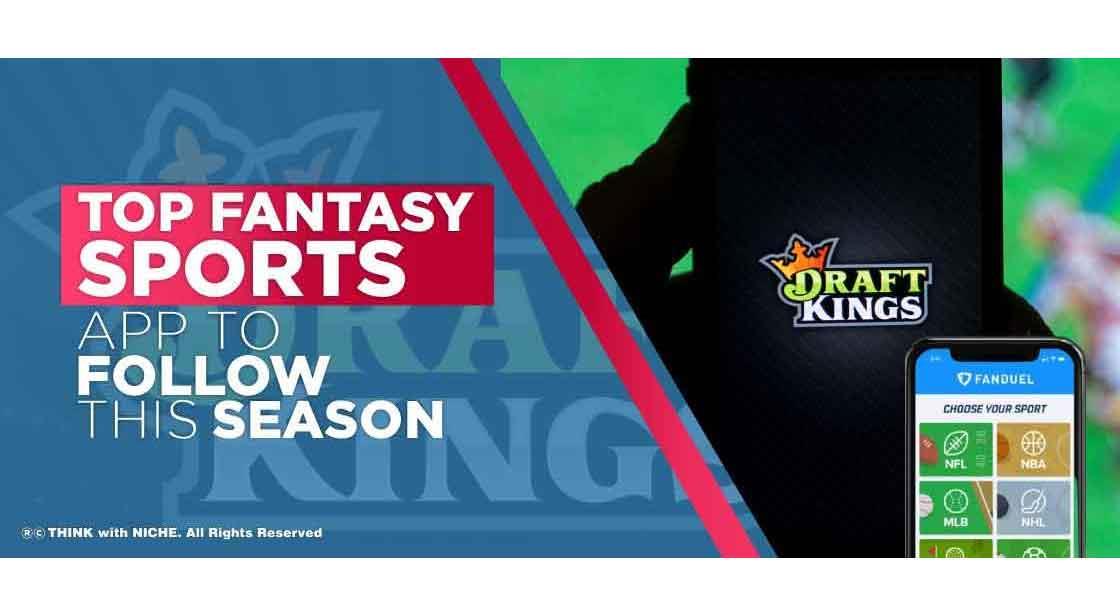 Fantasy sports have been around since the early 1900s, but now they've become a bit more mainstream. The popularity of fantasy sports has exploded in recent years, and many companies are popping up to help you dominate your league. What makes fantasy sports so popular? One word- competition. Fantasy sports take competitive nature and turn it up a notch. You have to prepare yourself for tough seasons and injuries while also developing your strategy. It can be very exciting for those who love strategy games, like chess or Risk. #TWN
Continue Reading..
Fantasy sports have become a popular pastime among both casual and expert players alike. Whether you're looking for a way to pass the time or are an avid competitor, fantasy sports apps are there to provide you with all the tools you need to succeed. From watching your favorite team to seeing which team is best suited for your skillset, apps like these can help fuel your competitive spirit. Fantasy sports are all the rage in today's society. Whether it is football, basketball, or hockey, there is always a fantasy league going on somewhere. The popularity of fantasy sports has grown exponentially in the last decade, with apps coming out to help facilitate these leagues and make them more interactive than ever before. With so many different options out there, how do you decide which one will be best for you?
So whether it's minutes before tip-off or on Saturday night after the game, these top fantasy sports apps will provide everything you need to stay connected and entertained. Check out these top fantasy apps this season to get started!
Athletes are the lifeblood of fantasy sports, and with all of the incredible athletes playing this season, many people find themselves wishing that they were on a team. For those who don't have access to a professional team, there's an app for that. Apps like these provide you with professional players from across the globe. If you're looking for a particular player or just want to see your favorite team's performance, these apps will provide everything you need to prepare for your next big competitive game.
Top 3 Fantasy Sports Apps
ESPN Fantasy Football (iOS and Android)

Fantasy Alarm (iOS and Android)

Yahoo! Sports Fantasy Football (iOS and Android).
The Science Behind Fantasy Sports
The science behind fantasy sports is fascinating. Fantasy players can use algorithms, statistics, and more to predict the future. It helps them win in their leagues and even beat out their friends in a friendly competition. One thing to keep in mind is that not all fantasy sports apps are created equal. So, be sure to choose a company with a proven track record of success.
Questions to Ask Before Choosing Your Fantasy Sports Platform
What game format will you offer? (i.e., head-to-head or season-long)

How often do your updates get posted?

What type of content does your app offer?

Does your app have exclusive access to content or games like the New York Yankees?

Is it suitable for beginners or advanced users?
Must-Have Fantasy Sports Apps
Fantasy sports apps are a great way to stay connected to the games you're watching. You can follow your favorite players, get notifications when they score, and check their stats at any time. These apps make it easy to keep up with the latest news, players' stats, and even research players before making your fantasy picks. They offer a variety of different features and services that help you stay up-to-date, so you don't miss out on any of the actions. The MLB app is one of the must-have fantasy sports apps. With this app, you can track live games and watch highlights as they're happening. It also helps you find other stats about your favorite teams and players. If you love hockey - or just like playing fantasy hockey - this app is for you. With this app, you can play real-time fantasy games against other NHL fans worldwide. Plus, it provides detailed team information so that you can take part in trades or free agency throughout the season. You'll never have to worry about getting left behind again when your team makes an important trade or free agency signing!
Best Ways to Play Fantasy Sports
There are many different types of fantasy sports, but the most popular are head-to-head leagues. Head-to-head leagues take the best part of fantasy sports and turn it up a notch by having head-to-head matchups that produce a winner. A head-to-head matchup might look like an NFL league in which you draft two teams, and they compete against each other. Some other types of head-to-head matchups might be NBA or MLB games. If you're not interested in individual head-to-head matchups, then you can draft teams in your league and have one person playing for each team. It is called a rotisserie format (think Major League Baseball). You simply pick your team for the season and then see how many points they're going to score during their games throughout the year. Other fantasy sports are more specific to certain activities like NASCAR or college football.
How Do You Set Up a League?
To get started with fantasy sports, you need to set up a league. To start a league, you need to determine how many teams you want, how much money will be in the league, what type of scoring system you'll use and when the season will end. To get started, create a draft app to help organize your team. The draft app is where you'll select players from different teams for your team to compete against other teams in your league. Once your draft is complete, it will give you an overview of your lineup and also tell you which players are available on waivers so that you can add them to your roster if needed. Once you have completed setting up your fantasy league, it's time for some strategy! Let's say that one player on your team has been struggling lately. You may decide that he should be replaced by another player who has been performing better recently or even someone who is currently on the bench with a higher potential. A strategy like this is key to winning leagues- so make sure that before the season starts, you have all of this figured out!
How to Track Your Team's Progress?
It is easy to keep track of your team's progress with apps like ESPN, Yahoo!, and MyFantasyLeague. These apps allow you to stay in touch with the latest news from your league. You can also use these apps to keep up with stats, standings, injuries, and more. If you are looking for a different option, apps like FantasyScore offer a more customizable experience. With this app, you can create your private league and compete against others across the country or around the world!
Best Sports Apps
DraftKings
DraftKings is a fantasy sports platform that offers daily and weekly contests for players looking to win a cash prize. Users can draft their team, or choose to join one of the many options offered by the site. DraftKings has over 23 million registered users globally and an average of 1 million players per day. You can also trade with other users or form partnerships with them if you have ideas for new contests or promotions. For those who are looking for more than just daily fantasy sports, DraftKings also offers season-long leagues with the opportunity to compete against friends, family members, and other strangers from across the country.
FanDuel
FanDuel is another fantasy sports app that allows users to play in daily and weekly contests for cash prizes. There are no fees associated with using FanDuel as long as you're playing in a contest that doesn't require entry fees. The main difference between FanDuel and DraftKings is that FanDuel offers less variety to do almost anything you want on their platform whereas DraftKings gives players more opportunities to play a wide range of games inside their app.
Fantasy Baseball Games
Fantasy baseball games are a great way to stay engaged with your team. Whether you're the new player looking for advice or the veteran trying to take home the World Series, these apps will provide you with all the tools to succeed. They feature in-depth statistics on every single player and team so that you can make the best decisions possible. Some of the top fantasy baseball games include ESPN's Fantasy Baseball, Yahoo!, and CBS Sports Fantasy Baseball.
Fantasy Football Games
For the season that just ended, fantasy football apps were a popular way to keep up with your favorite team and their opponents. Fantasy football games are a great way to follow your favorite sport and compete against other people from all over the world. The 2017-2018 season is here, and it's time for you to get in on the action! This year has some great new features being offered by these apps, so take advantage of these helpful tools to stay connected with your favorite game. Here are a few games you should not miss out on this year:
NFL Game Pass

: A premium subscription service that offers live NFL matches for all 32 NFL teams at any point in time without blackout restrictions.

DraftKings

: Offers daily and weekly fantasy football contests with cash prizes.

FanDuel

: Daily fantasy sports streaming service that offers cash prizes every week.

ESPN Fantasy Football

: Accessible through both app and website.
NBA Fantasy Games
The NBA fantasy games app is an excellent option for those who are looking to create rosters of their favorite players. With the NBA season just around the corner, this app will provide a great way to get in on the action without having to invest in a costly draft kit or spend hours setting up your roster.
MLB Fantasy Games
Have you ever wondered which players are the best in your league? If so, MLB Fantasy Games is the perfect app for you. This app provides real-time stats and performance data for every player daily. It also offers projections, rankings, and mock drafts. Be sure to enter a league today to start playing!
MLB Fantasy Games has tons of features that make it a smart choice for fantasy sports apps. The live scoring feature will provide everything from box scores to standings, while the advanced metrics like plate discipline will help you build a strong lineup. Because of these features, MLB Fantasy Games is an easy pick as one of our top fantasy sports apps this season.
Fantasy Hockey Apps
Hockey is one of the top sports in the world and it's getting more popular every day. If you love playing fantasy hockey with your friends, there are some great apps to choose from. With these apps, you can play your favorite sport against friends and family or players all around the country. If you're more into strategy, then you should consider playing on DraftKings, which is a daily fantasy site for hockey.
Conclusion
The sports betting app development market is growing exponentially with the introduction of smartphone technology, which has expanded access to mobile devices for consumers who previously did not have a way to engage in this type of activity. With more people now able to use their phones as digital wallets and connect them wirelessly, it's become easier than ever before for companies such as DraftKings or FanDuel to offer these types of apps that provide live odds on sporting events around the world. Fantasy sports have been around for decades, but the industry is experiencing a boom in popularity due to the ever-increasing number of games available to play. Whether you're new to fantasy sports or a veteran player, there are plenty of apps that can help you track your progress and manage your team. Choosing the best apps is as simple as picking your favorite fantasy sport and then choosing the app that best fits your needs.
You May Like